On July 1, 2012, vitriolic, part-time vegetarian John Burton's Senate Bill 1520 went into effect, outlawing the selling or buying of foie gras in the State of California. Prior to Foiemageddon, local eateries brave enough to serve it were inundated with long lines of foie-lovers hoping to get their last fix, while animal-rights protesters kept up with righteous harassment of chefs and restaurant protests.
Even though they have effectively "won" their battle, like high school bullies, the evangelical vegans still refuse to walk away from their bloodied, downed prey…
In lamentation of the end of legal foie gras here in California, I present the Alinea foie gras recipes I've completed so far.
Foie Gras, Spicy Cinnamon Puff, Apple Candy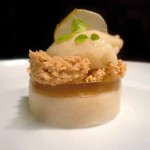 Pushed Foie Gras, Sauternes, Pear, Chervil
Squab, Watermelon, Licorice, Foie Gras
And made with the leftovers,
Foie Gras Pork Sandwich
Adieu, mon cher!
At least, now you know how I feel about the issue… What do you think?