Alinea Recipe, pages 158-161.
Continued from SQUAB, Watermelon, Licorice, Foie Gras (Part 1)
Day Two
Cured Squab Legs (Continued…)
I removed the marinating squab legs from the fridge. The salt had drawn out much of their moisture.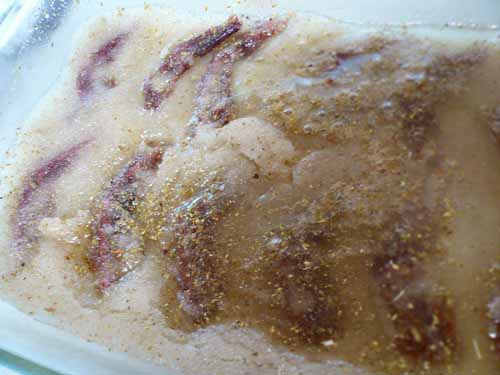 Rinsed off the fennel cure and patted them dry.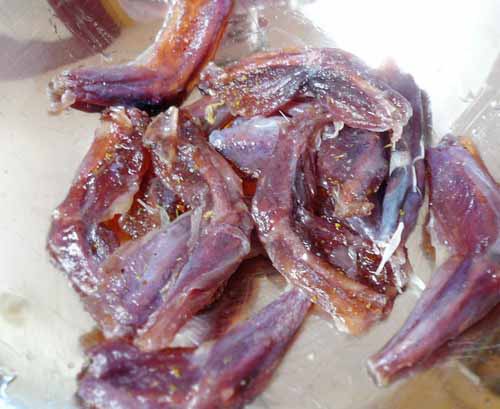 Then I sealed them in a FoodSaver vacuum bag with some canola oil.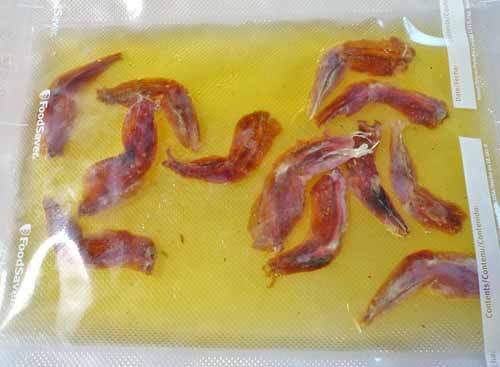 Cooked en sous vide for about four hours at 180ºF. I knew these weren't going to be enough, though, for the recipe. So I poached chicken thigh meat in some of yesterday's leftover squab stock mixed with veal stock, licorice sauce and a bit of fennel pollen.
Foie Gras Butter
I removed the reserved cured foie and some butter from the fridge, cubed them, and let them warm to room temp. Whipped in my KitchenAid stand mixer with the wire whisk attachment.
I pushed the whipped foie through a drum sieve into a stainless bowl.
This separates out any remaining veins or impurities.
You have to scrape it off the underside with a spatula…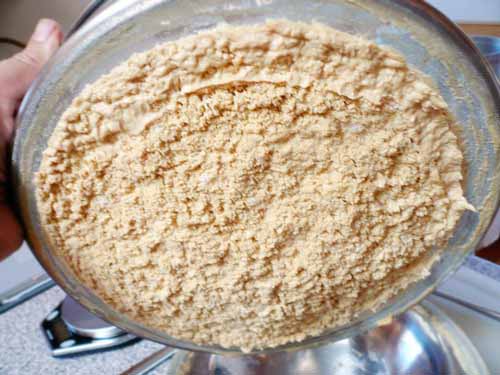 And transferred the foie gras butter to a covered plastic tub and refrigerated. I later cut up some of the leftover into sticks and wrapped up as gifts for the neighbors.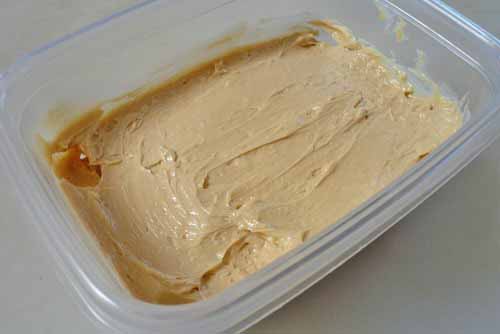 Ingredients
Cured foie gras, from the day before
Challenge unsalted butter
Foie Gras Emulsion
Mise en place:

I combined the cream, squab and onion stocks with sherry vinegar, and a touch of salt in a medium saucepan. Brought to a simmer, then whisked in the foie gras butter a cube at a time.
Finally, I mixed the soy lecithin into the warm liquid with an immersion blender. Then strained into a tall, narrow cup and let cool.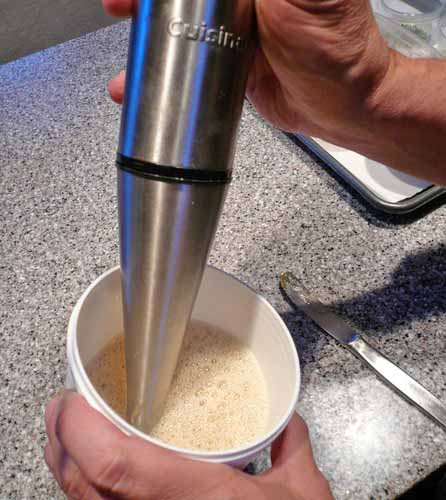 Ingredients
Alta-Dena heavy cream
Reserved squab stock, from the day before
Reserved burnt onion stock, from above
Sherry vinegar
Diamond Crystal kosher salt
Reserved foie gras butter, from the day before
Soy lecithin, from L'Epicerie
Caramelized Onions
It's CARE-ah-mel — not KAR-muhl I keep reminding people. Especially my kids.
"What do you mean it's not KAR-muhl, Dad?"
"kar-MEL is a city on the beach near San Francisco," I replied. "NOT a food. That's pronounced CARE-ah-mel…"
And it doesn't help when packaging at the grocery store is spelled "KARM'L DAPPLE!" I look at it with a shiver down my ad-man spine. I AM in the business, but nevertheless, still want to shake some of those responsible for such travesties…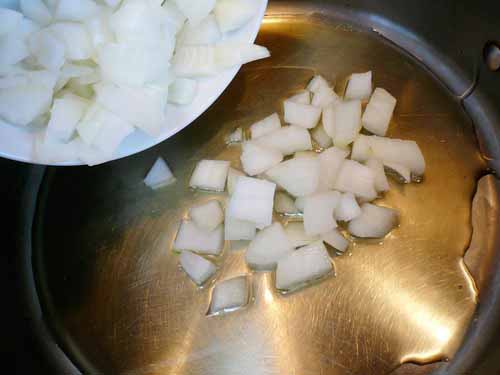 Caramelized onions are different than just plain ol' browned onions. You have to take your time and let them sweat — not burn — in some kind of fat, so their natural sugars do all the work for you. I prefer butter, but I followed the recipe and used canola oil this time. Then you can deglaze the pan with some water or stock. You can caramelize a little until they're strawberry blonde, or let them go to a mahogany brown.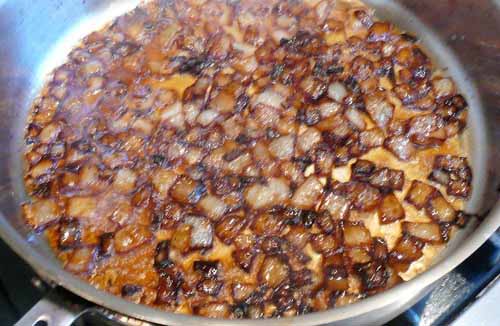 Ingredients
Canola oil
Fresh yellow onions, from North Park Produce
Diamond Crystal kosher salt, to taste
Burnt Onion Sticks
I cut the onion into batons.
Then brought sugar and water to a boil, added the onions and simmered for a minute or so.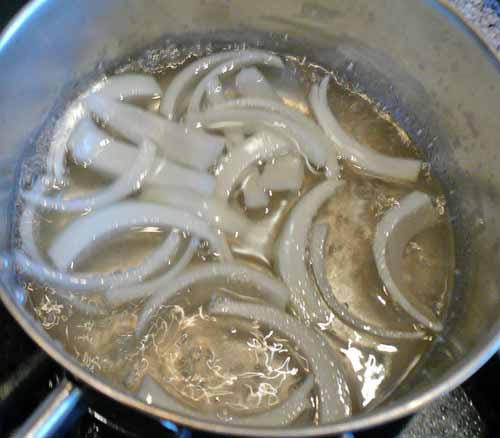 Strained and dried on paper towels.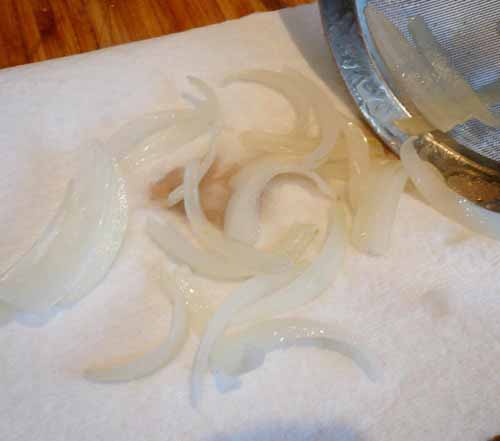 Dehydrated until crisp.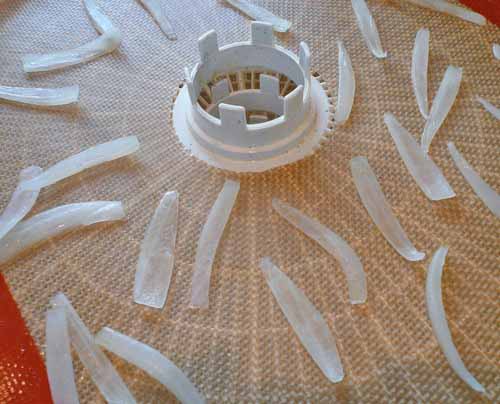 Burnt one end of each baton, holding it over a gas burner with tongs. Reserved to a covered, airtight plastic container…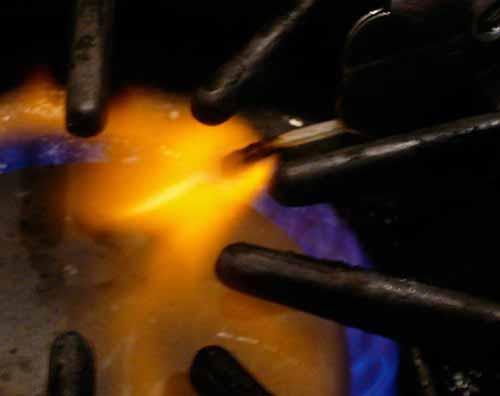 Ingredients
Large fresh onion, from North Park Produce
Water
C&H cane sugar
Diamond Crystal kosher salt, to taste
Fennel Candy
I juiced the fennel bulbs in my Breville juicer.
I combined a little bit of the sugar, the pectin, citric acid and fennel juice in a medium saucepan and mixed thoroughly with a Cuisinart SmartStick immersion blender.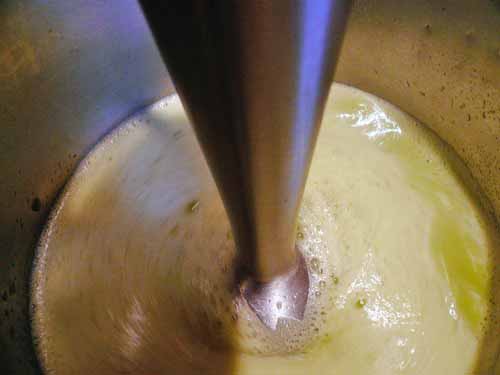 Heated to a boil, then added the remaining sugar and glucose. Then I cooked on high heat until it reached 225ºF with a candy thermometer.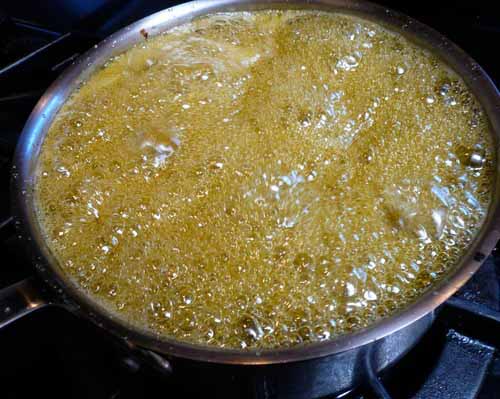 Strained into a small sheet pan and let harden.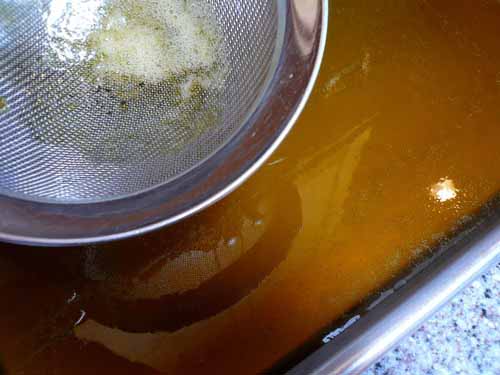 HAH! another gel failure! These were supposed to be clearer in color, and set like a hard gel.
Mine turned out looking more like soft gumdrops, but still tasted nice, light, and not too licorice-y…
Ingredients
Yellow pectin, from L'Epicerie
C&H cane sugar
Citric acid, from L'Epicerie
Fresh fennel bulbs, from Farmer's Market
Glucose (corn syrup)
Marinated Watermelon Cubes
The day before, I'd cut up and reserved some of the seedless watermelon I used for the candied watermelon pith. So I used the remainder for these.
I cut the watermelon into one-inch cubes.
I marinated the watermelon cubes in the licorice marinade for about an hour prior to plating, turning them over every 15 minutes or so. At this length of time, they're still crunchy — longer and they'll get soggy.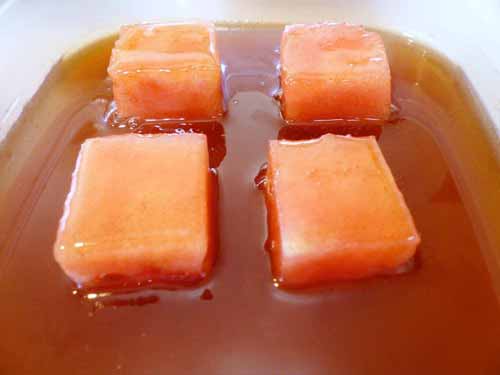 Ingredients
"Seedless" watermelon, from North Park Produce
Reserved licorice marinade, from above.
Anise Sugar
Fennel pollen and star anise. Once you have them, they're quite beautiful, aroma-wise as well as by sight. But fennel pollen is sometimes hard to find. I called a local butchershop that has tons of specialty ingredients and they'd never even heard of it!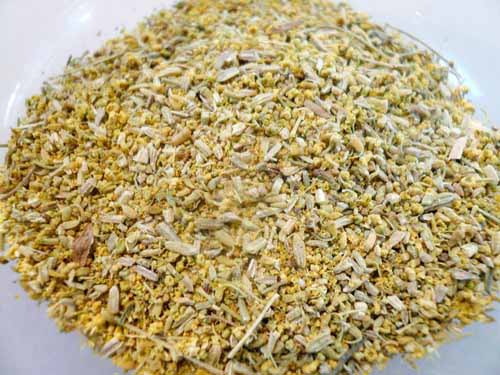 "Fennel what?"
"Pollen. Fennel POLLEN."
"Lemme go ask."
Wait. Wait. Wait.
"Fennel what?"
"POLLEN. FENNEL POLLEN."
"Nahh. We don't got any of that."
Imagine me describing the collection of pollen from fennel flowers to a butcher…
I found it at Great News. (I can always find whole, dried star anise at the grocery store, especially at Christmas-time.)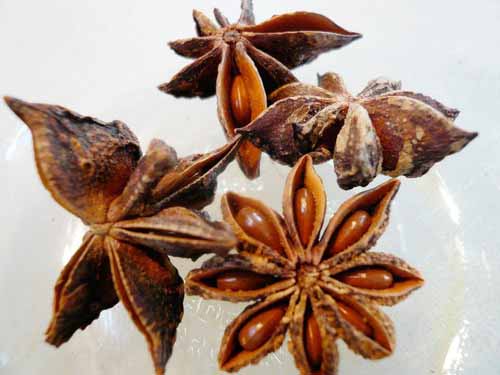 I ground up the star anise with the fennel pollen in my spice grinder.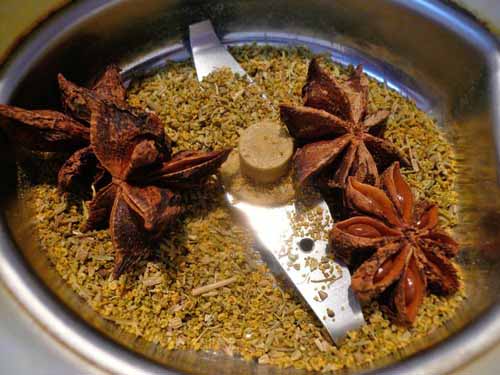 Then mixed with the sugar and salt.
I had some left over and saved it in a spice bottle.
Ingredients
Whole, dried star anise pods
Fennel pollen, from Great News
C&H cane sugar
Diamond Crystal kosher salt, to taste
Fennel Candy Skewers
A while back, I purchased some plates and a stainless steel skewer set from J.B. Prince. The Alinea "Peacock" skewer set was designed by Martin Kastner, and is available from both Crucial Detail (US$60.00) and J.B. Prince (US$65.60).
I used the long stainless steel skewers for the fennel "gumdrops." I formed some of the fennel candy into balls, and rolled them in the anise sugar. Then popped on an end of each skewer.
Squab Leg Ragout
I charred the scallions over a gas burner, then roughly chopped them, the leg meat, and chicken.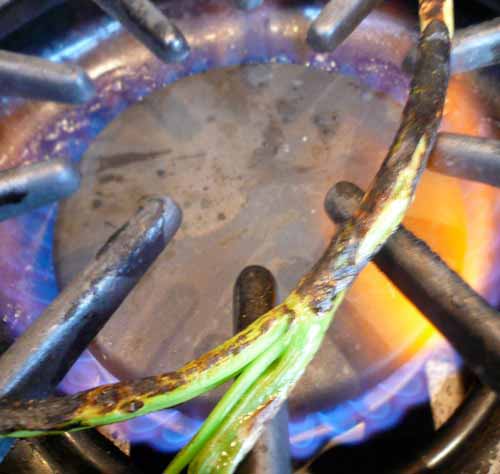 I combined the burnt onion and squab stocks with the butter in a medium saucepan and brought to a boil. Then added the squab and chicken to the stock, reducing the heat to a simmer.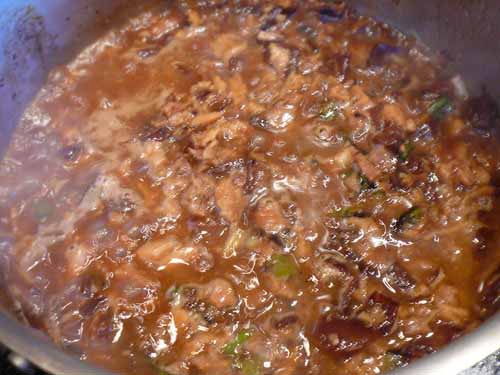 Added the charred and caramelized onions, and simmered until it thickened up and some of the liquid reduced down.
I gently folded in the foie gras cubes at the last minute, so they wouldn't totally dissolve (I wanted some foie chunks remaining). I tasted and decided no additional salt was needed.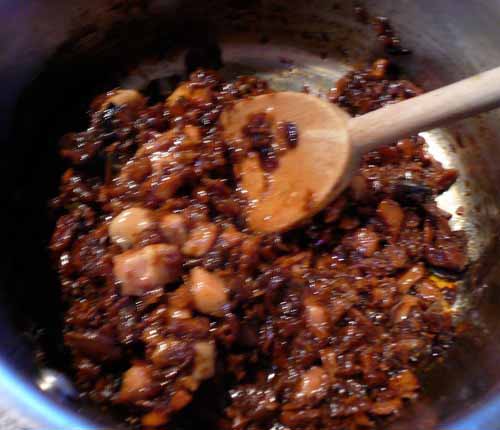 Ingredients
Scallions
Reserved burnt onion stock
Reserved squab stock
Challenge unsalted butter
Meat from the cooked squab legs, and additional cooked chicken
Caramelized onions, reserved from above
Cured foie gras, cubed
Diamond Crystal kosher salt, to taste
To Assemble and Serve
I seared those tiny squab breasts, skin-side down first, in some canola oil in a hot iron skillet…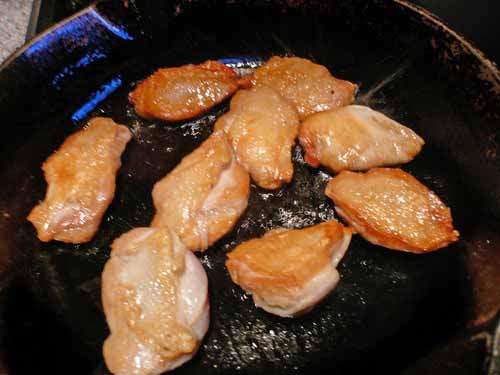 …adding a bit of butter as I flipped them over. You want the skins to get crispy. Then I reserved them to my prep area, letting them rest. I cut each into 1/8 inch slices. Frothed up the foie gras emulsion with the immersion blender.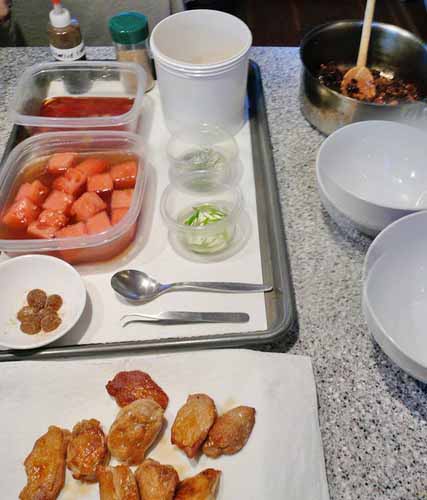 And started assembling!
Finishing each with a fennel gumdrop skewer.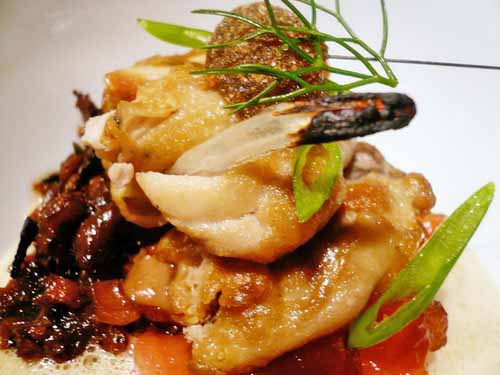 Isn't that pretty!
And voted the best-tasting Alinea Restaurant recipe I've made at home so far!
Ingredients
Canola oil
Challenge butter
Salt and pepper
Scallions
Fennel fronds or flowers, to garnish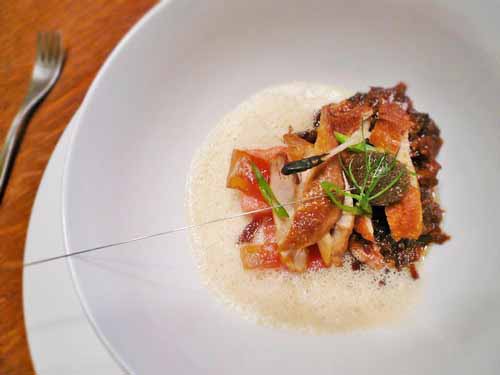 Equipment
Salter digital scale
Measuring bowls
Cutting board and kitchen knife
Paring knife
Vegetable peeler
Wooden spoon, rubber spatula
Chinois or sieve
Small bowls
Medium saucepan
Sauté pan or grill
Oster blender
FoodSaver vacuum sealer and bags
Large pot of water and thermometer
Stainless steel bowls
Cuisinart SmartStick immersion blender
Paper towels and sheet tray
Plastic containers
Plastic squeeze bottle
Tweezers
Serveware
O! Luna "Duet" bowl, from the Montgatina Collection by Steelite,
or bowl from Crate&Barrel
Stainless steel skewer from the Alinea "Peacock" skewer set by Crucial Detail, from J.B. Prince
Yields: 8-16 servings. With veal, burnt onion and squab stocks leftover (just freeze them for later).
Next, CHESTNUT, Too Many Garnishes To List
What to do with the leftovers?
I made sandwiches of spicy pulled pork in a foie gras emulsion, topped with pico de gallo and chipotle mayo. Now THEY were good!