Alinea Recipe, pages 158-161.
"Absolutely delicious!"
"Best dish yet…"
These were the comments I received from dinner guests about this Alinea Restaurant recipe. And you know what? They were right.
It's a memorably balanced combination of flavors, sweetness and umami. And an unlikely combination at that: pigeon, duck and licorice!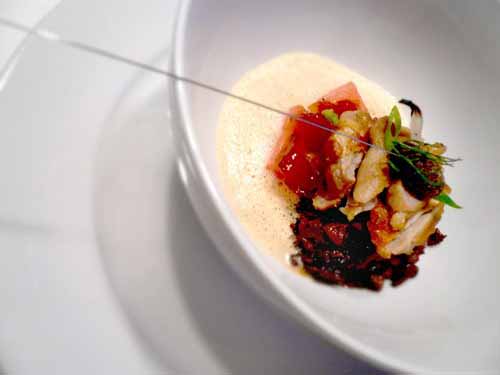 Day One
This is at least a two-day recipe, as you have to make veal stock and cure the foie gras overnight.
Cured Squab Legs
When at Vien Dong World Market, one of my favorite local Asian markets, I bought a package of frozen whole squabs. (From Georgia here in the U.S.!) They were much smaller than those required by the Alinea recipe, so I just used more of them, and substituted some chicken in the squab ragout later.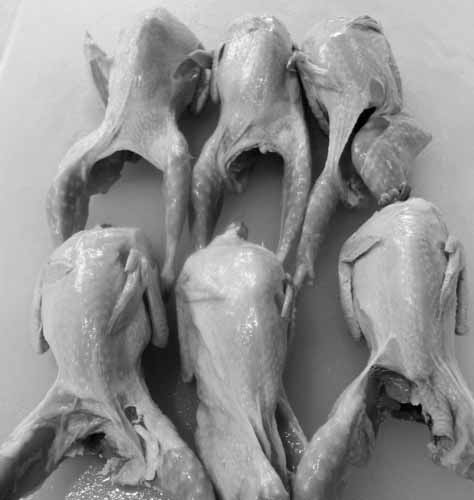 I thighed them, or broke down the squabs.
I carefully cut them in two down the spines then removed the breasts. I kept their skins attached. Then I cut off the legs, keeping the thighs and legs together, and removed their skins. I reserved the carcasses and all the scraps for squab stock.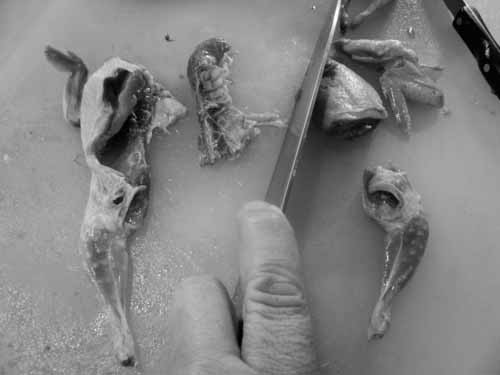 After all that Lilliputian butchery, I had twelve squab legs and breasts ready for curing.
What is squab?
A squab is the meat from a young (about a month old) domestic pigeon, that's never flown and is therefore extremely tender. Fresh squab is usually available in the summer months. Frozen can be found year-round. Its skin is fatty, and its flesh is dark and lean like duck.
I ground up the star anise, fennel seed and pollen in my spice grinder, then mixed with the remaining dry ingredients in a stainless bowl.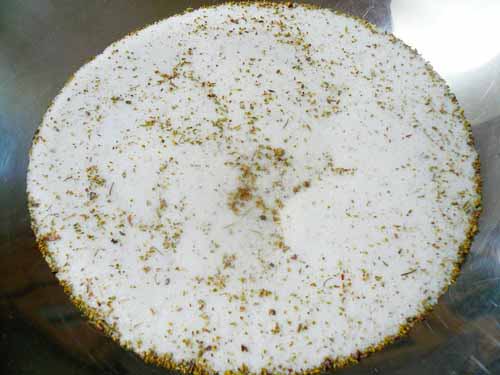 I covered the squab legs with the curing mix in a glass baking pan, and refrigerated overnight. Perhaps that was a tad bit too long. The recipe said to cure them for three hours only. When they came out, the legs did look a bit Tutankhamun.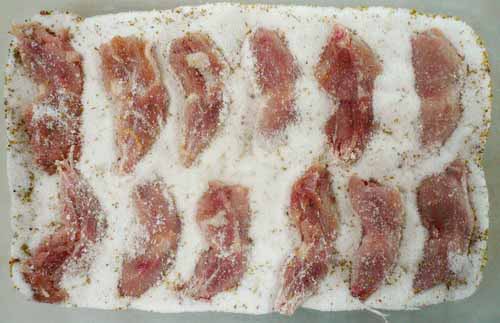 Shown before the squab legs were completly covered.
Ingredients
Whole Georgia squabs, from Vien Dong World Market
Diamond Crystal kosher salt
C&H cane sugar
Dried fennel seed, from North Park Produce
Dried star anise pods, from North Park Produce
Dried fennel pollen, from Great News
Veal Stock
Earlier, I had made a batch of veal stock, using the same recipe as in BEEF, Elements of A1. So today, all I had to do was grab a plastic container of stock from the freezer. If you're making all of this from scratch, this is definitely a "Day One" job.
Ingredients
Veal bones, cut into 2-inch chunks, from Iowa Meat Farms
Water
Organic Schaner Farms onions, from Little Italy Mercato Farmer's Market
Carrots, from Little Italy Mercato Farmer's Market
Whole, black Tellicherry peppercorns
Fresh Schaner Farms thyme, from Little Italy Mercato Farmer's Market
Tomato paste
Squab Stock
I've made stocks out of many things, but never pigeon. I suppose I could have just used chicken stock, but where would the fun be in that? Whenever I cook fowl, I save the carcass and make stock or soup anyway…
NEVER throw out the bones! That's such a waste. Make your own stock. Throw the bones in a pot and roast, then cover with water and simmer. Strain. Salt to taste. There ya go…
The wonderfully complimentary combination of fennel and vermouth — which I'm beginning to really appreciate — is used in other Alinea recipes such as ICEFISH, Horseradish, Asparagus, Shellfish. And I found with this recipe, that it goes very well with birds.
I browned the reserved squab carcasses in some canola oil a medium stockpot.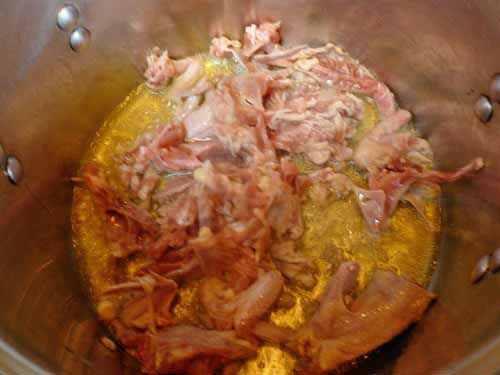 Added chopped onion and fennel.
And cooked for about thirty minutes…
Added dry vermouth, "deglazing" the pan. Scraped up the godly bits from the bottom and reduced by half. Then covered with water and simmered. For about FIVE HOURS. As with veal stock, I skimmed off any collected fat, foam and impurities from the top.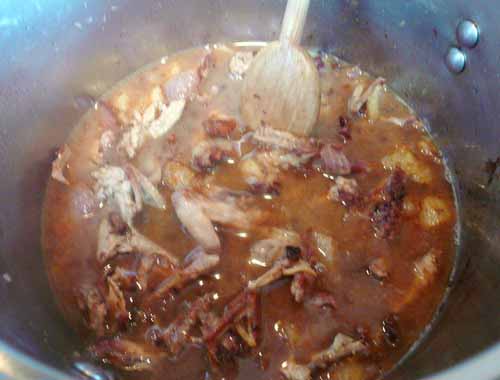 Strained out the solids through a chinois, then reduced the stock by a little more than half again, at a very low temp.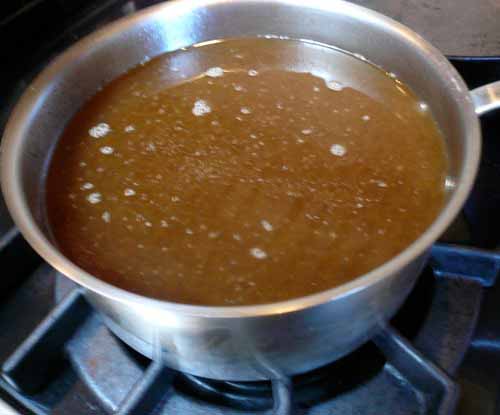 Ingredients
Canola oil
Reserved squab carcasses, from above
Fresh yellow onions, from North Park Produce
Fresh fennel bulb, from North Park Produce
Martini & Rossi dry vermouth
Water
Burnt Onion Stock
This is a first. I've never purposefully burnt ingredients for a recipe. Sure, I've inadvertently over-charred steaks and forgotten a few things in the oven, but…
The instructions say to laterally cut the onions in half, hold by the root end and press down onto a hot skillet until the cut-end's surface chars. Then slice off the charred surface and repeat. I'm waaay to lazy for that, so I just threw some onion slices into a hot skillet.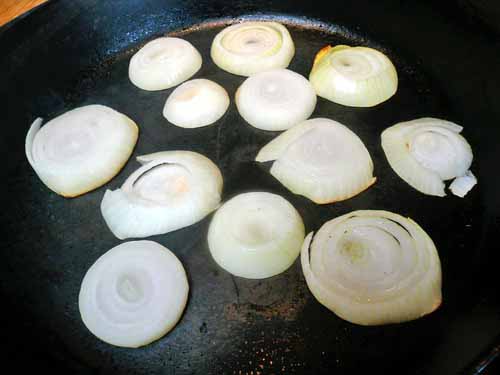 And flipped them when they had charred.
Reserved them in a bowl as I charred the remainder.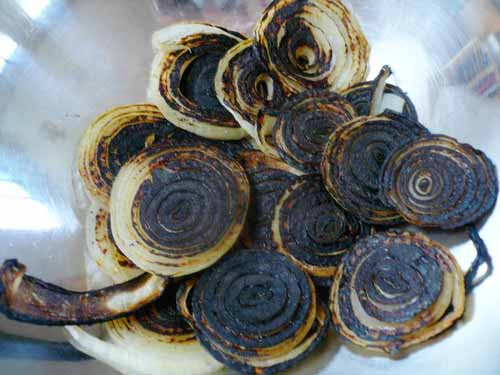 Covered them in a pot with water and simmered for 45 minutes. Then strained and reserved in a plastic container.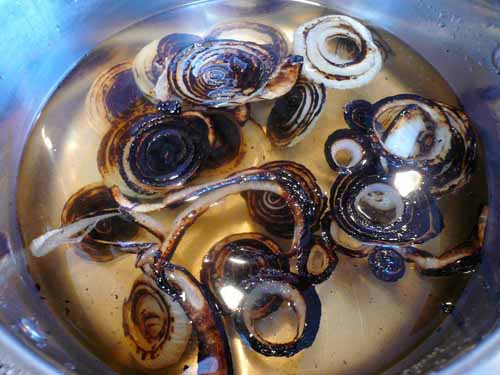 Ingredients
Fresh yellow onions, from North Park Produce
Water
Licorice Syrup
Awhile ago I purchased a bunch of spices from Terra Spice, of Walkerton, Indiana. I spoke with Judy Shertzer, and she set me up with what I needed: licorice root powder (US$29.72/lb), whole dried akudjura (US$85.00/lb), sarsaparilla root (US$56.52/lb), and whole blade mace (US$62.00/lb). Terra Spice sells in one-pound and larger quantities, so you may have to pitch in with a friend or neighbor for some.
I got some licorice root powder in this batch, instead of dry licorice extract. Although I cannot say if one is more bitter than the other, the licorice powder seemed to work out just fine.
I combined all the ingredients in a medium saucepan and brought to a boil, then removed from the heat and allowed to steep for half an hour.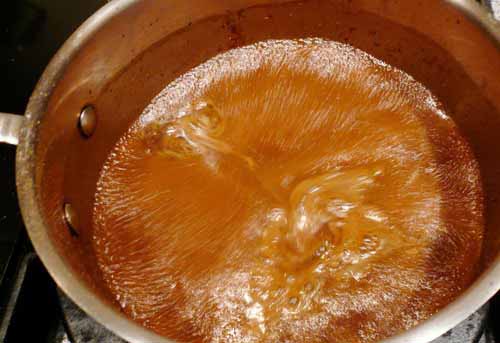 After that, I strained it through a chinois, brought to a simmer…
…reduced some more until it was thick, and transferred the syrup to a squeeze bottle.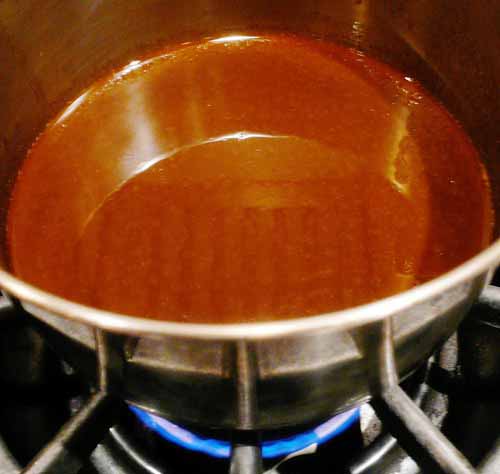 Ingredients
Dried star anise pods
Dry licorice extract (or like I used, licorice root powder, from Terra Spice)
Reserved veal stock, from above
Dried black Tellicherry peppercorns
BLiS 9-year old sherry vinegar, from BLiS Gourmet
C&H cane sugar
Unsulfured, organic blackstrap molasses
Water
Licorice Marinade
Mise en place:

I combined all the ingredients in a medium saucepan and brought them to a simmer. Removed from the heat and let steep for about half an hour.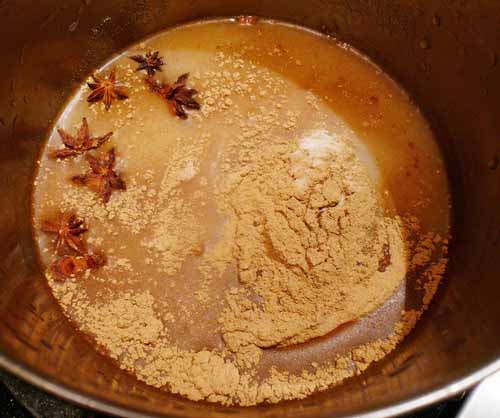 Strained through a chinois into a plastic container, and reserved in the fridge.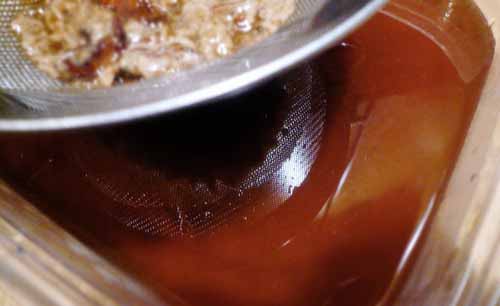 Ingredients
C&H cane sugar
Water
Dry licorice extract (or like I used, licorice root powder, from Terra Spice)
Dried star anise pods
Citric acid, from L'Epicerie
Diamond Crystal kosher salt
Cured Foie Gras
Hope you foodies out there appreciate this. 🙂
Have ever asked yourself, "I can buy those new shoes, or I can buy a lobe of foie gras. Hmm. Which will it be?"
I did. So naturally, I broke down and bought some Hudson Valley Grade A foie gras (US$69.95/lb) at Iowa Meat Farms.
I used it for this and FOIE GRAS, Spicy Cinnamon Puff, Apple Candy, and had enough leftover to give the gift of foie gras butter to some of my chef friends.
I rinsed off the foie, trimming off any silverskin, veins or greeblies.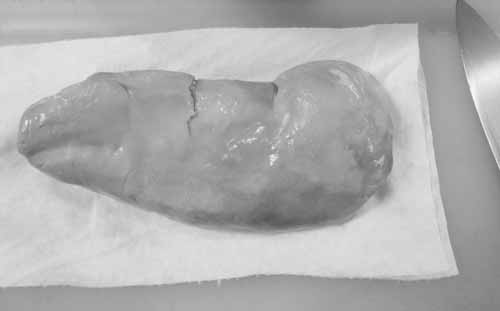 I used Morton's TenderQuick curing salt, adjusting the salt and sugar asked for in the recipe. Mixed the dry ingredients in a stainless bowl, then sprinkled on the foie gras.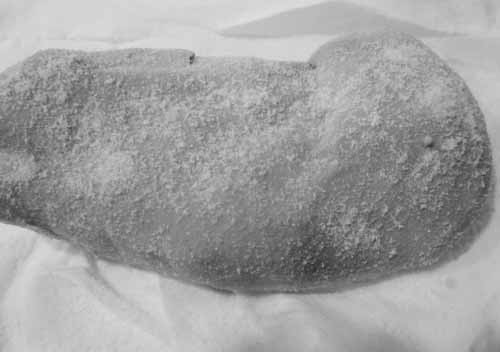 I sealed in a vacuum bag with my FoodSaver vacuum sealer, and refrigerated overnight to marinate, or "cure."
Ingredients
Hudson Valley Grade A foie gras, from Iowa Meat Farms
Diamond Crystal kosher salt
Morton's TenderQuick curing salt
C&H cane sugar
Candied Watermelon Pith
This subcomponent recipe is basically the same as for pickled watermelon rind used in AYU, Kombu, Fried Spine, Sesame, except it omits the vinegar. I love this stuff, it's delicious AND pretty to look at. I cut up a seedless watermelon, reserving some for marinated watermelon cubes the next day.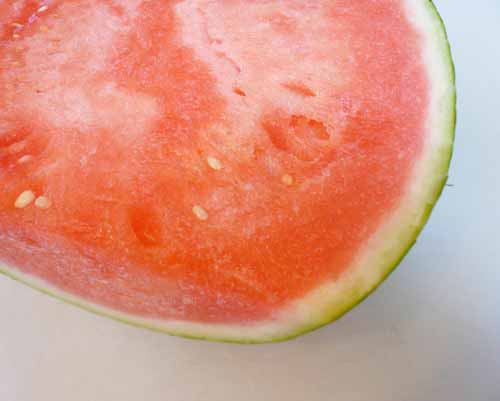 I cut strips out from the watermelon flesh, and trimmed off the green rind, leaving a bit of the red.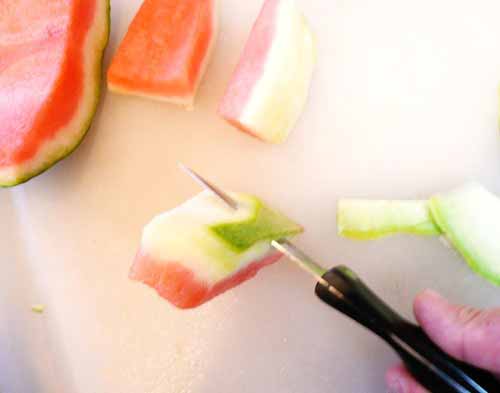 I combined the water, sugar, citric acid and salt in a medium saucepan and brought to a boil. Added the watermelon strips, and reduced the heat to a simmer. I cooked them for about three hours, until they were translucent. After they'd cooled, I reserved the candied piths in their cooking liquid in a plastic container and refrigerated.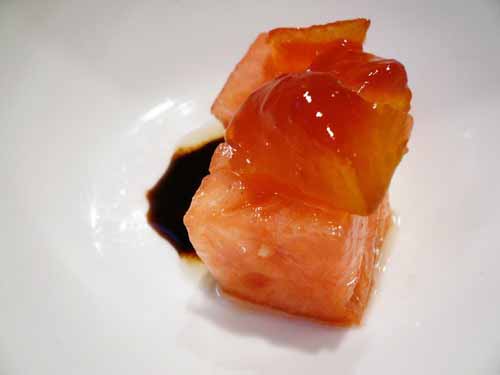 Here are candied watermelon piths atop marinated watermelon cubes.
Ingredients
Water
C&H cane sugar
Citric acid, from L'Epicerie
Diamond Crystal kosher salt
Watermelon pith strips

Close-up of the candied watermelon pith and foie gras bubbles.
What to do with the leftovers?
I had half a watermelon left over, so I decided to make my own version of the "Best Served Cold," a refreshing summer drink of watermelon juice, gin, jalapeño and citrus. I had one at Top Chef runner-up Brian Malarkey's new restaurant here in San Diego, Searsucker Restaurant & Bar (611 Fifth Avenue, San Diego, California 92101).
I juiced the remaining watermelon, added Hendrick's gin, lime juice, some muddled basil and a few shakes of Tabasco. PDG.*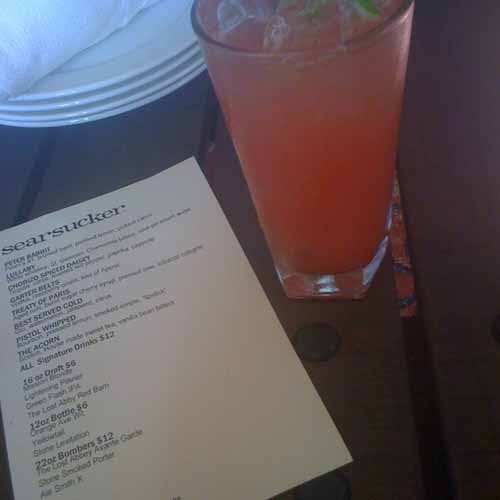 To be continued…
Next, SQUAB, Watermelon, Licorice, Foie Gras (Part 2)
*Pretty Damn Good.