In celebration of reaching just beyond halfway through the Alinea cookbook, I finally dined at Alinea Restaurant! I was joined by several friends who also came to Chicago for the National Restaurant Association tradeshow. I had made a reservation back in March for this date, and it was well worth the wait!
They really do take care of you there, we were impressed by their level of service. Every detail was immaculate.
Alinea Menu, Spring 2012
Gerolsteiner sparkling water (Germany)
STEELHEAD ROE, carrot, coconut, curry
Bliss Gourmet Steelhead trout roe, coconut and carrot gelées, young coconut slices and micro cilantro on a bed of mild curry.
Cocktail of Pierre Gimmonnet Brut Champagne (France) with St-Germain Elderflower Liqueur (France) and Esterházy Beerenauslese (Bergunland, Austria)
OYSTER LEAF, mignonette
KING CRAB, passionfruit, heart of palm, allspice
MUSSEL, saffron, chorizo, oregano
RAZOR CLAM, shiso, soy, daikon
Four seafood bites served on driftwood in a bed of seaweed.
2010 Barth 'Charta' Reisling (Rheingau, Germany)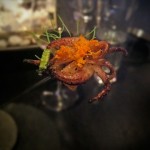 WOOLY PIG, fennel, orange, squid
Marinated baby squid, ham, orange zest and fennel served on a stainless steel skewer.
SCALLOP, acting like agedashi tofu
Scallop mousse fried like agedashi tofu, with dashi brewed a la minute in a glass vacuum carafe, daikon, carrot, nasturtium.
2010 Bodegas Godeval 'Viña Godeval' (Valdeorras, Spain)
OTORO, thai banana, sea salt, kaffir lime
Foams in a glass globe! Kaffir lime foam, ice, cucumber.
2010 Chehalem '3 Vineyards' Pinot Gris (Willamette Valley, Oregon)
ICE, beet, hibiscus, licorice
Iceblock centerpiece, with a refreshing brew of beet, jamaica and licorice 'core samples' you drink with a glass straw.
BURN MORELS, ramp, fiddlehead fern, miner's lettuce
Tastes of the forest after a fire, foraged from its floor, served on hot river rocks and a charred, smoldering Japanese sushi geta.
2009 Descendientes de J. Palacios 'Petalos' Bierzo (Spain)
HOT POTATO, cold potato, black truffle, butter
The classic Alinea soup course – cold potato soup served in a paraffin wax bowl, with a stainless steel skewer of butter, parmesan, chive, hot Yukon gold potato and black truffle. Recipe
LAMB 86
Perfectly cooked lamb served three ways, with a rich jus …and 60 unique garnishes (86 components) – none repeated! Garnish Key
2008 Château Ollieux Romanis 'Atal Sia' (Corbières, France)
BLACK TRUFFLE explosion, romaine, parmesan
Another Alinea staple – raviol of hot, buttery truffle juice, topped with wilted romaine lettuce and shaved parmesan.
Presented in Crucial Detail's 'anti-plate' bottomless ceramic serving piece. Recipe
SQUAB, inspired by Miró
Squab breast, and seven other colorful tastes, each on a utensil and composed tabletop like a Joan Miró or Alexander Calder mobile.
2006 Valpolicella Classico Superiore 'TB' Bussola (Veneto, Italy)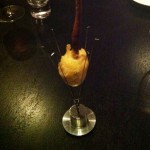 ANJOU PEAR, onion, brie, smoking cinnamon
Sweet pear, onion and brie cheese deep-fried tempura-style, on a long, smoldering stick of Ceylon cinnamon. Served in the 'octopus' serving piece from Crucial Detail.
The Rare Wine Co. 'Boston Bual' Madeira (Portugal)
GINGER, five other flavors
Five tiny bites of ginger, each flavored differently in this palate cleanser. Served on their stainless steel 'Peacock' serving piece.
BLUEBERRY, buttermilk, sorrel, macadamia
From soup to nuts! Pyrex glass 'Ovni' plate, with a soup of nitro-frozen sorrel and tea, blueberry brownies, buttermilk cream, macadamia.
2011 Saracco Moscato d'Asti (Piemonte, Italy)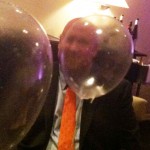 BALLOON, helium, green apple
Helium-filled balloons of candy apple, with apple leather strings. Suck out the helium and eat the balloon – string and all!
Hot towel service
WHITE CHOCOLATE, strawberry, english pea, lemon
Tabletop presentation artfully laid out before you, including candy-filled white chocolate 'piñatas' for Cinco de Mayo. A pichette of liquid nitrogen was involved…
2011 Matteo Correggia 'Anthos' (Piemonte, Italy)
Coffee, Tea, Espresso
Happy tummies…