Recipe, pages 304-305.
Hot potato! Cold potato! Served in a wax bowl. How cool is that? This truffled potato shooter is the ultimate "cream of mushroom soup" on the planet. It's very rich, creamy, buttery, and best served in small portions.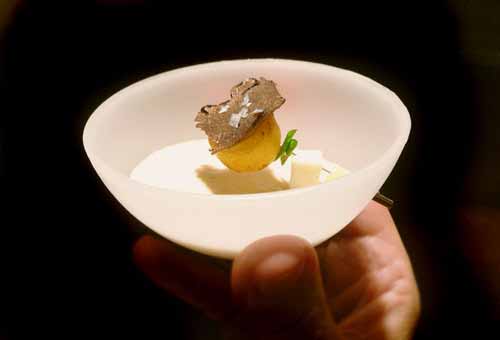 I recently hosted a post-Christmas get-together — more of a working dinner party — for this recipe, with some fellow foodies. Good times. We all prepared this dish together, and each of us assembled our own servings. People can get very creative in their plate prep — no two were exactly alike! It was quite fun, and they all loved the soup's sinfully decadent taste.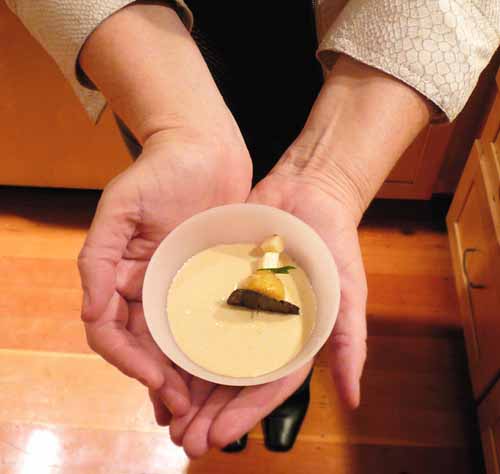 A happy guest stomping her feet in delight.
Cold Potato Soup
Mise en place: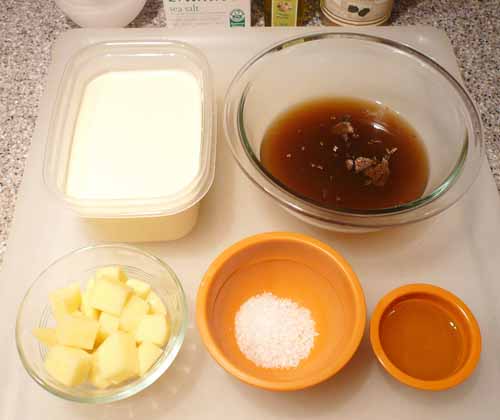 I looked for black truffle juice locally, but couldn't find it in any of my retail haunts, so I ordered a can of Savini Tartufi black truffle juice from Master Caviar. I planned on using it for this recipe and BLACK TRUFFLE, Explosion. It was a little short for both recipes, so I added some chicken stock to make up the difference. If you're vegetarian, you could easily use a vegetable stock to extend. I was a bit apprehensive, but the end results were still very potent.
I diced up the potatoes and added them to the truffle juice in a medium saucepan. Brought to a boil and simmered for about 20 minutes or so, until the potatoes were done. Remember, the smaller the dice the less time it takes to cook.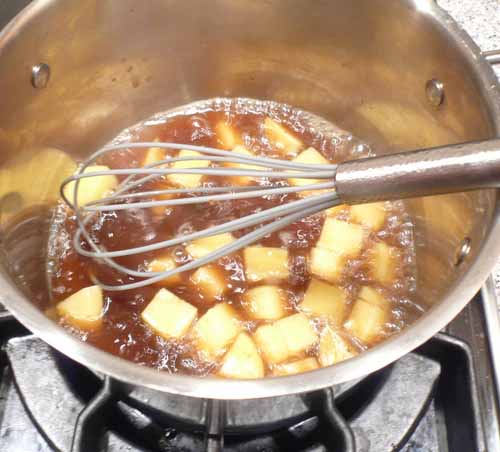 Then added the cream and brought back up to a simmer.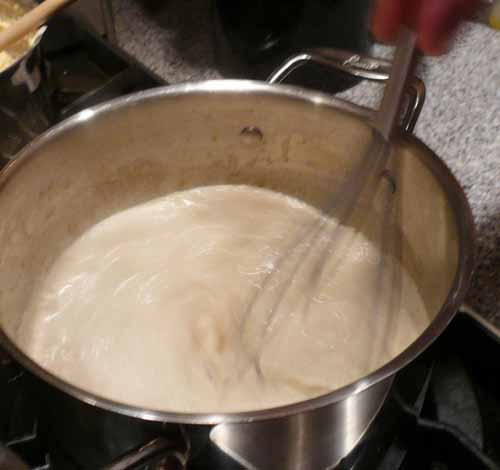 Removed from heat and blended, covered, until smooth.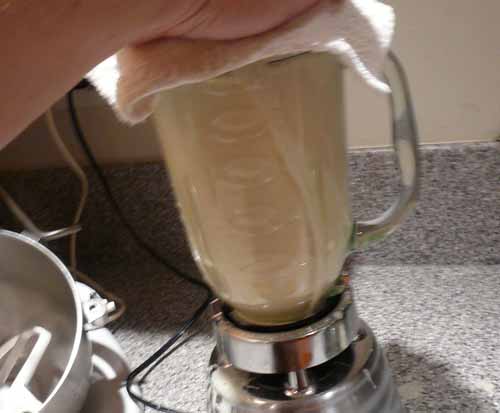 Slowly added the white truffle oil as it puréed. And I added a little less salt than the recipe asked for. (I always try to cut down on the salt in recipes if I can get away with it.)
Then strained into a plastic container and refrigerated until needed.
Ingredients:
Yukon Gold potatoes, from Whole Foods
Savini Tartufi black truffle juice
Alta-Dena heavy cream
Savini Tartufi whitle truffle oil
Diamond Crystal kosher slat
Hot Potato
We scooped out balls of potato with a 0.5″ Parisienne scoop (melon baller). Use Yukon Golds, and don't peel them. I was trying to scoop out perfect spheres until I realized that a flat top would actually be better for the truffle slices to rest on. Duh…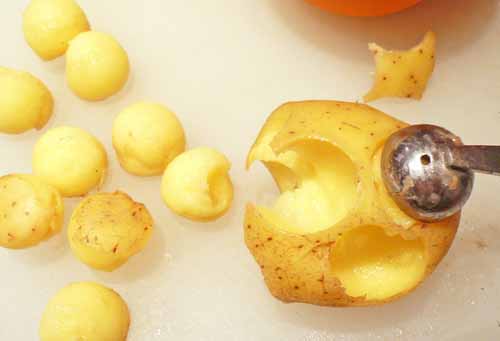 Added the potato balls to simmering clarified butter and cooked for about 20 minutes. The butter did indeed bubble as described. But the potatoes browned a bit as they cooked (a fine, golden buttery brown).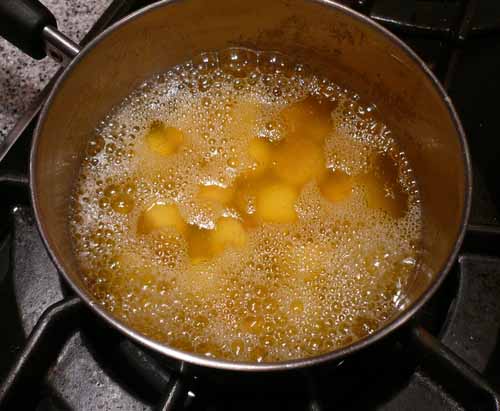 Removed from heat and set aside in prep area.
Ingredients:
Yukon Gold potatoes, from Whole Foods
Challenge butter, clarified
What's "clarified" butter?
Clarified butter is made with melted butter. As Michael Ruhlman describes it in his indispensable take on Strunk and White, The Elements of Cooking, "butter from which all salt and water have been removed — pure, translucent butterfat."

Melt your butter slowly, being careful not to brown or burn it. Its milk solids, salt and water will separate out. Skim them off the top and use just the pure yellow butterfat.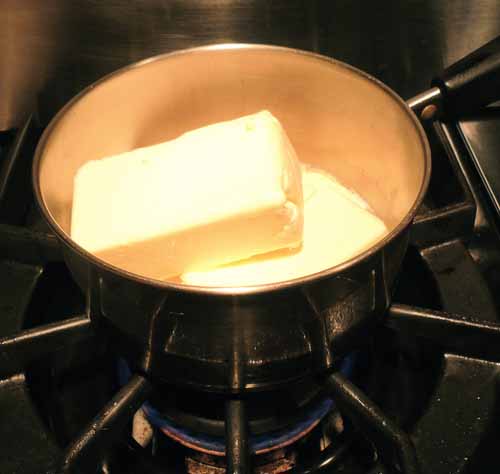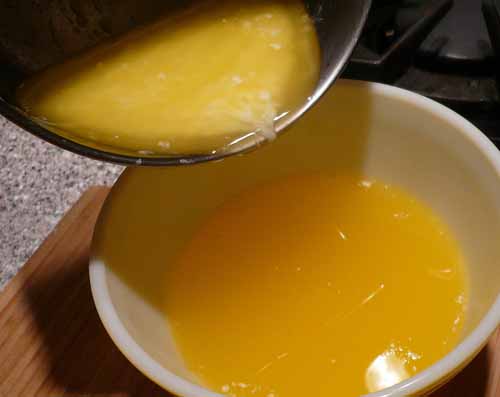 Butter
I cut some very cold butter into 0.875″ cubes and froze until we were ready to assemble. A trick suggested in the book is to used a sharp, hot knife to cut the cubes, wiping the blade off with a towel in between cuts. I usually have a pot of very hot water to dip my knife into, then wipe with a towel. This works very well when you're looking for a nice, clean edge to, say, cheesecake slices, or the like.
Ingredients:
Challenge unsalted butter
Here's where I put my guests to work.
Parmesan
My friend Reverend Chili cut up some Parmesan cheese into 0.875″ cubes, and reserved to a prepared sheet tray. We used Parmigiano Reggiano, a firm cow's milk cheese of "protected designation of origin," made only in a small area of Northern Italy. Yum.
Ingredients:
Parmigiano-Reggiano cheese, from Whole Foods
Chives
Candice cut some chives on the bias into 0.5″ pieces, and reserved.
Ingredients:
Fresh organic chives, from Whole Foods
Truffle Slices
I ordered a fresh winter Périgord black truffle from Master Caviar. The package arrived next day air in a styrofoam cooler, surrounded by icepacks in a vacuum-pack bag with arborio rice (I'm gonna make risotto with that).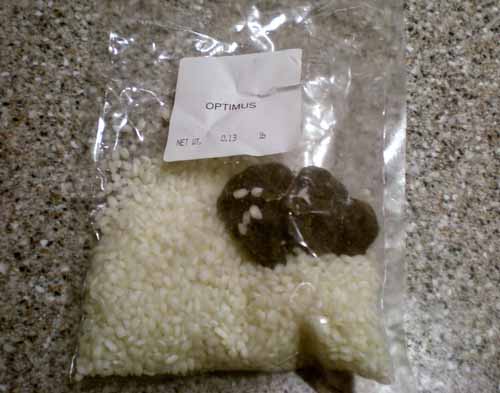 My daughter picked out the rice embedded in the nooks and crannies of the truffle, perfect work for little hands.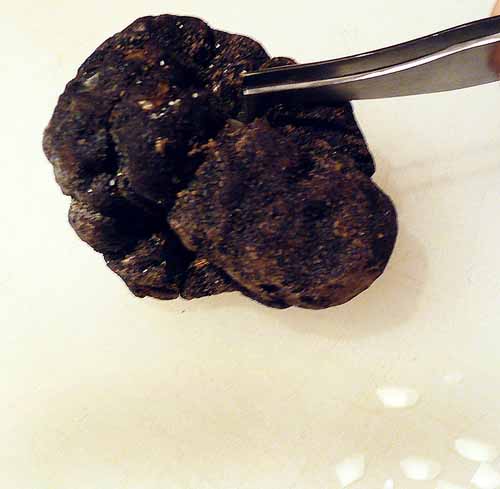 The truffle was 59g (2.08oz) in weight, for US$101.87 (yikes, $1.73 per gram).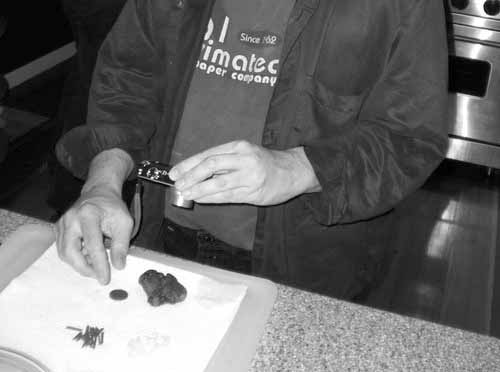 I thought it would be enough for both this recipe, and BLACK TRUFFLE, Explosion.
I carefully cut it up in thin slices on a mandoline.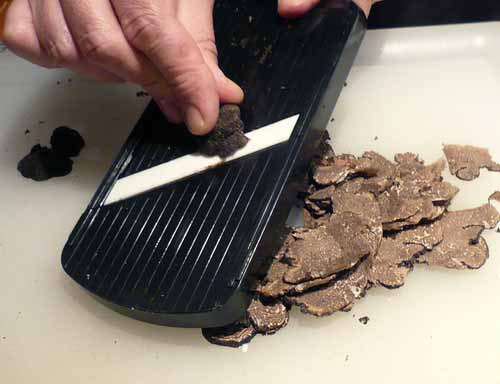 And reserved what we needed to the prep area. The remainder of the slices I froze for later. Everyone was curious, so the tasting began. The overall consensus was that it was very tasty, but a bit dry. The lone holdout, my daughter, remarked that it "tasted like dirt."
So I coated the slices we'd use with some white truffle oil. Made the slices look a little darker too. That'll bring out the flavor. The bits and scraps leftover I added to the potato soup.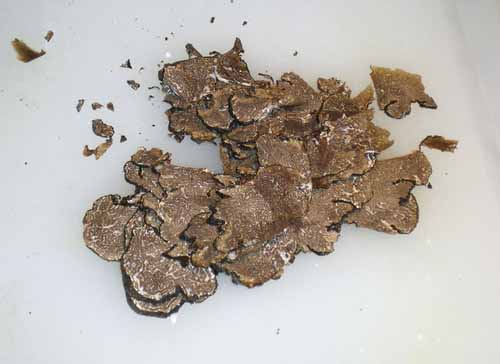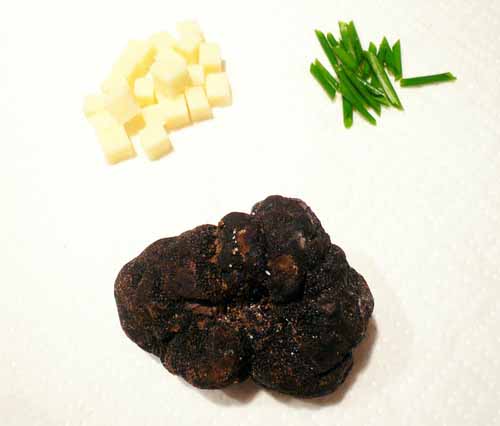 Ingredients:
Fresh winter Périgord black truffle, from Master Caviar
To Assemble and Serve
Mise en place: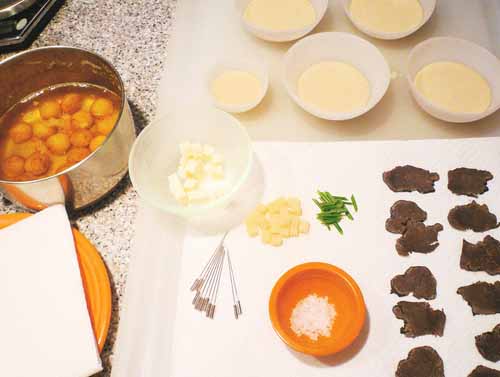 Cooking this recipe is simple. The exotic (read "expensive") ingredients may make it seem complicated, or out of reach. But it's not. We've got potato soup, butter, chives, cheese and mushrooms. That's it. And it's fun and easy to assemble in a group.
At Alinea, they serve this soup in specially made paraffin wax bowls. A chef makes about a hundred a night for each full 92-seating service. They're made with custom molds designed by Martin Kastner of Crucial Detail. And you just can't buy them. But you can make your own, like I did.
Or get some of the 2.5″ silicone condiment cups (each, US$1.50) from Crate and Barrel. They come in white and red.
I bought several sets of metal cocktail picks (set of 6, US$6.95) at Crate and Barrel which will work. But then I saw that you can buy the 2.25″ stainless steel Alinea picks from J.B. Prince (pack of 10 for US$14.40). So I did!
My friend Chili took the cold soup out from the fridge. Candice drained the hot potato balls on paper towels. I poured soup in the wax bowls.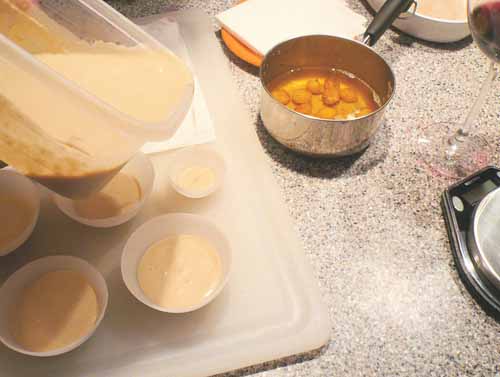 Then we were ready to assemble! Take a stainless steel pin and pierce the side of a bowl, angling upward. Skewer a cube of Parmesan, then cold butter, then a chive or two onto the pin. Space 'em out if you want. Finish with a hot potato ball, flat skin-side up. And top with a slice of truffle and a few flakes of Maldon sea salt. Now it's ready to eat!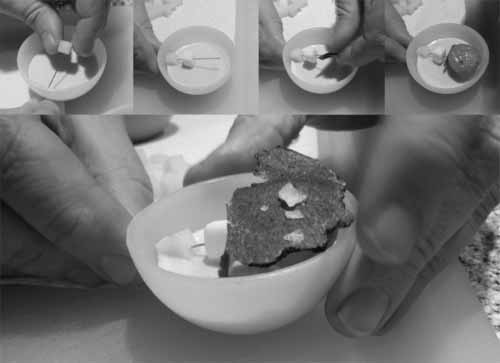 To Eat
Take a wax bowl of soup in your hand and pull out the stainless steel pin. The skewered bits will fall into the soup. Then shoot it! Chewing, of course…

Mmmmmmmmmmm…
Equipment:
Measuring bowls
Salter digital scale
Kitchen knife and cutting board
Vegetable peeler
Medium saucepan
Wire whisk, wooden spoon, rubber spatula
Osterizer blender
Parisienne scoop (melon baller)
Small saucepan
Mandoline or truffle slicer
Plastic containers
Serveware:
Custom one-use paraffin wax bowls
or
White silicone condiment cup, from Crate and Barrel
2.25″ Alinea stainless steel pins, by Crucial Detail, from J.B. Prince
or
Metal cocktail picks, from Crate and Barrel
or
toothpicks! Get creative! And let me know what you use!
Yields: About 16 servings