Recipe, pages 126-127.
Happy New Year!
I'm back. After the holidays and some time off, it's time to start in again. It's also, I think, time for dessert. What better way to usher in a new year, than a rich, decadent chocolate dessert?
LIQUID CHOCOLATE, Chicory, Dandelion, Banana is a hollow chocolate brick, filled with liquid chocolate and served with chicory pudding, chocolate sauce and toffee sauce, garnished with powdered banana and nutty slices of candied dandelion root.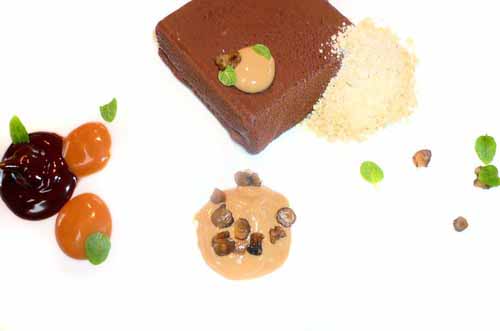 You freeze liquid chocolate, then spray a coating of hard chocolate over that to seal it up. Chocolate spray? Yes. There are sprayers made just for that. Hmmm. I've never used a paint gun for cooking before — until now. That was fun…
…I highly recommend it! This was a thoroughly enjoyable two-day project that ended up being one of my favorite recipes from the Alinea cook book.
Day One
If you decide to spray your chocolate squares instead of dipping them, you'll need a spray booth. And even with that, you'll still end up with slippery kitchen floors. Spraying the chocolate squares will give them a beautiful pebble finish. Or for a smooth finish, you can dip them into the chocolate with toothpicks if you want to avoid the hassle and mess of spraying.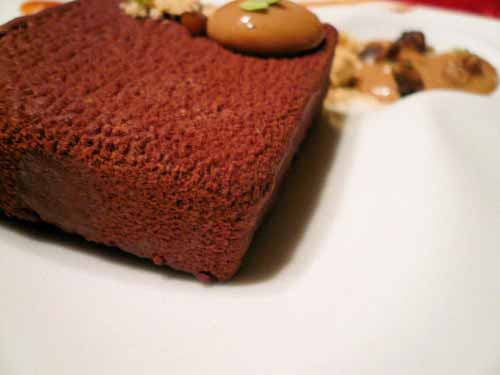 But as John Locke says, "where would be the fun in that?"
It's spray time for me! Here's how I made my spray booth. I took a student tri-fold presentation board and scored it transversely halfway.
Then sliced the two side flaps at the score. This left the scored main panel, with four separate flaps (2 on either side). Folded and taped it together to form a simple spray booth. This will trap most of your overspray, thus saving yourself from "chocokitchen" nightmares.
Don't have your own Easy Spray Hv2002 chocolate sprayer and air compressor system (US$266.00 at J.B. Prince)? Use a simple Wagner airless paint sprayer (US$79.20 at The Home Depot). I washed mine out thoroughly, then ran a bunch of alcohol (vodka) through it to sterilize. All the while taking in the fumes, woot!
Kinda like Bompas & Parr's walk-in cocktail project, Alcoholic Architecture.
Chocolate Squares
Mise en place: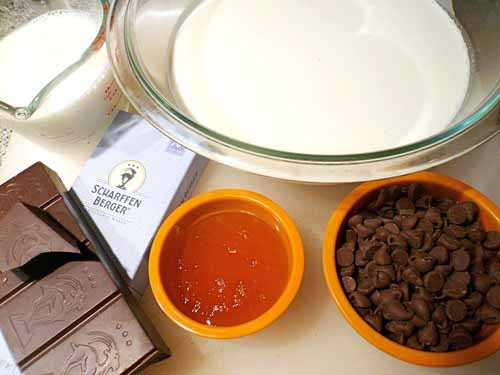 While at Great News! Discount Cookware, (1788 Garnet Avenue, in Pacific Beach, San Diego, CA 92109, 1-888-478-2433.) I picked up some bars of Scharffen Berger chocolate. It's really good stuff, small-batch processed from "bean to bar." The Great News staff is quite helpful, knowledgeable, and can keep a straight face when you ask stupid questions. I learned about the different grades of chocolate. Up until this point, I never really gave it much thought. Also learned that Scharffen Berger was snapped up by Hershey in 2005. Hershey closed the Berkeley plant and is consolidating the manufacture of Scharffen Berger, Schmidt and Dagoba chocolates in Hershey, PA. Damn them.
Most companies add a little flavoring to their chocolates for that extra "ummph." So make sure you get a chocolate that does not have a bunch of extra flavors, as these will conflict with what you're going to add in the following recipes. Alinea uses Valrhona chocolates from France, for their neutral flavors. Valrhona chocolates were selected for their "clean dark-chocolate flavors."
Says chef Christian Seel of Alinea, "We sought to exclude any citrus, floral or red wine notes." Here's a link to their new Fall 2009 dessert, CHOCOLATE, Menthol, Coconut.
I chopped up the semisweet chocolate and put it in a stainless bowl with the milk chocolate.
I combined the cream, milk, honey, vanilla bean seeds and salt in a medium saucepan, and brought to a simmer.
I removed it from the heat, strained the vanilla seeds out, and poured over the chocolate.
I waited for a minute or so, allowing the chocolate to melt, then whisked together.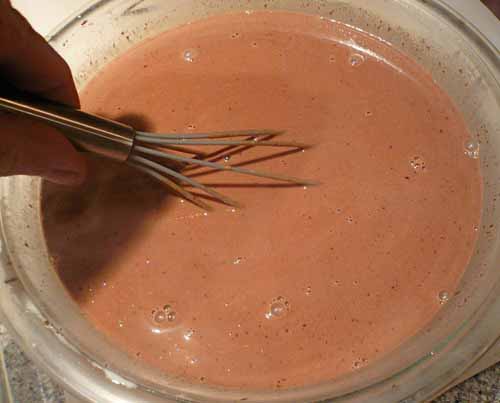 Then blended until smooth with an immersion blender.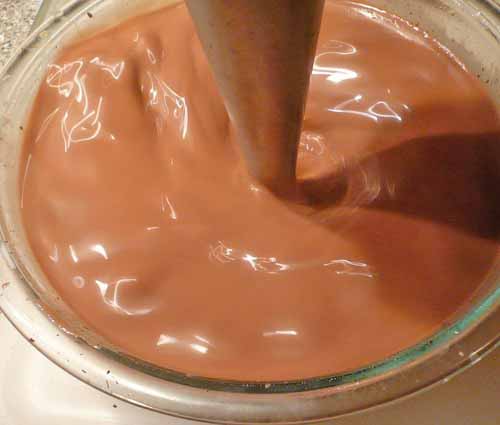 I lined a baking dish with plastic wrap, and filled it with the chocolate sauce, then put the tray in the freezer overnight.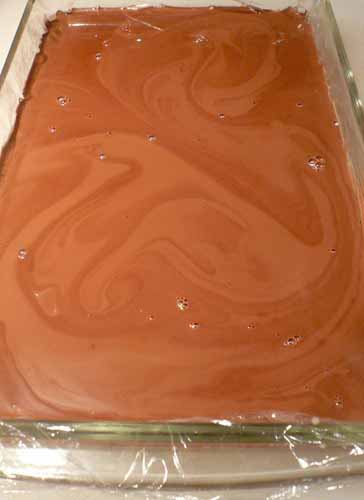 There was still some hot chocolate left. What to do? It's delicious on its own, you could easily use this component recipe as your favorite new homemade hot chocolate.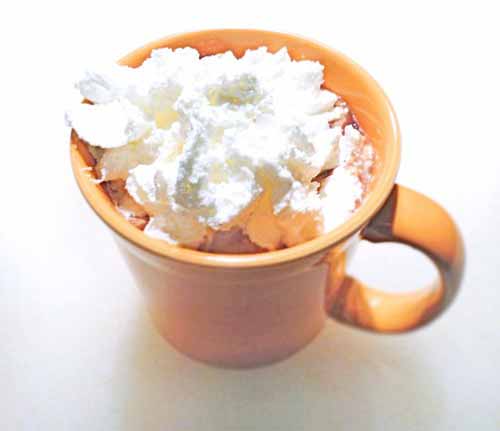 Ingredients
Scharffen Berger 70% cacao bittersweet chocolate, chopped, from Great News
Hershey's milk chocolate chips
Alta-Dena heavy cream
Alta-Dena whole milk
Honey
Vanilla bean
Morton's kosher salt
Candied Dandelion Root
While I was out and about, I went to a local herbalist for chicory and dandelion root.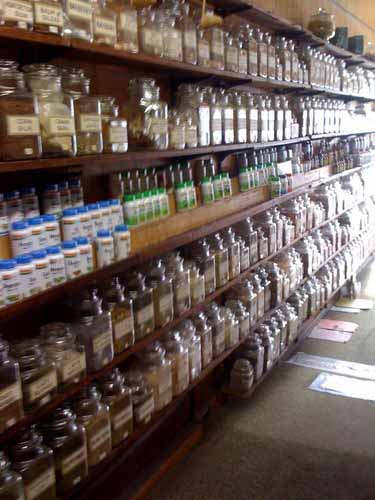 The Herb Shoppe in San Diego (3618 El Cajon Boulevard, San Diego, CA 92104, 619-280-5621) has been in business in the same location since 1969. It's an old-school herb shop with dozens and dozens of glass jars filled with strange, pungent herbs, roots and spices. Over 400 loose herbs I was told.
I picked up 2 ounces each of dried, chopped dandelion root and chicory root (about US$3.50 each).
About Dandelions

Chopped, dried dandelion root is traditionally usually used to make (caffeine-free) herbal teas. But since there's a certain non-traditionalist streak going through Alinea's recipes, we're going to re-hydrate and candy these roots. Why not? Just remember, the dandelion (Taraxacum officinale) is not a weed. That's a relatively new idea, some say, because it's "a plant for which we once knew the use but we've forgotten…"

Some species of dandelion are even endangered. For generations, we've eaten the greens and even made wine from the flowers! As for being a food, you can use all parts of the plant. It's all edible.
I soaked the dandelion roots in water overnight, covered.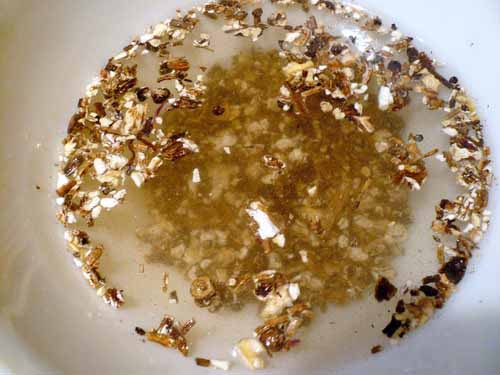 Ingredients
Chopped, dried dandelion root, from The Herb Shoppe
C&H cane sugar
Water
Vanilla bean
Banana Powder
This is an easy one. I took a package of dried banana slices, put them in my Cuisinart mini food processor, and pulverized them into a powder. Reserved in a covered plastic container.
Ingredient
Dried banana chips
Day Two
Chocolate Squares, continued
I removed the baking pan from yesterday, and cut up the frozen chocolate into 2-inch(ish) squares, and placed them on a rack. Popped them back into the freezer. You have to do this rather quickly, so they stay clean and square. No melting!
Candied Dandelion Root, continued
Mise en place: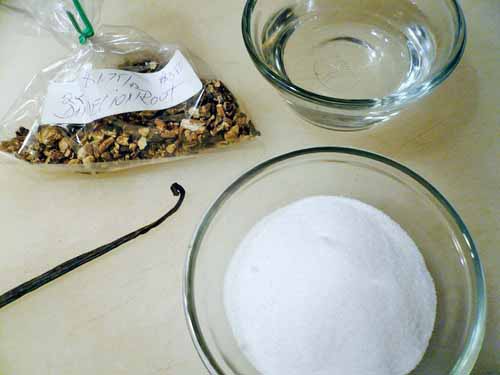 I removed the dandelion roots from the water, and spread out on a paper towel to dry out a bit.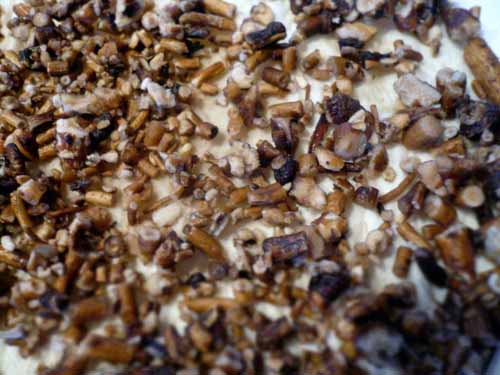 Picking the best pieces, I cut them up into very thin slices. I found that the thinner the slices, the better they will "candy." The thicker they are, the "chewier" they'll be.
The recipe says to caramelize your sugar, then add the water, and finally the other ingredients. I tried this, and must have let it caramelize a wee bit too much, because after it had cooled, I had what amounted to thick "dandelion taffy."
So for version 2.0, I combined the water, sugar, seeds from the vanilla bean and the dandelion root in a medium saucepan. Then reduced it down for about 15 minutes to a light syrup. Reserved in a plastic container.
Chocolate Spray
I brought some water to a boil in a medium pot. When I first started cooking through the Alinea cookbook, I ordered some powdered Barry/Callebaut MyCryo cocoa butter powder for APPLE, Horseradish, Celery Juice and Leaves. I still had the container, and when I opened it up (12 months later!) it was still dry and powdery. Excellent. So I'll use that instead of solid bars of cocoa butter.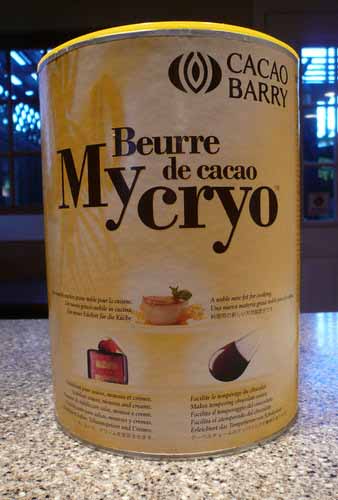 I combined the chopped chocolate and powdered cocoa butter in a stainless bowl placed on top of the pot. They melted very fast over the steam. Impromptu double boiler. I whisked until the chocolate was smooth, and removed from the heat.
After it had cooled just a bit, I filled the paint gun's sprayer cup with the liquid chocolate. Then removed the frozen chocolate squared from the freezer and place on the rack in the spray booth. Test-sprayed on the back wall until it was flowing, and let 'em have it! Several coats just to make sure there were no missed spots or "holes."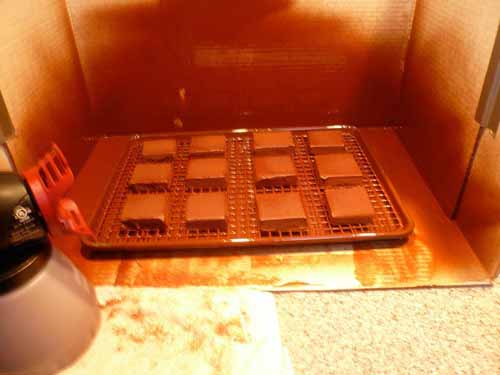 Put them in the freezer to set up. It's quite messy. Recycled the oversprayed chocolate back into my bowl, and cleaned up a bit. Calling all strawberries! Forget those fancy-schmancy chocolate fountains when you have your own spray booth, dripping with chocolate.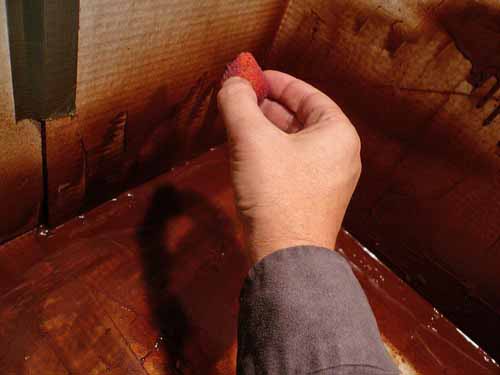 After I got home from work, I re-melted the chocolate, took out the squares and flipped them over to finish the coating.
Then returned them to the freezer to finish setting up.
Transferred them to the fridge, so the interiors would thaw back into a liquid.
Ingredients
Scharffen Berger 70% cacao bittersweet chocolate, chopped, from Great News
Barry/Callebaut MyCryo cocoa butter powder, from ChefRubber
Chicory Pudding
I called around town to the usual suspects for chicory extract, but could find none. So I decided to try and make a coffee-chicory extract myself. My "extract" turned out as more of a syrup, which worked out just fine. The night before when I soaked the dandelion root, I did the same with the chopped, dried chicory root. In the morning, I put the chicory root and water on some heat to simmer for a couple of hours. I wanted to extract all the flavor out of the roots as I could. I also brewed some French Market chicory coffee from New Orleans. You could also use Cafe du Monde chicory coffee. My Dad used to tell us stories of coffee shortages during WWII, during which he had to "endure" the dreaded chicory instead of coffee. It was all they could get. Luckily, I like it.
I strained the chicory, and reserved the liquid, to which I added some of the chicory coffee and a bit of sugar. Then simmered until it reduced by half. I transferred it to a small squeeze bottle. This coffee-chicory reduction will be the basis for my pudding…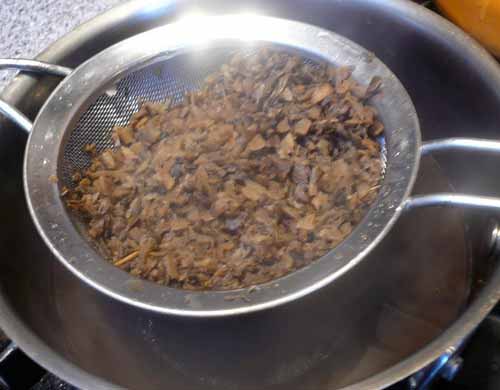 Mise en place. Coffee-chicory syrup at bottom left.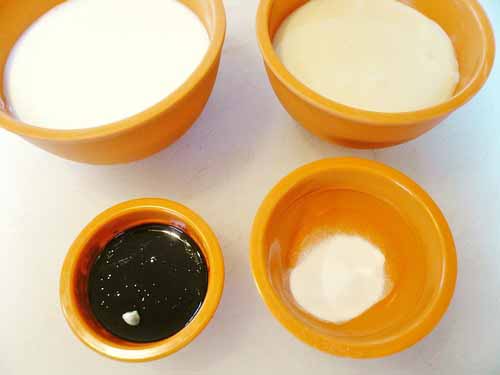 I combined the milk and agar in a medium saucepan and brought them to a boil to dissolve the solids.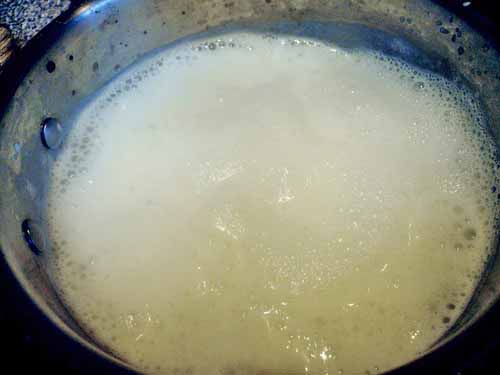 Simmered and removed from heat. Then added the sweetened condensed milk and some chicory syrup to taste. After it had set, I blended it to a smooth pudding in my Cuisinart mini food processor. Then transferred to a couple of squeeze bottles. Oh, by the way, this is delicious by itself!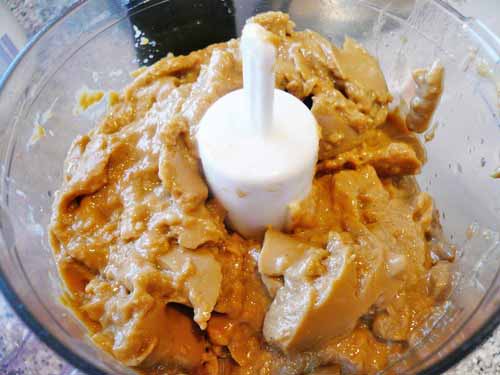 Ingredients
Alta-Dena whole milk
Borden's sweetened condensed milk
Agar agar, from L'Epicerie
Freeze-dried chicory extract, or
French Market chicory coffee
Chopped, dried chicory root, from The Herb Shoppe
C&H cane sugar
Water
Chocolate Sauce
So sue me. Since I really don't like bittersweet all that well, I decided to make this chocolate sauce with mostly dark chocolate. And I did not have the dry licorice extract, so I used some anise extract (readily available at my local grocery store). In fact, this recipe can be made with regular ingredients found at your local grocers.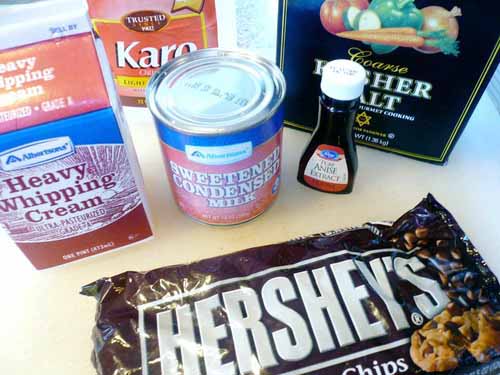 I put the chopped chocolate in a bowl and set aside. In a medium saucepan I brought the glucose, heavy cream, water, anise extract and a pinch of salt to a boil.
Then removed from the heat an covered the chocolate. Stirred with a whisk to get it started, then blended until smooth with and immersion blender.
I transferred to several squeeze bottles. This recipe made about a liter of chocolate sauce, so you could easily cut it in half if you wanted to.
Ingredients
Scharffen Berger 62% cacao dark chocolate, chopped, from Great News
Glucose (KARO corn syrup)
Alta-Dena heavy cream
Water
Dry licorice extract, or liquid anise extract
Morton's kosher salt, to taste
In a saucepan, I caramelized the sugar and glucose until they started browning.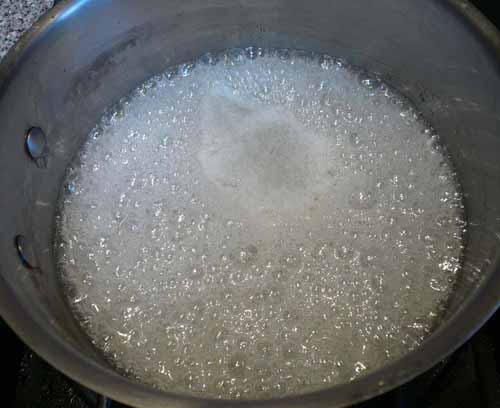 Then added the whole milk — VERY carefully. It foamed up almost immediately, even with vigorous whisking. I had to remove the pan from the heat for a few seconds until the foam settled down.
I transferred this to the blender and added the Ultra-Tex 3 and xanthan gum, and blended. The recipe says to use Ultra-Sperse 3, but I didn't have any. I had Ultra-Tex 3, and it worked just fine.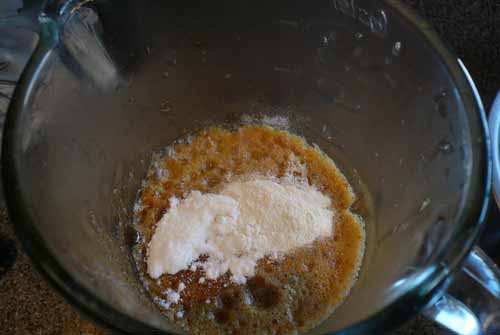 I slowly added the cold cubes of butter to the running blender, and last, added the bitters until everything was combined and blended to a smooth sauce. The Angostura aromatic bitters added just the right "zing" to this toffee sauce. But I thought that some Fee Brothers orange bitters would do just as well (orange and chocolate combo — maybe next time).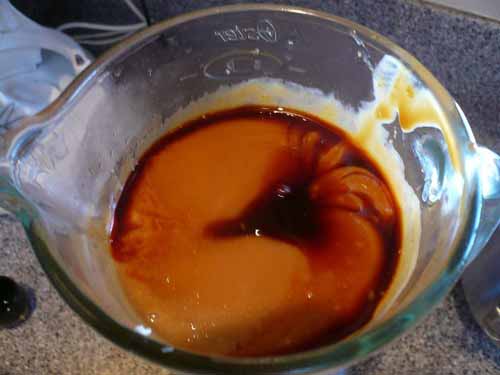 Ingredients
C&H cane sugar
Glucose (KARO corn syrup)
Alta-Dena whole milk
Xanthan gum
Ultra-Sperse 3 or Ultra-Tex 3 modified starch
Challenge unsalted butter, cold, cubed
Angostura bitters
To Assemble and Serve
To plate, I used the Alinea "Dune" plates I'd previously purchased from J.B. Prince for AYU, Kombu, Fried Spine, Sesame.
I placed a chocolate square on the plate and topped with a squeeze of the chicory pudding. Added a pile of powdered banana to a corner of the square. Then filled the plate's "divot" with some chicory pudding topped with the dandelion root. Then you're supposed to streak the plate with the chocolate sauce and bitters toffee. I tried that. As an artist who paints regularly, I turned out to be "not too proficient" at this. Guess I'll have to practice more. On subsequent platings, I resorted to pools, rather than streaks. People liked that better. When I did just the streaks, they went back into the kitchen and brought out the squeeze bottles!
The recipe book says to garnish with tarragon leaves. I forgot to buy some Damn. So I used some herbs I had on hand: basil mint and zuta levana.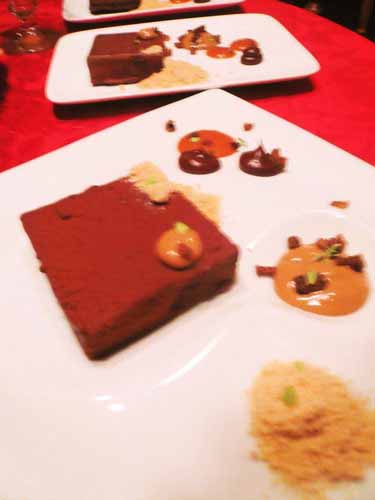 I finally garnished some with zuta levana leaves and others with basil mint leaves.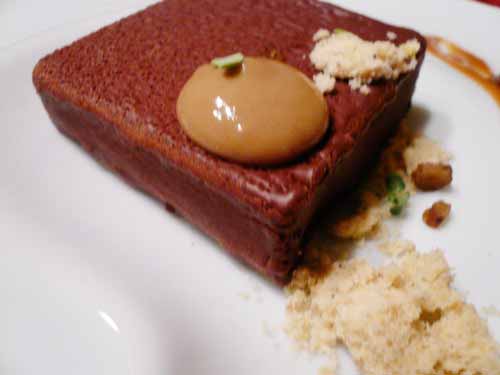 It was a hit! My Christmas Evening guests all agreed, it was the tastiest Alinea dish yet! All the components went together well. After one breaks the hard shell coating, the interior chocolate's supposed to be liquid. Mine were more like mousse. My guests agreed that it was easier to eat than if the chocolate had been runny.
They could pick and choose their bites for different taste experiences. The chocolate-licorice combination was delicious, not too strong, a perfectly subtle combination. And the dandelion roots reminded some of hazelnuts.
It was a hit. Even with the kids. Clean that plate!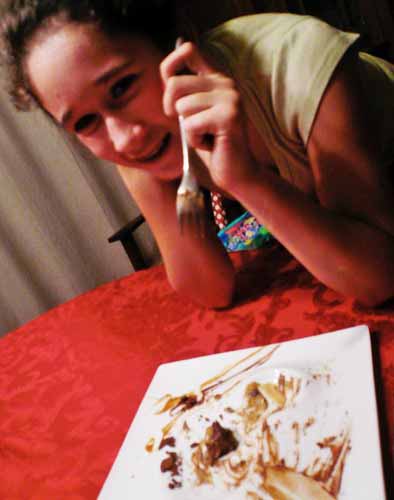 Equipment
Elmer's student tri-fold presentation board
X-ACTO #11 blade
T-Square with metal edge
Duct tape
Wagner airless paint sprayer
Salter digital scale
Measuring bowls
Cutting board and kitchen knife
Medium saucepan
Wire whisk
Stainless steel bowls
Cuisinart immersion blender
Baking dish
Osterizer blender
Cuisinart mini food processor
Rubber spatula
Strainer, sieve or chinois
Electronic thermometer
Sheet trays with cooling rack
Paper towels
Plastic wrap
Plastic squeeze bottles
Plastic containers
Tweezers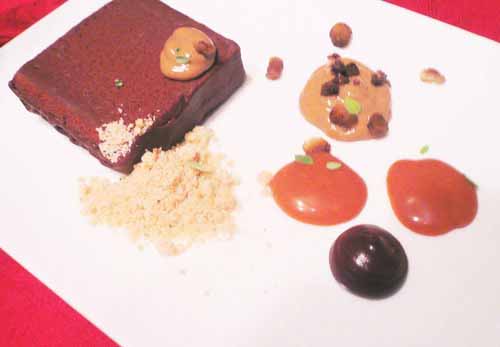 Serveware
Alinea "Dune" plates by Crucial Detail, from J.B. Prince
Yields: 16-24 servings, with lots of chocolate sauce and bitters toffee left over.
Next, TOMATO, Mozzarella, Many Complementary Flavors