Alinea Component Recipe, used in BISON, Beets, Blueberries, Burning Cinnamon (pg 114); SQUAB, Watermelon, Licorice, Foie Gras (pg 159); BEEF, Elements of A1 (pg 194); VENISON, Encased in a Savory Granola (pg 279); BEEF, Elements of Root Beer (pg 356); and in GOOSE, Blood Orange, Sage, Roasting Goose Aromas (pg 361).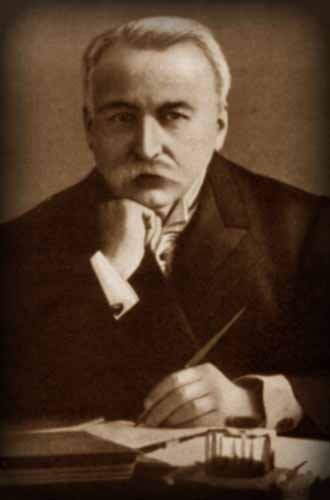 About Veal Stock
Since 1903, when accomplished chef and successful restaurateur Georges Auguste Escoffier (1846-1935) published Le Guide Culinaire, French cooking has never been the same. Important enough to Escoffier, he listed the recipe for veal stock as one of the first recipes in his book. It is le fond, the "foundation," on which many, if most, of his other sauces are based.
His was the first published, simplified version of much older French recipes, based presumably on those of original star chef Marie-Antoine Carême (1784-1833) and others. I wonder what the oldest, first published reference is to fonds de veau. Anyone out there know? More research must be done!
This versatile stock can be used in many dishes, and imparts a much richer taste that when using simply plain beef stock. It's neither sweet, salty, bitter, nor sour — it's umami. It's the "very quintessence of veal."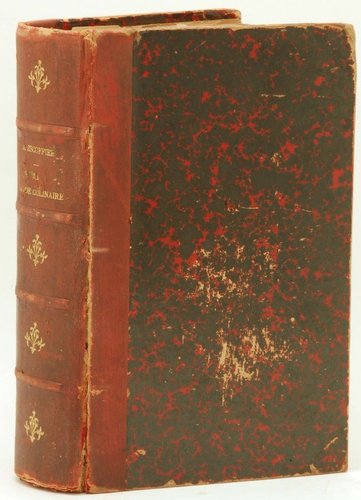 Le Guide Culinaire: Aide-Memoire De Cuisine Pratique, first edition, 1903.
What are the basic steps in making your own veal stock?
For a white veal stock, fond blanc de veau (fohn-BLONK-deh-vow), simmer the bones, then rinse in cold water to clean.
Or, for a brown veal stock, fond brun de veau (fohn-BREWHN-deh-vow), roast the bones first.
Barely simmer the bones the first time for many hours (depending on recipe, from 180ºF-200ºF, never boiling). Strain the bones and save the first stock.
Simmer a second time, making a second, weaker stock. Called the remouillage (reh-moo-YAZH), or "remi" for short, in French means "re-wetting". Strain.
Combine the two.
I've made veal stock from Thomas Keller's multi-day, multi-complicated (but highly detailed) recipe from The French Laundry Cookbook. Then a couple of years later, I tried Anthony Bourdain's recipe from Les Halles Cookbook. So this is the third. I have never tried Michael Ruhlman's simplified veal stock recipe from Elements of Cooking, but it looks good too. And he is certainly passionate enough about it, writing that "veal stock is the essential. If you could have only one preparation in a book of essentials, veal stock would have to be it."
The Alinea recipe for veal stock is slightly different from both Escoffier's and Keller's. It's a streamlined recipe — that takes a full day to make. You basically boil the hell out some bones and herbs for about sixteen hours.
Why do you simmer a stock for so long?
Because bones contain collagen, which when simmered in water forms gelatin. Those Rousselot gelatin sheets I use so often in these Alinea recipes are made this way, from animals!
The more gelatin there is in the stock, the more body it will have as the water evaporates, thus the long simmering times. Not only is the flavor extracted, but also the gelatin, which give the stock some natural thickness.
"Types of bones that are naturally high in cartilage include so-called 'knuckle bones' found in the large joints" says Danilo Alfaro in The Basics of Making Stock: Bones, Vegetables & More, and "ones of younger animals, which is why veal bones are so desirable."
For a full discourse on making stock, especially veal stock, I highly recommend Michael Ruhlman's The Elements of Cooking.
Now that doesn't sound too difficult. You can do it — and it makes your house smell warm and comforting (that is, if you're not vegetarian, vegan, a juvenile bovine, or animal activist).
Veal Stock
I went to Iowa Meat Farms (6041 Mission Gorge Road, San Diego, CA 92120, 619-281-5766) and bought some veal bones, a goose, and some foie gras (the latter two for GOOSE, Blood Orange, Sage, Roasting Goose Aromas). They almost always have some veal bones, but were out of calf's feet. And I forgot to ask for the more generic "beef feet." If in doubt, call ahead…
So I went to World Food Supermarket (5245 El Cajon Boulevard, San Diego, CA 92115, 619-265-9988), a great local Asian market I frequent, and bought some frozen beef feet. They usually have them in the freezer case, pre-packaged, cut up in 2-inch pieces.
The first stage in making the stock is to cleanse the bones of any residual impurities, remnants from the butchers' saws, blood, or fat. So I threw 'em in a large stock pot, covered with 6 inches of water and brought to a simmer.
The fat and muck foams to the top. I skimmed it off with a small sieve. Look at all that stuff…
I rinsed them with cold water, cleaning off the coagulated blood and fat. You want to remove as much of this as possible before you do your first simmering, or remouillage. The less impurities, the clearer the final stock will be. By simmering for hours, you extract the flavors from the bones. If you boil it hard, the stock will go cloudy. This is a NO-NO. Any chef would belittle you for months on end for a transgression like that.
Then returned to a clean stockpot with fresh water, to make the first stock.
Now I stirred in the aromatics: a bunch of fresh thyme, diced organic onions and carrots from Schaner Farms, black Tellicherry peppercorns, and some canned tomato paste. Foodtoid: Did you know that the term "Tellicherry" is just the anglicized form for the city of Thalassery, near the Malabar Coast of India?
Then brought up the heat and simmered for eight hours. Checking it regularly, and skimming the top.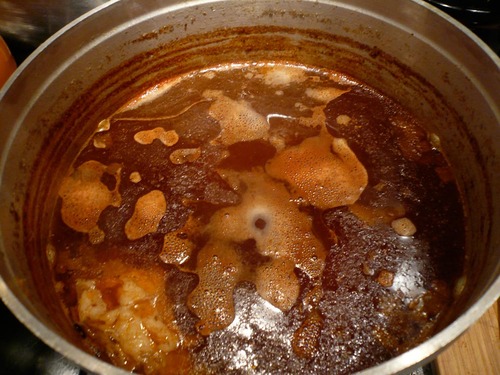 Then I strained the first stock through a chinois, saving the bones for the remouillage, or second stock.
I added the bones to a clean stockpot and filled with water, added some more tomato paste, brought to a boil, then simmered for another eight hours. Checking it regularly, and skimming the top. I strained the second stock through a chinois, discarding the bones.
The third stage is where you combine the two and reduce the sauce until it thickens a bit — to a beautiful brown meaty goodness. Or should that be a beautiful brown saucy goodness?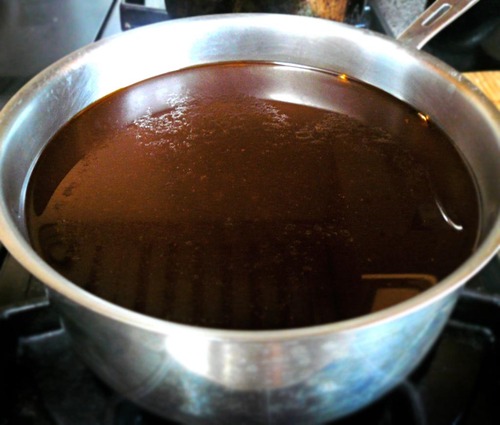 I reserved the stock in plastic containers, and froze for later use.
Veal stock substitutions
If you just don't want to go to the trouble or expense of making your own from scratch, you can substitute a strong, low-sodium beef stock. Take a beef stock and reduce it down so it's richer than normal, but make sure to use one with little salt, or this will intensify along with the beef flavor.

Or, if they have it, buy a box of Wolfgang Puck veal stock from your local butcher, Whole Foods or specialty grocer.

WARNING: If you substitute, you may incur the wrath of some veal stock purists.
Ingredients
Veal bones, cut into 2-inch chunks, from Iowa Meat Farms
Beef feet, cut into 2-inch chunks, from World Food Supermarket
Water
Organic Schaner Farms onions, from Little Italy Mercato Farmer's Market
Carrots, from Little Italy Mercato Farmer's Market
Whole, black Tellicherry peppercorns
Fresh Schaner Farms thyme, from Little Italy Mercato Farmer's Market
Tomato paste
Equipment
Salter digital scale
Measuring bowls
Cutting board and kitchen knife
Large stock pots
Wooden spoon
Chinois, strainer or sieve
Spoon or small strainer for skimming
Small bowl
Plastic containers
Total time: 16 hours
Yields: 2-4 quarts of veal stock, depending on how much you reduce it.
Next, GOOSE, Blood Orange, Sage, Roasting Goose Aromas.
Revised, 14 January 2010.