Postmodern Pantry Update
I was just checking and guess what? Although it's not online yet, Alinea's e-commerce website Postmodern Pantry has changed a bit. They have posted a revised homepage image (not yet clickable) as a preview of things to come. Woohoo!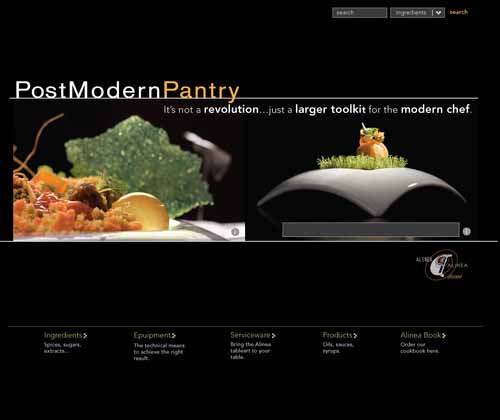 Image from Postmodern Pantry
Postmodern Pantry is a project by folks at Alinea and Terra Spice, featuring products by Crucial Detail and Polyscience. Looks like the website be a PHP-driven site with product search capabilities and online ordering, developed and/or hosted by SmartleyDunn Solutions of Chicago. They're going to offer ingredients, spices, serveware and equipment.
Carol from Alinea At Home received some samples of their ingredients in December. Everything looks professionally branded in conveniently sized packaging.

Photo by Carol Blymire, Alinea At Home.
They were developing a product wiki a while back (July, 2008), which now looks kinda dead in the water from the spam postings I found. But we'll see…