Recipe, pages 348-351.
Warning: This post is Rated R for culinary profanity.
During our winter, there's an abundance of wonderfully exotic Mexican subtropical and South American tropical fruits available to us. Some are easy to find locally, others, not so much. In this Alinea entrée, the combination of lobster, citrus and fruit is refreshingly addictive — and makes for an absolutely beautiful plate!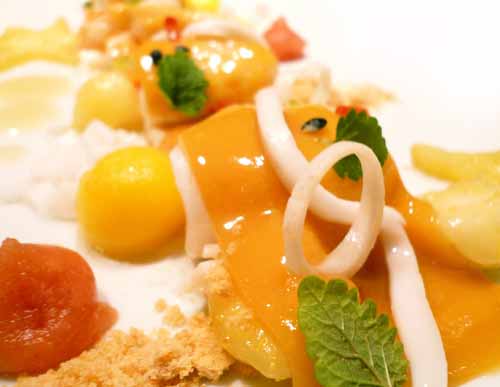 There are a lot of components to this dish. But don't be daunted by it! Once you get all your prep done, it's easy to complete. And a fun dish to do with guests!
Day One
Passionfruit Purée Sheet
This is a gelatinized sheet of passionfruit juice, which, when placed over our lobster and tropical fruits will melt, forming a deliciously sweet covering. There's only one problem. I've come to the conclusion that passionfruit is ridiculously expensive.
The recipe in the book calls for 1000g of passionfruit (Passiflora edulis) pulp and seeds. There are about 15g in each fruit, of the size I could find. That means I'd need at least 67 passionfruit. So if I shopped at Whole Foods or Vons, and purchased them at US$2.99 each retail, that would be US$200.33. That's just ridiculous.
Plan B. If I ordered a 1kg/2.2lb tub of sweetened, frozen passionfruit purée from L'Epicerie, it's only US$16.80. But then I'd have to buy an insulated container (US$10.00) and ship next day air for US$50.00 or more. Expensive.
Plan C. If you can find it, try getting unsweetened GOYA brand frozen parcha (passionfruit) pulp, curuba (banana passionfruit) pulp, or La Nuestra brand frozen curuba pulp in your local Mexican market. Curuba (Passiflora tarminiana) is the Colombian banana passionfruit, and it was US$2.95 for 14oz. The only drawback, it's a bit sour. Ahh, I can deal with that.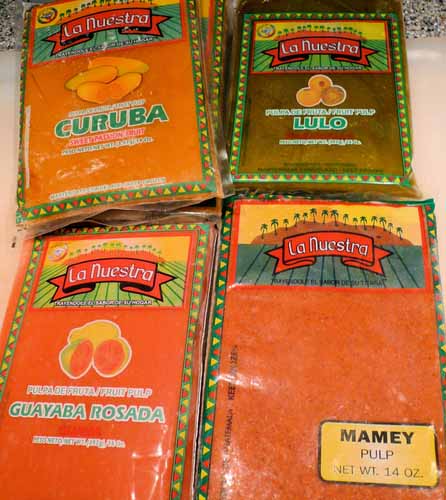 Instead of mixing it with water, I substituted mango nectar, added the sugar and some passionfruit syrup to taste. Torani passionfruit syrup you can find at any Bevmo, or coffeehouse supplier. I had some on hand. (I like tiki drinks, what can I say?)
Then brought it to a simmer in a large saucepan. Added the gelatin sheets and stirred until dissolved.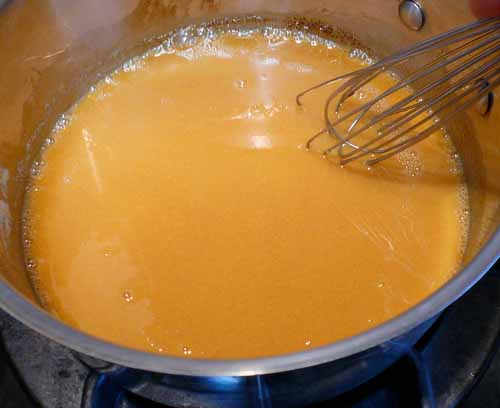 Then strained through a chinois.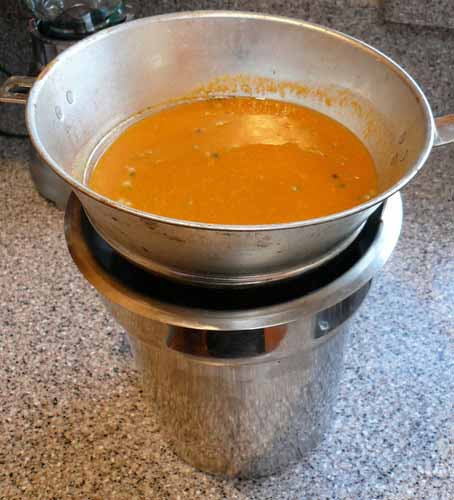 I took a sheet of acetate and cut it down so it would fit flat into a sheet tray. This is what you'll put in the freezer, so make sure to plan ahead.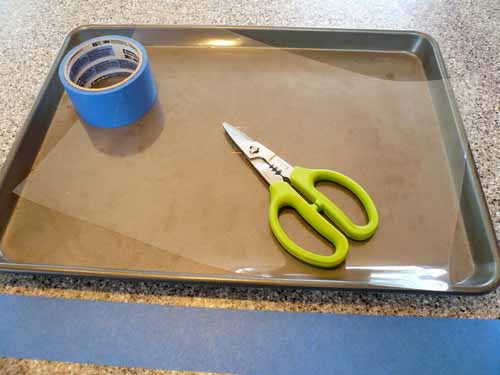 Working on a flat surface, I built up about 20 layers of masking tape in two parallel strips. Moistened the countertop and placed the acetate between the tape strips. The moisture helps keep the acetate flat. Then worked out some air pockets.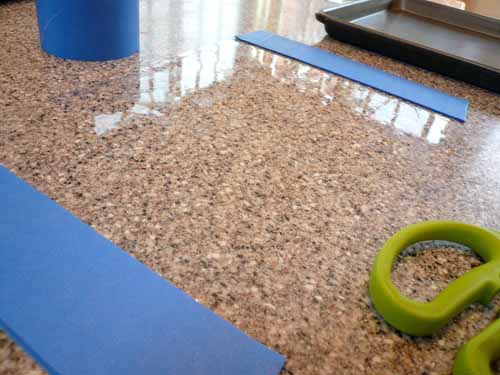 Then I sprayed the acetate with a little cooking spray (PAM) and wiped off the excess.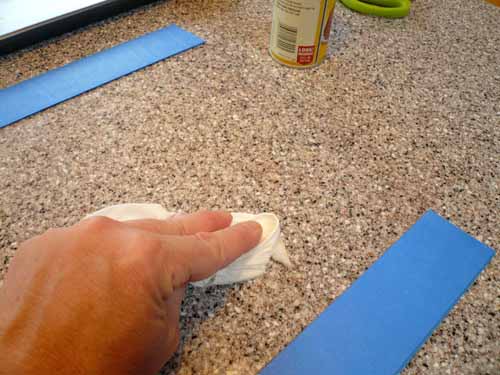 Got my trusty t-square out, and was ready to do this. You'll need some type of hard, flat bar to drag the gelatin across the acetate. Kinda like a squeegie, or silkscreening ink…
I hate spills. I'm somewaht Adrian Monkish about them. Pouring stuff on the countertop was hard for me to do. Even now, looking at the pics, I kinda cringe. Buck up man!
Hesitating, I poured the passionfruit gelatin to the left side, on the acetate. Then I took the metal straight edge of the t-square and dragged it across from left to right, thinning the mixture evenly into a liquid sheet. It took a bit to start setting up, after which I carefully placed the sheet on the tray and popped into the freezer.
After a couple of hours, I took it out and sliced the sheet up into smaller pieces, 1.5″ wide by 9(ish)" long strips, and returned to the freezer, ready for plating.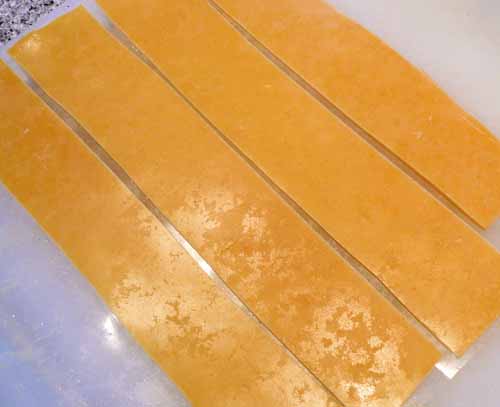 Ingredients:
Frozen La Nuestra caruba pulpo de fruta, from Gonzalez Northgate Market
Noyano mango nectar, from Gonzalez Northgate Market
Torani passion fruit syrup, from Bevmo
C&H cane sugar
Rousselot "silver" gelatin sheets, from L'Epicerie
Frikkin' Tamarillo Pudding
Frikkin' tamarillos.
Tamarillos (Solanum betaceum), tree tomatoes, or tomates de arból, are available seasonally from California, Mexico and South America from late fall to winter (now). Then during April through November from New Zealand. (Incidentally, this is a relatively new source. The first crop produced in Australia was in 1996.) Which means, logically, that you should be able to procure them pretty much anytime you frikkin' want them.
Online, couldn't find any. Several places I called were already sold out. I found that GOYA sells a frozen tomate de arból (tamarillo) pulp, but no one had it
Locally? Nada.
So I called Specialty Produce to see if they could order me some fresh. They deal wholesale to many restaurants locally, and are open for retail business as well.
"I'd like to see if you can order me something."
"What restaurant are you calling from?"
"None. I have no restaurant. I'm just calling."
(pause)
"What? I can't hear you. Can you speak up?"
"I'm not from a restaurant. I'm just a retail customer. I'd like to see if you can order me some tamarillos."
"Our retail storefront is open from six to nine."
"Uh. Yes, I know that. I checked your website, and they were not listed as on hand. So, I thought I'd call. I'd like to see if you can get me some."
(pause)
"What was it you were looking for?"
"Ta-ma-REEH-yohz."
(pause… as she looked it up on their website, no doubt)
"How do you spell that?"
"T-A-M-A-R-I-L-L-O-S."
(pause)
"Ta-ma… rind?"
"No. One up on the list."
(pause)
"Red or gold?"
"Red."
(pause)
"Oh those are only available from April to November."
"Yes, that's the New Zealand variety. I'd like to know if you can get me some of the Californian."
"They're only available from April to November. Call back in April."
"But the Californian and Mexican are supposed to be available through winter…."
"No. Check back with us in April."
"So you can't order me a—"
(click)
She frikkin' hung up on me. Why is it so difficult? I'm in California, and only fourteen miles away from Mexico — for God's sake!
I was kinda pissed at being treated that way by some clueless Valley girl order-taker. So what if I'm not a big order customer. Good customer service does not discriminate.
Fuck the tamarillos. I'm buying local, goddamn it.
Strawberry Guava Pudding
So as a reaction to the above, and as part of the whole local food thing, I decided to go with another red(dish) tropical fruit. The strawberry guava (Psidium littorale var. cattleianum), or guayabera rosada. I had no trouble finding the ingredients at my regular sources for this. In fact, it was quite nice.
As I checked out at Gonzalez Northgate Market, the elderly man bagging my El Natural pulpas frutas kindly asked me, "Usted hay de Colómbia?" He'd seen I' bought six packs of frozen fruit pulp, very popular in Columbia and Ecuador for making aguas frescas.
"Oh, um. Yo?" I paused, trying to recall my Spanish. "No. No. Soy de San Diego. Pero me gustan mucho estas pulpas frutas. Son para salsas."
He nodded knowingly and smiled back at me as I thanked him.
You see? That's more like it. Anyway, on to the recipe. Mise en place: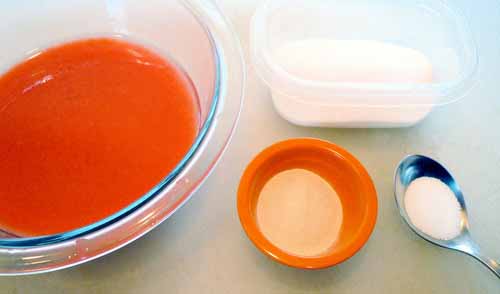 I combined the guava pulp, sugar and water in a medium saucepan and brought to a boil, reduced the heat to a simmer, then whisked in the agar slowly, cooking for another two minutes.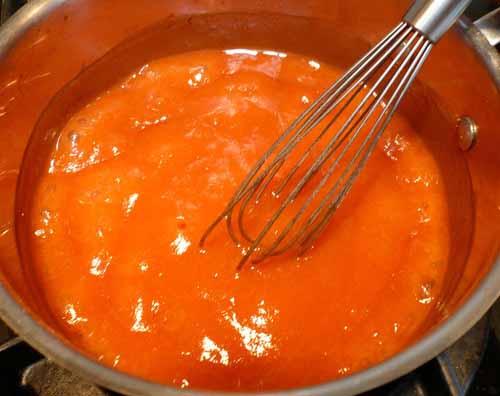 Strained into a bowl and refrigerated until it set up. Straining gets rid of any large pieces of pulp or undissolved agar chunks.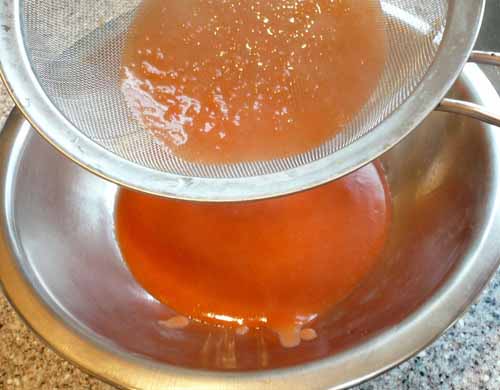 After a couple of hours, I removed the gel from the fridge. It was so shiny…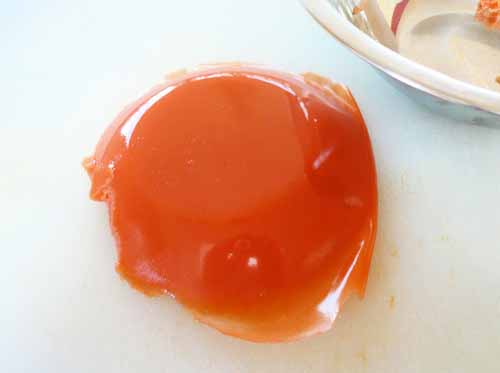 Then chopped it up.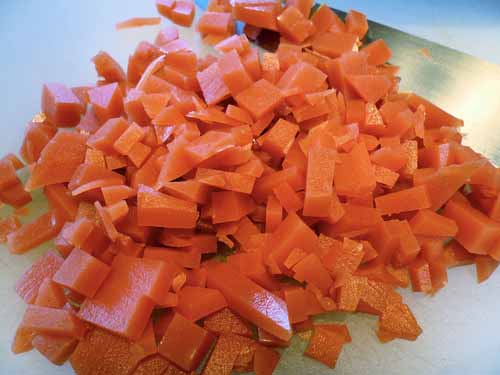 And blended until smooth in my Cuisinart mini food processor.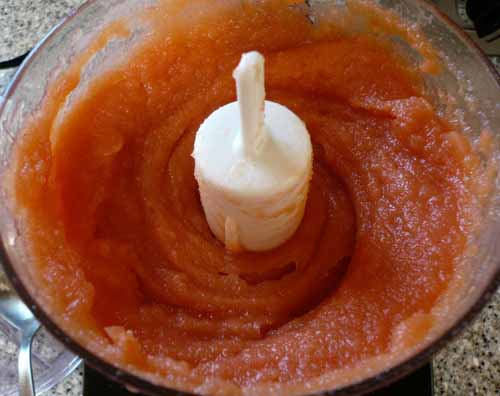 Transfered to a squeeze bottle and refrigerated for later.
Ingredients:
Fresh tamarillos, from Specialty Produce
Frozen La Nuestra strawberry guava purée, from Gonzalez Northgate Market
Diamond Crystal kosher salt
C&H cane sugar
Agar agar, from L'Epicerie
Pineapple Powder
If you can find it, use the freeze-dried pineapple powder. Or order some freeze-dried pineapple chunks and pulverize into a powder. It'll make your life easier, all ya gotta do is sprinkle it out in little piles. But did I do that? Nooo.
I bought a package of dried pineapple rings at Whole Foods, thinking I'd just dry them out a bit. I chopped them up and placed into my dehydrator at 155ºF. It took forever for them the dry out enough. More than a day. I left them going the second day. And it wasn't until just before cooking the lobsters that they were dry enough to grind into a powder. As they dried they turned a burnt orange, all their sugars concentrating.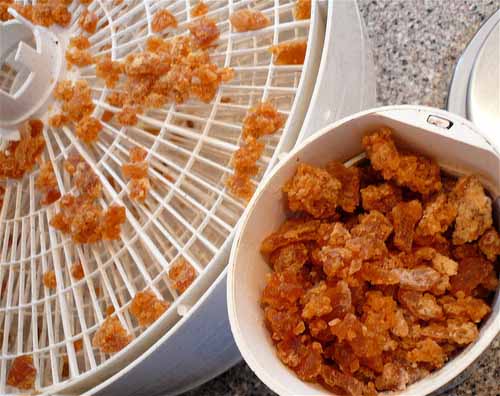 Then I pulverized the dried chunks into a powder in my spice grinder. And reserved in a bowl.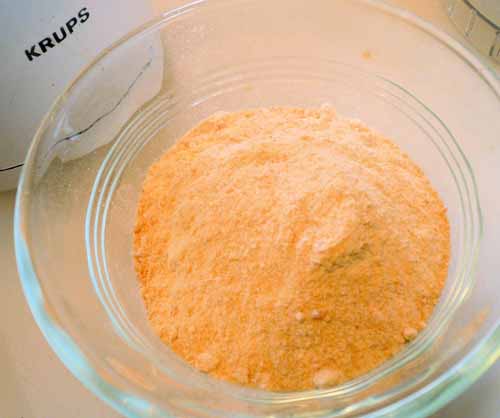 Make sure to use a covered container, as the powder will soak up the moisture in the air, and harden. The crust is actually kinda good, as you can break it up into small crunchy chunks for plating. Or use a mortar and pestle. We thought chunky was a little more interesting, texturally, than a straight powder.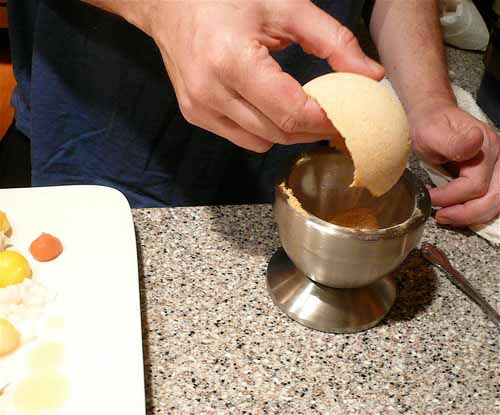 Ingredients:
Freeze-dried pineapple powder, or
Freeze-dried pineapple chunks, or
Dried pineapple rings, from Whole Foods
Day Two
Lobsters
Winter is lobster season in San Diego! So I decided to go local and use California instead of Maine lobster. The local California Spiny Lobster (Panulirus interruptus) is caught daily off our coast, fresh and abundantly available. The most noticeable difference is that California spiny lobsters have no large claw, like their Maine counterpart, and are covered with sharp spikes by their eyes. I usually go to Catalina Offshore Products or Point Loma Seafoods for mine.
This time, I checked out the lobsters at the popular Point Loma Seafoods with my next-door neighbor and her daughter. We had a nice leisurely lunch there Saturday, and the lines weren't too long (they can sometimes reach out the front doors of the place).
So we picked up two California lobsters at $22.50 a pound, as compared with $17.95 a pound for Maine lobsters. Go figure.
I was sold, eh, I mean, told, that the Californian are sweeter and more tender than the Maine. Anyone? Anyway these bugs were feisty and pissed off. Fought their way into the bags, and ultimately the cooler I'd brought with us in the car.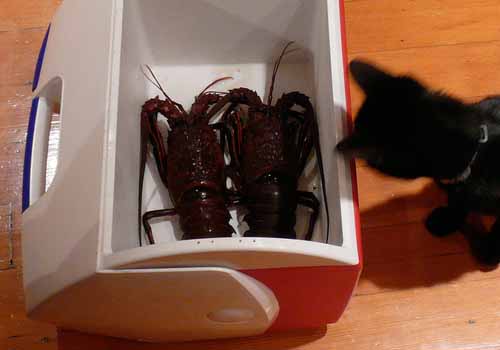 Kiwi Seeds
I trimmed off the ends of a kiwifruit, then peeled it with a paring knife.
Cut it in half lengthwise from its "poles." Then cut it up in thin slices (from north to south), in between the layers of seeds. Our goal is to get thin, thin pieces with one layer of seeds intact. Mine were a little thick, but that was okay with me. I reserved the slices in my prep area.
Ingredients:
Fresh kiwi or golden kiwi fruit, from Vien Dong
Papaya
I cut open a large, fresh papaya I bought from Vien Dong, removed the seeds and skin. Then I cut into 1.5″ x 2″ planks, and reserved in my prep area under damp paper towels.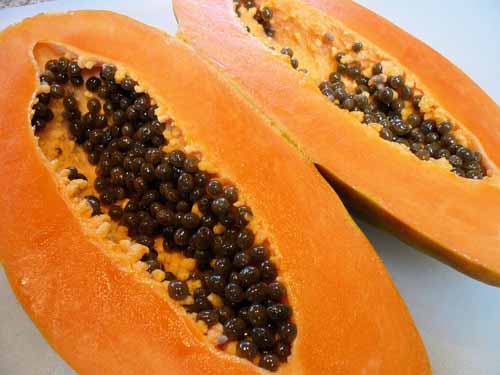 Ingredients:
Fresh papaya, from Vien Dong
White Sapote
I got six fresh sapotes from an online supplier, and a couple of them were ripe. White sapotes, or sapotes blancas, are regional from Mexico and… when ripe, their flesh is tender and sweet, tasting like a mild pear with honey. Whole Foods can get 'em for you, if you ask. I say, if you can't get sapotes, just use your favorite pear.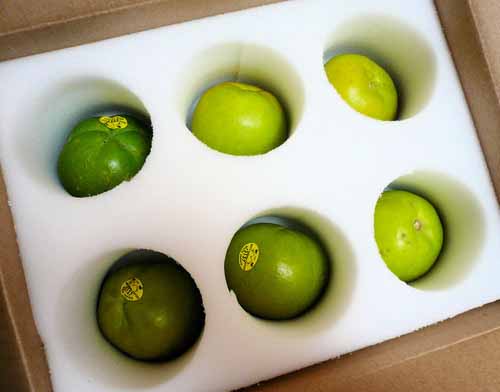 I cut a ripe sapote in half and took out the big seeds. Using a Parisian scoop, I scooped out eight balls, and reserved on paper towels in my prep area.
Ingredients:
Fresh white sapote, from Whole Foods
Passion Fruit Seeds
Okay, so I did break down and buy a couple fresh passion fruits. And they were delicious. Sliced them in half and took out a few seeds.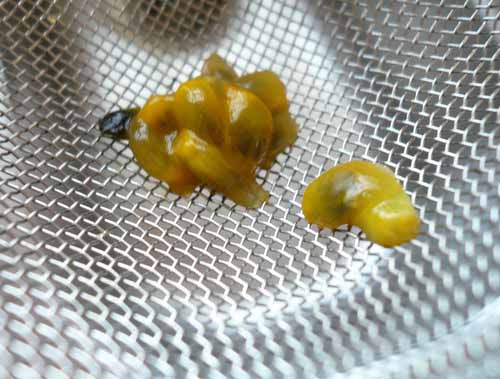 Washed the seeds in a small wire sieve under cold running water. You can get the pulp off them by pushing them agains the wire a bit. Then reserved in a small bowl of cold water.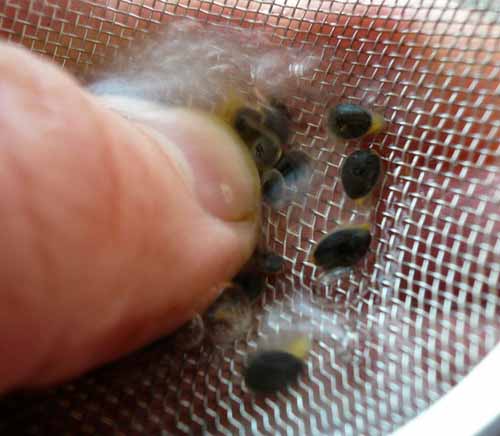 Ingredients:
Fresh passion fruit, from Vons
Meyer Lemon Vinaigrette
Mise en place: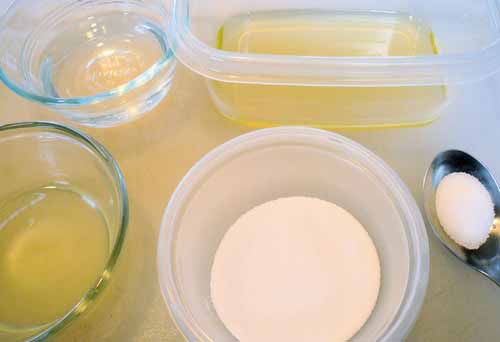 I whisked the lemon juice, water, grape seed oil, sugar and a pinch of salt together in a stainless bowl, and set aside in my prep area.
Ingredients:
Fresh Meyer lemons, from my tree
Water
Grape seed oil
C&H cane sugar
Diamond Crystal kosher salt
Hearts of Palm
I thinly sliced some hearts of palm, separating them. I wanted some perfect ring shapes.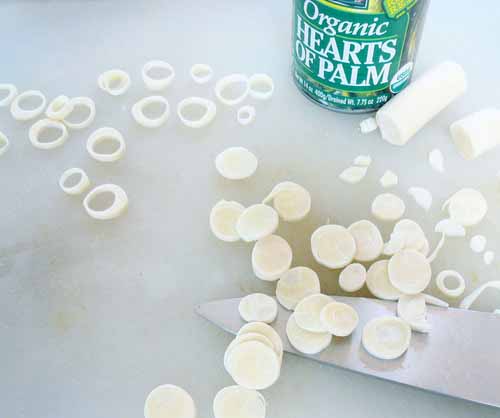 Ingredients:
Canned organic hearts of palm, from Whole Foods
Thai Chili Rings
I cut up some fresh Thai chilis in very thin slices. I got mine at Vien Dong World Foods Supermarket.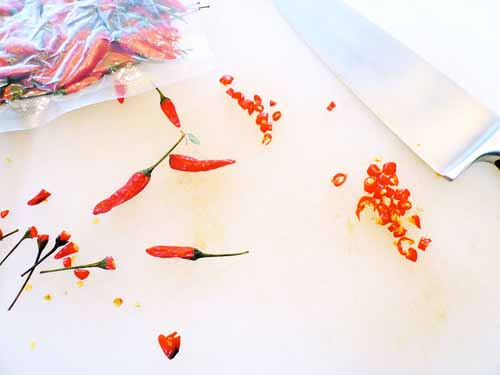 We wanted to remove the seeds too, because they're so hot. A perfect job for the kitchen tweezers.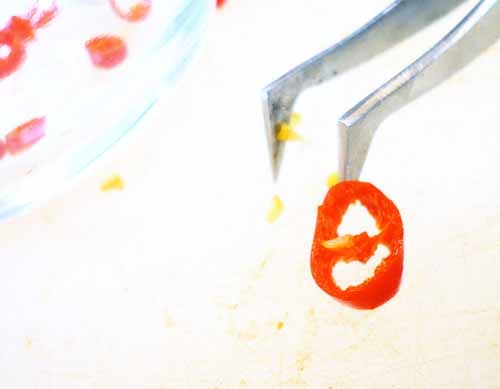 Ingredients:
Fresh Thai chilis, from Vien Dong
Young Coconut Dice and Ribbons
I got a young coconut from Vien Dong, and cracked it open, saving the liquid for later.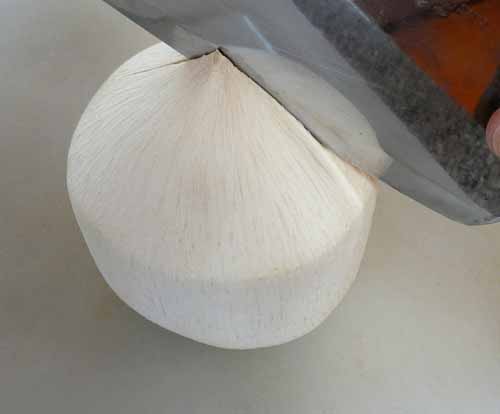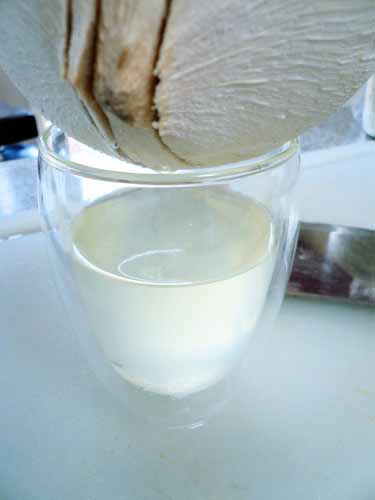 Sometimes, we'll get ours at the local Farmer's Market, from my daughter's "coconut guy."
A while back we had some fellow foodie friends over for a dinner party, and one was going on about his favorite local purveyors. My then 11-year-old remarked that she liked going to the farmer's market to her coconut guy.
"Coconut guy!?" he exclaimed. "Wait. How do you have a coconut guy? I don't even have a coconut guy!" She grinned.
Another friend looked at him and replied, "Bryan, she is her father's daughter." That's my coconut story, in a nutshell.
Anyway, I split it all the way open.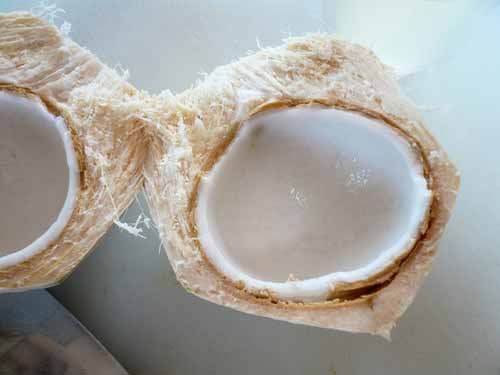 And scooped out the meat carefully with a large soup spoon. Then trimmed any residual shell membranes sticking to it.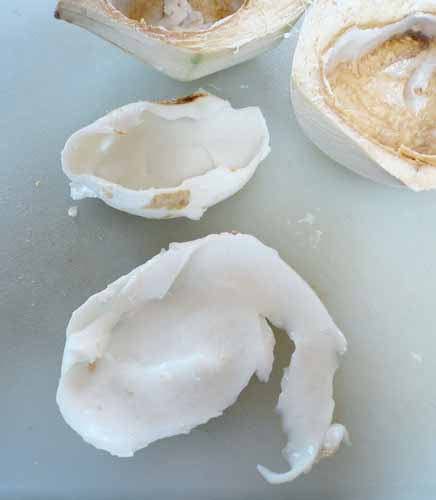 Sliced some long, 1/8″ thin 'ribbons' and reserved in my prep area under a damp paper towel. Then chopped up some more into 1/8″ dice, and reserved.
Ingredients:
Young coconut, from Vien Dong
Starfruit
Although it's not in the recipe, since I'm "going rogue" anyway, I thought I'd add this to the plate. Might have been a bit too much eh? Certainly didn't need it. But the starfruit at Whole Foods looked so tempting.
Star fruit, or carambola, (Averrhoa carambola) are native to Indonesia, but we get ours from Florida, Puerto Rico and Hawaii. They are sweet and very mild in flavor. My friend, though, said she'd not partake, as she'd had some "texture issues" with them before.
I sliced them up thinly, cutting off a few brown edges. No need to peel them, the skins are edible.
And simmered them in a simple syrup I'd made earlier. Then reserved on damp paper towels in my prep area.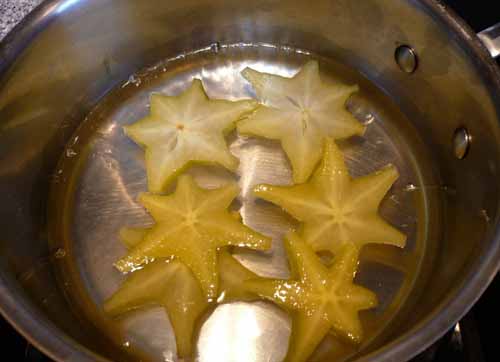 Lemon Balm
I picked a bunch of small lemon balm leaves from my garden, rinsed them off and reserved in my prep area, covered with damp paper towels. I like lemon balm quite a bit, but its smell always reminds me of Lemon Pledge.
Ingredients:
Fresh lemon balm leaves, from my garden
Cooking the Lobsters
A friend came over to help with this dish. She, like I, have always dropped live lobsters in a pot of boiling water to cook. Her method was head first, she said, because she'd learned that tail-first was bad. The hard way. They can apparently splash a lot, and some say, hop out [myth?]. This recipe has us pouring the hot water over the lobsters in another container.
There are many discussed methods for the hypnotizing, humane killing, boiling, and steaming of live lobsters. Many trains of thought. If you're squeamish or have an issue with this, I'd suggest you read no further. Cause we're gonna scald some bugs.
I took them out of the plastic bags and left them in the cooler on the floor.
Willy learned the merits of not trying to kiss a pissed-off lobster.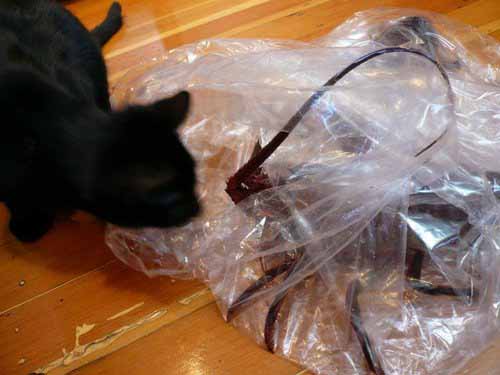 We brought a large pot of water, vinegar and salt to a boil. Make sure it's a hard rolling boil. The hotter the better, as it'll do 'em in quicker. Then poured over the top of the lobsters. They thrashed a bit, and settled down, their eyes Isaac Mendez white. We let them "steep" for about eight minutes. They say 7-10 is good. When I steam lobster tails, it takes no more than 12 minutes for them to cook. Any longer and you'll just turn em into Michelin P235's.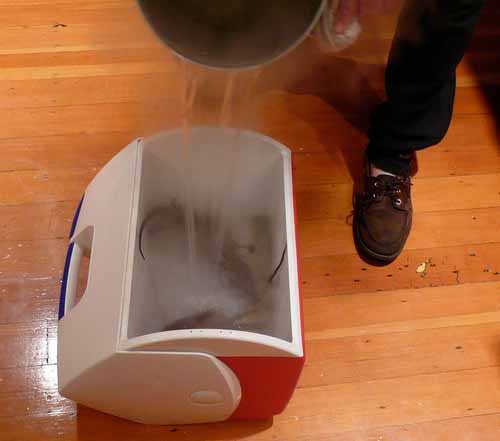 After that, I pulled them out of the pot and plunged them into an icewater bath to stop the cooking. Here they are in the ice bath (already cut up).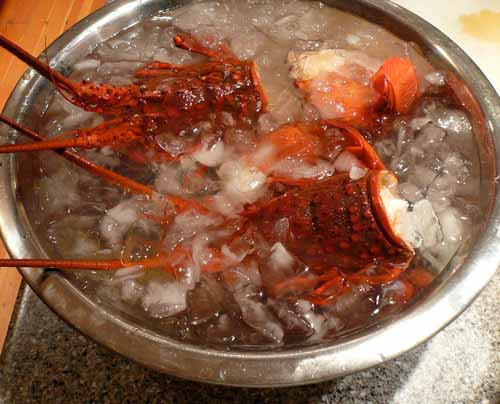 Then began cutting them up. As these are California lobsters, there's less meat to get at. So it made my job a bit easier. Mostly, you'll want the meat out of the tail. And there's a bit by the antennae.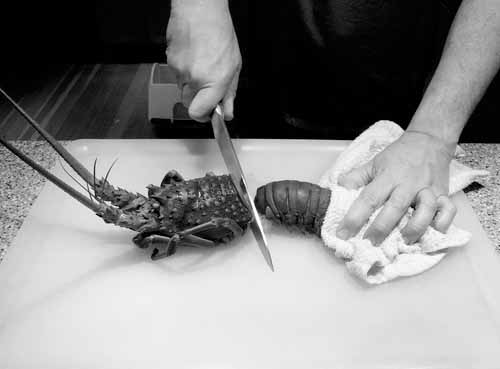 I cut off the tail. Then with kitchen shears, opened them up from the top. Then loosened up the meat inside.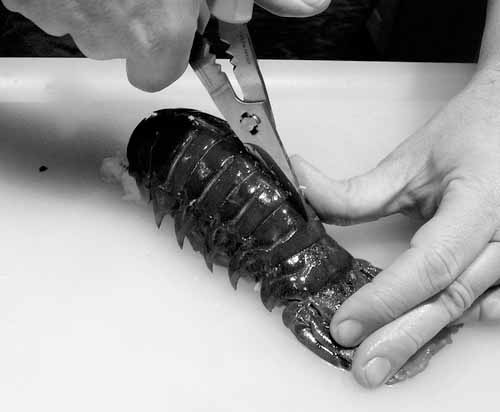 Holding the tailfan down, grasped the bulk of the meat and pulled out in one piece. Removed the intestines and brightly colored roe sacks. And throughly rinsed under cold water.
My friend didn't want any to go to waste, so she extracted all else she could get at.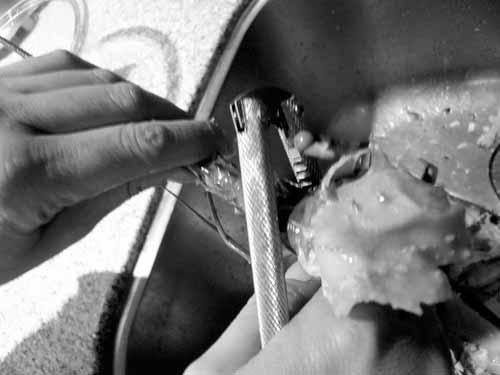 I cut up in small chunks and reserved to a waiting pan of Meyer lemon vinaigrette.
Ingredients:
Water
Distilled white vinegar
Diamond Crystal kosher salt
Live California Spiny lobsters, from Point Loma Seafoods
To Assemble and Serve
Mise en place: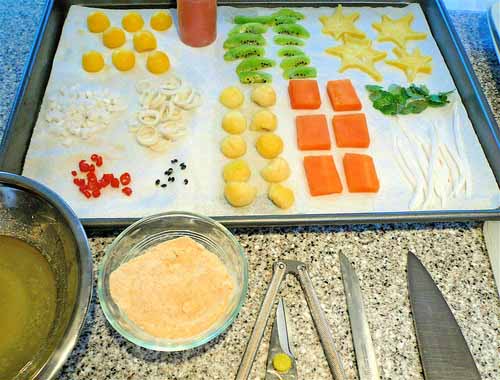 Clockwise from top left: papaya balls, strawberry guava pudding in squeeze bottle, kiwi slices, star fruit, lemon balm, coconut ribbons, papaya planks, sapote balls, passionfruit seeds, Thai chili rings, coconut dice, and hearts of palm. Below tray to left is the Meyer lemon vinaigrette and pineapple powder. To the right, lobster dissection implements.
For a few minutes, we marinated the lobster, papaya, sapote, mango and coconut in the lemon vinaigrette.
And got the frozen passionfruit gel out of the freezer, ready to use.
I placed four chunks of lobster spaced out in a line on some rectangular plates. Then in between the lobster added the papaya planks. Then, randomly added the mango and sapote balls and two pieces of star fruit to each.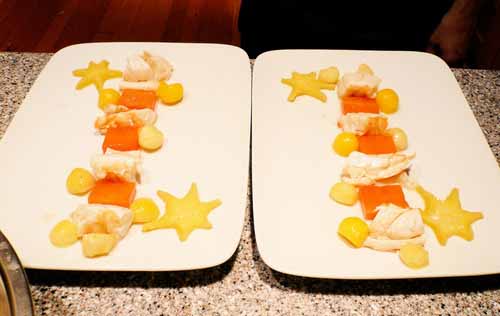 \
I covered the fruit and lobster with a sheet of frozen passionfruit gel.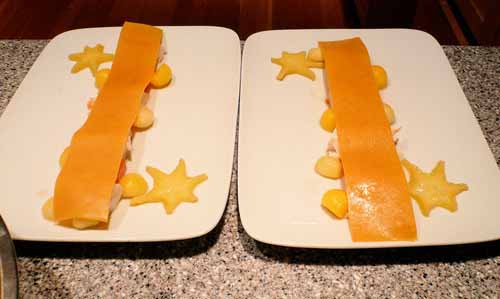 The I melted the passionfruit sheets with a kitchen torch. They go glossy, wait a bit then at one point, they collapse on the lobster and fruit. It's really cool. And of course, playing with fire is always fun.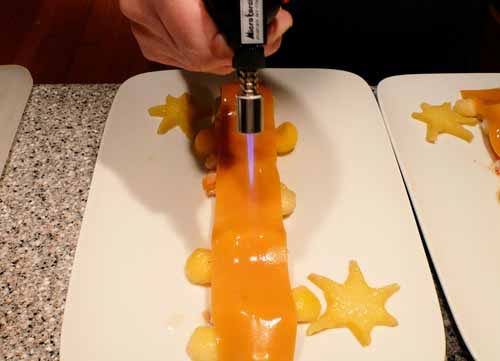 Added the coconut ribbons, two piles of coconut dice, and kiwi seed slices.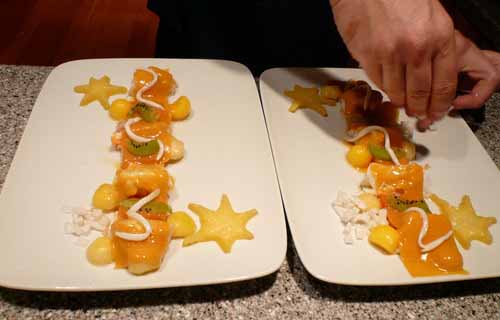 The hearts of palms. Then two blobs of strawberry guava pudding.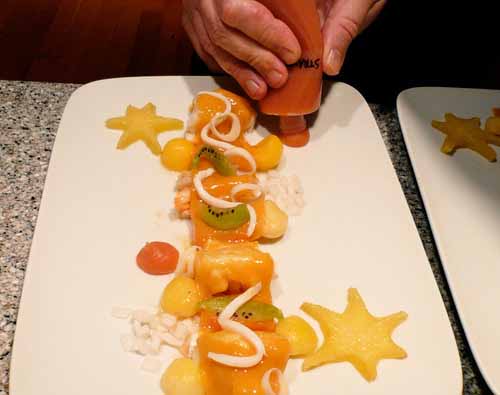 My friend brought some mango ginger sauce she'd just made, so we added a bit of that to the plates. And finished them off with two piles of pineapple powder, lemon balm leaves, passionfruit seeds, and thai chili rings.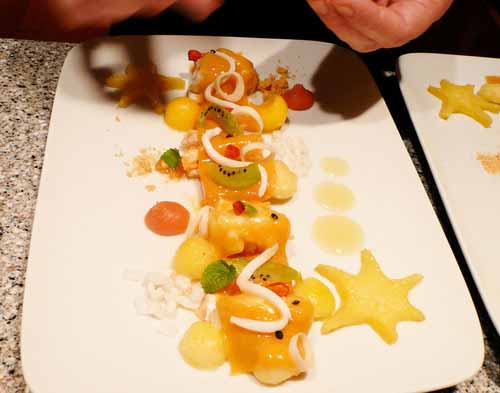 The final plate: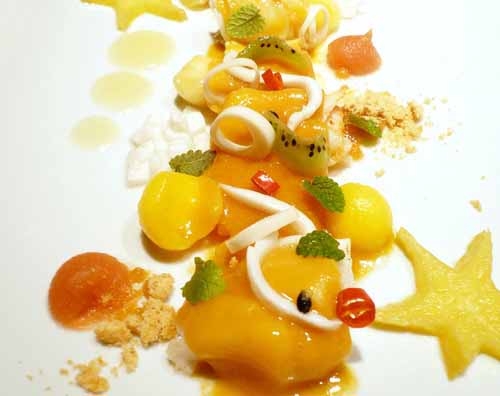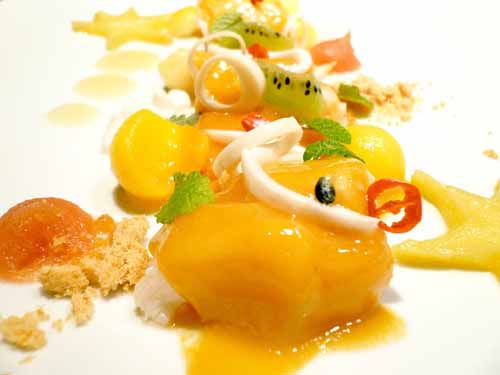 The final entrée, served with a fresh green papaya salad and champagne.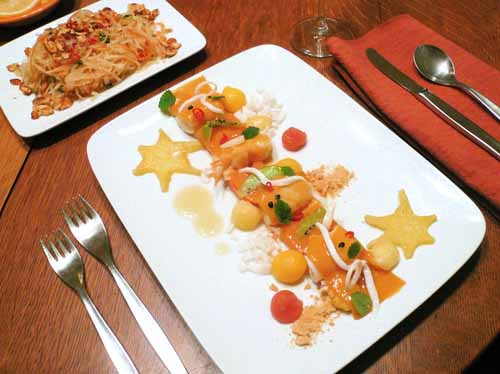 Equipment
Salter digital scale
Measuring bowls
Kitchen knife, pairing knife, cutting board
Stainless mixing bowls and ice
Large stock pot
Osterizer blender
Cuisinart mini food processor
Small saucepan
Wire whisks and rubber spatulas
Plastic wrap
Plastic containers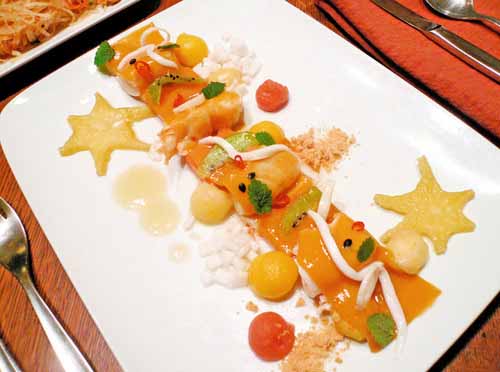 Serveware:
Rectangular ceramic plates, from Target
Yields: 3-4 servings
Thai Green Papaya Salad
Mix shredded papaya, carrots, onions and some cilantro (or Thai basil) leaves together in a big bowl. If you can't find it already shredded, use a Japanese rotary slicer to shred the papaya, carrots and onions.
Soak tamarind pods in a small bowl of water. Pull pods apart and crush moist tamarind pulp into water until it dissolves.
In another bowl of water, soak dried shrimp until tender.
Dressing
Add some strained tamarind juice, shrimp water and lemon juice in a stainless bowl with rice wine vinegar and sesame oil. Add a squirt of sriricha and Thai chili slices. Whisk together. Add a bit of agave nectar to sweeten up if necessary, and fish sauce (if you like it, uugh) to taste.
Cover greens with dressing and let marinate.
Honey Glazed Peanuts
Roast peanuts at 375ºF for 10 minutes, or until they start to release their oils and turn golden. Remove and cool.
In a small bowl mix together honey or agave nectar, hot curry powder, New Mexico Chili powder and sugar. Add peanuts and coat thoroughly. Return coated peanuts to tray and continue to bake for another 10-15 minutes, until sugar hardens. Not too long! They'll burn fast. Remove and cool.
Use the bottom of a skillet to roughly crush. Reserve in a covered container.
To Assemble and Serve
Put greens in a bowl. Add shrimp and toss with peanuts. Top with fresh cilantro and crushed peanuts.
Ingredients:
1 bag shredded green papaya, available at Asian markets
2 large carrots, shredded
0.5 white onion, shredded
Cilantro, cut up
2-3 tamarind pods
Small package dried shrimp
Juice of 2 lemons or limes
Rice wine vinegar
Sesame oil
2 Thai chilis
Honey or agave nectar to taste
Sriricha hot sauce to taste (optional)
Fish sauce to taste (optional)
0.5c peanuts, shelled and skinned
2T honey or agave nectar
2t hot curry powder
1T New Mexico chili powder
2T Sugar
Thai basil or cilantro leaves to garnish