Recipe, pages 348-349.
It doesn't get much fresher than this. Saturday morning, I picked up three live sea urchins (US$3.50 each) at the Little Italy Mercato. San Diego Kelp Bed Products is a co-op of local divers that sells freshly caught sea urchin, or uni. The friendly folks there told me they were brought in at 5pm on Friday. Just half-a-day fresh, that's pretty darn good.
Direct from the divers: Pacific red sea urchin at Little Italy farmer's market in San Diego.

Locally, we can also get them whole or processed from Catalina Offshore Products (US$7.00 for three).
About sea urchins:
Local to us here in San Diego, Pacific red sea urchin (Strongylocentrotus franciscanus) is a bountiful, sustainable crop, and growing in popularity. They are red to black in color and can grow up to about a pound each. There are also smaller, purple sea urchins (Stronglycentrotus purpuratus) available to us locally.

Harvesting off the San Diego coast in areas designated as sea urchin fisheries, licensed divers now adhere to safe-fishing practices, as the industry has become more self-regulating and community-based. They harvest responsibly, working in partnership with the San Diego Watermen's Association — the first fishery harvesting cooperative of sea urchin divers and lobster fishermen in California (SWDA) , the Sea Urchin Harvesters' Association of California, and the State Coastal Conservancy and Ocean Protection Council.

In fact, sea urchin harvesting from the Point Loma kelp bed alone accounts for 50% of the San Diego fishery, and there are about 50 other kelp beds in Southern California.

The edible portions, or "roe," we want are actually their reproductive organs, of which there are five to a sea urchin.

There are three relatively newer grades of California uni commercially available today: California Gold bright yellow to orange, firm texture (formerly A-Grade), California Premium mild yellow in color, softer pieces (formerly B-Grade), and Vana darker color, soft. The best roe come from sea urchins taken between October and May.
Sea Urchin Shooters: Greg Koch, owner of Stone Brewery visits chef Gordon Smith and Peter Halmay of San Diego Kelp Bed Products at Celebrate the Craft, at the Lodge at Torrey Pines.

Sea Urchin
I made this as an amuse bouche for a dinner party a local chef was having at my neighbor's on Sunday. I needed to double the recipe, and ended up making 16 portions. Each fresh sea urchin has 5 whole pieces of uni. So portioned out for this amuse, each yields enough for ten servings. If you're careful and don't mess them up. They're quite delicate — a tough match for the "Lindsay heavy hand."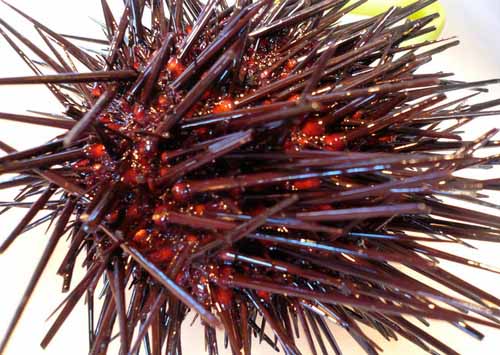 I made an ice bath to receive the sea urchins. Added some ice, water and kosher salt in a big stainless bowl. You don't have to do that, by the way. You can just open it up on your cutting board if you want. But, the longer you wait, the more color will leech out of the urchin.
I placed an urchin in the icewater, beak-side up. Looked incredibly like the horrible monster from The Lost Continent (1968), a movie that horribly scarred me when just a boy. I am dating myself with that one. Or perhaps the Sarlacc from Return of the Jedi (1983).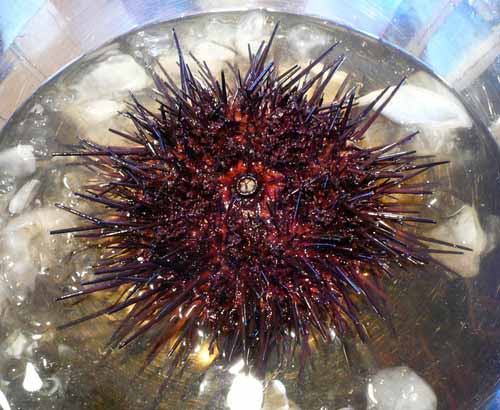 All I'd need were a towel and a pair of scissors. I opened the urchin up, cutting a circular hole around its beak. Don't make too large of a hole, as you can end up cutting through some of the roe inside.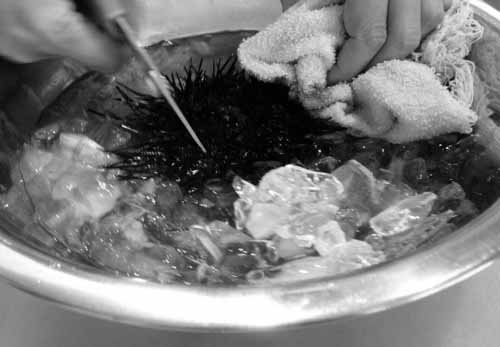 Some people have asked me why I use black and white photos in this blog. I do it when showing butchery, it's much less bloody. Example. Once I had it opened up, I scooped out the roe with a spoon.
Some were still attached to the interior wall, and needed a little extra work to scoop out. You just have to drag a spoon up against the shell wall to dislodge.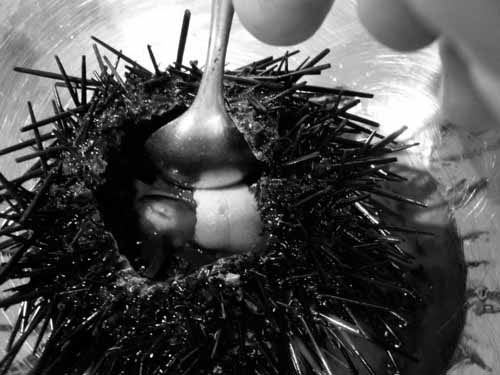 Then I rinsed off the nasty bits under a gentle stream of cold water. Or you could use the icewater bath too. I didn't, mine was getting reddish from all the color coming out of the urchin.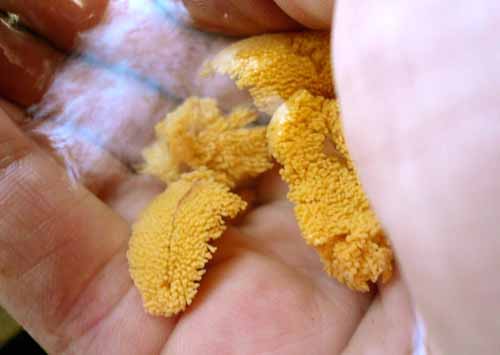 And reserved the little tongue-like morsels to a prepared sheet tray in my prep area, covered with damp paper towels.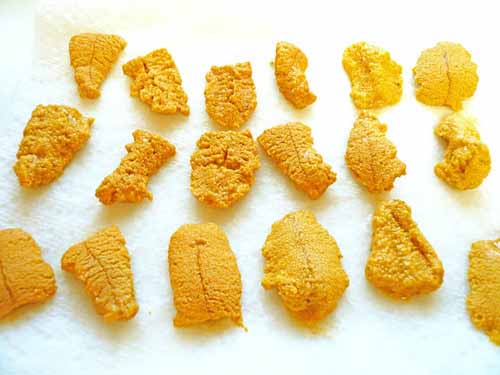 Ingredients:
Live Pacific sea urchin, from Little Italy Mercato
Water
Kosher salt
Mint Gelée
A while back, I got two bunches of vanilla beans (or more correctly "pods") directly from an online source. I was tired of paying the high prices for one bean in a glass bottle at local stores. You can save a lot when you order in bulk, and share with friends if it's too much to keep for yourself. I keep them in vacuum sealed bags to retain their intensity. I bought half-pound bunches of Tahitian (Vanilla tahitensis) and Bourbon (Vanilla planifolia)..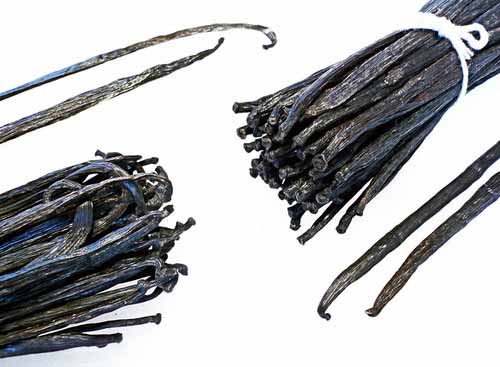 I decided to use the Bourbon, speaking of which, has nothing to do with the alcohol.
I sliced the seed pods down their length and opened up flat. Then taking a kitchen knife, I dragged the flat edge down each pod, scraping out the miniscule seeds. Reserved in a small bowl. The leftover shells, I put in a small saucepan with some milk and sugar. My daughter made hot vanilla-infused cocoa with that.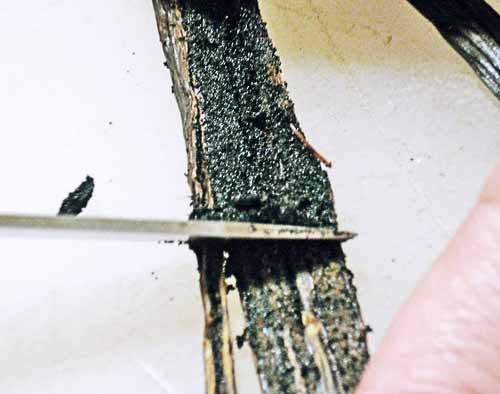 Hey, now that I look at the pictures, this dish is all about the roe. Sea urchin roe from the ocean. Vanilla seeds looking an awful lot like caviar. Ooh. It's roe vs wade.
Sorry.
Mise en place: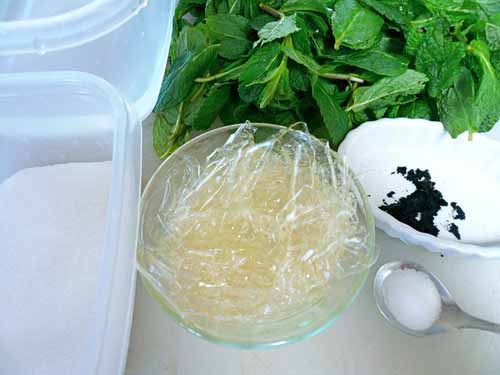 I soaked the gelatin sheets in cold water until they were soft, then squeezed the water out and reserved in a small bowl.
It took two bunches of fresh mint for this recipe, as I decided to double the mint gelée. The last time I did the "doohickey-embedded-in-a-double-layer-of-gelatin" trick, the recipe came up short. Or actually, I used too big of a container. It was me.
I roughly chopped them up and put into a large stainless bowl.
Now to do the gelée. I combined the water, sugar, vanilla seeds and a touch of kosher salt in a medium saucepan, and brought to a simmer. Removed from heat and stirred in the gelatin sheets until dissolved.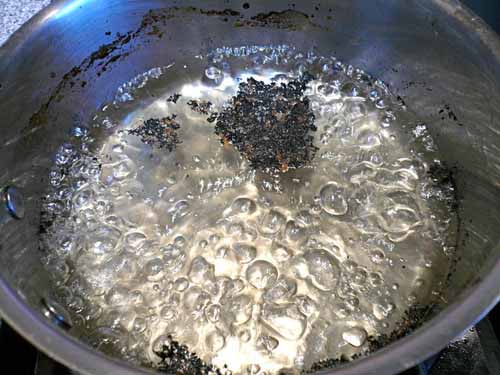 Then strained through my trusty French chinois into the mint leaves.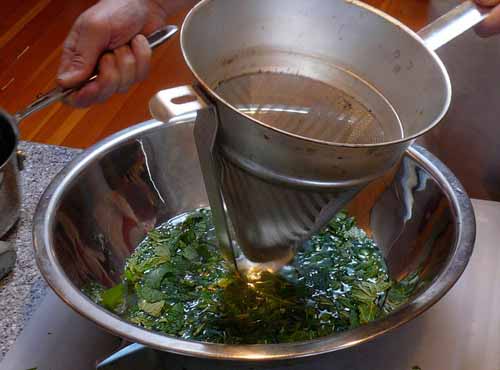 And let it steep for about twenty minutes. Then I lined a 9″ x 12″ glass pan with plastic wrap, and strained the mint tea into it, to a depth of not quite 0.25 inches. If you're only making eight servings, use a 4″ x 6″ pan like recommended in the recipe.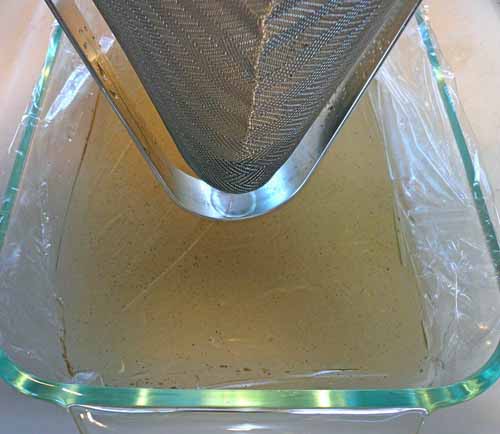 I placed in the fridge (as level as possible) until it set up, about half an hour. You should keep the unused mint liquid in a warm place so it does not set up while you're waiting.
While I waited, I cut each uni piece in half, for smaller bite sizes.
I removed the pan from the fridge and placed the uni pieces about an inch apart from each other atop the gel.
Then added the remaining mint liquid, covering the uni pieces, and popped back into the fridge until set.
When I took the gelée out, mine looked much more amber in color than in the Alinea photos.
Ingredients:
Rousselot "silver" gelatin sheets, from L'Epicerie
Fresh mint leaves, from Little Italy Mercato
Water
C&H cane sugar
Diamond Crystal kosher salt
Bourbon vanilla bean, seeds
To Assemble and Serve
I had some mint in my garden, but nome just plain, so I bought a small Indian mint plant. Took a few leaves and rinsed in cold water. Then cut into small strips, and reserved the outer, serrated strips in my prep area.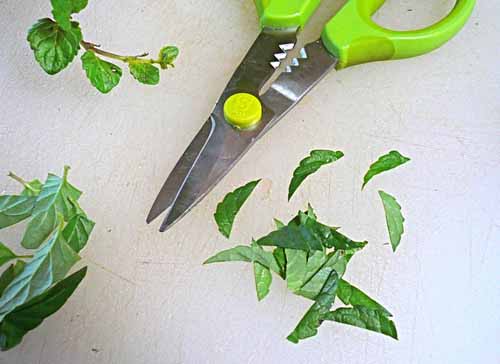 I cut up a serrano chili into very thin slices.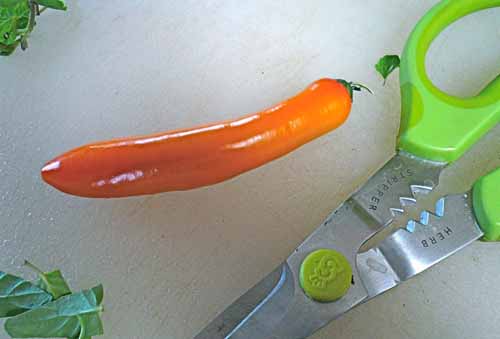 And removed the interior membrane and seeds to create open rings. Used the slipcover from my candy thermometer for that. Reserved in my prep area.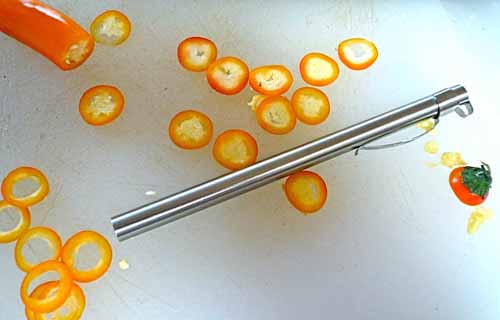 Using a 0.75″ diameter muffin cutter, I cut out circles of the gel. Use a bowl of hot water to heat the cutter up, wipe it off, then gently push it into the gel. This gives you a cleaner edge to the cuts.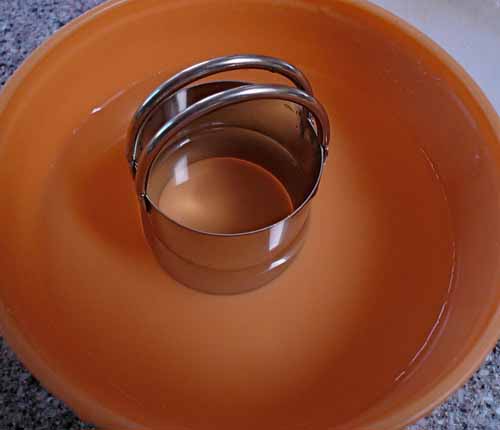 Yikes! Problem.
The two layers of gel had not adhered to each other. They were slipping and sliding all over the damn place like a California earthquake! So I had to do this very carefully.
I eventually got all 16 servings in reasonable shape into small bowls. My daughter and I assembled the mint leaves into the chili rings and placed one on top of each serving. Then I added several large flakes of Maldon sea salt on each.
Just before the dinner party, I discovered that I had done that a little too early. The salt sucked up the moisture out of the gelatin, becoming a teary puddle on each. I used a paper towel to blot each off and re-applied, just before we went next door to the soirée.
By all reports, it was a success! When people describe the taste of fresh sea urchin, inevitably you'll hear the words, "It tastes of the sea!" This amuse calms that down a bit, encasing the uni in a sweet, refreshing vanilla mint gelée. You let it melt in your mouth a bit and then the heat of the chili and mint hits you. Chew it up and you get a salty crunch at the end. Yum.
The chef had three.
Ingredients:
Fresh jalapeño or serrano chili slices, from North Park Produce
Fresh Indian mint leaves, from Armstrong Gardens
Bali or Maldon sea salt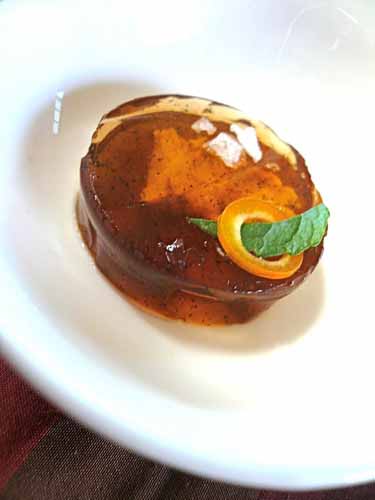 Equipment:
Salter digital scale
Measuring bowls
Kitchen knife, cutting board
Stainless mixing bowls and ice
Small saucepan
Chinois
Wire whisk
Plastic wrap
9 x 12 baking pan
Cookie cutter
Plastic containers
Serveware:
Small ceramic bowls, from Crate&Barrel
Yields: 8-10 servings (16 for a doubled recipe)