Recipe, pages 322-323.
I had a friend over to help cook this dish, which we learned is all about presentation. I picked up a bunch of local river rocks and heated them up in small cast iron skillets. When they were smoking hot, I took the skillets out of the oven and surrounded the rocks with fresh juniper branches.
When we put the bison atop the hot rocks, they sizzled like fajitas, and the juniper branches emitted a fabulous conifer aroma throughout the house.
"It reminds me of camping in the woods," she said.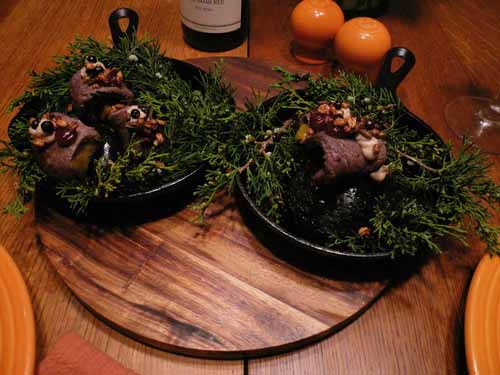 Day One
Put the barley on a sheet tray and roasted until it browned just a skosh.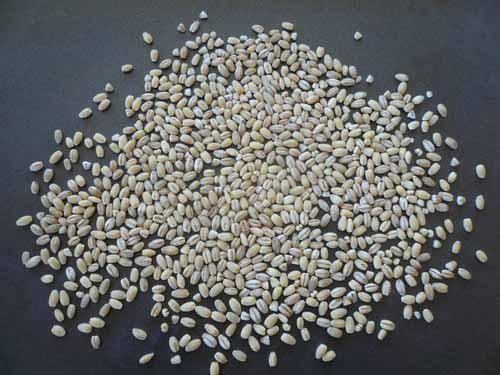 Then let it cool.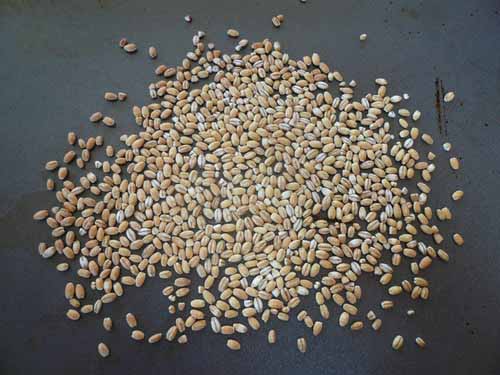 I combined the water, salt and roasted barley in a small saucepan and brought to a boil. Simmered for about half an hour.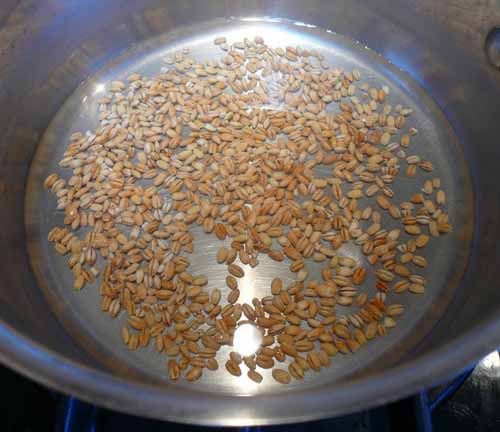 I had to add a bit more water than required, so the barley would saturate and get tender.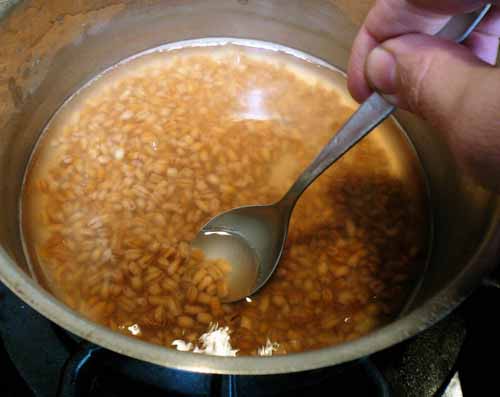 Removed from the heat and strained the barley.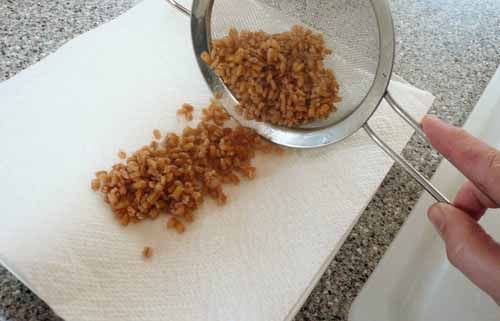 Drained onto paper towels.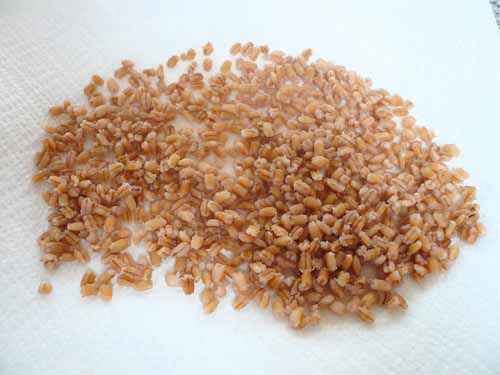 Then dried in the dehydrator, it took about 3 hours.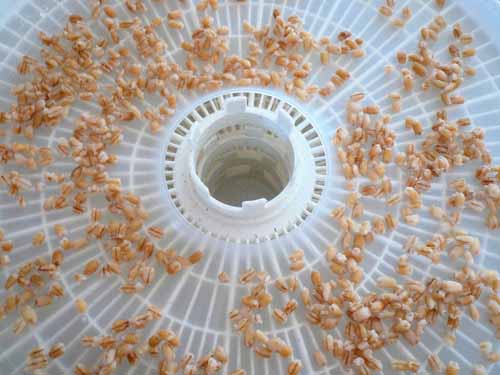 Now I was ready to finally puff these suckers.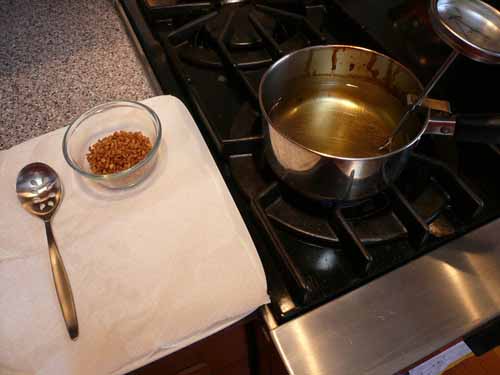 Heated my canola oil up to 375ºF and fried small batches until just puffed. The book says 425ºF, but the barley browned too quickly at that temperature for me. They drop to the bottom of the pan, then when they surface, they're just about ready to take out. You really have to watch them, and do this fast — they brown very easily.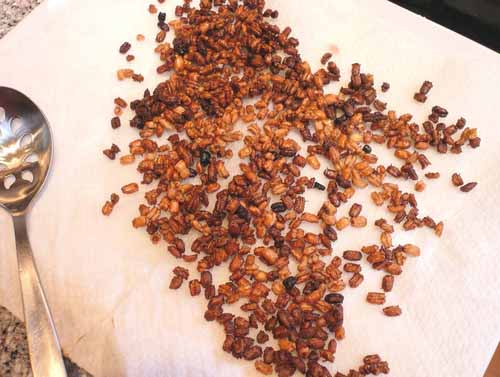 Then I drained the puffed barley on paper towels and reserved in a covered plastic container.
Ingredients:
Bulk pearl barley, from Whole foods
Water
Diamond Crystal kosher salt
Canola oil, for frying
Cranberry Purée
Mise en place: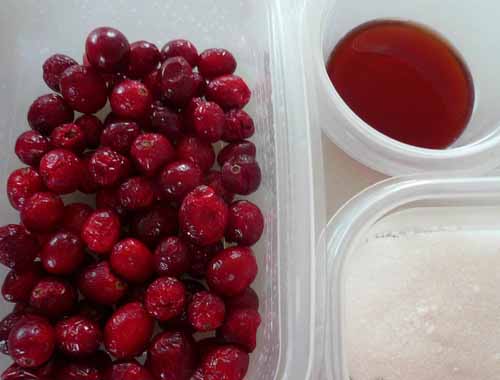 This is just as easy as making cranberry sauce for Thanksgiving. I combined the cranberries, sugar and vinegar in a small saucepan on medium heat.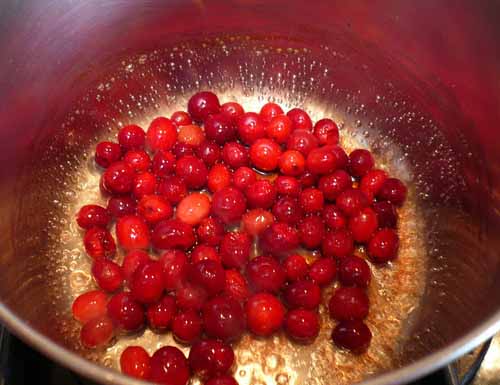 Cooked, and mashed them up a bit, until they were almost dry. But not burned!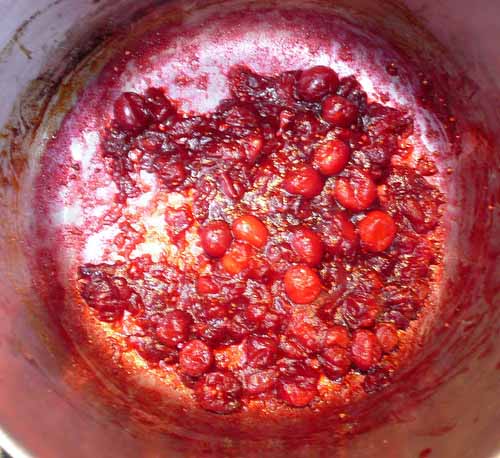 Then puréed in my mini food processor.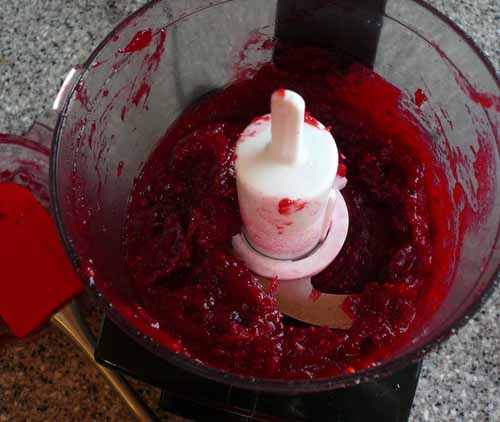 Once they were puréed, I forced the cranberries through a chinois. You lose a lot of the solids, but get a smooth, clean purée.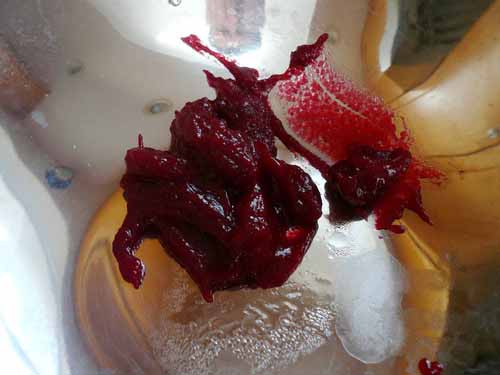 Then transferred to a small squeeze bottle. Best way I've found to do this, is to use a pastry bag to get the stuff in a small squeeze bottle.
As I was doing this, I thought to myself "Why am I transferring this from one squeezable container to another? Why not just use the pastry bag?"
Don't argue. Just do it.
Ingredients:
Fresh "Ocean Spray" cranberries (actually I had some frozen from Thanksgiving)
C&H cane sugar
Organic Kimberley Cabernet wine vinegar, from Whole foods
Walnut Pudding
I put some shelled walnut meat on a sheet tray and toasted in a 350ºF oven for just over 15 minutes, until they were very aromatic.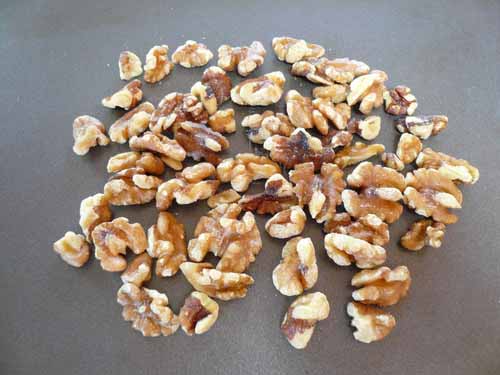 Then removed. from the oven and used the bottom of a saucepan to mash them up a bit. I wanted a strong walnut flavor so I figured the smaller the pieces, the more flavor would be imparted to the liquid.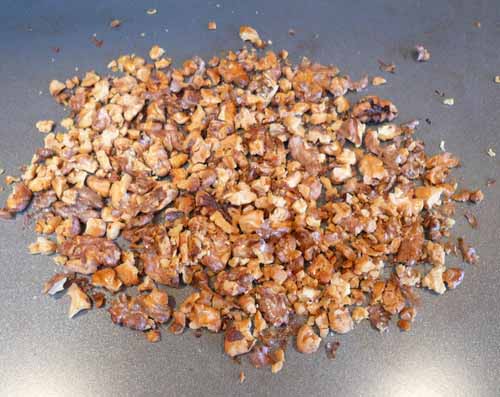 I combined the walnuts, whole milk and walnut oil in a medium saucepan and brought them to a boil.
Then let sit overnight. The next morning, I strained the walnut cream into a clean saucepan, added the sugar, salt and agar, and brought to a boil to dissolve the solids. Then strained into a plastic container and refrigerated until it set up.
I took it out of the fridge, chopped it up and sheared in my mini food processor until puréed.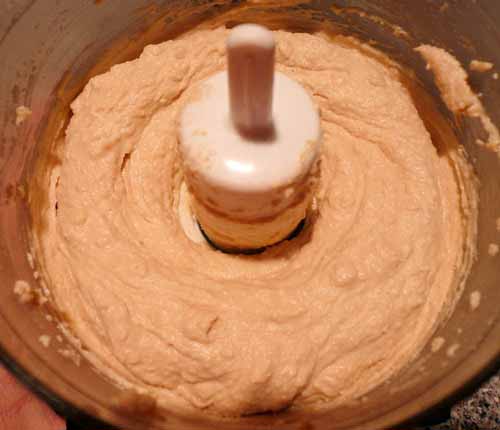 Then forced through a chinois and transferred to a small squeeze bottle.
Ingredients:
Shelled walnuts, from Whole foods
Alta-Dena whole milk
Spectrum Naturals walnut oil, from Whole foods
C&H cane sugar
Diamond Crystal kosher salt
Agar agar
Day Two
Bison
Is it bison — or buffalo?
What's the difference between bison and buffalo?

After all, we in the US have called them buffalo for centuries now. And it's called the "buffalo" nickel, not the "bison" nickel. What gives?

What we know as buffalo are really American bison (Bison bison). True buffalo come from Africa and Asia and are known as Cape buffalo and Asian water buffalo, respectively.
I bought a bison sirloin at Iowa Meat Farms locally here in San Diego. The meat is very lean and has a wilder, stronger taste than conventional beef. If you've ever had a "buffalo" burger, you'll know what I mean.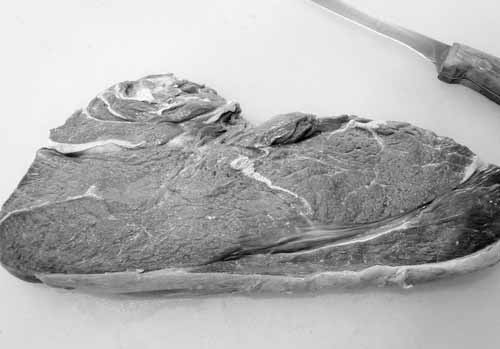 I trimmed the meat and cut into three rectangular portions 1.5″ wide by about 6.0″ long.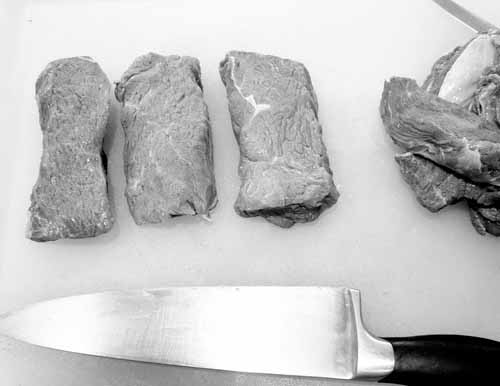 Then sealed each in a vacuum bag. One with rendered beef fat. (I had save the drippings from a pan seared steak earlier this week). One with rendered duck fat. And one with butter. Let's see which tastes better.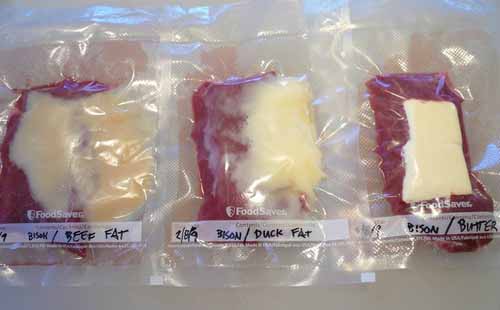 We cooked the bison en sous vide in a large pot of water for fifteen minutes at 130-140ºF. The goal was medium rare.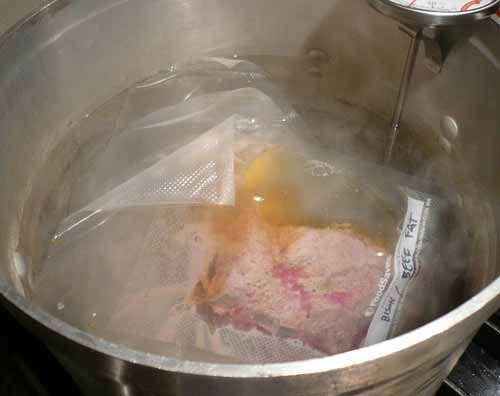 We took it out and put it into an icewater bath. This low-heat, cook-and-chill method "pasteurizes" and slows the continued cooking of the meat. It takes an additional 5-10 minutes to trim, roll, sear, and plate the dish. I think the water was too hot. It turned out more in the medium to medium-well range. For a detailed and really informative article on sous vide cooking, see Douglas Baldwin's A Practical Guide to Sous Vide Cooking.
I tried each as I trimmed the pieces for plating. The bison was very tender. I think I liked the beef fat version the best.
Ingredients:
Bison tenderloin, from Iowa Meat Farms
Rendered beef fat
Rendered duck fat, from Hudson Valley Foie Gras
Challenge unsalted butter
Persimmon
Below, fresh Israeli persimmons from Zion Market, dried Japanese hoshi gaki persimmons from Nijiya Market, and dried Asian persimmons, also from Zion. If you cooked them long enough in the sugar syrup, you could actually use dried persimmons or apricots.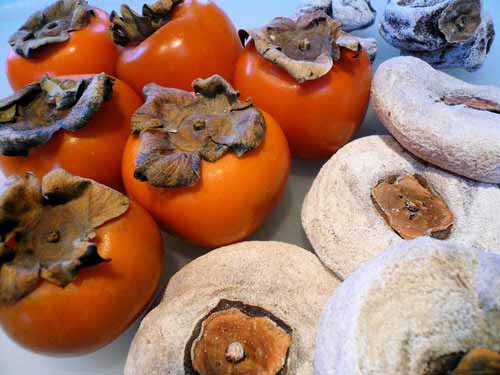 We sliced the persimmons, and found they'd ripened too much. Oops. On to Plan B.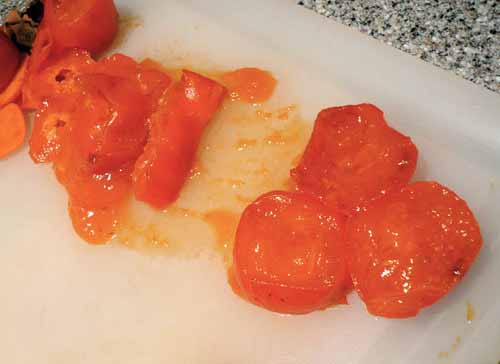 They are pretty though.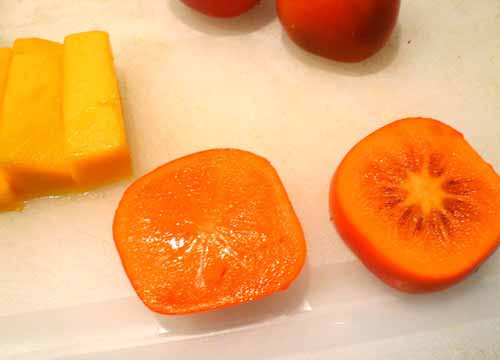 This recipe calls for large Fuyu persimmons, not too ripe. When you cook them in the sugar syrup, they soften up. So if you start with soft stuff, it just ain't happening. We got one acceptable persimmon. So we substituted a mango in the rest.
We combined the sugar and water in a medium saucepan and brought to a boil, then reduced to a simmer.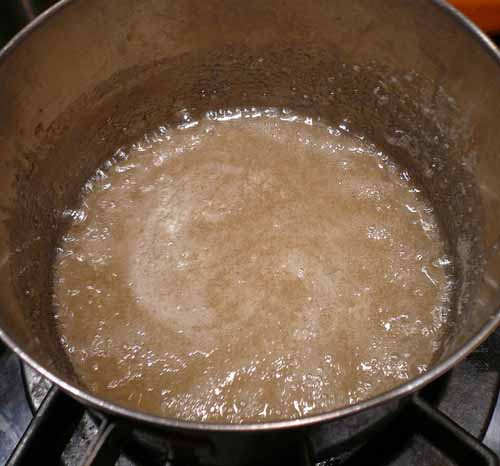 Then added the persimmon and mango slices, cooking for about ten minutes.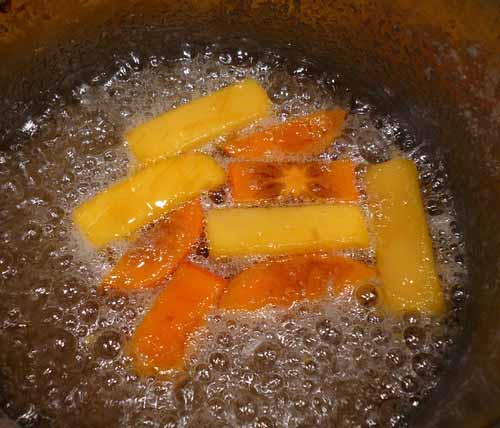 We took a large stainless bowl of icewater and put a smaller one inside that to accept the fruit when it was done. As they became tender, we removed the mango and persimmon slices, and placed them in the smaller pan to cool.
Ingredients:
Fresh persimmons, from Zion Marketplace
C&H cane sugar
Water
Juniper Berries
I experimented and found that you can do this with dried juniper berries just as well as with fresh. So, if you don't have access to the fresh, here's what to do.
Soak the dried berries overnight (I used gin). They sort of re-constitute, enough that you can peel them. After they've soaked, take one and roll it between your fingers. It loosens the skin just a bit. Then you can get at with your knife.
You ever try to peel a fresh juniper berry with a paring knife? And try to keep the skin in one piece? I tried and couldn't do it.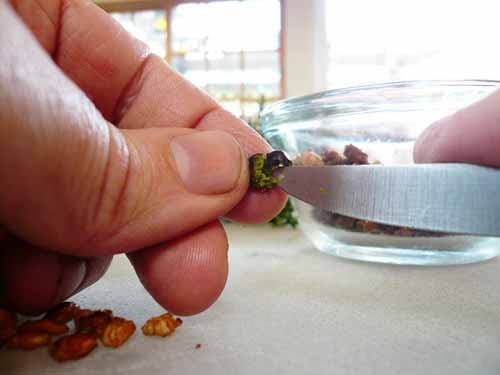 Then I got out the X-ACTO knife. That worked much better for Carmen. She's an expert juniper peeler now.
Ingredients:
Fresh juniper berries
Or dried juniper berries and
Hendricks gin
To Assemble and Serve
Just as MATSUTAKE, Pine Nut, Mastic, Rosemary was all about the trees, this dish is all about the rocks.
Dr Howard Bannister:
You see I was just testing this specimen for inherent tonal qualities. I have this theory about early man's musical relationship to igneous rock formations. But I guess you're not interested in igneous rock formations.

Judy Maxwell:
Not as much as I am in the sedimentary or metamorphic rock categories. I mean, I can take your igneous rocks or leave 'em. I relate primarily to micas, quartz, feldspar. You can keep your Pyroxenes, magnetites and coarse grained plutonics as far as I'm concerned.
I suppose I could have gone to some posh garden store and got those polished black Japanese river rocks you see there. But I didn't. I did, however, see some in the planters of my office building, but thought better of snagging those.
It would have just been bad form.
No, I wanted to stay local.
When hiking this past weekend, I picked up some local river rocks (actually, from the Eocene Mission Valley Formation). Brought them home, washed, then coated with some canola oil, and finally baked them for a bit in the oven.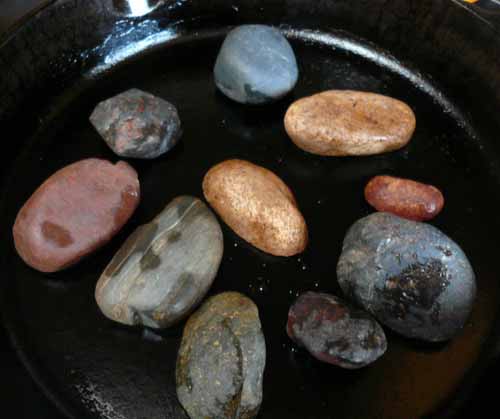 My neighbors, shaking their heads, asked why I had a skillet of rocks baking in the oven. Whaddya say to that?
And shrubbery.
I needed "8 full, bushy, fragrant juniper branches," according to the Alinea cookbook. When walking through the neighborhood, I found myself longingly passing junipers just out of reach. There are some very nice juniper trees all around my neighborhood. Apparently, it was all the rage in the 1920s and 1930s as decorative shrubbery for Craftsman and Mission style homes in San Diego. They're now huge trees.
I'm not a SEAL. I couldn't see myself surreptitiously extricating these. But I did more acceptably opt for a few branches from a large juniper tree in Balboa Park. I rinsed them off when I got home, and reserved in my prep area.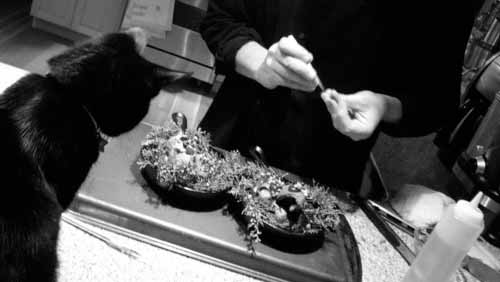 So now we had the bison strips, the cooked persimmon and mango "logs", rocks in the skillets in the oven, the juniper branches, berry skins, a bowl of puffed barley, walnut pudding and cranberry purée in squeeze bottles. All ready to go.
We assembled the stuffed bison by wrapping each persimmon and mango piece with a "sheet" of bison, trimming the edges.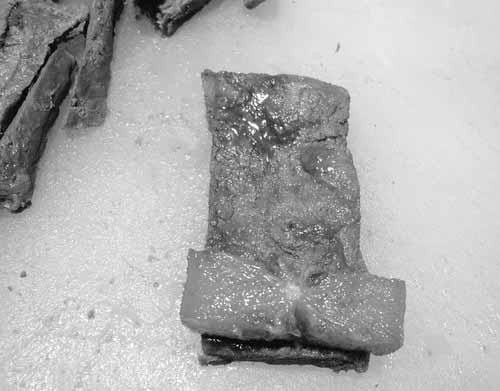 Then seared the stuffed bison pieces in a very hot skillet with some canola oil.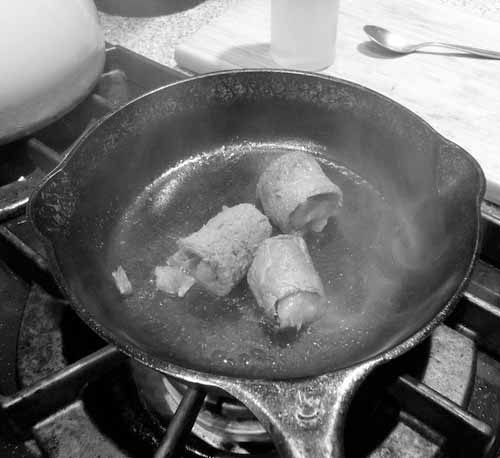 We took the skillets out of the oven and placed on an upside-down sheet tray (I don't have a plain ol cooling rack).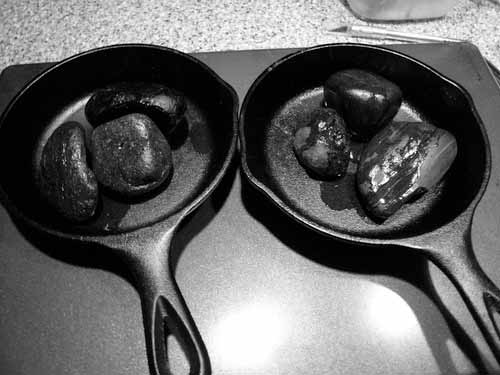 And began to plate! You have to do this fast, cause everything's cooling down. It's a race against time.
I placed three bison pieces in each skillet, surrounding the rocks with the fresh juniper branches.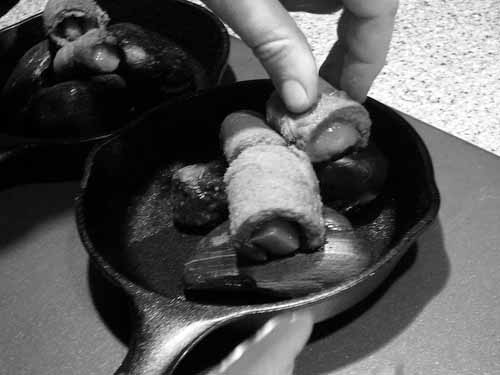 I squeezed a dollop of walnut pudding on each bison piece.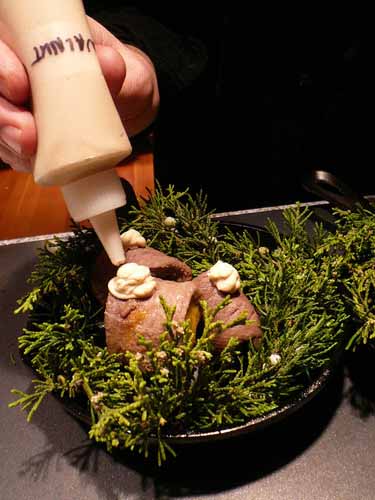 Then a dollop of cranberry purée.
Then topped with a sprinkle of puffed barley. (A perfect flavor component, by the way, as barley is used as the base grain alcohol for genever gin, flavored with — you guessed it — juniper…)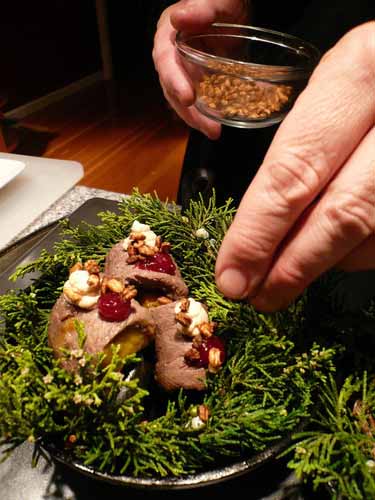 And finally, I carefully added a few of those ever-so-precious juniper skins.
Then it was time to eat! The bison was a good pairing with some oyster mushroom, pumpkin and saffron risotto I made, and the bottle of Eberele Full Boar red wine she brought.
We loved it! The picture above doesn't quite do the dish justice; you can't see or smell the wondrously fragrant steam coming off the sizzling rocks and juniper branches. A total sensory experience.
Ingredients:
Polished river rocks
Canola oil
Bushy, fragrant juniper branches
Equipment:
Salter digital scale
Measuring bowls
Kitchen knife, pairing knife, cutting board
Stainless mixing bowl
FoodSaver vacuum sealer and bags
Immersion circulator, or large pot with thermometer
Osterizer blender
Deep fryer, or large pan with thermometer
Small saucepan
Wire whisk
Medium cast iron skillet
Plastic wrap
Plastic containers
Serveware:
Small cast iron skillets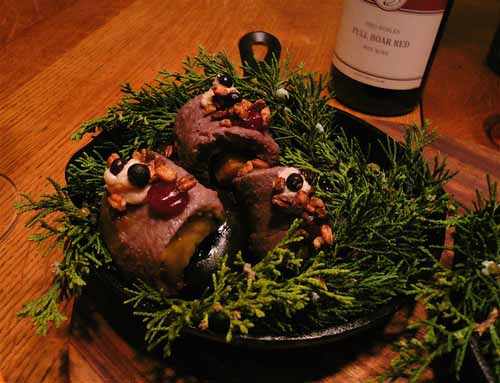 Yields: 6-8 small tasting portions, or 2 dinner-sized portions
Goes well with:
Eberle Paso Robles Full Boar Red wine
Hendricks gin, juniper berries and cucumber