Recipe, pg. 116
I made this "hacked" version of BACON, Butterscotch, Apple, Thyme in eight minutes and 42 seconds, from ingredients readily available at most supermarkets. And felt guilty every second of it. My deepest apologies to Chef Grant Achatz, Nick Kokonas, and the entire staff at Alinea Restaurant.
I'm calling this the Trailer Park Trash Remix, as it's made with the worst of the worst pre-packaged ingredients. But some folks inevitably will not care. My teenage son said he loved 'em, and he hates everything. My daughter commented that since I was going for the "ghetto" version, I should have used those thin-sheet fruit rollups. (You know the kind she means, of dubious flavors/colors.)
Oh, why the hell not?
To Assemble And Serve
I took the pre-cooked bacon (Oscar Mayer — it's "America's Favorite" — don't you know?) out of its box and laid out on paper towels. Got some sprigs of fresh thyme from my garden.*
*Although I did live in a trailer park for several traumatic years of my youth, I won't sink to the level of using dried thyme from a little bottle.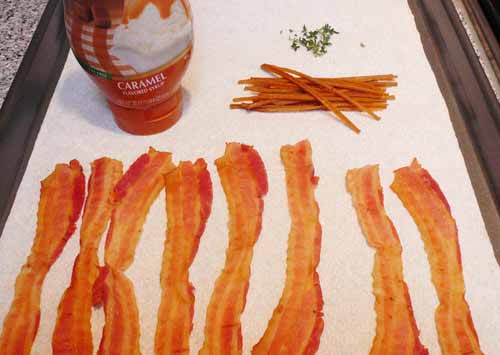 Squirted a generous amount of the "caramel" on the bacon. Then cut up the apple leather into strips. I intended to wrap them around the bacon, but they were too thick. On to Plan B.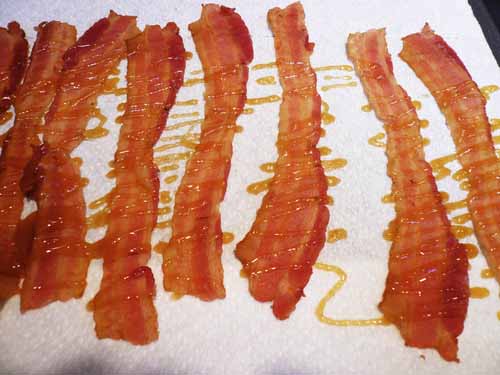 Placed some apple leather strips on each, and rolled up, securing with frilly toothpicks. Each got another squirt and a little thyme leaves on top. Done.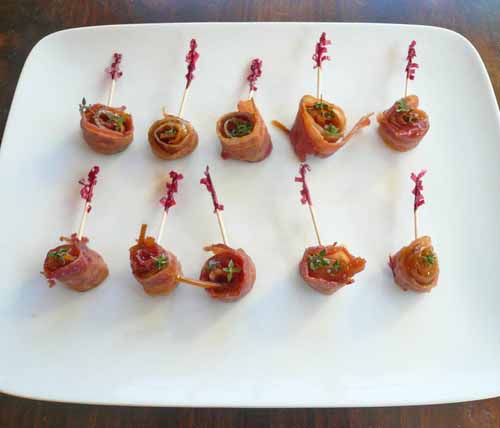 Was it a success? YEAA-UHH. They were gone in less time than they took to make.
Ingredients:
Oscar Mayer fully cooked bacon
Smuckers "Caramel flavored" Sundae Syrup
Stretch Island Fruit Company apple leather, or any readily available fruit rollups
Small tips of fresh thyme, from my garden
Equipment:
Toothpicks
Kitchen knife and cutting board
Paper towels
Yields: 12 servings