Alinea Recipe, pages 148-149.
A bite-sized chicken and mushroom "fritter" served on a bed of black truffle purée — this small appetizer, or amuse bouche, is kinda like a Chicken McNugget on crack. (The crack being truffles, of course. And I say 'kinda' because this uses only the basic ingredients of a CMcN: corn, chicken, fat, glutamic acid.*)
It's delicious, decadent, and uses only the best part of the chicken — the skin!
It is neither deep-fried nor greasy; everything is assembled at room temperature.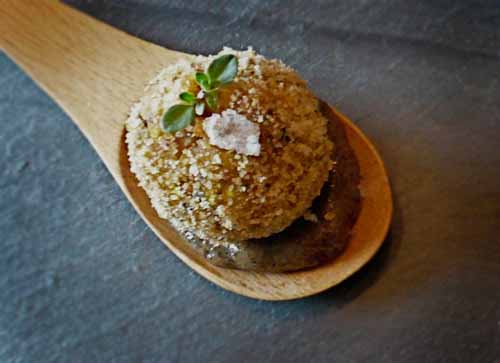 I figured if I did this exactly the right way, I'd need 335 grams of Périgord black summer truffles, which would roughly cost me US$370.00. Less than winter truffles, yes, but still pretty darn expensive.
I know I said I was trying to faithfully recreate these recipes, but…
Um. No.
Instead, I found local ingredients, some much less expensive alternatives, and mixed-n-matched to make up for the lack of black truffles.
I bought some Himalayan black truffles (about US$102.15/lb) and a can of black truffle juice (US$40.30/14oz) at Specialty Produce.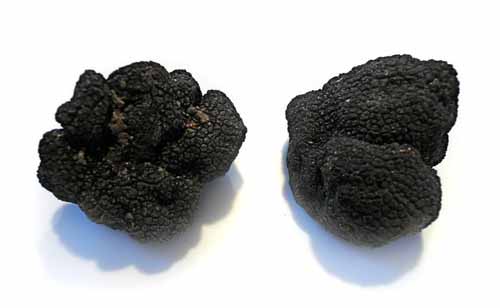 Also, I found large cans of Syrian desert truffles at North Park Produce (US$25.00).
To get the final color a bit darker, I augmented with some black Asian mushrooms.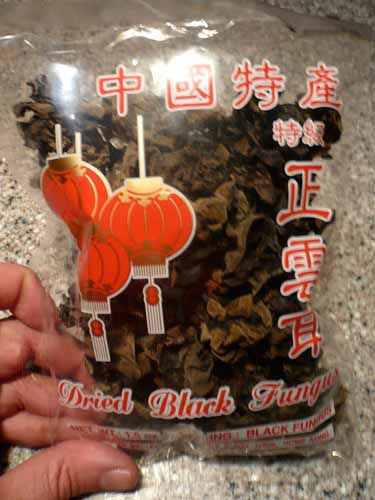 Don't know what kind they were. They look kinda like woodear, but I dunno. All it said on the packaging was "black fungus". Anyone? Once they rehydrated, they helped out the mix.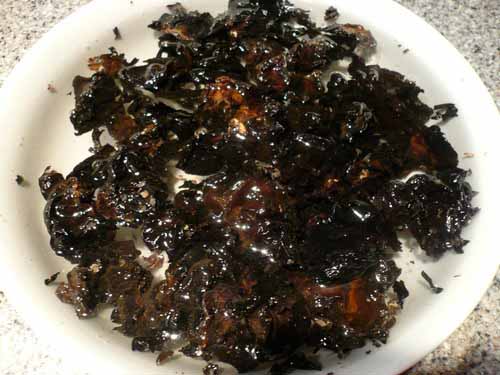 And to pump up the flavor, I planned on adding some black truffle oil I had on-hand. All together, a fraction of what it would cost for using solely Périgords.
On with the experiment!
Crispy Chicken Skin
While at the Hillcrest Farmers Market in San Diego, I bought a chicken from Womach farms. A while back a foodie friend of mine highly recommended Curtis Womach's chickens as "the best she ever had." I tried one and was hooked. There's nothing like the taste of an all-natural, pasture-raised chicken compared to the agri-farmed, genetically altered foul we've gotten used to at our local grocers.
No comparison at all. If you can afford 'em (US$20.00 each vs US$3.00 each for the store-bought).
I think they're worth it…
So I pulled the skin off the chicken (and of course saved it for a sesame chicken dinner later). Gathered up some springs of fresh variegated thyme from the garden.
And spread them out in a pan with some minced garlic. I usually will buy a tub of pre-peeled cloves or minced garlic at my local Asian market.
Slowly, slowly sautéed them until their fat had rendered out and they became a nice, dark, crispy, golden brown.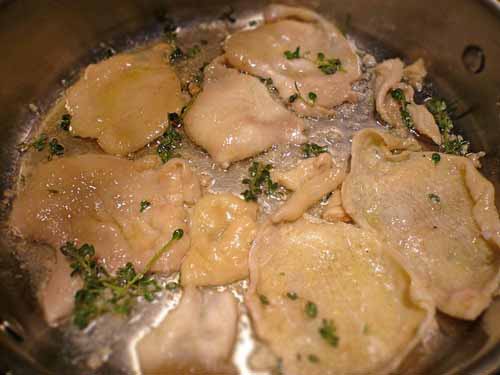 I removed the crisps to some paper towels to drain, saving the chicken fat.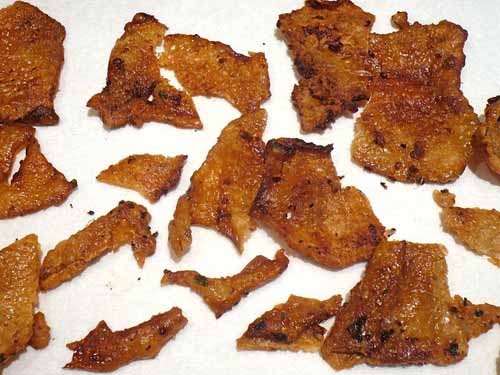 Then used a kitchen knife to cut into a fine, crumbly mince. And let drain some more on paper towels.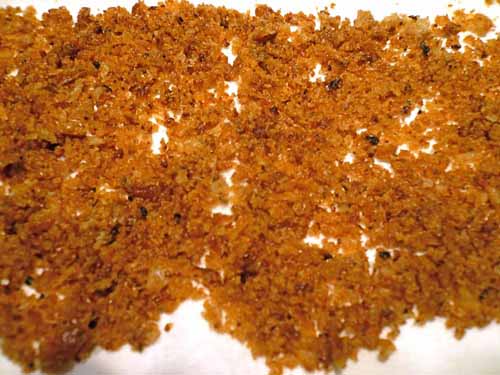 And reserved to a small, covered plastic container.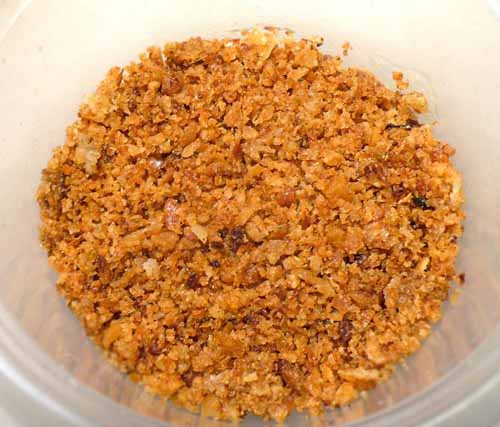 Ingredients
Organic, pasture-raised chicken skin, from Womach Ranch Farms
Fresh thyme, from the garden
Minced or crushed garlic
Diamond Crystal kosher salt, to taste
Chicken Fat Powder
After I'd removed the crispy skins from the pan (as above), I strained the hot chicken fat through several layers of paper towels in a strainer.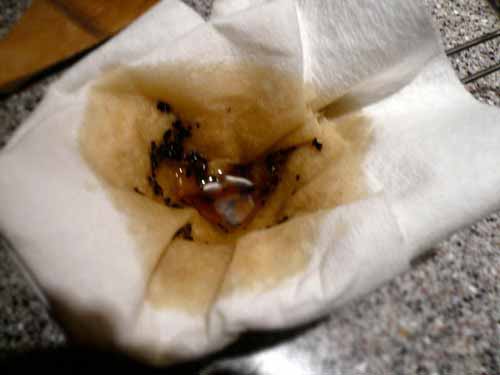 I strained a couple of times to get pure fat, and reserved to a plastic container.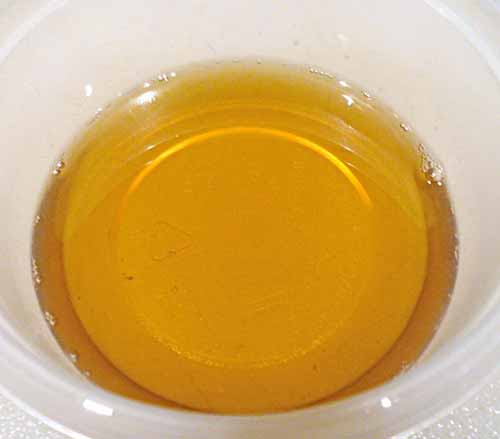 This recipe uses a technique to transform the liquid chicken fat into a powder. Tapioca maltodextrin is simply a super-light starch that assimilates the flavors of any fatty liquid you add to it: tapioca starch derived from the cassava is broken down into its amino acids by hydrolysis, then spray-dried into a fine powder.
Plain old maltodextrin is usually manufactured from corn starches and will not react with fatty liquids in the same way as tapioca maltodextrin. Some on eGullet have reported starchy tastes and glutenous textures when attempting powdered fats.
Note: for those that are allergic, maltodextrins contain processed free glutamic acid, otherwise known as monosodium glutamate (MSG).
It's a very absorbent powder that's easy to use. I got a tub of it from L'Epicerie (also available from Willpowder) awhile back, and it's come in quite handy in the kitchen.
I tried it years ago after reading my first article about Alinea. I made former Alinea Pastry Chef Alex Stupak's powdered peanut butter. You eat the powder — and voila — it reconstitutes itself in your mouth!
It's a good thing.
And so is bacon powder.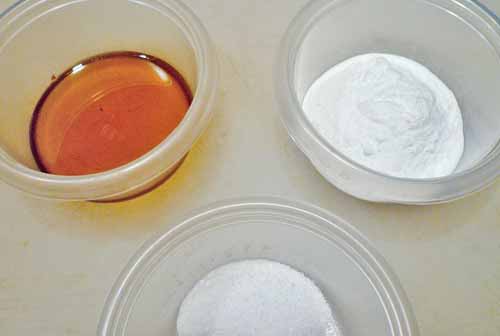 I mixed the liquid chicken fat with the maltodextrin powder and salt to taste — and got a slushy goop. I guess the quantities in the recipe were off. I had to add three times as much more (for a total of about 60 grams) to get a rough powder. Generally speaking, you use a ratio of 60% fat to 40% tapioca maltodextrin for a fluffy powder, and sometimes a 2:1 ratio.
Errata, page 148 Chicken Fat Powder.

Change "20 g (.7 oz) tapioca maltodextrin" to "60 g (2.1 oz) tapioca maltodextrin"

Or better yet, make a smaller batch. Try reducing the amount of fat you start out with. (At the end of the day, I had quite a bit of powdered chicken fat left over.)
You can use a whisk or even a food processor to mix.
Then I reserved the chicken fat powder in a small plastic container.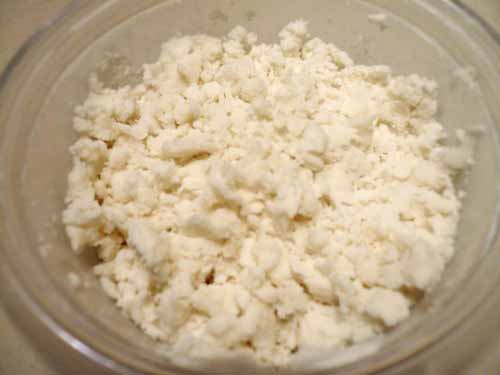 Tip: for a finer texture, some folks sift it through a tamis after mixing.
Ingredients
Rendered chicken fat, from above
Tapioca maltodextrin, from L'Epicerie or Willpowder
Freeze-Dried Corn Powder
So where do you get freeze-dried corn? You can order it online in cans or in pouches. Terra Spices has it as well. Or go to a local recreation store, one that sells backpacking supplies or camping food. I went to Sport Chalet and got a couple of pouches of freeze-dried sweet corn (US$2.19/ea).
All you have to do is crush it up in a food processor or with a mortar and pestle.
Then I reserved in a small covered plastic container.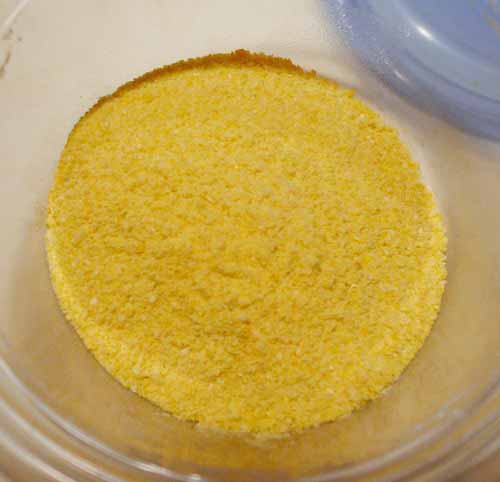 Ingredient
Richmoor freeze-dried corn, from Sport Chalet
Minced Black Truffle
I couldn't get winter Périgord black truffles, but I found some Himalayan black truffles (about US$102.15/lb) and a can of black truffle juice (US$40.30/14oz) at Specialty Produce.
The Himalayan black truffle (Tuber himalayensis) comes from the foothills of the Himalayas, in Tibet and China. More generically grouped with Tuber sinensis and Tuber indicum, they are also known as Chinese truffles. They look remarkably like French and Italian black truffles, but their flavor is not as intense. French and Italian truffles grow symbiotically near oaks, beech, hazelnut and chestnut trees, while Himalayan truffles predominantly grow near pine trees and other conifers.
By the way, now that they're offering farmers market bags (CSA boxes) and getting a lot of regular folk stumbling around their facilities, Specialty Produce put in place some rather annoyingly Draconian requirements for the public. Gotta use a "safer" entrance (walking past the loading docks is safer?), sign in, and don latex gloves before being granted access. Never mind those employees and chefs walking around unprotected. I must commend them, though, for legally protecting themselves from potential soccer mom accidents.
Damn. Just when our relationship was once again blossoming…
The truffles were a little dry, so I decided to soak them overnight in the truffle juice with a touch of black truffle oil. I later read that some unscrupulous establishments will do the same with Chinese truffles, so as to pass them off as French Périgords. Made me feel guilty and perhaps — ever so slightly — uneasy. So, caveat emptor!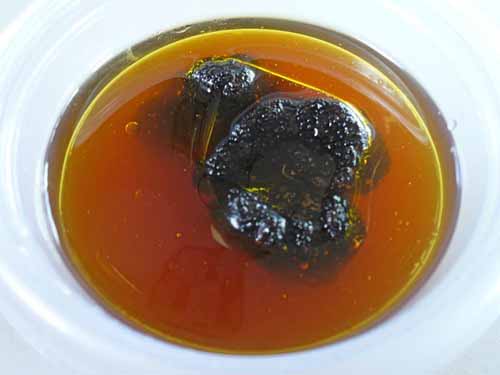 I trimmed off the skins and minced the truffle as finely as I could. I save the minced in a small covered plastic container with some of the truffle juice and oil. The rest of the trimmings, I reserved for the Truffle Stock.
Ingredients
Fresh Périgord black truffle (or like I used, Himalayan black truffle and black truffle juice, both from Specialty Produce, and black truffle oil from Whole Foods)
Toasted Bread Crumbs
The recipe says to brush the bread with olive oil, then salt and pepper to taste before you toast. I trimmed the crusts off some bread and toasted them slowly in the oven by themselves.
I only added a dash of olive oil, salt and pepper to the mix after they were ground up.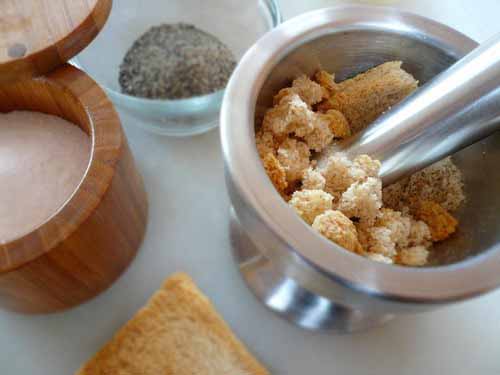 Or to save time, you could just use some packaged bread crumbs or panko breading.
Ingredients
Sliced, whole wheat bread, crusts removed
STAR Brand Olive oil
Diamond Crystal kosher salt, to taste
Fresh ground black pepper, to taste
Mushroom Stock
Yep. I love mushrooms. Ever since I was young… The best meal I ever had was in a little trattoria in Florence, Italy — ravioli al funghi — the lightest pasta filled with local handmade goat cheese, dressed with a silky smooth mushroom cream sauce. Ahhh. It was so good, I had it three nights in a row!
Mushroom stock is easy to make and handy to have around. You can use it in many dishes. If you're looking for it in the store, t's not as easy to find as say, chicken or beef stock, but well worth the search. And it may be made with many types of fungi. It all depends on what you have locally on hand.
This recipe calls for button mushrooms (Agaricus bisporus), easily the most obtainable of the Agaricaceae family, and I found some plump baby bella mushrooms at my local farmers market.
Baby bella is a small, slightly brownish button mushroom, short for portabella.
A young specimen with a closed cap and either pale white or light brown flesh is known as a button mushroom or white mushroom. When the flesh darkens, the immature mushroom is variously known as a crimini mushroom, baby portobello, baby bella, mini bella, portabellini, Roman mushroom, Italian mushroom, or brown mushroom. At this stage of maturation, the cap may also begin to open slightly. In maturity, it is called a portobello. The French name is champignon de Paris ("Paris mushroom").
In addition to the buttons, I found some king trumpet (Pleurotus eryngii) mushrooms while I was at the market. The largest of the oyster family, these mushrooms resemble the flared king trumpet wind instrument. They're also called French horn and king oyster mushrooms. Very sturdy and meaty, they are perfect for grilling as Elie at FoodFilmCorner did.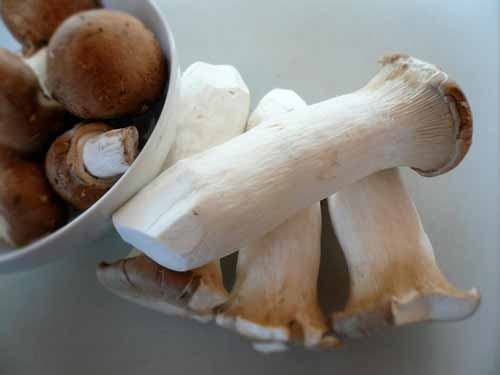 I chopped up the mushrooms, carrots, onion, parsley, and gathered my mise:

The smaller the dice, the more flavor we'll extract when simmering (and more quickly too). Then mixed the chopped ingredients together.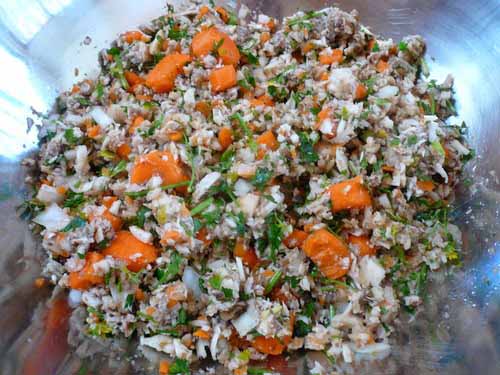 I combined the chopped ingredients with the water in a stock pot, adding some fresh bay leaf and thyme. Then brought to a boil, reduced the heat, and simmered for an hour and a half. And as with all stocks, I skimmed the impurities from the top as they formed.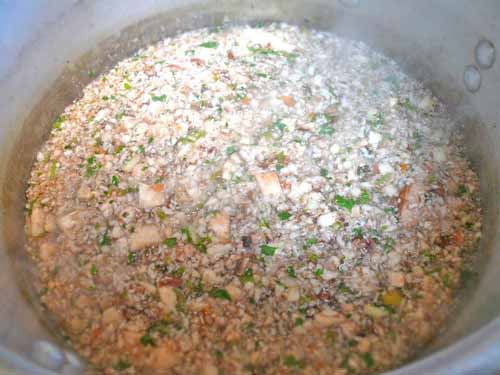 Then strained out the solids, which left a pretty clear broth.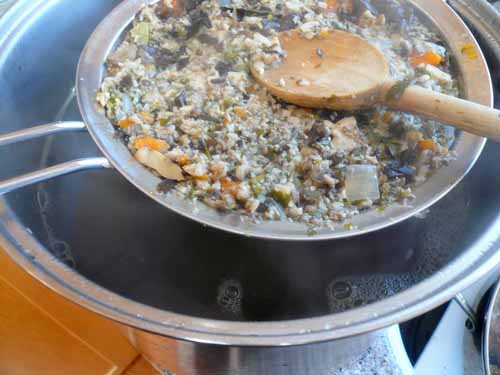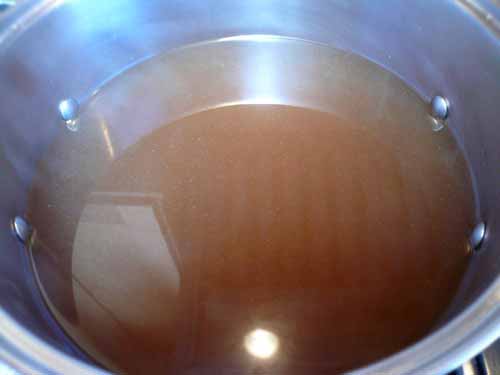 I finally simmered the stock until it reduced by half to a nice darker color, the flavors intensifying. Then reserved to a plastic container. I ended up freezing a batch for later.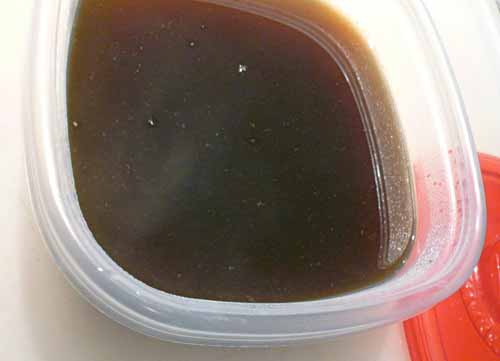 Ingredients
White button mushrooms,chopped (or like I used, "baby bella" and white trumpet mushrooms, chopped)
Fresh carrots, chopped
Fresh onion, chopped
Italian parsley
Fresh bay leaf
Fresh thyme
Water
Truffle Stock
Now, talk about decadent. How about makin' a big ten-pound batch of cooking stock out of Périgord black truffles? That's what they do at Alinea.
I am — on the other hand — doing a little culinary three-card-monte, shuffling the ingredients around a bit.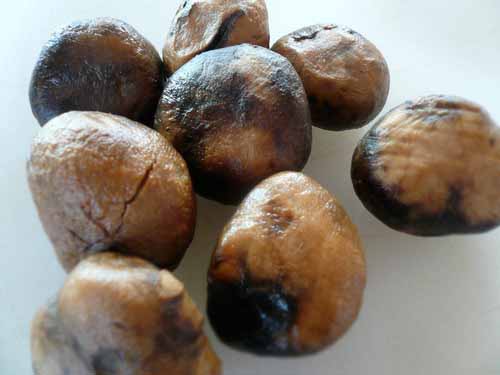 I had saved the skins and trimmings from the Minced Truffles, and combined them with some chopped Syrian Terfezia truffles (Terfeziaceae), also known as desert truffles, from North Park Produce. These are not as strong as others, being canned, but much less expensive. They grow under the sands of Iraq, Kuwait, the Sahara, Saudi Arabia, Libya and Syria.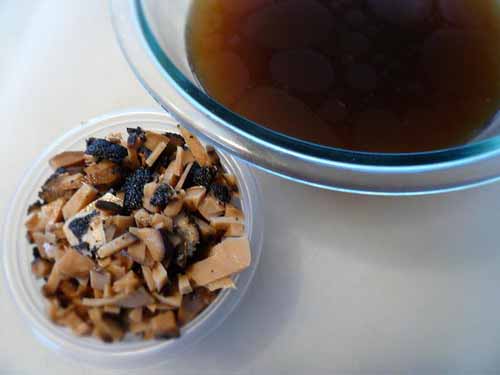 I put them all together in the pressure cooker with some water, black truffle juice, and a dash of black truffle oil. Then cooked at low pressure for at least an hour and a half. The kitchen sure smelled good!
The neighbors even noticed something was up. "You doing some of your 'trick' food, Martin?"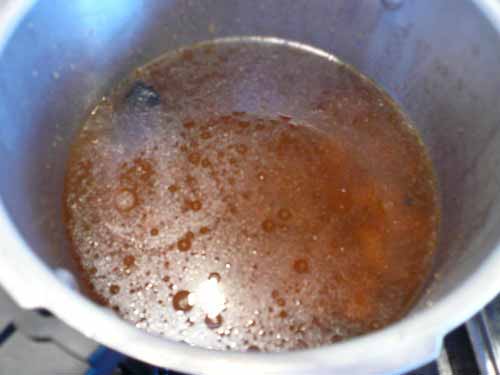 I checked up on them, and decided to cook a bit more, for a total of about 2 hours. Then removed from the heat and let cool for a while.
Strained the liquid, then reduced a bit on the stove.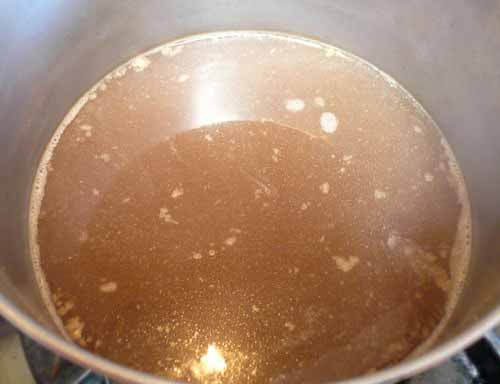 Reserved the truffle stock in a plastic container. And reserved the trimmings for later.
Ingredients
Trimmings from fresh Périgord black truffles, (or like I used, a combination of Himalayan black truffle trimmings from Specialty Produce, black truffle juice, from Specialty Produce, and black truffle oil, from Whole Foods)
Water
Black Truffle Purée
For the purée, I used some desert truffles along with the black Asian mushrooms that had been soaking in black truffle juice and oil.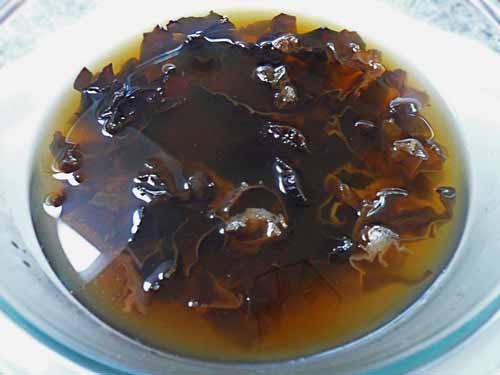 Pretty aren't they?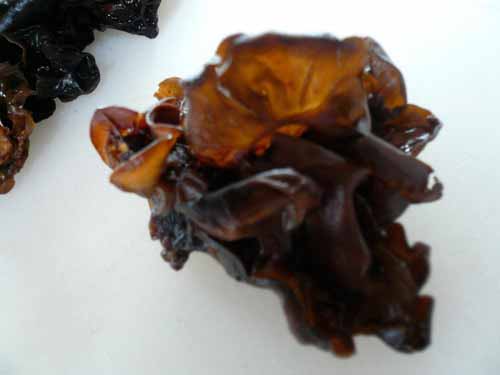 Several Alinea recipes, including this one, use potatoes as a foundation for soups and sauces. Another I'm thinking about is the Nasturtium Soup recipe from SURF CLAM, Nasturtium Leaf and Flower, Shallot Marmalade. Potatoes such as Yukon Golds provide a smooth texture and subtle base on which to add potent flavorings.
I combined the water, mushroom stock, truffle stock, cubed potatoes, chopped mushrooms (and their truffle juice) together in stock pot and simmered until the potatoes were tender.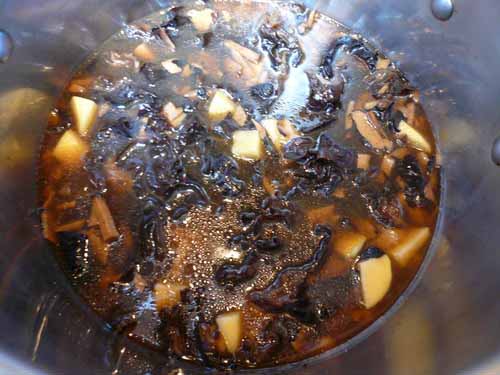 Removed from the heat to cool, then blended to a purée.
Not wanting to waste any, I threw the rest of the mushroom trimmings left over from the Truffle Stock in the blender too. I know, I know, it's an impure bastardization of black truffle purée. But I just couldn't throw it out! Besides, now I can truthfully call it black truffle purée.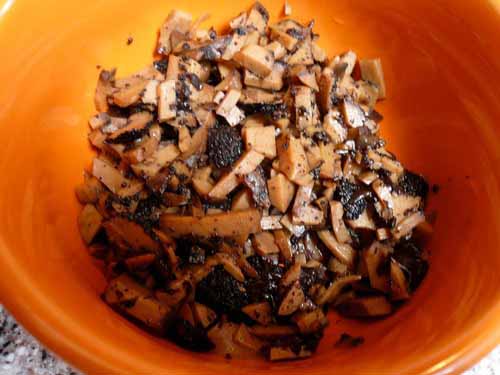 I transferred the purée to a plastic squeeze bottle, and reserved to my prep area.
Ingredients
Périgord black truffles
Black trumpet mushrooms (or like I used, canned Nour desert truffles from North Park Produce, dried black Asian mushrooms from Shun Fat Supermarket, black truffle juice from Specialty Produce, and black truffle oil from Whole Foods)
Mushroom stock, from above
Truffle stock, from above
Yukon Gold potatoes, cubed
Thyme Leaves
Easy. Picked a few springs of fresh thyme from my garden, rinsed, dried, and reserved to my prep area.
Ingredient
Fresh thyme leaves, from the garden
To Assemble and Serve
In a small stainless bowl, I combined the minced chicken skin, chicken fat powder, fresh thyme leaves, corn powder, bread crumbs and minced truffle. I mixed it together thoroughly. Then formed small meatballs, small enough to fit on a spoon. Do this quickly. The more you handle the mix, the more the heat from your hands melts the chicken fat powder. And we don't want that. For the second batch I made, I rolled them in some extra bread crumbs after I had formed each ball. This made them look a little more appealing…
I reserved these to a paper towel-lined plastic container in my prep area.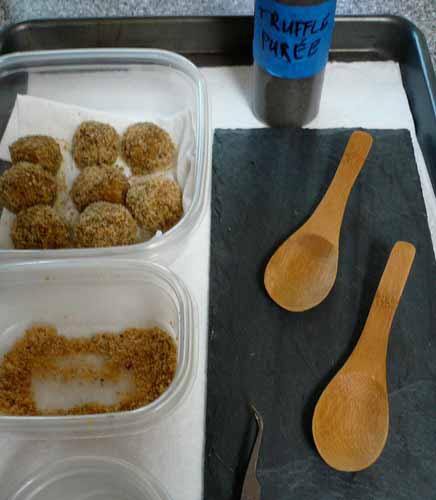 I guess tonight I'm gonna spoon instead of plate! I placed a generous dot of truffel purée in each spoon.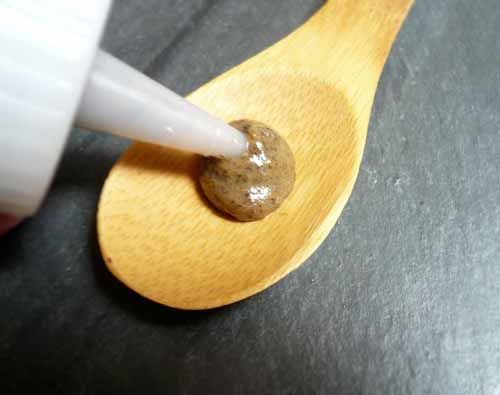 Then secured a chicken ball atop the purée, carefully placing some fresh thyme leaves on top.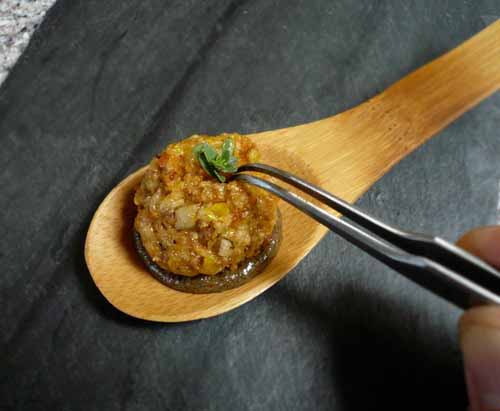 And finally garnishing with a couple pieces each of Maldon salt…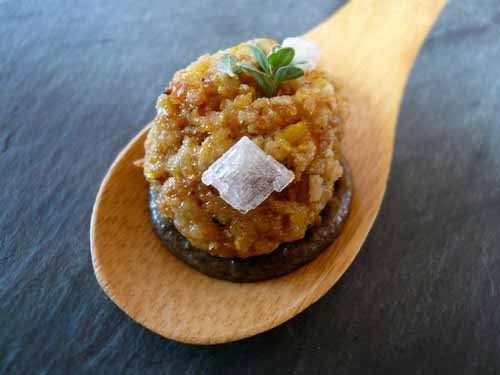 These are delicious bites, and pretty easy to make in large quantities for parties!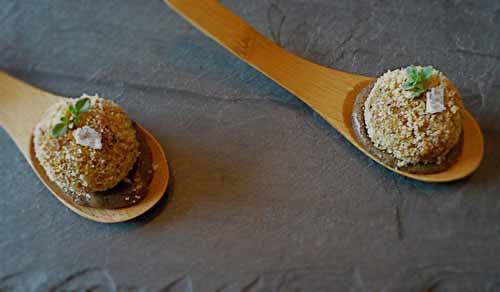 Equipment
Salter digital scale
Measuring bowls
Cutting board and kitchen knife
Paring knife
Large stock pots
Wooden spoon, rubber spatulas
Chinois, strainers and sieve
Spoon or small strainer for skimming
Small bowls
Sauté pans
Oster blender
Cuisinart mini food processor
Stainless steel bowls
Paper towels and sheet tray
Plastic containers
Plastic squeeze bottles
Serveware
Bamboo serving spoons
Slate cheeseboard, both from Crate&Barrel
Yields: at least 16 chicken balls, with plenty of mushroom stock, truffle stock, and truffle purée left over
Next, SURF CLAM, Nasturtium Leaf and Flower, Shallot Marmalade
What to do with the leftovers?
I had a whole chicken, some of the Syrian truffles, breading and truffle purée left over, so I made sesame chicken with truffles and hollandaise for dinner. Added sesame seeds and grated parmesan cheese to the breading. Pounded the chicken breasts flat, egged then breaded. Sautéed in butter until a golden brown, along with some sliced desert truffles. Made a batch of fresh hollandaise, and topped the breasts with some of this, the sliced truffles and a drizzle of the truffle purée.
---
*Did you know that there is more corn — if you count the corn-fed chicken and include corn-based ingredients — in Chicken McNuggets than there is real chicken? Hmmm. Guess they should be called Corn McNuggets…