Alinea Recipe, pages 56-57.
A bite of seafood and a fresh soup of greens to wash it down, this dish is full of surprises. In your first bite, you taste and feel the texture of fried clam, the sweetness and crunch of cucumber-shallot marmalade, the tangy bite of lemon pudding and subtle, nutty flavor of nasturtium. Chase it with just a bit of nasturtium-potato soup, and you may experience a familiar sense of — eating a sushi roll!
It's like ordering soup and salad all-in-one. Clam chowder with some greens and lemon vinaigrette. Reconfigured.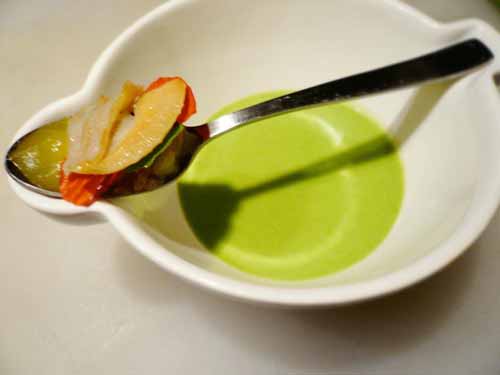 I've always loved clams, ever since I was a wee lad. Our parents hailed from Oregon, my mom specifically from the Pacific Coast in Newport. My grandfather was the town's lone Western Union telegraph operator. During the Depression they ate a lot of fish — it was plentiful and cheap. The once-small, seaside fishing village is now a bustling tourist attraction, known for Mohava "Mo" Niemi's clam chowder (Mo's Restaurant, 622 Southwest Bay Boulevard, Newport, Oregon 97365 USA, 541-265-2979), a local landmark since 1946.
We had clams and seafood all the time while growing up, and there was nothing better on a rainy day than a hot bowl of my mom's clam chowder (New England style of course, she'd never add tomatoes or corn! That was sacrilege!) There was always a fresh variety available locally: butter, cockle, gaper, littleneck, Pacific razor and softshell clams.
Out west we have native littleneck and Manila littleneck clams. The latter were accidentally introduced to Washington State in oyster seed shipments from Japan, and are now found along the Pacific coast from British Columbia, south to the shores of California.
Clams
This recipe calls for the Atlantic surf clam (family Mactridae), which I have never had. They grow very large compared to say, Manilla clams; often times larger than your fist. Carol goes into detail on East Coast clams on Alinea blog.
I decided to use some Pacific Coast Manila littleneck clams I found at World Food Supermarket (5245 El Cajon Boulevard, San Diego, California 92115 USA, 619-265-9988?), which are much smaller than the Atlantic surf. On a positive note, I didn't have to slice them up in a fan pattern, 'cause once cleaned they were just about bite-sized.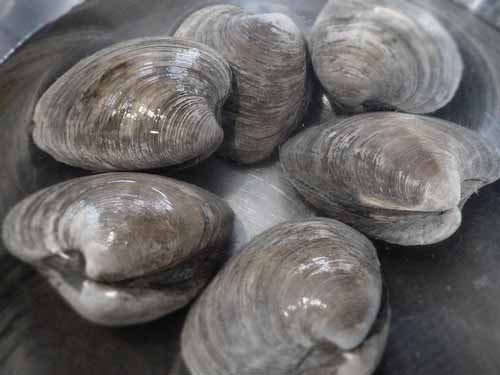 Kept the clams on ice, and popped them open with an oyster shucker. Scraped them out and cleaned each, trimming off the nasty bits.
Reserved in cold water. Then trimmed each in bite-sized portions. I tried to fan-slice them — with no luck. Oh well.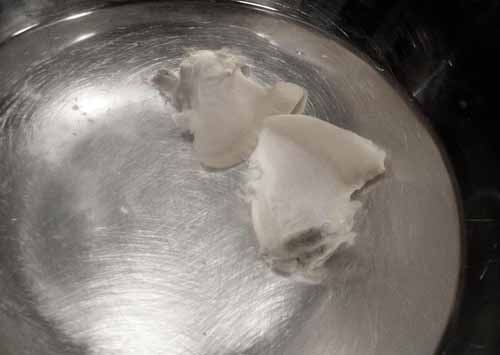 Reserved in a small plastic container in the oil, and seasoned with salt and pepper.
Ingredients
Large Atlantic surf clams, or Pacific littleneck clams
Canola oil
Diamond Crystal kosher salt, to taste
Fresh ground black pepper, to taste
Nasturtium Leaf Soup
Nasturtiums are entirely edible — flowers, stems, leaves and all. You just gotta make sure your source is reliable. Otherwise you'll end up with non-organic, pesticide-laden or smog-covered "nasties." I thought of all this while pondering the golden cascades of wild nasturtiums I recently encountered while on a walk. They're all over the place here! Remnants of gardens past, these self-propagators spread like wildfire throughout the urban canyons and shady slopes of San Diego.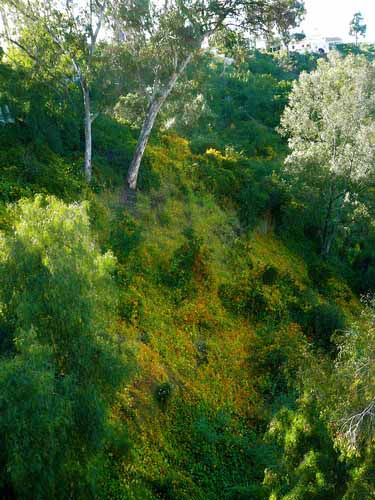 There are so many, sometimes the unmistakable, crisp, nutty aroma is almost overpowering. I say 'almost,' because I love 'em. But I don't know how I'd feel if that was my house up the hill…
I was strongly tempted to gather up a bunch for this recipe. But held off.
I'd planned for it earlier, buying four nasturtium plants at Walter Anderson Nursery.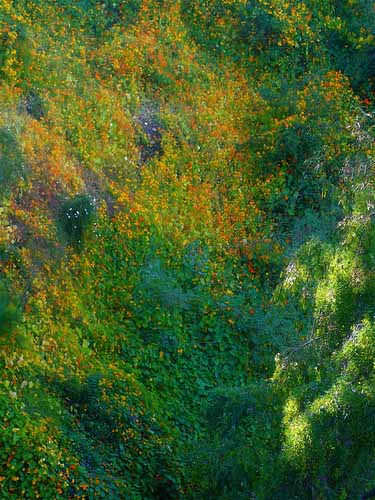 "Ahhhh, nasturtiums," cheerfully said the lady at checkout.
She did the up-down-up eye glance, immediately sizing me up, "You're gonna eat 'em, aren't you?"
Hmm. I thought I was being crafty. Guess not. Didn't know I was so easy to spot as a foodie. I'd even worn my gardening clothes! That was a month ago. Anyway, I went out to the garden and picked a bunch of leaves and flowers off the plants.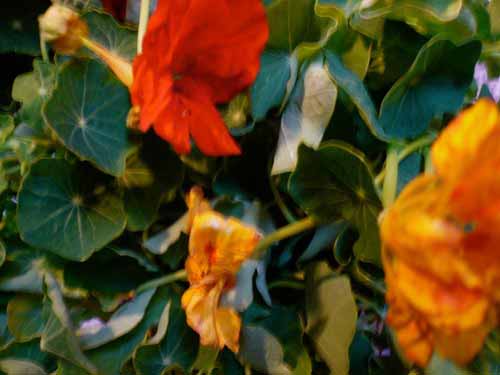 Then rinsed them in the sink.
I peeled and cubed some potatoes and got the rest of my mise en place:

I combined the water, half-and-half, potatoes and some salt in a medium saucepan and brought to a boil, reduced the heat, then simmered until the potatoes were tender.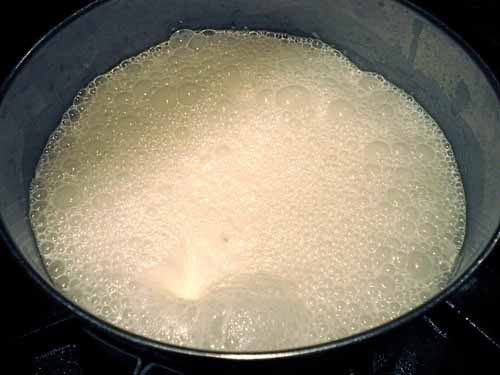 Then removed from the heat for a while, placed in the blender, held the top with a towel, and blended. (Hot liquids tend to shoot up out of the blender much easier than warm.) When it was puréed, I began adding the nasturtium leaves.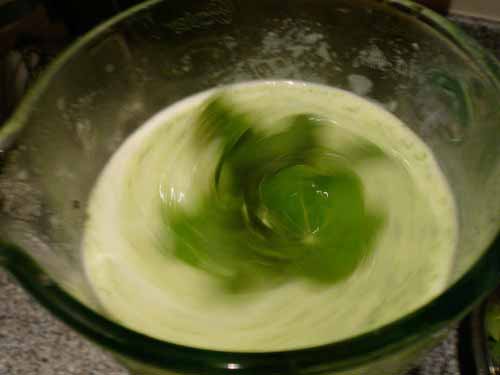 I tasted as I added the leaves, and decided on a little less than the amount specified in the recipe. Finally, I added some ice cubes and blended until smooth.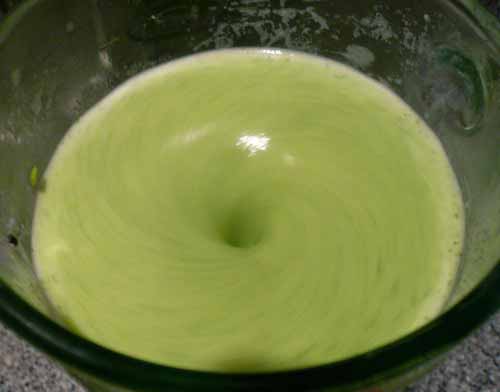 I strained the soup through a chinois into a stainless bowl set in an ice bath.
When cool, I transfered the soup to a covered plastic container and refrigerated.
A quick note: this recipe makes a full blender of soup, over a liter. I only ended up with about half of that though, due to another blender accident. Holding the blender top on with a towel, I used too much pressure and the clear hard plastic top dislodged itself into the blender, meeting its untimely demise. Made some nice, gritty, plastic soup.
Will it blend? I think so. I had to throw out half the batch. Luckily, I had already done half. Successfully.
Ingredients
Water
Yukon Gold potatoes, cubed
Alta-Dena half-and-half
Diamond Crystal kosher salt, to taste
Fresh nasturtium leaves, stems removed
Ice cubes
Shallot-Cucumber Marmalade
Okay. I agree wholeheartedly with what others have said, "This is just delicious!"
After I made it, I tasted it. And couldn't stop. It's crunchy, sweet and sour all at the same time!
I refrigerated mine, and the next day after the butter in it hardened, its texture was not so marvelous. So it's best if used right after you make it.
I used an English cucumber, peeled, seeded and diced.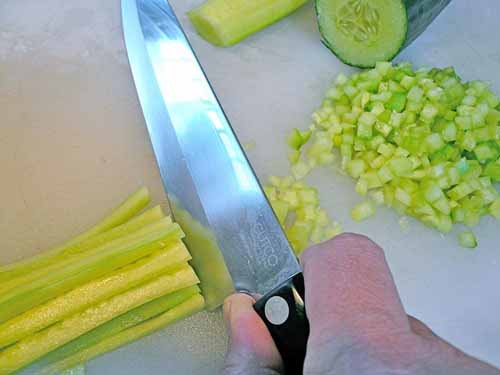 Then peeled, halved and diced the shallots. Mise en place: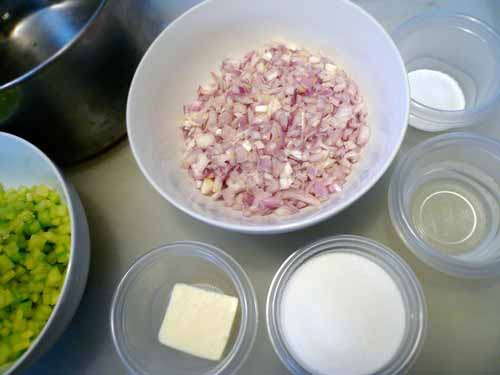 I combined the water, shallots, sugar, butter, vinegar and salt in a medium saucepan and brought to a boil. Then reduced the heat and simmered until it was almost dry. The shallots caramelized and released such a wondrously sweet aroma throughout the house. Takes a while over very low heat…
I transfered them to a flat container to cool and dry out.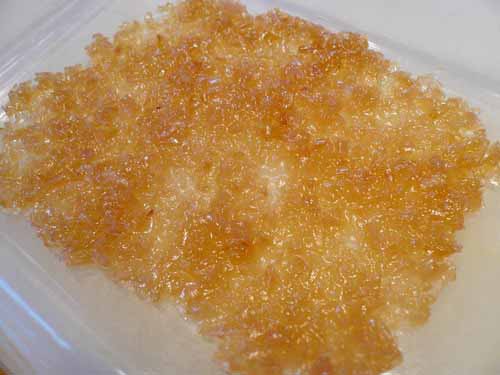 Then simply mixed with the diced cucumber!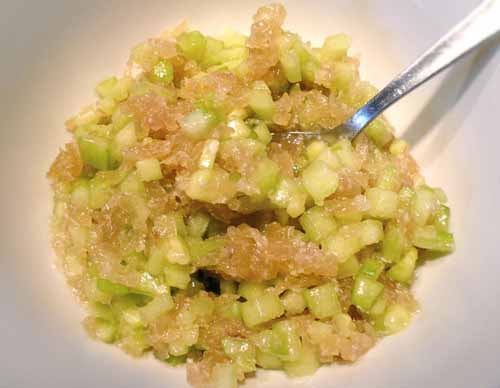 Ingredients
Fresh shallots
Challenge unsalted butter
Water
Heinz white wine vinegar
C&H cane sugar
Diamond Crystal kosher salt, to taste
Lemon Pudding
The the first edition of the Alinea cook book inadvertently omitted this sub-component recipe from SURF CLAM, Nasturtium Leaf and Flower, Shallot Marmalade. I looked in my notes, and this time consulted my list of corrections, and so used the recipe from SALSIFY, Smoked Salmon, Dill Caper, on page 269.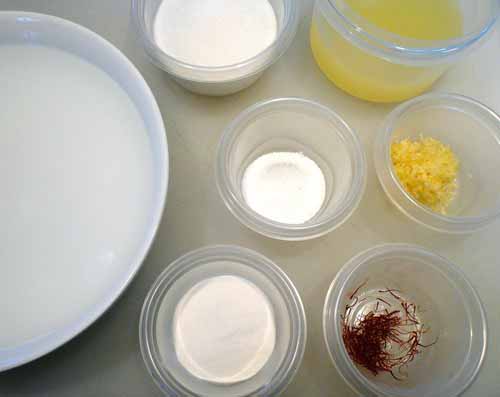 I combined the water, sugar, salt, lemon zest and saffron in a medium saucepan and brought it to a boil to dissolve the solids, then removed from the heat to let steep for about twenty minutes.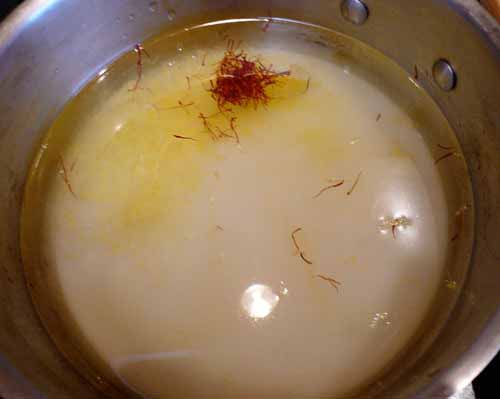 I strained it into a clean saucepan, added the agar and brought to a simmer, whisking for about two minutes.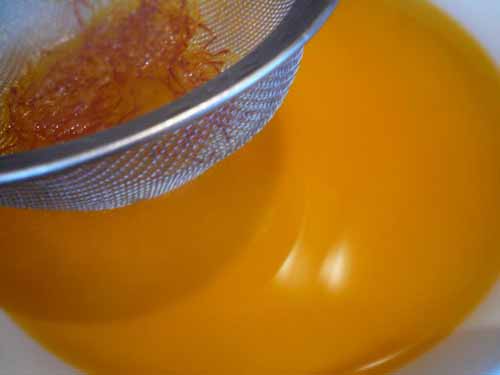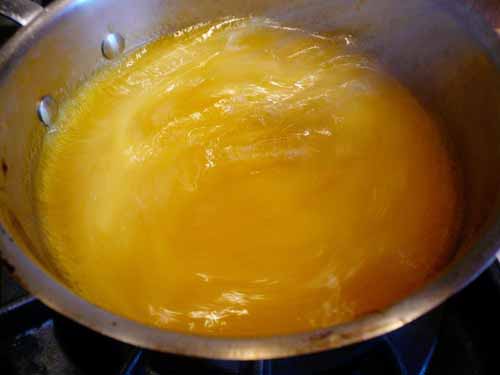 I then strained it into a stainless bowl set in an ice bath to cool and set up.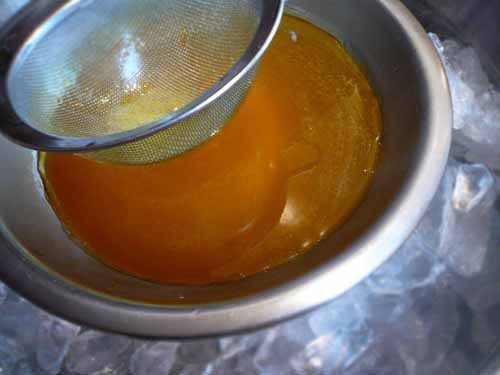 After it had set, I chopped it up. This helps the blending process immensely.
…and blended with the lemon juice until it was smooth.
I had to agitate the mass with a ladle, and ending up adding a bit more lemon juice than the recipe called for to loosen it up.
This recipe made a whole liter of lemon pudding!
Finally, I transfered some to a squeeze bottle and reserved in my prep area. The rest I gave to a friend…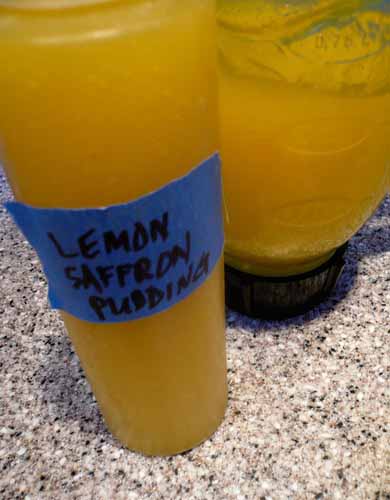 Ingredients
Water
C&H cane sugar
Diamond Crystal kosher salt
Lemon zest
Saffron threads
Agar agar
Freshly squeezed lemon juice
Pg. 57, Surf Clam
No recipe for the Lemon Pudding pictured on the fork, use component recipe Lemon Pudding from pg. 269. Add last sentence to the Assemble and Serve paragraph: "Place a dot of lemon pudding near the back of the fork."
To Assemble and Serve
At Alinea, they use a small ceramic Palm bowl designed by Crucial Detail to serve this dish. It's available now for retail purchase, but was sold out when I last checked.
When I was looking for serveware for DUCK, Pumpkin, Banana, Thai Aromatics, I found the spoonbowl, officially called by its designer "The Dish That Ran Away With The Spoon," at a really cool shop called ReForm School in the Silverlake area of Los Angeles. Perfect for this recipe. It's available there, online, and directly by Flavour Design.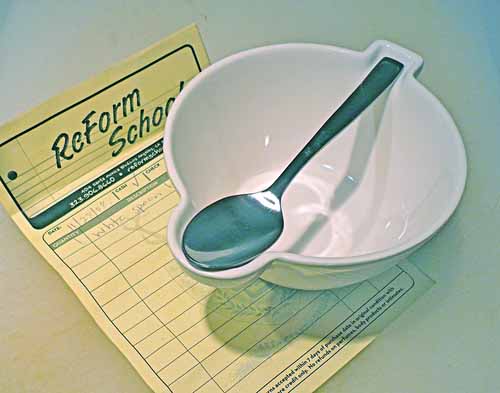 I put a spoonful of nasturtium soup in the spoonbowl.

In a spoon, I put a generous pile of the shallot-cucumber marmalade and a large dot of lemon-saffron pudding.
Then topped the marmalade with two nasturtium flowers and two small nasturtium leaves.
In a saute pan, I grilled the clams and drained on paper towels in my prep area.
I finally topped it all with a grilled clam and balanced the spoon in the bowl's "receptacles."
Equipment
Salter digital scale
Measuring bowls
Cutting board and kitchen knife
Paring knife
Vegetable peeler
Wooden spoon, rubber spatula
Chinois or sieve
Small bowls
Medium saucepan
Sauté pan or grill
Oster blender
Stainless steel bowls
Oyster shucker
Paper towels and sheet tray
Plastic containers
Plastic squeeze bottle
Tweezers
Serveware
Palm bowl, by Crucial Detail
or
Spoonbowl, by Flavour Design, from ReForm School
Yields: 8-16 servings, depending on the size of your clams, with at least one liter of lemon pudding and a bowl of shallot-cucumber marmalade left over.