Recipe, pages 144-145.
Have you ever wondered how to "make" your own melon? In this Alinea Restaurant recipe we make kind of a melon, kind of a sponge. It's a little bit of both.
It has the classic combination of salty, meaty goodness with sweet, tart fruit (like prosciutto and melon), that gives the dish a surprising Klondike Bar twist — served on a bed of sprouting thyme, no less. Yummy…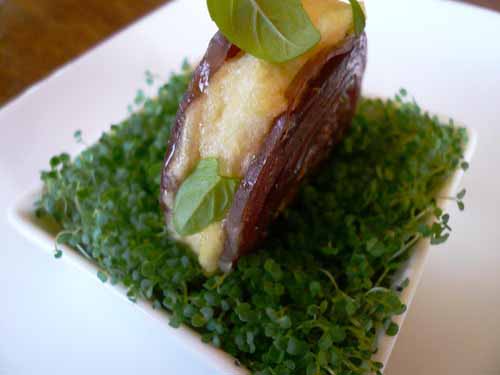 This can be made in two days, or in 5-7 if you decide on sprouting your own thyme like I did.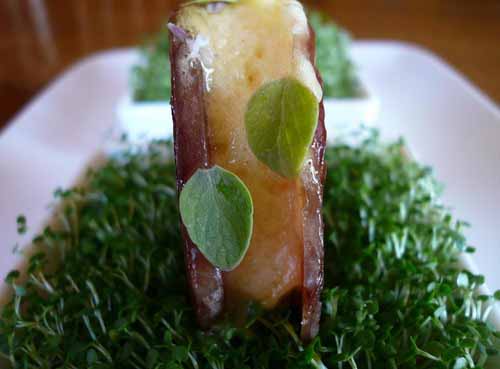 Day One
Patch of Sprouting Thyme
Where on God's green Earth do you buy a "patch of sprouting thyme"? I was sure you could get it from some specialty purveyor — for a very special price — but decided it was probably far more easy and less expensive to sprout them myself.
And you know what? It was.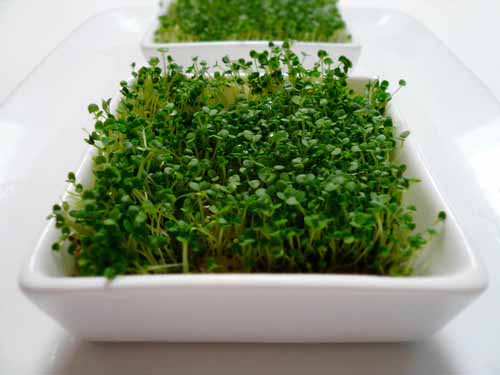 I bought thyme seeds (US$1.49/packet) from Walter Andersen Nursery. (And while I was there, found zuta levana too!)
Here's the set up: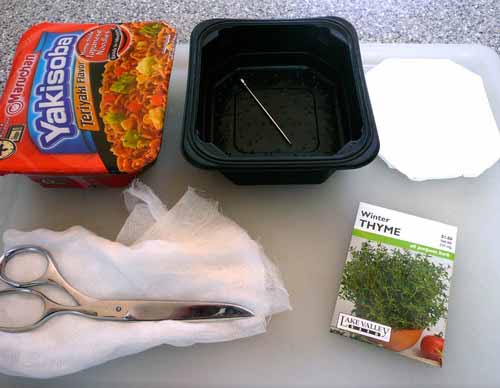 Re-used a plastic noodle container poked with drainage holes in the bottom.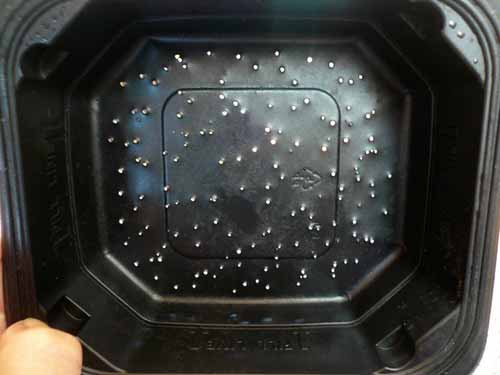 Lined it with paper towels soaked with water. Then I sprinkled in the seeds, put it on a plate with some water in the bottom, and loosely covered with some cheesecloth.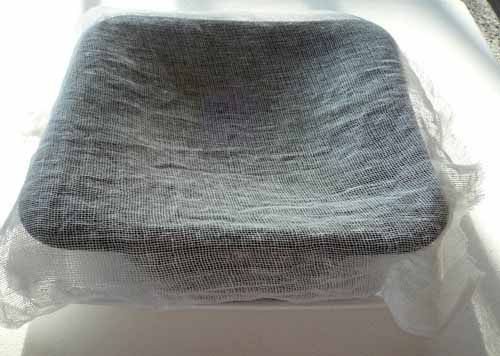 Left out on the kitchen counter for seven days.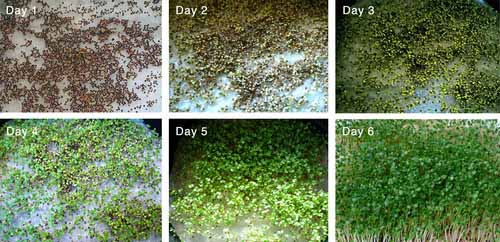 Day Six
Prosciutto Chips
Saturday morning, I took a trip to Little Italy Mercato for fresh vegetables. When in Little Italy, I almost always visit Assenti's Pasta. They have the freshest and best tasting home-made around! And a pretty nice selection in the deli case too. Pefect place to buy some nice dry-aged Italian ham, or prosciutto (pro-SHOOT-toe).
I bought about half a pound of Prosciutto di San Daniele (US$21.89/lb), a new favorite. It's sweeter and not as salty as other Italian hams, from the mountainous area of San Daniele del Friuli, in the province of Udine, Italy. A consortium of only about thirty small producers make the official San Daniele ham, a PDO (protected designation of origin).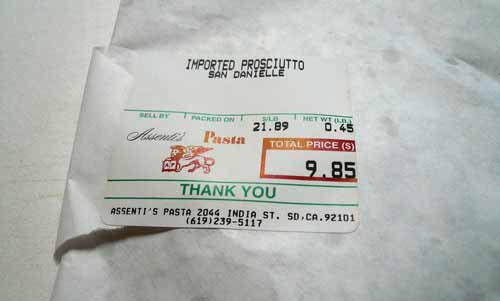 I had them slice it up about a sixteenth of an inch thick.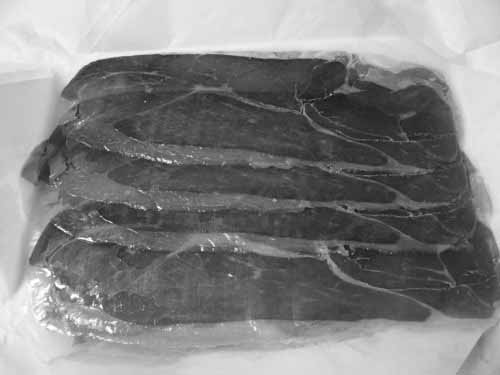 When I got it home, I stacked the pieces up. When you do this, flip every other piece around, so the striations and "creases" in the meat are not on top of each other, but staggered. It will strengthen the roll.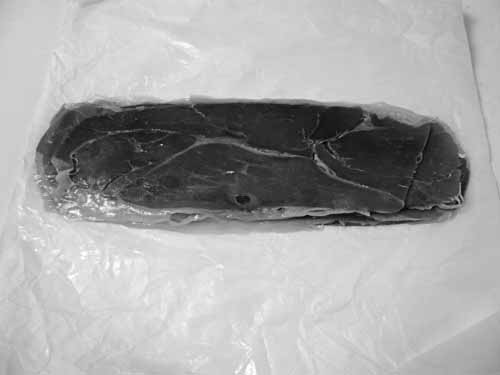 Then I rolled it up. It helps to offset one edge, layer-by-layer, just a bit. It's what we in the design business call page creep compensation. If you don't, the layers will start to pucker as you roll them up.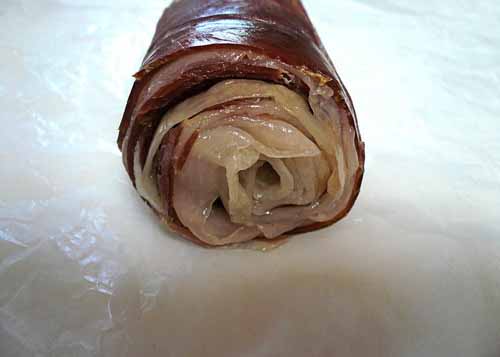 I wrapped it up tightly in plastic wrap. It should measure at least 2 inches in diameter. Then popped it in the freezer. We'll take it out and slice it up tomorrow morning.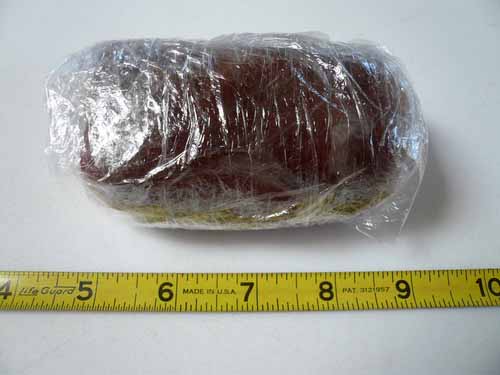 Ingredient:
Prosciutto di San Daniele, from Assenti's Pasta
Passion Fruit Sponge
Saturday after the farmers market, I stopped in at Specialty Produce for some fresh passionfruit. They didn't have any, but thought they could get some. Then the girl remembered they had frozen passionfruit purée. Hey, that's actually easier than using fresh! I was all over that. I got a frozen tub of Culinary Traditions passionfruit purée, by The Perfect Purée of Napa Valley (US$16.25/30oz).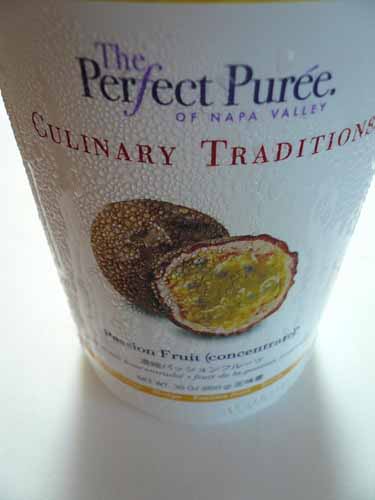 So. Since I was not using fresh passionfruit, I had to adjust the recipe. Instead of scooping out the flesh and seeds, I used the purée. Then instead of taking the skins and boiling them in sugar and water to infuse a syrup, I just used some Torani passionfruit syrup. I soaked the gelatin sheets in icewater and squeezed out when they were hydrated, then reserved to the prep area. Mise en place: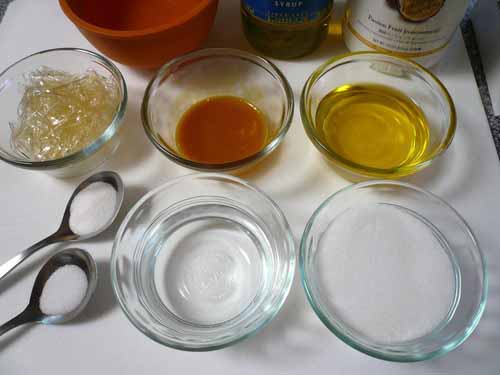 I added the passionfruit purée, water, salt, citric acid and passionfruit syrup together in a medium saucepan and brought to a boil.
Then whisked in the gelatin until it dissolved, and removed the pan from the heat. I strained the passionfruit liquid into a Kitchinaid mixing bowl, and let cool until room temp.
While that was cooling, I lined a 9×12 pan with plastic wrap. When the liquid was cool, I started whipping it up on the Kitchenaid mixer at high speed with the wire whisk attachment.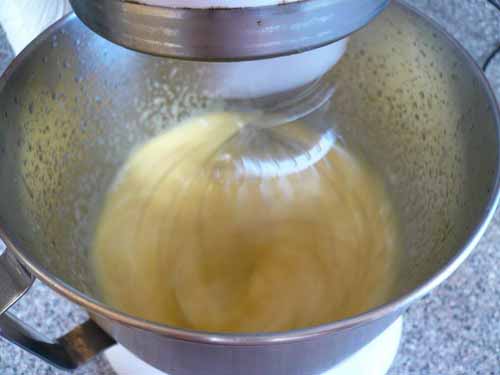 It took about 15-20 minutes to form stiff peaks, like a meringue.
Then I transfered the "sponge" to the prepare cakepan and smoothed it out on top with a spatula.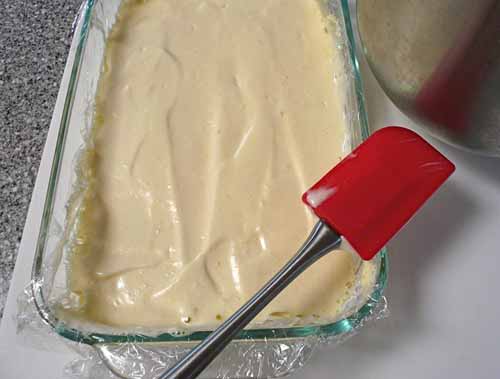 Popped it in the fridge for a couple of hours, until it set up. Then removed from the pan. It DID look like Sponge Bob Squarepants!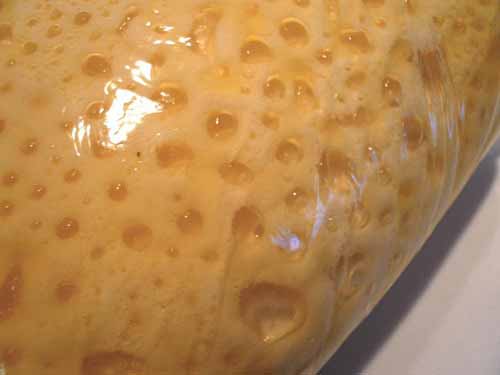 I used a 2-inch diameter muffin cutter to cut out sponge circles, and reserved in a plastic container.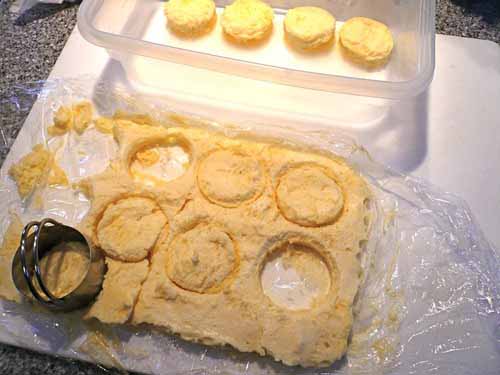 I love this set of stainless muffin/cookie cutters. Perfect for pretty much any job at hand.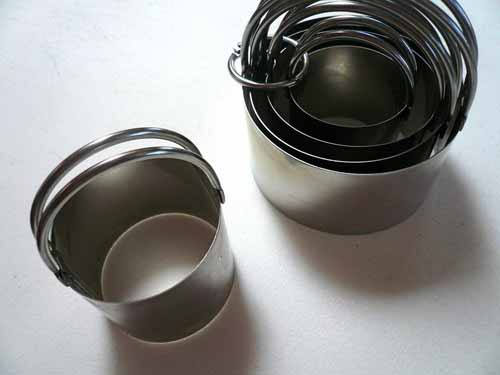 Ingredients
Culinary Traditions passionfruit purée, by The Perfect Purée of Napa Valley, from Specialty Produce, or
fresh whole passionfruit
water and sugar, or
Torani passionfruit syrup
Rousselot silver gelatin sheets
Citric acid
Diamond Crystal kosher salt
Zuta Levana
Saturday morning after Specialty Produce, I went to Walter Andersen Nursery, a family-owned nursery that's been here since 1928. If you ever need an exotic or hard-to-find plant, try them.
I asked the herbalist, showing her my list of zuta levana aliases. "Do you have any of these?"
"No," she said going down the paper. "We don't have this, or this. Hmm. Oh. But we do have zuta levana…"
"Why thank you," I calmly repied." That's perfect."
And she guided me over to the plant (US$9.99), which they get from Pearson's Gardens in Vista, California.
Plant List (PDF)
Inner me: "SCORE!" The plant I got even had blooms.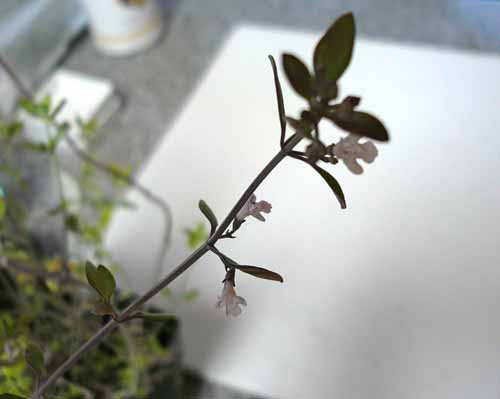 By the way, it looks nothing like the mint leaves they used in the cookbook. It resembles a lighter-colored, upright version of English thyme. Small, smooth-edged, oval leaves.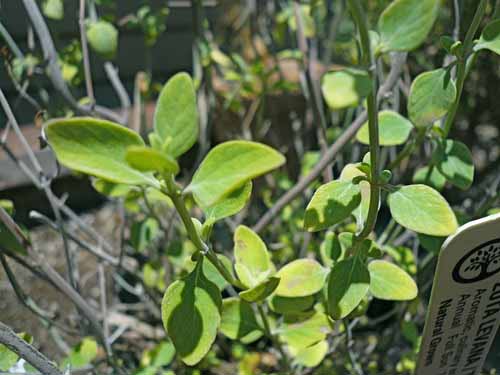 This recipe calls for zuta levana leaves, but if you can't find it, just use a mint like basil mint (Mentha cv. 'Basil').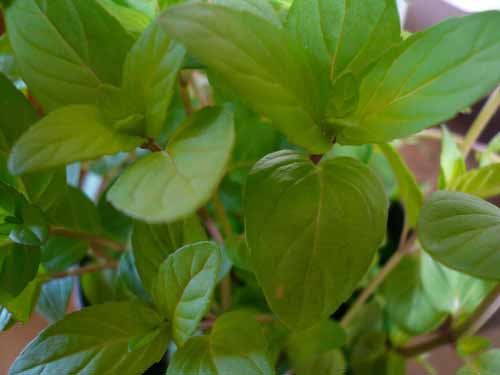 On left, basil mint, and on right, zuta levana.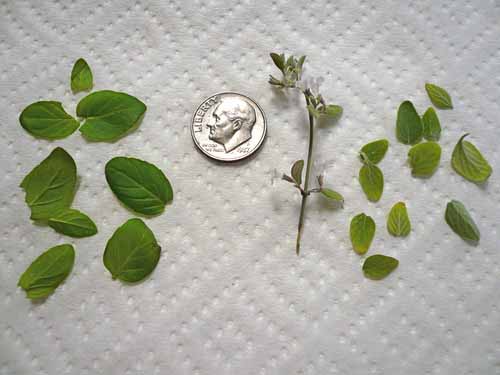 About Zuta Levana

Zuta levana, or tea hyssop (Micromeria fruticosa) is a Middle Eastern herb related to mint. Somewhat rare in the US, you can find it at your better nurseries in the "tea herbs" section.

I thought I'd never find it, so I did some research…

Micromeria fruticosa is also known as white micromeria, white leaved savory, white zota, tea zaatar, pennyroyal, Mediterranean rock mint, squaw mint, tickweed, stinking balm and mosquito plant. In Arabic it's ashab a-shai, and in Hebrew, it's zuta levana (zoo-TAH le-vah-NAH).

You can order seeds, try to get it online, or try local sources.

It has a strong, herby, menthol taste. The essential oils in Micromeria fruticosa contain high levels of the monoterpenes isomenthol and pulegone.

The herb is an emmenagogue due to its pulegone, and should be avoided by pregnant women. (For those that care, higher levels of pulegone appear at the tips of the plant, with much lower levels toward the base of the plant.)
Day Seven
Prosciutto Chips (Continued)
I removed the prosciutto roll from the freezer, unwrapped and sliced it as thinly as possible on my new Waring Pro meat slicer (US$99.99, at Bed, Bath & Beyond).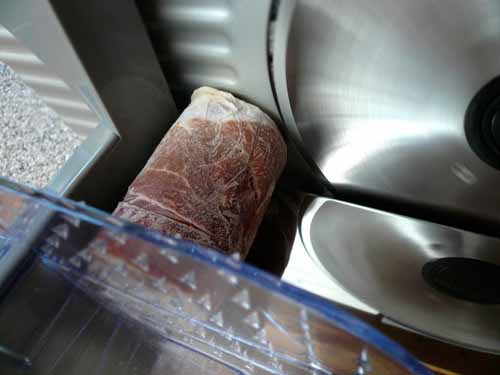 Put the slices on a tray in my dehydrator. The centers of some of the slices were hollow. I guess I did not roll it up as tightly as I thought. So I used a few little scraps and filled them in.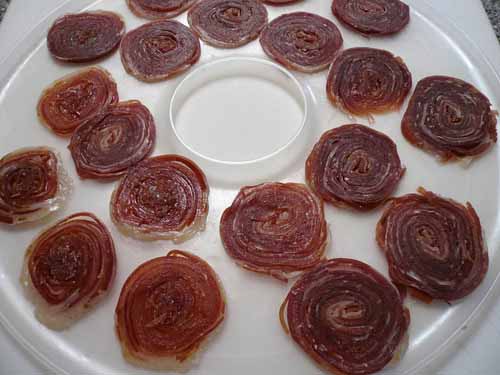 Then dehydrated at 135ºF for several hours. The Alinea Cookbook says "until crispy." Mine didn't crisp up like a chip, but rather turned to more of a chewy jerky chip texture. So I kept them in there for another 3 hours until they dried out some more.
To ensure that they dis not curl up as they dried, I put a silicone matt over them.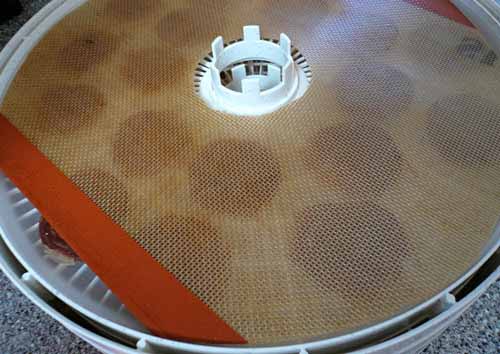 Then reserved in an airtight plastic container lined with paper towels.
To Assemble and Serve
On the seventh day, I removed the sprouts from their plastic tray and trimmed "patches" to fit the serveware.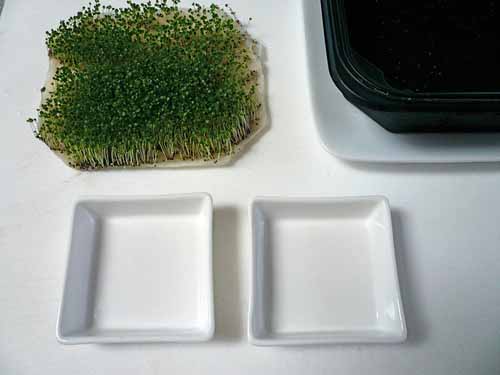 In retrospect, it would have been much easier to simply sprout the seeds directly in the serveware, square porcelain condiment bowls I picked up at Crate&Barrel.
I used about one envelope of seeds per serving.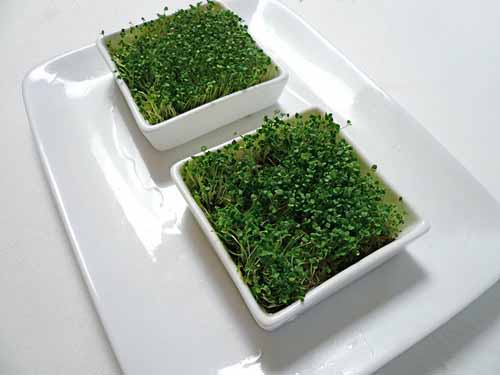 Now I was ready to assemble. Mise en place: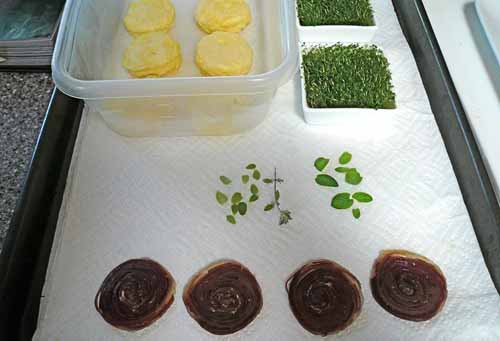 I placed a sponge circle on top of a prosciutto chip, then topped with another chip, like an ice cream sandwich. Squeezed a little so they'd stick together. Then I placed the "sandwich" on top of a patch of sprouting thyme. And topped with a few zuta levana leaves and flowers. On another, I tried it with basil mint. I think, after all was said and done, that I liked the mint a little better than the zuta levana.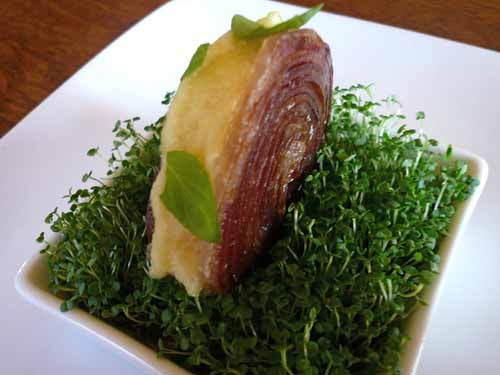 Overall, it's a great, refreshing summer treat. Everyone liked them, including the kids!
Equipment
Plastic tray
Paper towels
Cheesecloth
Scissors
Salter digital scale
Cutting board and kitchen knife
Measuring bowls
Stainless bowl
Medium saucepan
Wire whisk
Spoons
Sheet pans
Chinois
Strainer or sieve
Rubber spatula
Kitchenaid stand mixer
Oster Blender
American Harvest food dehydrator
Waring Pro meat slicer
Cookie cutters
Plastic wrap
Pyrex 9×12 baking dish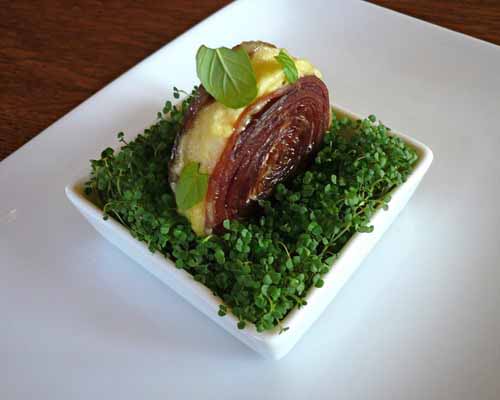 Serveware
Square porcelain condiment bowls, from Crate&Barrel
Yields: Plenty more than 8 servings. More like 12.