Recipe, pages 138-139.
What's a croquette? It's a small fried food roll, from the French croquer, "to crunch."
In the Southern states, they have salmon croquettes: minced salmon with onion, breaded and deep fried. In the East, they have crab cakes. And in the West, we have Spanish croquetas de jamón.
They're all over the place! And basically the same — meat or seafood filling, breaded and fried.
This recipe, from the Alinea Cookbook, is like their version of the salmon croquette, using ingredients from traditional French cooking and combining them with American fish.
My dinner guest thought it was just delightful, and I agree!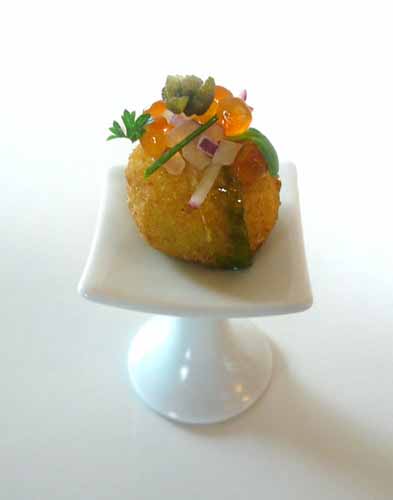 Crème Fraîche
This is a nice creamy filling for inside the fried croquette shells. It's made with crème fraîche, a fancy word for French sour cream. I bought a tub of it at Whole Foods. And later, I even found some at my neighborhood Albertson's!
How to make your own mock crème fraîche.

If you can't find it, how to make your own substitute for crème fraîche. Add a tablespoon of buttermilk to a cup of whipping cream. Heat it gently to 110°F (45°C), then put it in a loosely covered bottle in a warm place and let it sit for anywhere from 8 hours to a couple of days, until thick. Store it in the refrigerator, where it will thicken further. Keeps for about three weeks.
I got my ingredients together, soaked some gelatin sheets in cold icewater, squeezed them out and reserved with the other ingredients.
I use Rousselot silver gelatin sheets. There are "gold" and "silver" grades, the latter being a bit less expensive (and not as strong). I got a big box of them from L'Epicerie. Use silver for Alinea recipes, it's what they use. For a full discussion on gelatin bloom rates and conversion from sheets to powders, check out this eGullet forum thread.
Gelatin sheets after they have be rehydrated in cold icewater: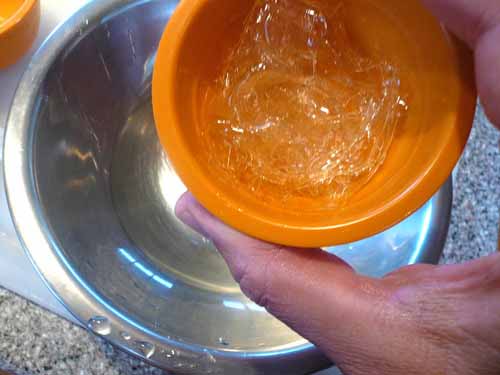 In a medium saucepan I heated up the crème fraîche, water, salt and simple syrup to a simmer. Then added the gelatin sheets and whisked until thoroughly dissolved.
Ingredients
Rousellot silver gelatin sheets, from L'Epicerie
Cold ice water
Vermont Butter & Cheese Co. crème fraîche, from Whole Foods
Simple syrup
Diamond Crystal kosher salt, to taste
Cucumber Balls
Easy as pie. If you have the right size parisienne scooper (melon baller). After all was said and done, I think a smaller scoop would have been better. Allowing more room for the crème fraîche. But it worked out.
I peeled an English cucumber. You can use any kind, really. But English cucumbers have fewer seeds than other kinds. Then took the parisienne scooper and got as many round spheres as I could from the cucumber. The remainder went to "Penny," my daughter's African Hingeback tortoise.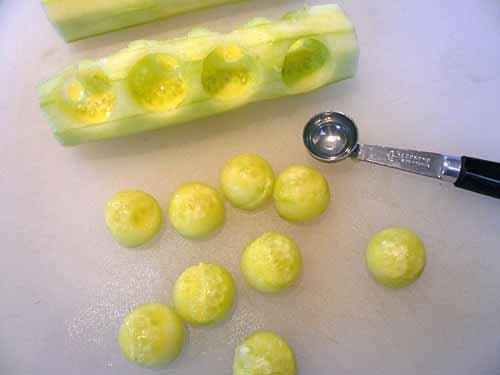 Ingredient
Fresh English cucumber, peeled
Candied Belgian Endive
I got some fresh endive lettuce at Whole Foods. Removed the outer larger leaves, rinsed and dried them.
Cut up the endive into strips. Boiled water with sugar.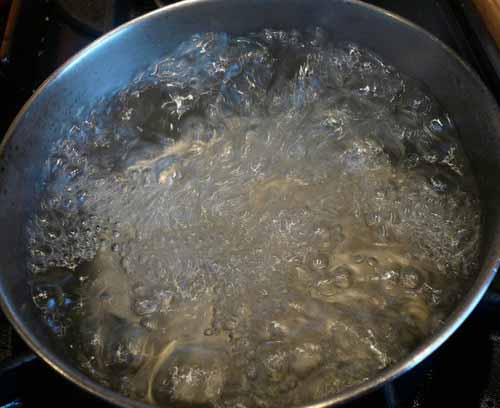 I added the endive leaves, and simmered for one hour, until they were translucent. Then reserved to my prep area in a small bowl.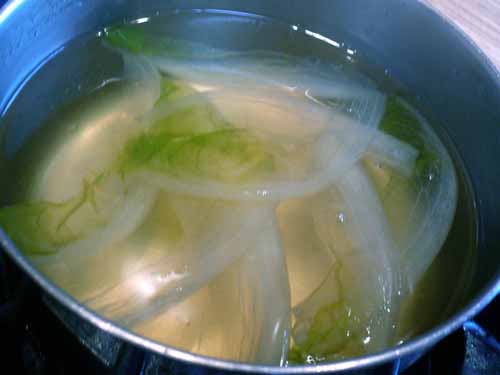 Ingredients
Small head fresh Belgian endive, from Whole Foods
Water
C&H cane sugar
Interior Garnishes
Although this is called interior garnishes, I prefer to think of it as the croquette's filling. You are supposed to use smoked steelhead trout roe. Alinea gets theirs from Blis Gourmet. But I purchased some salmon roe from my local Japanese market, and decided to try and smoke it a little bit myself.
I bought a bag of Weber mesquite wood chips, then ground some up in the spice grinder (to fit my Smoking Gun smoker).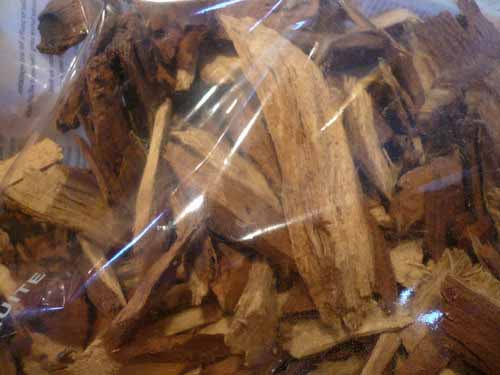 I put the container of roe in a bag and attached the smoker to it, lighted it up, and filled the bag with mesquite smoke. Then sealed an let sit. I repeated another time, and let sit while I prepared all the other garnishes.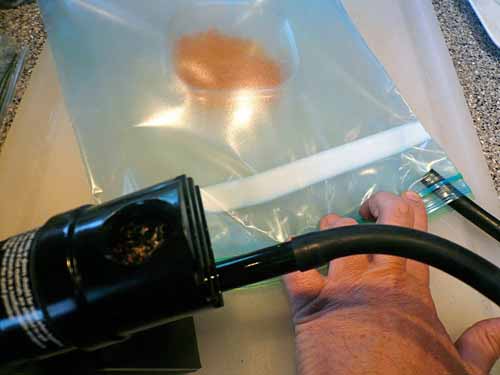 For the spheres, I used Huztler ice ball trays, from Gourmac. Plastic, two-piece, 24-sphere ice trays for US$4.19 each. I originally got them for the TRIPOD, Hibiscus recipe, and they work great.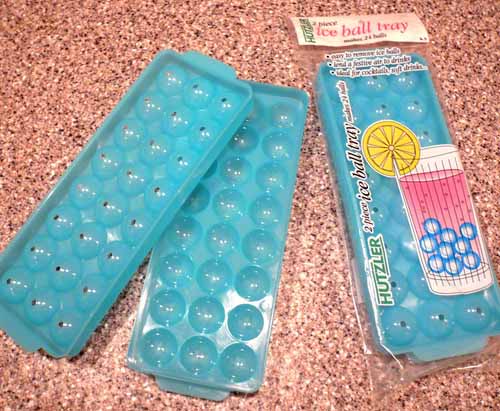 To the bottoms of each sphere, I added 7 fish eggs in a "daisy" pattern.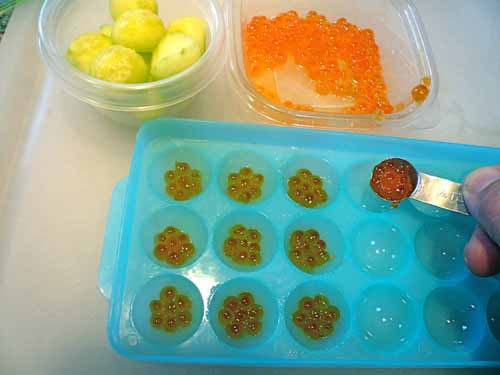 Then I added a cucumber ball to each.
I made sure to put the flatter side face-down.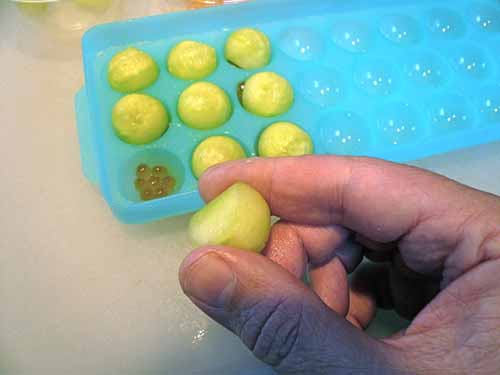 I wasn't using the whole mold for this recipe, and I didn't want the gelatin mixture to fill up the unused spheres. So I made a seal with some rolled fondant (left over from one of my daughter's cookie recipes). Using just a thin layer created a tight seal — that held!
Then I used a small syringe (children's medicine doser from the local pharmacy) to fill up the reservoirs with the crème fraîche gelatin.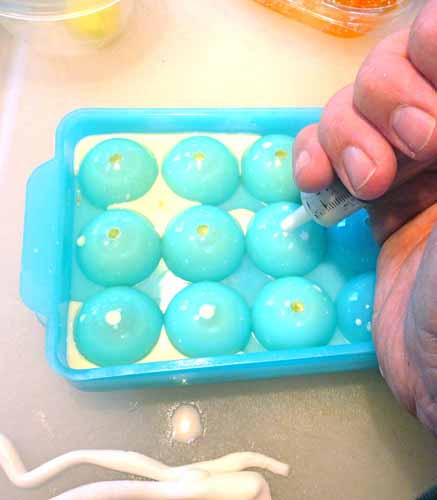 Clamped it shut and refrigerated for several hours.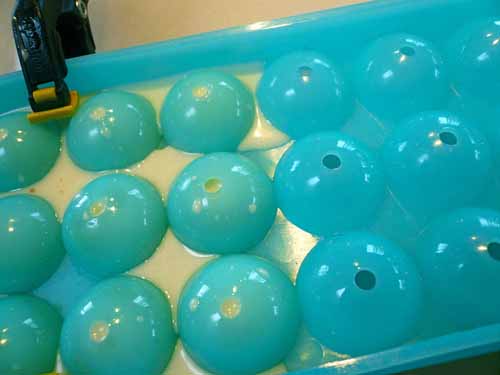 After they have solidified, this is what they look like. Very cool, eh? When you fry the croquettes, the filling melts and the cucumber inside is — how do I describe it? — free-balling.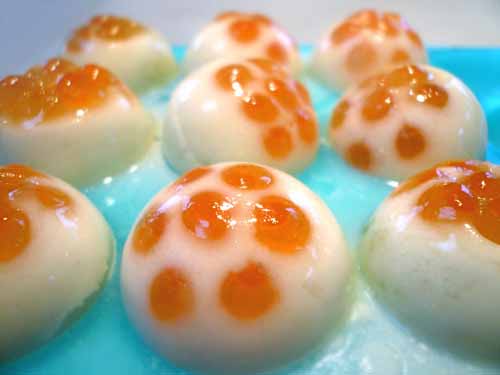 Ingredients
Smoked steelhead trout roe, from Blis Gourmet, or
Smoked salmon roe, from Mitsuwa Marketplace
reserved cucumber balls, from above
reserved crème fraîche, from above
Breading
I had three bowls side-by-side. First had flour. The second had beaten eggs, for an egg wash. And the third had fine panko bread crumbs. If you can't find finely ground panko, use what breadcrumbs you can find and grind it up some more in a food processor or spice grinder.
Each crème fraîche ball, I first rolled in flour…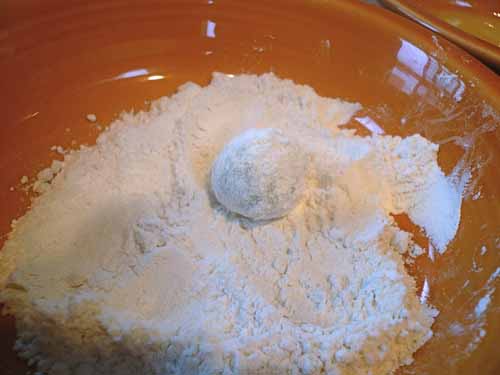 then coated in the egg wash, and finally in the breadcrumbs. Pushed down to firm them up a bit. And repeated for a total of two layers each.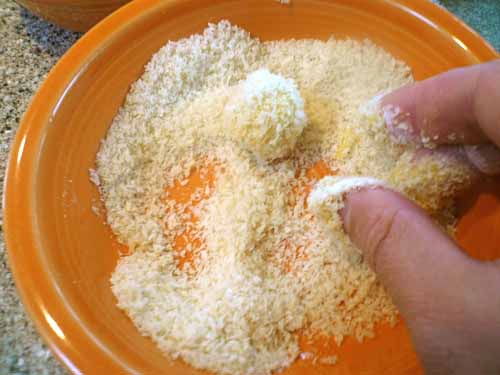 Messy!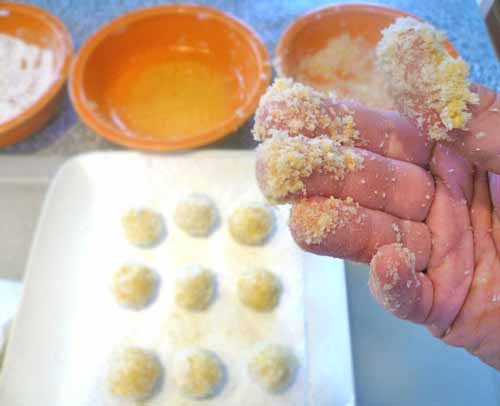 Then reserved on a plate near the stove…
Ingredients
King Arthur organic all-purpose wheat flour, from Whole Foods
Free-range eggs, beaten
Yukiwa fine komakai panko, from Mitsuwa Marketplace, or
Course panko, ground in a spice grinder
Reserved interior garnishes, from above
Red Onion
I peeled and finely diced half a red onion — teeny-tiny dice — and reserved to my prep area.
Ingredient
Fresh Bermuda onion, peeled
Fried Capers
I rinsed, drained and dried some STAR brand bottled capers.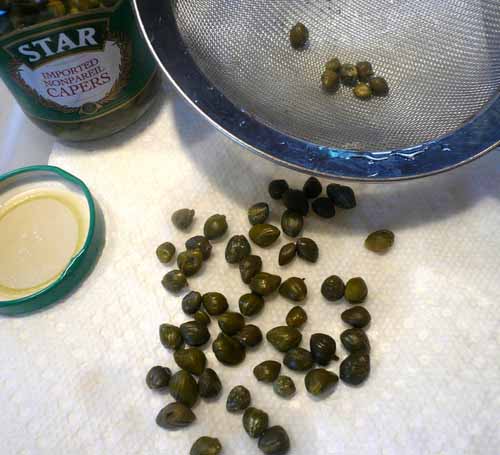 Then fried in canola oil. Beware of the popping though. And no matter how uncomfortable it is on a hot summer day in your kitchen, don't try deep-frying without a shirt on. They will pop if still too damp.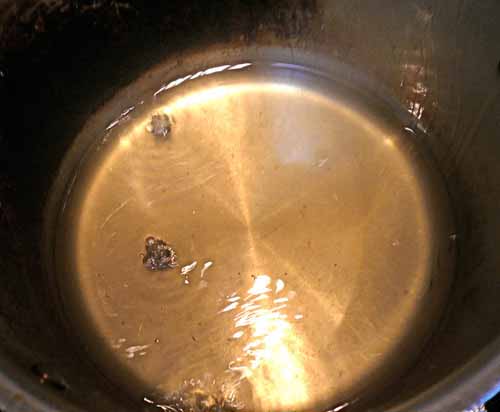 Right after you fry them though, they are quite lovely. Crispy. Salty. Pickley-capery…
I drained them on several layers of paper towels, and reserved in an airtight plastic container. NOTE: they don't keep! The remaining oil in them softens them up. They don't stay "crispy" overnight. So prepare just before service. Or throw them in an oven or dehydrator to dry out again (what I did).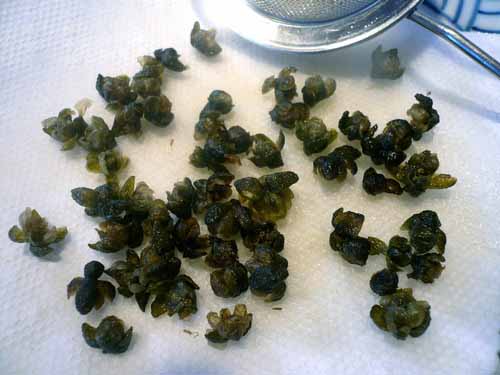 Ingredients
Pot of canola oil for frying
Capers, rinsed, drained and dried
Lime Segments
To segment a citrus fruit, all you need is a small sharp knife. It's really pretty easy. Even still, I watched the premiere of this season's Hell's Kitchen in horror: a contestant could not — for the life of her — segment a grapefruit. My gawd, that's 3x the size of a lime!
I trimmed the skin and pith off a fresh lime.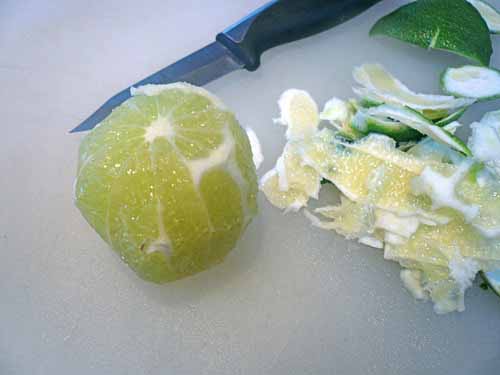 Then took the knife and cut out each lime segment from in between its membranes. It's like eating a grapefruit with a grapefruit spoon. You want to scoop the citrus out from the fleshy segments.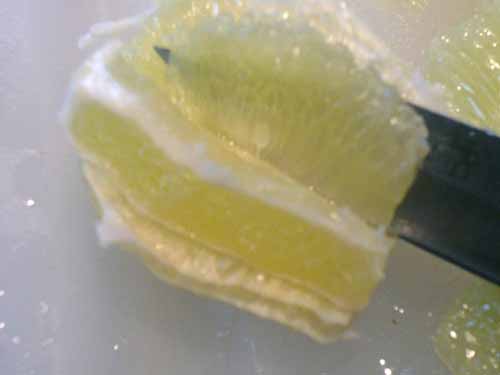 Then you have small wedges that look like this: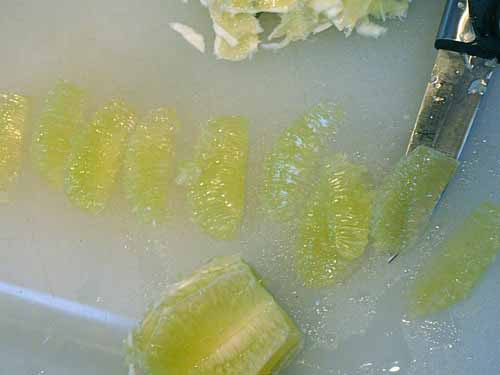 I diced them up into small cubes, and reserved to my prep area.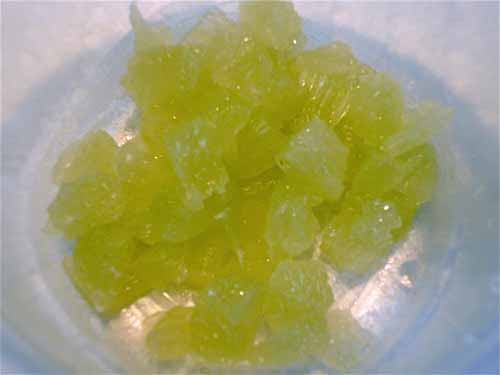 Ingredient
Fresh lime
Radish
I got a bunch of really nice Schaner Farms mixed radishes from Little Italy Farmer's Market.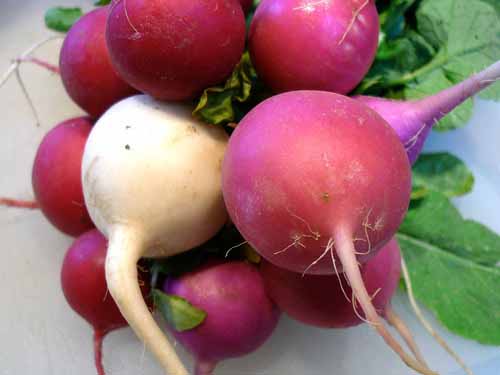 I thinly sliced them, then cut from those very small strips. And reserved to my prep area in a small bowl of water.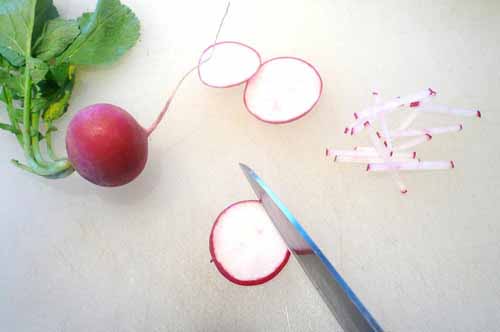 Ingredient
Fresh French breakfast radishes, from Little Italy Mercato
Herb Garnish
I found some small radish sprouts at Mitsuwa Marketplace, and thought "these would be perfect!" So I used them instead of small sorrel or sorrel sprouts.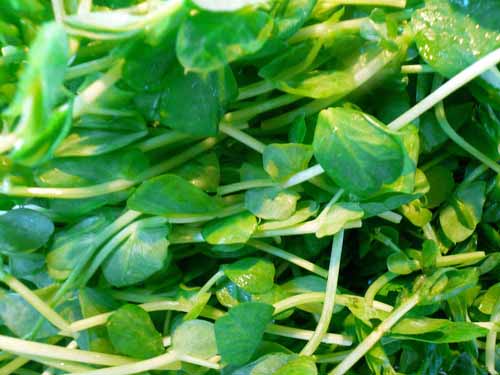 I picked several tips off some parsley, julienne cut half-inch pieces of fresh chive, and reserved all in separate small bowls to my prep area.
Ingredients
Fresh radish shoots, from Mitsuwa, or
Small, fresh sorrel leaves
Fresh parsley leaf tips
Fresh chives
To Assemble and Serve
Here's the deal on this one: ya gotta expedite fast. After you fry the croquettes, quick garnishing is of the essence. So I assembled all the mise in my prep area — ready to go…
I drained some of the candied endive strips on paper towels, so they'd be ready when the croquettes were done.
I heated up some canola oil for frying, and prepared a plate with some paper towels for the finished croquettes to drain.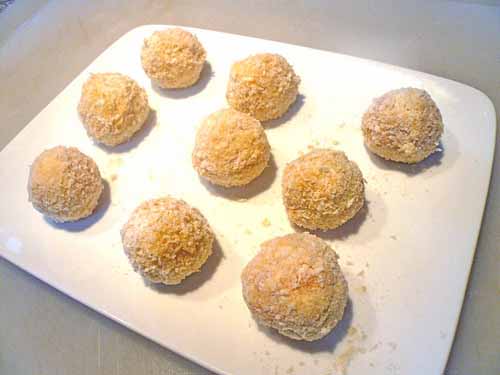 I fried each croquette in hot oil for about 15-20 seconds.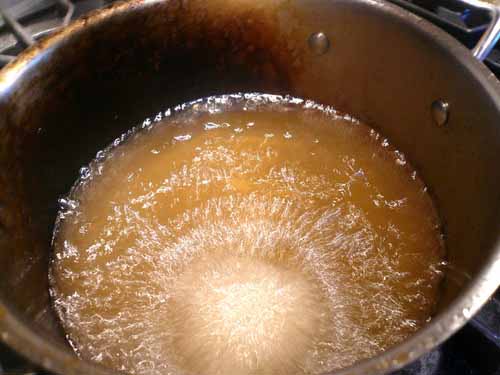 It did not take long at all for them to get really dark (of course I did not photograph those). You want them to be a nice golden color. Then I popped them into a warm oven to melt the interiors a bit.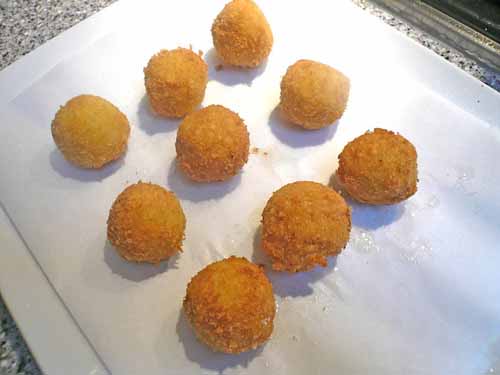 I wrapped and endive strip around each croquette. Then placed each on an Alinea sectional pedestal, so the endive was positioned longitudally (like a ribbon on a present), with the ends at the bottom, under the "sphere."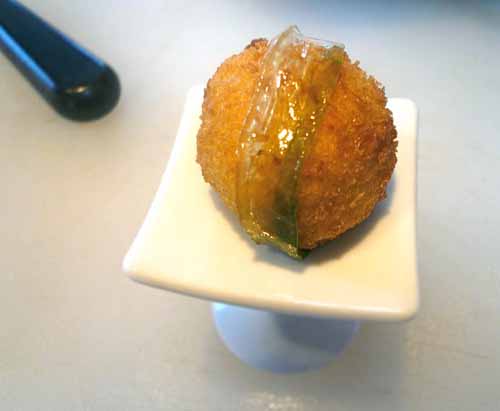 Time to get the tweezers out! Piling all the garnishes on these is like playing Twister with your kids. Inevitably you'll fall…
Examining the photo in the Alinea Cookbook, I topped each croquette with two radish strips, about five salmon roe, a little red onion, one fried caper, and one or two lime dice. And finally, I very carefully topped each with a parsley tip, radish sprout and chive.
Voila!
Ingredients
Canola oil
Smoked steelhead trout roe, from Blis Gourmet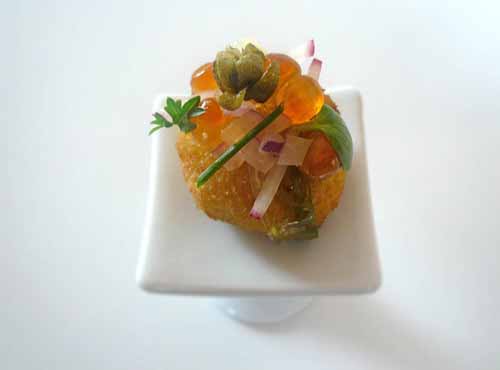 Equipment
Salter digital scale
Measuring bowls
Cutting board and kitchen knife
Medium saucepan
Wire whisk
Stainless steel bowl
Parisienne scoop or melon baller
Huztler ice ball tray, from Gourmac
Clamps
Rubber spatula
Strainer, sieve or chinois
Deep fryer or large pot for frying
Electronic thermometer
Slotted spoon or tongs
Sheet trays and paper towels
Plastic wrap
Plastic squeeze bottles
Tweezers
Plastic Gladware containers
Serveware
Alinea "Sectional" pedestals, from J.B. Prince
Yields: 12 servings, with plenty of garnish left over for alternate dishes…
Alternate Serving
I had some garnishes left over, so the next morning I made hard-boiled eggs, scooped out a sphere from each filled with salmon roe, and garnished with the leftovers. Yummm…