Recipe, pages 68-71.
Continued from ENGLISH PEAS, Tofu, Ham, Pillow of Lavender Air (Part 2)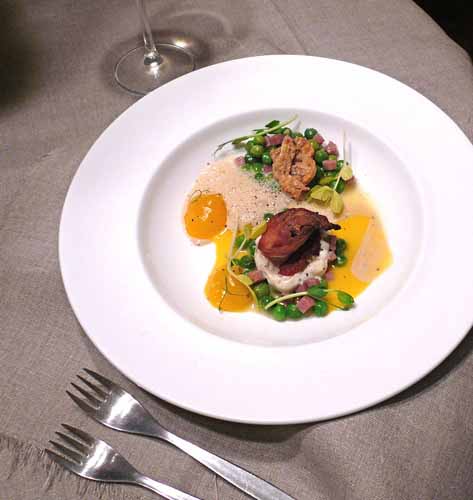 This is a modern American take on a classic English dinner of peas and ham. Think English lavender from the garden and fresh gooseberries from the market. Quite right.
Now let's bring some Japanese influences into it with tofu, yuba and yuzu…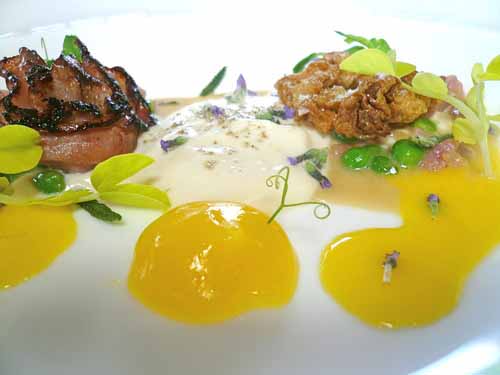 Day Three (Saturday)
Gooseberry Coulis
The day before, I bought half a flat of golden gooseberries from Specialty Produce (US$35.28). Never hurts to get a little extra when dealing with new things. They're not really available in San Diego, unless you grow your own or order through a produce company. In fact, most San Diegans have never even heard of them. And forget about asking for them at Vons. Sometimes though, you can find them canned.
About gooseberries

Gooseberries, or goosegogs, are a staple of English cookery — very popular served with fish, in pies, jellies and desserts. There are two kinds — the tart, green "cooking" gooseberries which need sugar added, and the sweeter "dessert" gooseberries, which can range from yellow to red. Related to the tomato and tomatillo, they are also sold with their papery coverings intact as "Cape" gooseberries.

Traditionally in North America, gooseberries are seasonally available during Summer. Thanks to the globalization of the food and produce industries, we can now get them more readily from Mexico and South America. The golden berries I got were from Colombia.

Learn more

here

or

here

…


English gooseberries at market. Photo, Niamh.


Cape Gooseberries, or golden berries, from Colombia.

We're going to make a coulis from these. But don't "coulis" intimidate you, it's just a fancy French term for the not-so-fancy French term purée.

coulis ("koo-LEE")
French culinary term for a thick sauce of raw or cooked fruit, seeds removed. Or the sauce of just one ingredient. In the past, the term has also defined juice from meat, vegetables or shellfish.

Example: "The unimaginative bistro dessert was, of course, served with a raspberry coulis."

First of all, you'll need at least three baskets to make this recipe. But you don't need a full recipe for the final dish. Buy a couple of baskets and do a little math. It'll pay off, especially if you're paying US$5.00 a basket. I rinsed off the gooseberries, then "topped and tailed" them (trimmed off their the stem- and bloom-ends). Blended them up until smooth.

Removed and strained back into the just-cleaned blender.

I used a rubber spatula to push it through the sieve. You want just juice and pulp — no seeds!

Then added the simple syrup, salt, and started to blend again, slowly adding the oil.

It emulsified as it heated up from the friction of the blender. I transfered it to a plastic container and placed into the refrigerator to cool. I later transfered it to a pastry bag for assembly.

Ingredients
Fresh gooseberries, from Specialty Produce
Simple syrup
Diamond Crystal kosher salt
La Tourangelle Chilean grape seed oil, from Whole Foods

Yuzu Pudding
I picked up a big bottle of yuzu juice (also available at Specialty Produce), which seemed at first a bit expensive (US$63.00). But not when you realize a small bottle will cost around US$12-14 at any gourmet shop. God, I really need to get a yuzu tree…

A while back I had purchased a large tin of Iranian saffron. I think I paid about US$60.00 for it at the time, but it was worth it — I'm still using it! (And yes, I keep it tightly sealed in a jar…)

In a medium saucepan, I combined the water, sugar, lemon zest and saffron and brought to a boil to dissolve the sugar. Then removed from the heat and let steep for about half an hour.

I prepared an icebath by filling a large stainless bowl with ice and placing a smaller stainless bowl in that.

After it had steeped, I strained the "tea" into a clean saucepan…

… and whisked in the agar agar and brought back up to a boil. (BTW, it was marvelously aromatic at this point!)

I let it boil for a couple of minutes to incorporate the agar fully, then strained through a chinois into the bowl set over the ice.

After it had set up, I chopped the agar gel into small pieces and added to my blender.

Blended on high and added the yuzu juice a little at a time to loosen up the "pudding." I used a ladle to mash it up a bit at first until it got going.

Then transfered to a pastry bag and popped in the fridge.

Now to clean the kitchen (aaargh) and get ready for dinner!

Ingredients
Water
C&H cane sugar
Fresh lemon zest
Saffron threads
Agar agar
Yuzu juice

Dinner Time!
I went out to the garden and picked the last of my lavender flowers. With tweezers, I picked off the tiny flowers off the tops.

I reserved to my prep area with with some lavender leaves.

You can purchase beautiful, fresh organic herbs at Specialty Produce. Things you can't find anywhere else locally. I bought a pack of fresh golden pea shoots for US$13.05.

You can get near the same quality at your local Asian markets for much less. I found huge plastic containers of fresh green pea shoots at Mitsuwa and Lucky Seafood for US$2.49, and smaller ones at 99 Ranch Market for US$1.99.

Well, my dinner guest arrived — and apologized. She'd been in such a hurry to get out the door, guess what she forgot? The hand-made linen pillow cases.

Damn.

Time for Jo to MacGruber some up. Gotta have 'em.

I fetched the sewing kit and an unused IKEA curtain from the linen closet. It just wasn't working when I first put it up, so in storage it had since been.

We decided on simple cloth squares to cover up the smoke-filled ziplock bags. She got to working on them as I started the meal. With some sharp scissors she started ripping the fabric up like crazy.

While she did that, I set up the prep area with all the components I'd feverishly been wrangling up.

The blanched peas, ham dice and slices. Put out some water, butter and pepper for them next to a sauté pan on the stove. Got out the dried yuba skins and placed on a paper towel-lined sheet tray next to the pot of oil I had heating up. The lavender tofu I put in a sieve to drain a bit. Took the pastry bags of gooseberry coulis and yuzu pudding out of the fridge. Lined up my lavender salt, some gold pea shoots, green pea shoots and trimmed some pea tendrils off my English peas in the garden.

Filled the Smoking Gun with dried lavender. Sprinkled some lavender oil in two ziplock bags and had them at-the-ready, with a lighter, next to my prep area.

Then opened a bottle of Irony chardonnay.

Pea and Ham Ragout
In a medium sauté pan, I cooked the butter, water, peas and ham dice over medium heat. As it heats up, it became a little creamy. But not as beautiful as in the cookbook's photos. So I added a touch of the lavender tofu to it,a hit it with a little fresh ground pepper and salt to taste.

Ingredients
Challenge unsalted butter, at room temperature
Reserved blanched peas
Reserved ham dice
Reserved lavender tofu
Water
Salt and pepper to taste

To Assemble and Serve
Time to fry the ham. I heated a sauté pan on high and added some canola oil. The book says to heat the oil until "very hot, but not smoking." I guess I messed that one up. Eee-gads! The smoke!


Frying yuba in a small pot amidst the smoke.

The kitchen was pretty thick with smoke, and I was happy I had not linked the smoke detectors to the fire department like the alarm guy had so vigorously suggested. We opened all the doors and windows.

I cooked the ham until charred on one side, then flipped it over and heated through. I also fried up some pancetta. Drained on paper towels. They didn't look too appealing. But I'm going for it anyway.

The second time I cooked this (yes, I really did it a second time the next afternoon!), I used thinner deli-sliced ham, which I scrunched up then fried until charred on one side. THAT looked a lot better!

Now to cook the yuba. I had a small pot of canola oil heating up, and when it was ready added the tofu skins two at a time. They puff up! Oh, this is fun.

I fried the ugly little devils until they were golden brown, then drained on paper towels and seasoned each with some lavender salt.

But I must admit, when they were added to the plate, the yuba skins looked pretty tasty. And they were!

This is where several people are needed. You have to keep your hot food hot while inflate your pillows with smoke and plate the dish all at once.

I placed two 9-Inch Cuisine Vortez bowls side-by-side in the prep area, and started plating. I piped out two mounds yuzu pudding then several smaller gooseberry blobs on each.

The second time I did this, I used smaller amounts of yuzu because it's so sour. And the gooseberry had a milder, sweeter taste I wanted to push.

Then spooned out two piles of the pea and ham ragout.

And the lavender tofu went in the center on the right pile of ragout. Then topped the left pile with some ham and the right with some yuba.

The next time I did this, I placed the lavender tofu under each ragout pile (as a base) and in the center.

I garnished the plate with some green pea shoots, golden pea shoots, pea tendrils, lavender flowers, and some lavender salt. Last, I tried to froth up the ham nage with my Cuisinart immersion blender, but it wasn't happening.

So I added some more soy lecithin, and whipped it up some more.

I finally got it to an acceptable froth and spooned some on the plate.

I've since learned it works better when the liquid is hot.


With less tofu and a little pepper added.


A second plating with no ham nage, but more lavender tofu … and better ham.

But wait there's more!

Pillow of Lavender Air
I lighted up the Smoking Gun and filled two ziplock bags with lavender smoke. These were the bags into which I previously had added the lavender oil.

Jo took the bags to the table and covered them up with our makeshift pillow cases.

I brought out the dishes and we were ready to go.

Using an Alinea pin I poked several holes into each bag, then placed the bowls atop the pillows.

Andthenwesatdownveryquickly to enjoy the fleeting lavender aroma. And ate. It was great!

Probably my favorite out of all of them so far. And Jo said she was raving about it days afterward to her neighbors.

Was it worth all that effort? Yeah. And time? Yeah. Does it make me appreciate all the timing, coordination and hard work a kitchen staff goes through? Hell yeah.

Peas and ham and lavender. Yum.

Ingredients
Fresh English pea tendrils, from my garden
Fresh lavender flowers and leaves, from Specialty Produce
Fresh green pea shoots, from Mitsuwa
Fresh golden pea shoots, from Specialty Produce

Equipment
Salter digital scale
Measuring bowls
Cutting board and kitchen knife
Medium saucepan
Wire whisk
Stainless steel bowls
Osterizer blender
Cuisinart immersion blender
Rubber spatula
Strainer, sieve or chinois
Sheet trays and paper towels
Plastic wrap
Pastry bags or squeeze bottles
Smoking Gun smoker, from PolyScience
Gallon-size plastic zip-lock bags
Tweezers
Plastic Gladware containers
Matches
Pins

Serveware
9-Inch Cuisine Vortez bowls, from Crate&Barrel
Linen pillows, hand-made
(Actually improvised linen throws, MacGyvered…)

Yields: Eight servings, with lots of gooseberry coulis and yuzu pudding left over

What to do with the leftover lavender and gooseberries? I made a gooseberry tart with raspberries, lavender, elderberry liqueur, and a lemon cream cheese filling.

Resources