Recipe, pages 306-307.
Snap into a Slim Jim! That's what I thought of first when I read this recipe. And as I progressed through its steps, I was reminded of a wonderful guy named Mel. One of my Dad's best friends, Melvin Henderson was known to us kids simply as "Uncle Mel." Loved to go visit them in Newport. Check out the beaches. He'd take his chainsaw and carve impromptu tikis out of the driftwood that washed up in huge logjams. Always the kidder and a great guy.
My Dad and Mel would inevitably bring back deer from their yearly hunting excursions. Some of which he'd cure into the best venison jerky you'd ever tasted. At first I was skeptical. But then I became a believer. His jerky would have easily kicked the shit out of Slim Jims, that's for sure.
This Alinea dish reminded me of that when I first tasted it. Just a high-end version of jerky, but with a spicy sweet taste and a hint of citrus. The grapefruit adds to the perfect flavor combination.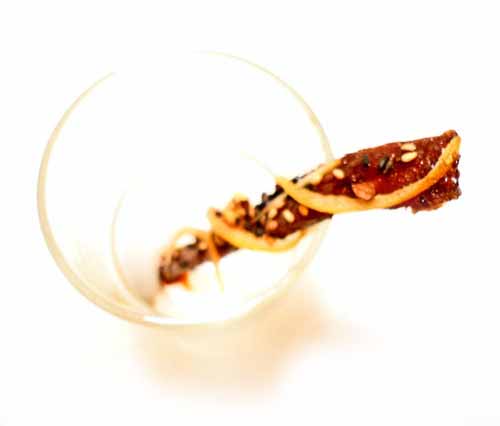 Tuna
I assembled the extensive list of ingredients. Juiced a couple of big ginger roots, and about six limes. Peeled and sliced some ginger root. Chopped some lemon grass and cilantro leaves. Zested a lime with a Microplane grater. Removed the stems from the Thai chilis. And measured everything "just so," for half a batch of marinade. It turned out plenty for the piece of fish I bought. Mise en place: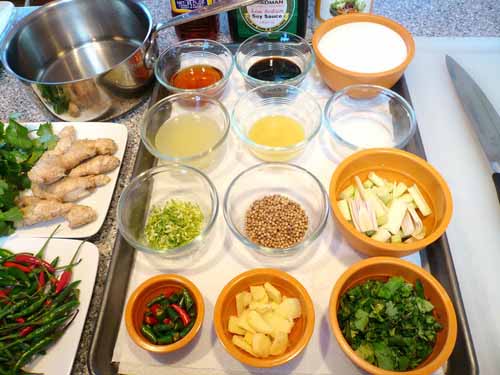 Then mixed all the marinade ingredients (except the lime juice and zest, ginger juice, and cilantro) together in a medium saucepan and brought to a boil.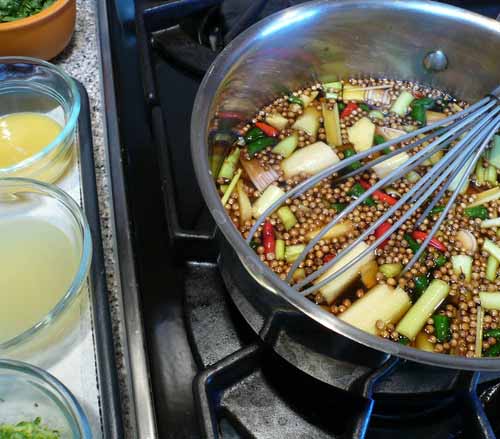 Let simmer a while to dissolve the solids and bring out the fragrance of the aromatics. It smelled great…
At the last minute I stirred in the lime juice and zest, ginger juice, and cilantro. Removed from the heat and let cool while I prepared the fish. I used sashimi-grade wild blue fin tuna, from Nijiya Market. They have it flown in from Japan nearly daily. The farm-raised tuna was going for US$49.99 a pound! I opted for the more affordable wild blue fin. It was a beautiful cut of maguro. I love that place. It's got a great selection of authentic, organic produce from Japan.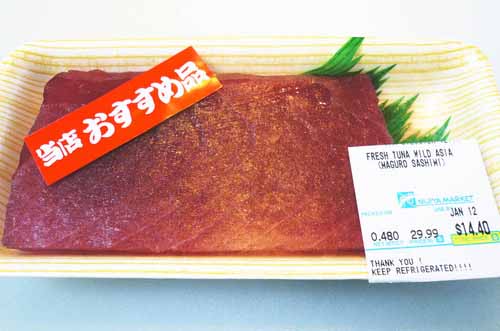 I sliced in into strips about 6 inches long. This one piece of fish was perfect for eight servings.
I soaked the fish in the unstrained, cooled marinade for about two hours. After an hour I turned the fish, just to get an even "marination." In retrospect, I probably would have liked it even better marinated for twice that time.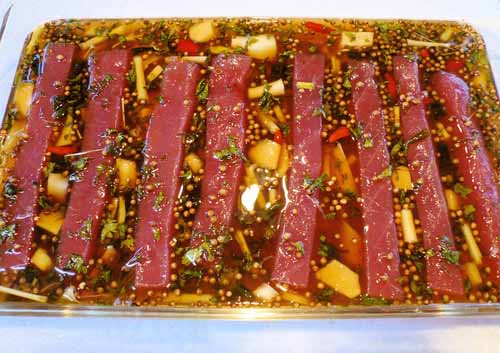 After the fish had marinated, I removed the strips and patted dry. And placed into my dehydrator on a layer of cheesecloth for about 2 hours at 130ºF. I didn't want them sinking onto the grates and making marks. Gotta be smooth.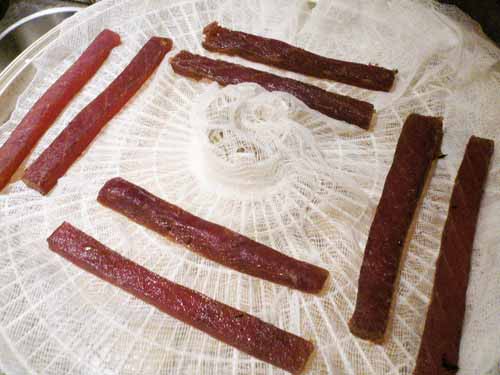 While these were drying out, I strained the leftover marinade and brought to a boil.
And reduced it until it thickened.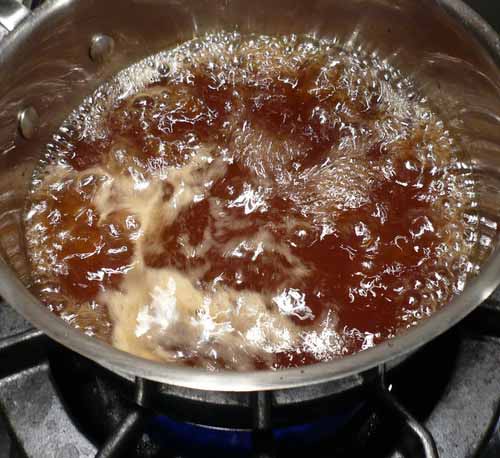 How much do you reduce it? Until it coats the back of a spoon, or a bit thicker. We're going to use this as a glaze to "glue" the grapefruit strips, ginger and sesame seeds onto the fish sticks. So I thought the thicker the better.
Oops. Maybe that's a bit too thick. I ended up thinning it down just a tad with some water.
After about two hours, the tuna strips were dry to the touch, but still pliable and tender — not dried out and brittle — but perfect. I took them out and reserved in a plastic container.
Ingredients
Water C&H cane sugar
Kikkoman "Reduced Salt" soy sauce
Tiparos, Thai fish sauce
Fresh ginger, peled and sliced
Fresh ginger juice
Whole coriander seed
Fresh lemongrass, chopped
Thai chili peppers, stems removed
White wine vinegar
Fresh lime juice, and zest
Fresh cilantro leaves, chopped
Wild blue fin tuna loin (maguro), from Nijiya Market
Sesame-Chili Mixture
Mise en place: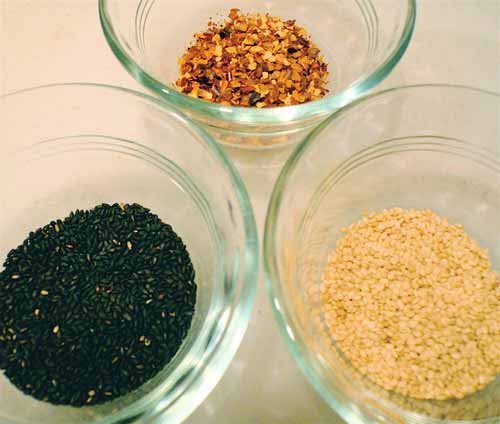 I mixed the sesame seeds and chili flakes and toasted them in a small saucepan. Don't use oil. Toast them in a dry, hot pan lightly, just enough to release their oils and aroma. Set aside to my prep area.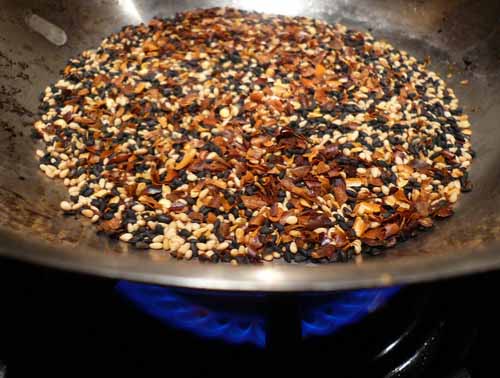 Ingredients
White sesame seeds
Black sesame seeds
Red chili flakes
Candied Grapefruit Zest
I peeled a grapefruit with a paring knife, taking care to cut as little of the pith off with the zest as possible. Then laid it out as flat as I could and cut out long 1/16-inch strips. Reserved in some simple syrup, and set aside to my prep area.
Ingredients
Grapefruit
Simple syrup
Ginger
Took a 2-inch piece of ginger root and carved into a log shape, then split in half, so I had two half-moon shapes. Then I sliced them as thinly as possible, and reserved with the grapefruit strips in simple syrup. I saved the ginger scraps for a future meal, may as well, eh?
Ya ever notice how produce prices vary wildly depending on where you shop? I find I can get the same or better quality ingredients at local ethnic markets, over the major grocery chains. For example, this week ginger was US$6.99/lb at Whole Foods, and US$3.99/lb at Vien Dong. Cilantro was US$1.69/bunch at Whole Foods, 3 bunches for US$0.99 at Vien Dong, and 4 bunches for US$1.00 at Pancho Villa Farmers Market!
Ingredients
Piece of fresh ginger root, 2 inches long
To Assemble and Serve
Not having any micro lemongrass, I resorted to slicing up some interior leaves of the lemongrass as thinly as possible. Prep area mise en place, ready to plate (or in this case, "to glass"):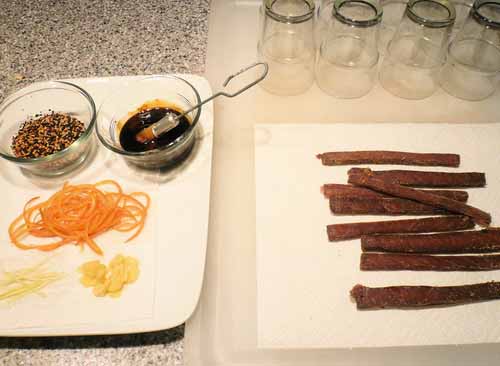 I took a tuna strip and coated it with some marinade-glaze, then added a piece of ginger and some lemongrass. Taking a long strip of the grapefruit zest, I wound it around the fish, and sprinkled with a generous portion of the sesame-chili mix. Plopped into a small juice tumbler, from IKEA.
I must say, these were VERY good. Like certain potato chips (the brand of which will remain anonymous), you'll find that you can't eat just one. You'll want more.
Oh, and by the way, if you do have any left over, don't leave them on your counter — even if sealed in a Ziplock bag — kittens like 'em too.
Look closely at the pic, and you'll notice hundreds of teeth and claw marks perforating the bag…
Equipment:
Salter digital scale
Measuring bowls
Stainless mixing bowl
Kitchen knife, paring knife and cutting board
Breville Juice Fountain Elite juicer
Microplane grater
Medium saucepans
Wire whisk, spoon
Small skillet or sauté pan
American Harvest dehydrator
Glass tray
Pastry or basting brush
Plastic wrap
Plastic containers
Sheet trays
Tweezers
Serveware:
REKO juice glasses, from IKEA (set of 6, US$1.99)
Yields: Full recipe, 16 servings.