Recipe, pages 316-317.
You take the drink, putting the white chocolate ball in your mouth. You instinctively swallow the celery juice first as you bite into the waxy ball. It squirts sweet apple juice. So you get a mix of it all — salty, sweet — as you chew the chocolate shell, which releases its very mellow horseradish flavor.
This is really cool.
So I tried another, adding a touch of absinthe. (None of the new imports allowed in this pantry, just the hard stuff from Europe!) I like experimenting with these. I bet you could use green Chartreuse too. Mmmm.
Day One
Apple Spheres
I finally broke down and bought a juicer. I know what you're saying. "He's a Californian? Without a juicer?"
With this cookbook, there's just no way around it. I held out as long as I could. Besides, I'm originally from Oregon. So there.
After a bit of research, I found one that some pretty high consumer ratings, the Breville Juice Fountain Elite 800JEXL juicer.
This stainless steel thing's very sturdy — unlike the cheaper, plastic Jack LaLanne juicers — and pretty darn hefty too. With one of their never-ending coupons, I got it at Bed, Bath & Beyond, for 20% off their regular price.
Woohoo! Let's get juiced!
I cut up and cored several large Braeburn apples, and juiced the hell out of 'em. And I was surprised at the amount of naturally occurring apple foam. No soy lecithin needed there! Granny Smith apples are more tart than a lot of other kinds, and are called for in this recipe. But, I used Braeburns, as I had some on hand.
I combined the apple juice, simple syrup, salt and citric acid together in a medium saucepan, and brought the liquid to a boil.
About citric acid

Adding the citric acid to the apple juice provides a punch of extra tartness, and helps prevent the juice from discoloring. When I cut apples for the kids' lunches, I'll rinse them with a little lemon juice or citric acid — then they'll not brown by lunchtime. Or I'll sometimes add a touch of lemon juice or citric acid to guacamole. It works the same on avocados as well.
When the solids had dissolved, I skimmed off the foam.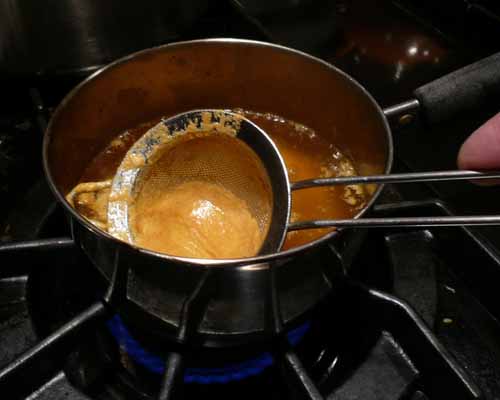 I removed the juice from the heat to cool, and strained it into a bowl set in an ice bath.
Then filled a small squeeze bottle with some. I'd use this later to top off each "well" of the spherical mold. For the apple spheres, I used Huztler ice ball trays, from Gourmac. Plastic, two-piece, 24-sphere ice trays (each, US$4.19). I had purchased these for TRIPOD, Hibiscus, and also used them for BLACK TRUFFLE Explosion.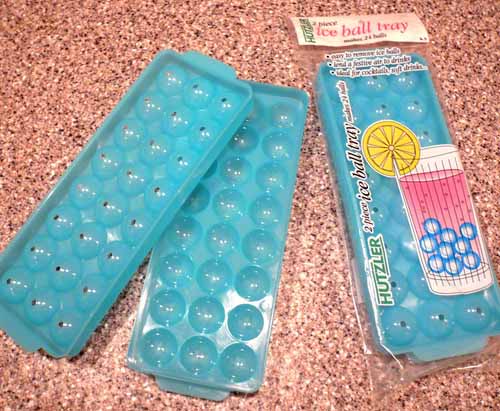 If you don't feel like getting these, use your regular ice trays, or get some of these inexpensive novelty silicone ice trays.
I filled them all the way, topping off each sphere with the squeeze bottle. Then froze overnight.
Ingredients:
Granny Smith apples
Simple syrup
Diamond Crystal kosher salt
Citric acid
Day Two
Horseradish Shell
Got a couple of fresh horseradish roots at Whole Foods. Peeled and chopped them up in 3-inch chunks, so they'd fit into my Kitchenaid grater attachment.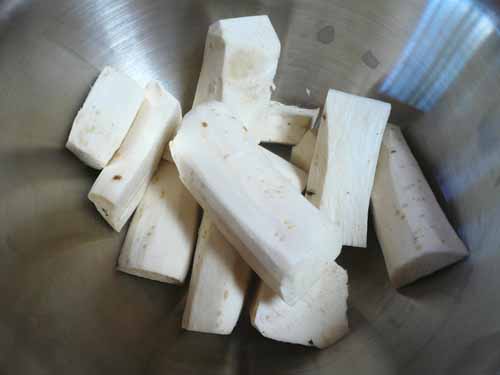 The I grated them up. Wow. I'm sorry to say that I've never dealt with fresh horseradish before — I've always used prepared, bottled Morehouse horseradish sauce, or the such.
This kicked my butt as a tried to get through it. I was crying like a California politician, or a convicted California politician. Yikes! It was worse than my prep cook days, grating cases of onions (for onion poppy seed salad dressing).
I ordered a tin of Cocoa Barry MyCryo™ brand cocoa butter powder from ChefRubber. Cocoa butter in powder form can apparently be used for quite a few things. I'm looking forward to testing it out in recipes instead of butterfat.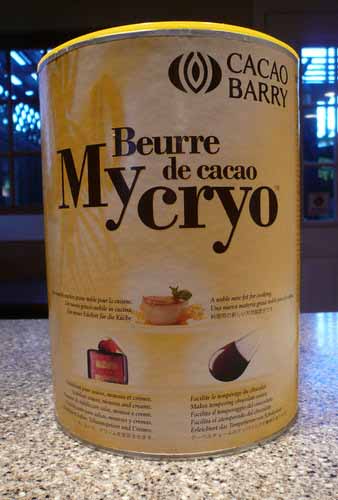 So I had my grated horseradish. I chopped the white chocolate into the smallest pieces I could. Then I ground the kosher salt to a fine powder with a mortar and pestle. Ready to go.
I mixed the horseradish, salt, cocoa butter powder and white chocolate together. Then added it to a vacuum bag, and sealed it up with my FoodSaver on the normal, dry setting.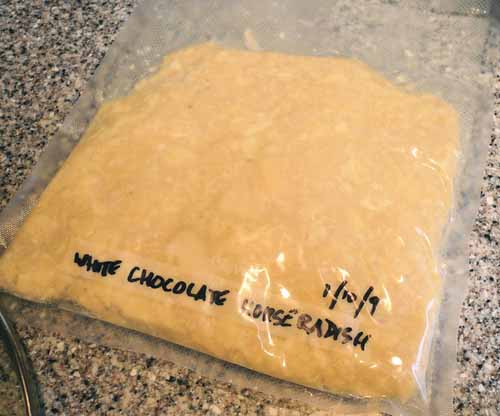 Boiled in a pot of water for about twenty minutes until it was melted through.
I strained the mixture into a bowl, using a metal ladle to push it through as much as possible.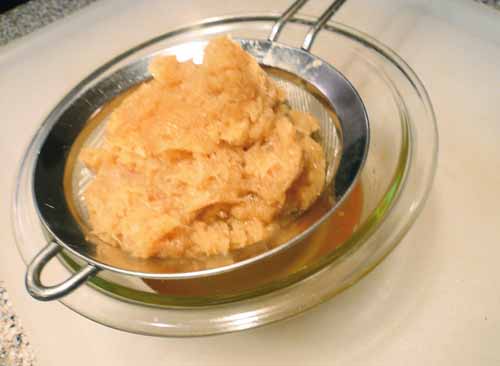 Using an immersion blender, I blended the vinegar into the horseradish-cocoa-butter solution. Now I had my dipping sauce.
Ingredients:
Fresh horseradish root
Diamond Crystal kosher salt
Barry/Callebaut MyCryo™ cocoa butter powder, from ChefRubber
Callebaut white chocolate, chopped, from William-Sonoma
White wine vinegar
Apple spheres, from above
Celery Juice
I cut up some celery into two-inch pieces, and brought a pot of salted water to boil.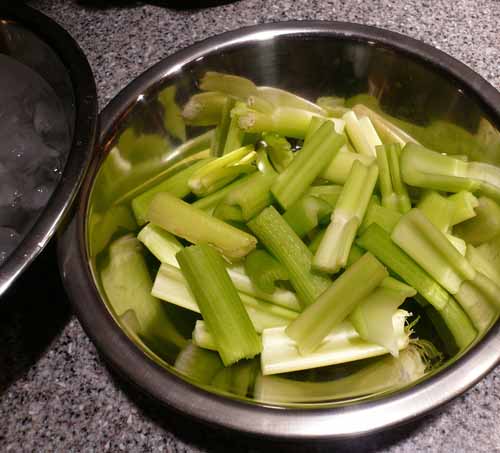 I blanched the celery in boiling water for a minute or so, until its color brightened up a bit. This will help to make our celery juice a nice, bright green.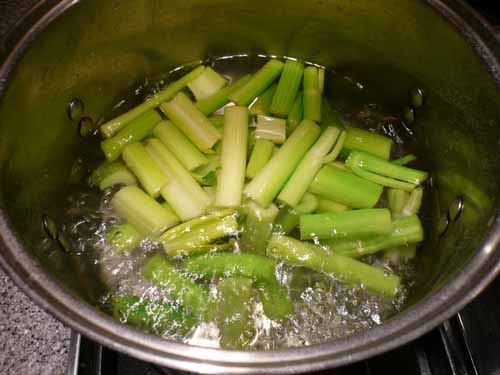 Fished the celery out and plunged into ice water to stop any cooking and cool it down.
I juiced the celery, then strained into a bowl. Discarded the pulp and washed out the juicer. It disassembles nicely but — there are seven parts to clean after every usage.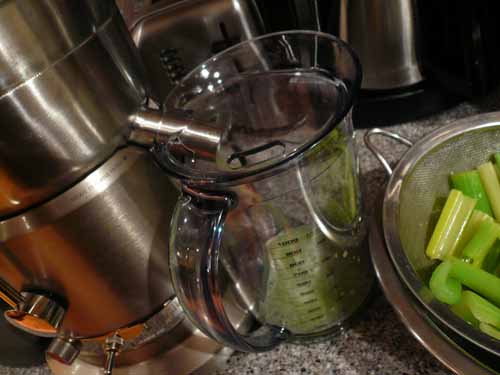 "Have a few dishes," for God's sake…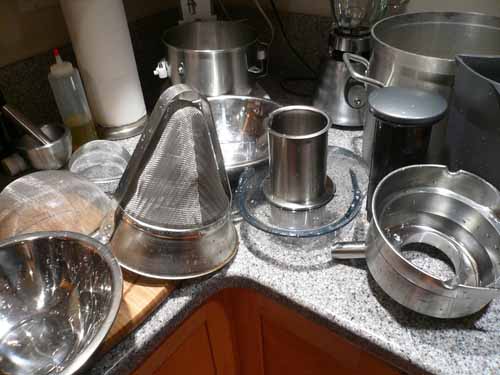 Mixed the fresh celery juice, glucose and salt (to taste) together, and reserved in a plastic container.
Ingredients:
Water
Diamond Crystal kosher salt (for blanching, and a pinch to taste)
Celery stalks, chopped
Simple syrup
To Assemble and Serve
Using an Alinea pin, I dipped each apple sphere into the still-liquid cocoa butter solution, letting the excess drip off. I tried to keep the coating as smooth as possible. Then let it rest, with the pinhole at the top. I took a finger of the solution and wiped it on each hole, creating completely sealed spheres. It's what we want, because we're going to let the frozen apple juice melt. I put them in the fridge, and it took about 4 hours. Creating, in essence, apple-juice-filled wax balls.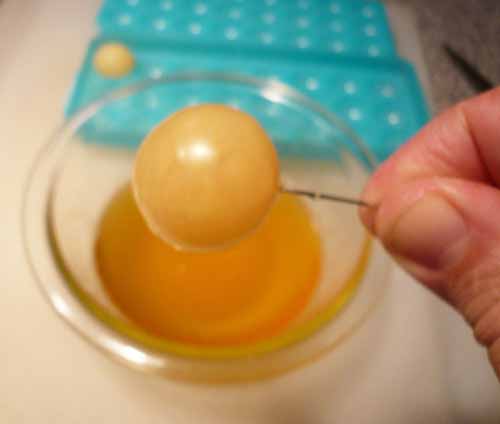 I added an apple ball to each cordial glass. Then added some celery juice to each with a syringe (so I wouldn't mess up the glasses for the photos). Carefully added some celery leaves with tweezers on top of each. (I did not have any micro celery, nor did I see the merit of buying some for just a few sprigs. I'm not that obsessed. "Oh, really?") And topped with a flake of Maldon sea salt.
I liked it. My daughter, not so much. In fact her eyes bugged out of their sockets when she got to the "chewing the horseradish" part. Oh well.
Ingredients:
Maldon sea salt
Celery leaves
Micro celery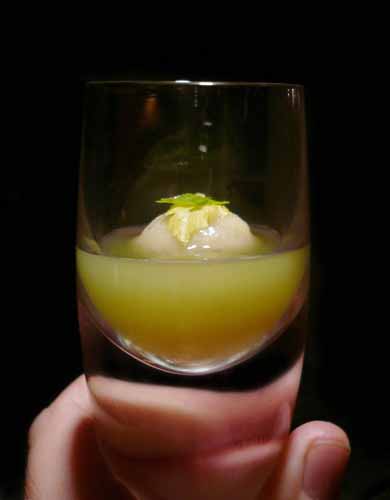 Equipment:
Salter digital scale
Measuring bowls
Kitchen knife, cutting board
Stainless bowl
Breville Juice Fountain Elite 800JEXL juicer, from Bed, Bath & Beyond
Wire whisk
Medium saucepan
Immersion circulator, or large pot and thermometer
FoodSaver vacuum sealer and bags
Cuisinart SmartStick immersion blender
Plastic wrap
Plastic containers
Syringe
Tweezers
Serveware:
Kirby 2oz cordial glasses, from Crate&Barrel
Yields: Enough for up to 24 servings, depending how careful you are with the apple spheres.