HOT POTATO, Cold Potato, Black Truffle, Parmesan, pg 304
Paraffin Wax Bowls
You ever wonder where on earth you can find those custom wax bowls they serve that potato soup in? Nope, you can't just buy 'em. They're made in-house at Alinea, from special molds designed by Crucial Detail.
"Damn," you say. "I'm outta luck." Wait! Turns out you're not.
I was explaining my obsession to a girlfriend and she said, "Oh, I saw that on a blog!"
What!? It seems as though, yes, you can make your own. That's just what I did tonight. And you know what? It was pretty easy. Here's how…
I bought a 4 lb block of quality paraffin candle wax. I had no idea how much I'd need. One pound is plenty for four 1/8-inch-thick bowls. You can get all kinds, but some are softer, like beeswax. That's a no-no for our purposes. You want something that will hold up.
I heated a knife to cut off a 1 lb chunk and dropped it into a metal pitcher, placed into a medium saucepan with an inch or so of water.
Brought to a simmer, then turned down to medium-low. You don't want to boil the water, or the pitcher will start doing a little dance for ya.
In the meantime, fill some balloons with water.
I bought water balloons, but they were too small and fragile.
Finding water balloons in December can be annoying. Did you know that they are considered "a seasonal" item? Great for summer fun.

"But why do you need them in December?" Never you mind. And another thing, water balloons are a family staple in Southern California. Why sell them only seasonally when it's 63º and sunny this December morn? Ridiculous. I did find them at my third stop.
So I used nine-inch "helium-quality" balloons. They held their shape and were tough enough not to melt or pop during the dipping.
Once the paraffin has melted it becomes clear.
Start dipping a balloon into the wax. At about eight dips, I took it out and let it harden for a bit.
Then let it rest on a flat surface, pushing down ever so slightly.
This creates a flat bottom for the bowl. I repeated until I had about the right thickness (which is really a matter of aesthetics and personal preference). About 24 dips each.
When I had enough dipped, I let them cool and set.
Over the sink, I carefully popped the water balloon. It's a cool thing to see the balloon collapse, water gush out and shards from the thinnest paraffin break off. But, you'll see what I mean.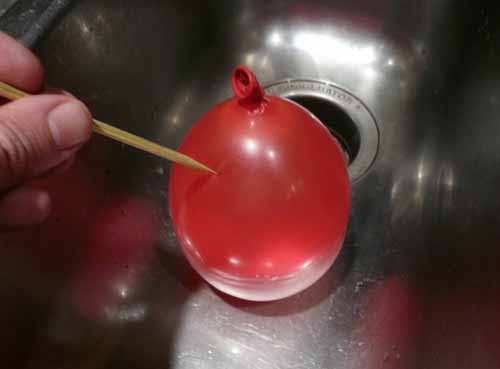 Let them dry off, and trim off any thin stuff.
Heat a sheet pan or pie tin for about 10 seconds, then place each bowl upside down on the hot surface to smooth the top edges. The uneven or rough edges melt away to flat edges. This finishes the bowls.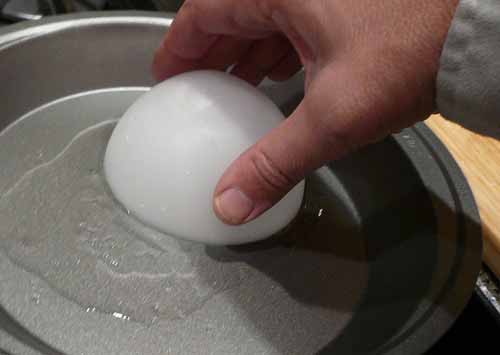 And there you have them! Enjoy!
Damn the season, I think we'll go outside and use up the rest of the water balloons now!
Equipment:
1 lb Paraffin candle wax, from Michael's
Pitcher for melting wax, from Michael's (even an old coffee can would work)
Package 9-inch helium-quality balloons, from Party City
Knife and cutting board
Water
Medium saucepan
Stovetop
Cookie sheet or pie tin