Recipe, pg. 116
Although it's a Spring recipe, I decided to try this out now. Actually, my kids made me do it. They thought it would be a yummy experiment — and a reward for me making them try MATSUTAKE, Pine Nut, Mastic and Rosemary. What better recipe from the Alinea cookbook to try with the family? It's got bacon, caramel and apples — three staples my kids consider "food groups."
This is a good party food. You can make everything ahead of time, store the components in containers, then assemble just before your guests arrive…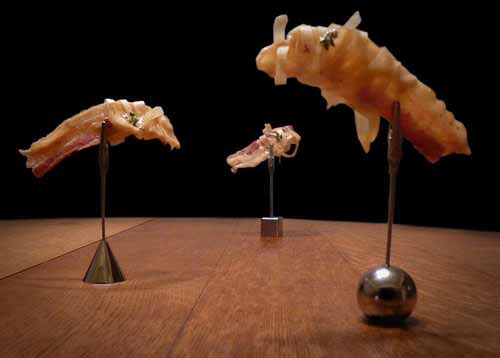 Bacon
I broke down and bought a dehydrator. After a bit of research, I found many options from the large stainless steel D-14 models that Alinea uses, to a very basic $29 model at QVC. I ended up buying a $59 Nesco American Harvest Dehydrator at Bed, Bath & Beyond. It looks like it'll work great for the money. The only caveats are smallish, round trays and preset temperatures, which may not accurately accommodate the exacting recipes in the book, but it'll do.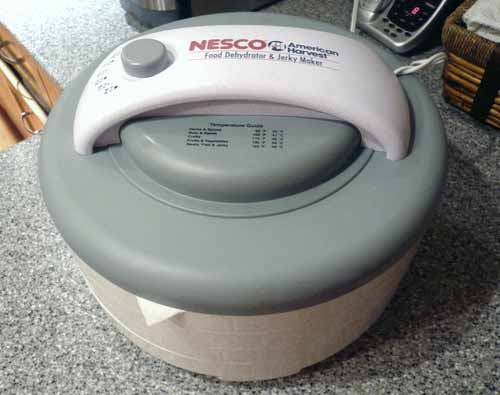 If you don't want to fork out the big bucks for a dehydrator, you can always use sheet pans in a very low temperature (175ºF) oven. Others who've tried this method with an oven found that it works admirably.
I took eight strips of applewood-cured, thick-cut bacon and cut each in half (to about four inches). Placed into the dehydrator tray and set to 185ºF. I checked the bacon every once in a while to damp off the grease that accumulated in the dehydrator tray. It took about 4 hours.
When they were cured enough, I took them out and reserved in a paper towel-lined plastic container.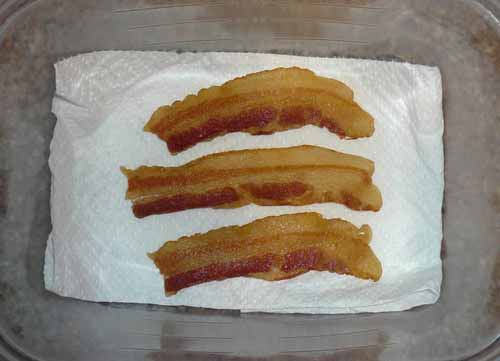 I must suggest you do a few more than you'll need for your serving. The smell of bacon wafting through the house for four hours can be rather daunting — several strips were immediately consumed for "flavor profile testing."
Ingredients
Hardwood-smoked, thick-cut bacon
Butterscotch
I'm not really into sweets, I'm more of a savory kinda guy. So when it comes to confectionery, I'm clueless. But I'm game for anything. This only has three ingredients, so how hard can it be, right?
Mise en place: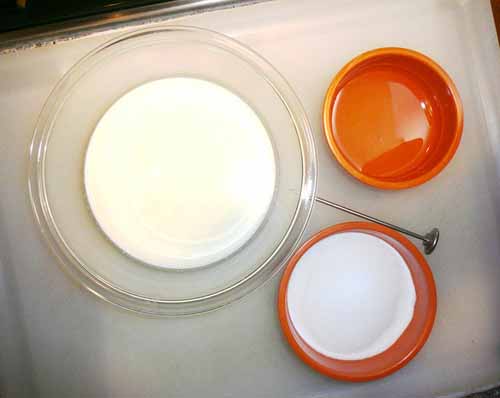 I put the sugar and corn syrup in a medium saucepan on medium-high heat to melt.
About Glucose (corn syrup)

In the Alinea cookbook, when they specify glucose, they mean corn syrup. There are several types, some are super sweet, and others not.

Look in any refrigerated beverage case, and you'll be hard-pressed to find a drink without high fructose corn syrup (HFCS). Oh, btw, the Corn Refiners Association wants you to know that it's good for you.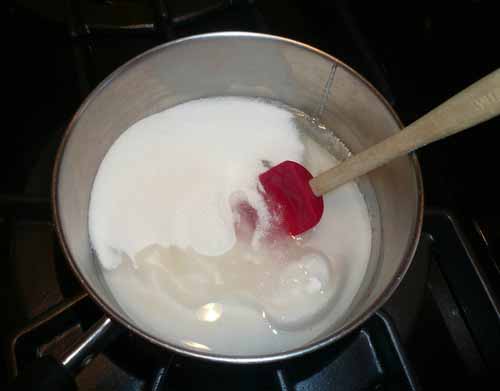 I brought it to a boil, heating to 350ºF. And whisking.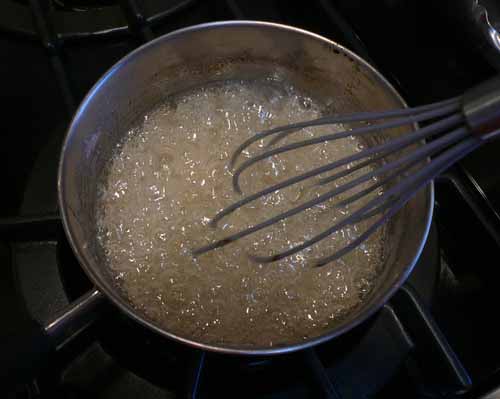 This is where you slowly whisk in the cream. I think I added it too fast, or it was too cold. Is it supposed to do this?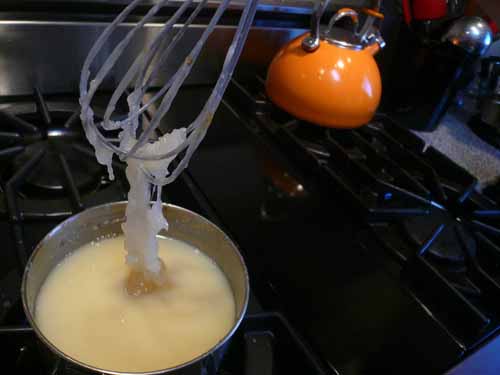 Kinda reminded me of John Carpenter's The Thing:

It took a while to re-melt the congealed sugar mass into the cream and thicken up again, but it got there.
After it thickened up and was about 250ºF, I poured it onto a halfsheet tray lined with a silicone mat to cool.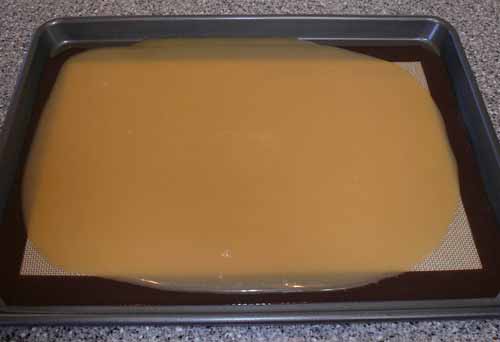 Makes you just want to stick your finger in it, eh? I couldn't find my pastry bags, and my squeeze bottles were still full of stuff from last post's recipe, so I just put it into a plastic container. Overall, I think it could have been a little browner and thicker, but it tasted right.
Ingredients
C&H cane sugar
Glucose (Karo light corn syrup)
Alta-Dena heavy cream
Apple Leather Ribbons
We're going to make fruit roll-ups! But doesn't "apple leather" sound so much more healthy?
I halved and cored two Granny Smith apples, then placed face down on a silpat-lined halfsheet tray.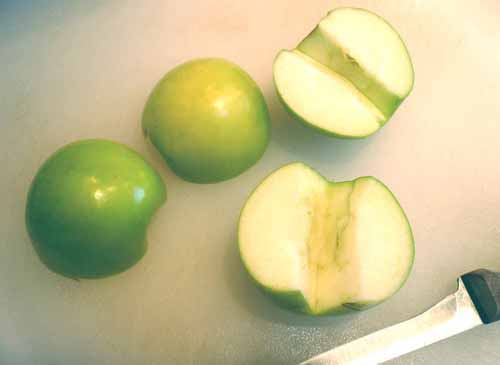 Baked in a 375ºF oven for about minutes, or until they were really, really soft and gushy and gross looking.
I took the apples out of the oven and let cool. I don't feel too bad for the sorry-looking things, because it happened to Carol at Alinea At Home as well. Apples just shrivel up a bit in the oven as they release their juices.
This is where the book says to put into a bowl, then transfer to a blender then run through a tamis. I really don't like to use too many bowls, or make too many transfers, as it reduces the total mass of my final product. I lose too much in the transferrals and straining. I still have bad flashbacks from the three days it took me to complete Thomas Keller's Foie Gras recipe from the French Laundry cookbook.
Anyway, I did blend it.
Then pushed it through the tamis — but directly onto the dehydrator tray. Flattened it out with an offset spatula. I have many palette knives from my years of illustrating, but they're all covered in oil paint, so it provided me an easy excuse to make a trip to the art store. That's where I get my acetate sheets too.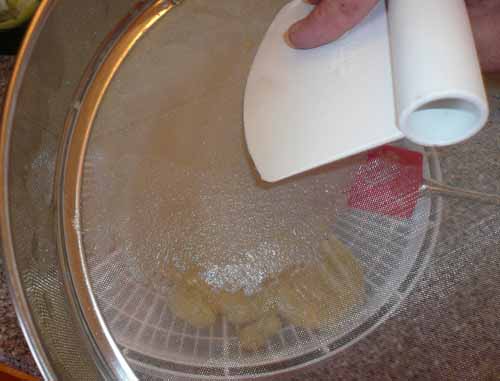 Dehydrated for about an hour at 160ºF, until peelable. Like a fruit rollup.
I cut the apple leather into thin strips with a pizza cutter, making sure to press firmly as I was cutting. You want to cut it not score it. Be brutal. I suppose you could get as exacting as possible to ultimately get 1/8″ wide strips. Metal straight edge. X-Acto blade. Or a pattern cutter perhaps. Don't I remember seeing an old multi-wheeled pasta cutter somewhere?
Ingredients
2 Granny Smith apples, halved and cored
To Assemble and Serve
Because the caramel must be applied to both sides of the bacon, I used polished aluminum memo clips from Crate & Barrel for serveware.
The Alinea stainless steel bow serveware pieces were backordered at Crucial Detail. I have since learned that J.B. Prince has some in-stock.
I carefully drizzled some butterscotch over the lower half of each bacon strip. Both sides. I had do assemble quickly, as the caramel was starting to drip.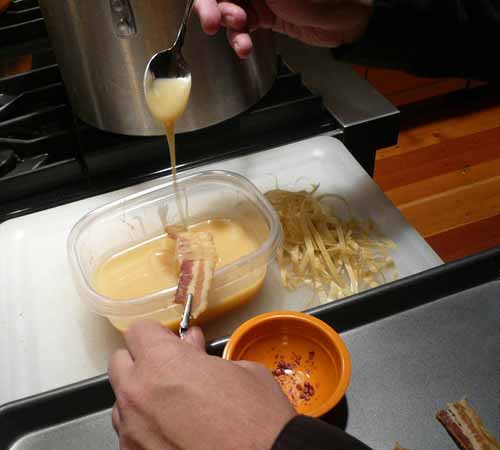 Then quickly wrapped strands of the apple leather around each. They stuck. Good.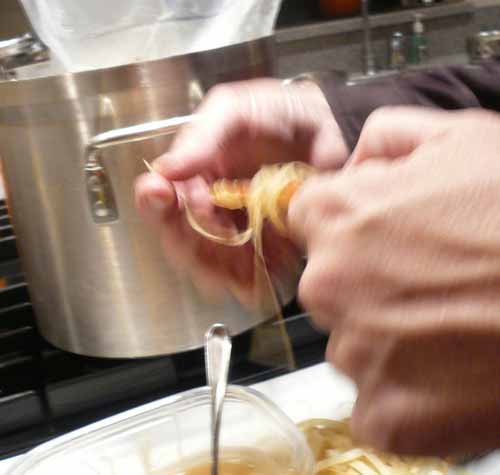 All that was left was to garnish each with a little fresh thyme and pepper. I sent my daughter on a foraging expedition to the herb garden with instructions "get only the ends that look pretty." And we used pink peppercorn husks, because they "looked prettier" than black pepper, as I was told.
They're delicious. They have a subtle taste of caramel apples. With bacon!
Ingredients:
Pepper
Small tips of fresh thyme, from my garden
Equipment:
Food dehydrator
Kitchen knife and cutting board
Offset spatula or palette knife
Blender
Tamis
Silicone baking mat
Halfsheet or cookie tray
Medium saucepan
Measuring bowls
Plastic containers
Serveware:
Aluminum memo clips, from Crate and Barrel, or
Stainless steel bow by Crucial Detail, from Crucial Detail or J.B.Prince
Yields: 16 Servings, with extra butterscotch. Perfect for dipping apple slices into… 🙂
Next, TRIPOD, Hibiscus.