Recipe, pages 224-225.
It's very simple. The reason I wanted to try this recipe was for it's presentation.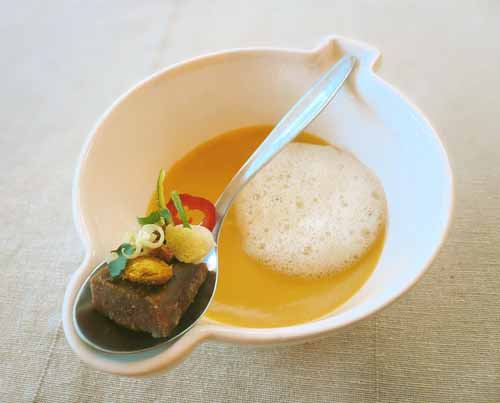 You're handed a round-bottomed bowl of squash soup you can't set down. A fork full of duck and aromatics is embedded into a notch in the bowl's rim. You can't put it down. Ya gotta eat it right then and there. This interactive presentation is one of the things Alinea is all about — making us rethink food and how we approach our dining experience.
And I haven't made duck in a while anyway.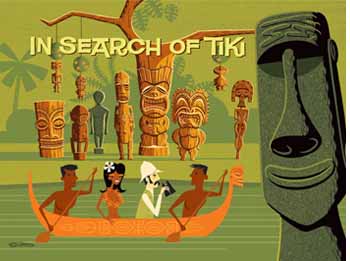 The problem, again, is that you can't get these bowls just anywhere — they were custom designed for Alinea by Crucial Detail. Don't despair. By a stroke of luck I found a pretty close substitute.
Or rather, I should say a friend of mine found it. Last month, Jo and I checked out a great historical tiki exhibit in, of all places, the museum art gallery (who knew?) at Forest Lawn Memorial Park in Glendale. After that, what better place to wind down than the seminal Los Angeles tiki bar, Tiki Ti?
Oh, damn. It was closed. On vacation until mid December.
So we decided to explore some shops on West Sunset Boulevard, and found Chris Pollan's Cheese Store of Silverlake (where I got cheese for IDIAZABAL, Blis Maple Syrup, Smoked Salt), Bar Keeper (a cool barware store that sells absinthe paraphernalia), and ReForm School. It was at the latter of these where Jo came upon the spoonbowl, officially called by its designer "The Dish That Ran Away With The Spoon." Perfect for this recipe. It's available there, online, and directly by Flavour Design.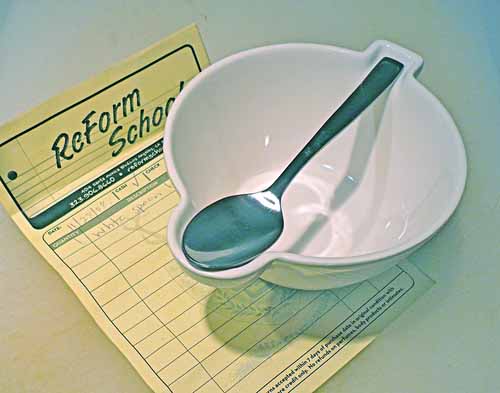 It was a done deal. Had to do this recipe now. No more excuses…
Duck Brine
When measuring out the ingredients for my mise en place, my pile of powdered cinnamon was about 2 inches high.
"That can't be right," I thought. "This is supposed to be a teriyaki-like brine for the duck, not a cinnamon sauce!"
So I logged onto the forum at Alinea Mosaic, (the companion website to the Alinea cookbook where you can actually correspond with Alinea chefs and staff). Chef Dave Beran responded promptly with the answer. Use stick cinnamon instead. Spices used in Alinea recipes are almost always whole, except when noted as powdered. Duly noted. Such a cool, helpful idea Grant Achatz and company had.
Errata: Pg. 224. In "Duck Brine," component of DUCK, Pumpkin, Banana, Thai Aromatics, use stick cinnamon, not powdered.
In a large saucepan, I combined the jalapeño, lemongrass, ginger, soy, cinnamon sticks, pineapple juice, sugar, salt and water. Instead of juicing my own fresh pineapple, I used a jar of organic pineapple juice. I don't own a juicer.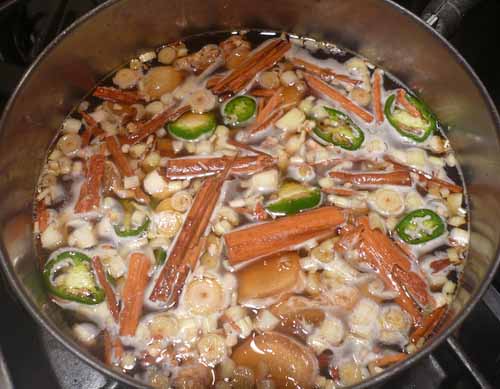 I brought the mix to a boil to dissolve the solids, took it off the heat, and let it steep for the afternoon.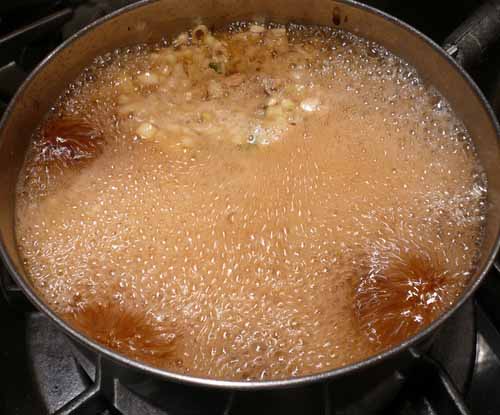 Then strained into a plastic container and refrigerated.
Ingredients:
Whole, fresh jalapeño chili, from Pancho Villa Market
Fresh lemongrass, from Nijiya
Fresh ginger root, from Nijiya
Kikkoman "Less Sodium" soy sauce
Cinnamon sticks
Pineapple juice
C&H brown sugar
Diamond Crystal kosher salt
Water
Duck
Recipe says to use duck tenderloins, but I found duck breasts. I removed the skin, fat, and silver skin from the breasts.
Added them to the teriyaki brine and refrigerated again overnight.
Ingredients:
Duck tenderloins (I used breasts from Iowa Meat Farms)
Reserved cold duck brine, from above
Curry Salt
I mixed the salt, mild and hot curry powders together and reserved for later, when we'll coat the pumpkin seeds with it.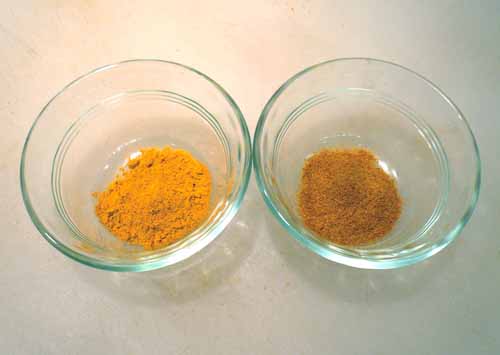 Ingredients:
Mild curry powder
Hot curry powder
Diamond Crystal kosher salt
Peanuts
I had some chili pepper flakes, so I ground them to a powder in my coffee grinder. When I need to pulverize spices I'll either use the food processor, mortar and pestle, or the coffee grinder if I need a finely ground texture. Just make sure to wipe it out very thoroughly, or you'll have a surprisingly spicy breakfast blend the next morning! I sometimes use a can of air to clean it out.
In a bowl I mixed the sugar, cayenne, salt and water.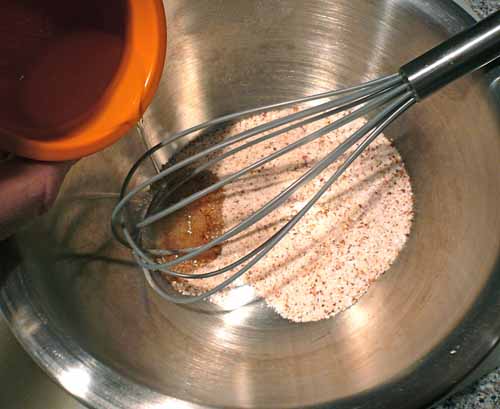 Added just a bit more water, as it was not looking too glaze-like.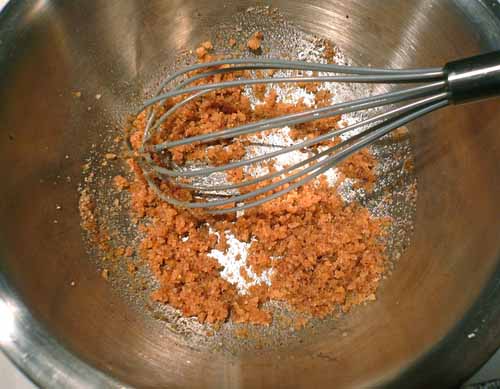 Then tossed the peanuts in to coat.
Spread them out in a single layer on a sheet tray and baked for about 20 minutes. I checked them regularly, because I didn't want to incinerate them (like I did with my pine nuts in Matsutake).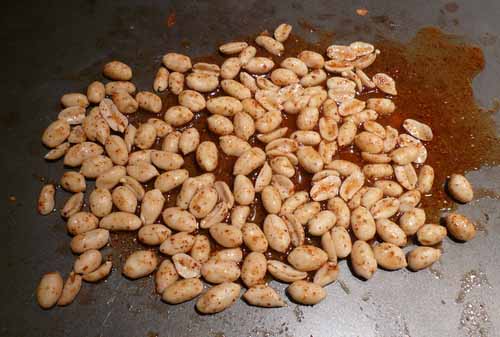 You just want to get the sugar to melt and form a yummy, crunchy glaze. Kinda like Beer Nuts.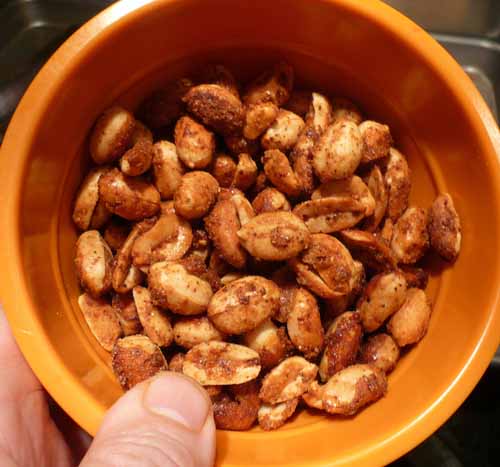 Then I roughly smashed them up with the bottom of a small skillet. You could equally use a food processor for a couple of seconds, or the side of a large cleaver, etc.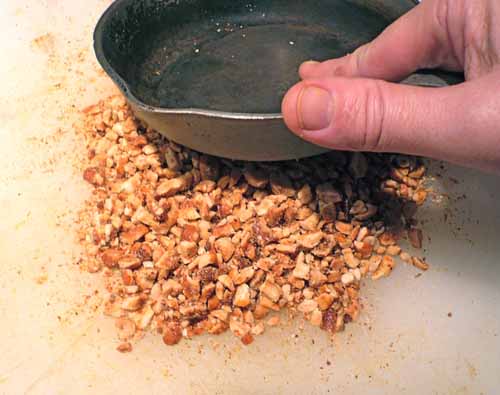 Ingredients:
C&H cane sugar
Diamond Crystal kosher salt
Cayenne pepper
Water
Unsalted peanuts, shelled, from Whole Foods
Lime Zest
Cut the rind off a lime, removing as much of the white pith as possible. We do thith becauth the pith ith tho bitter.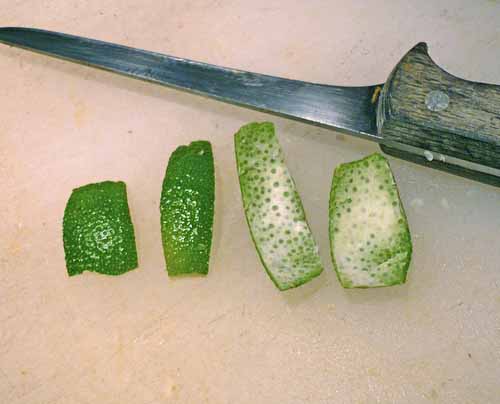 Then I cut them up into the thinnest strips (for garnish) I could.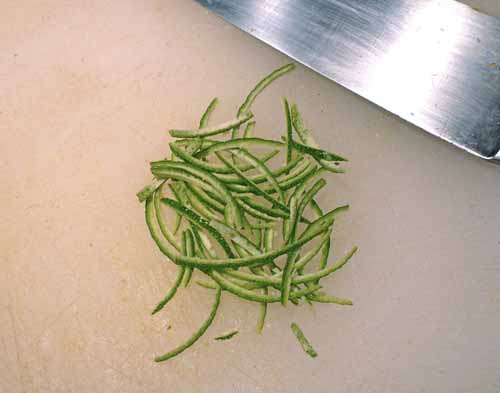 Blanched in boiling water for about a minute to brighten up the color.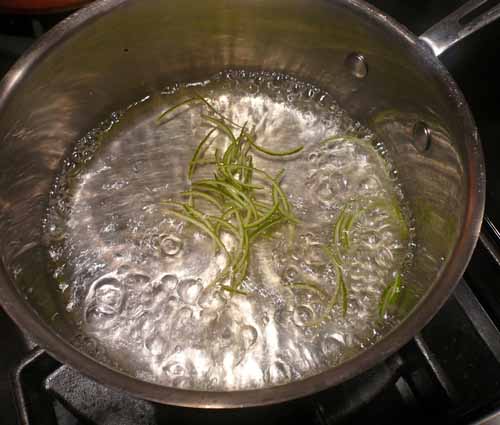 Then immediately plunged them into an ice water bath to cool.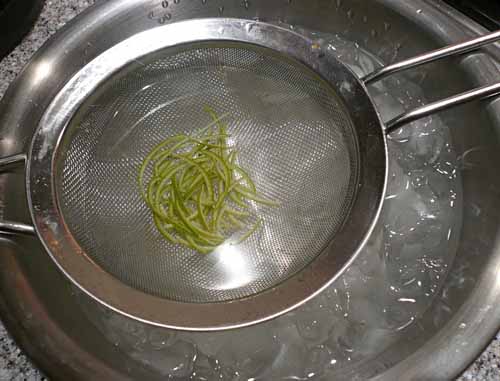 And saved them in some simple syrup I'd made earlier.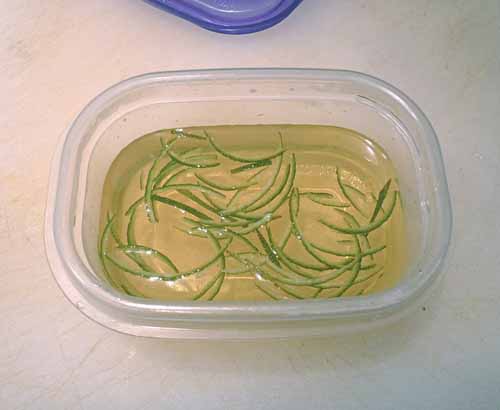 Ingredients:
Fresh lime
Simple syrup, see recipe
Banana Froth
I roasted a couple of bananas at the same time as the peanuts. First, piercing their skins with a paring knife.
The skins turn black when baked in the oven, and small puddles of clear juice congeal around them (taste it, yummy).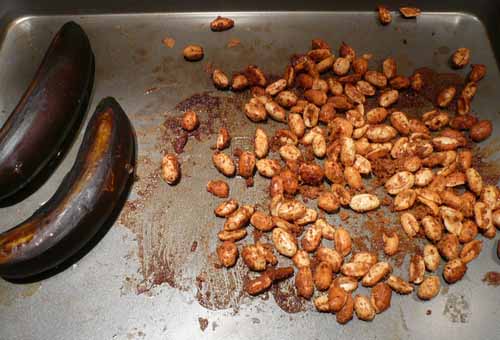 I removed them from the oven, let cool and then peeled. My intention was to use one for the banana froth and one for the pudding. When I weighed it out, though, one banana was only 74g, and I needed 150 just for the froth. It seems as though the size of my banana was inadequate for the job. Damn. I hate it when that happens. So I used both for the froth and roasted another for the pudding.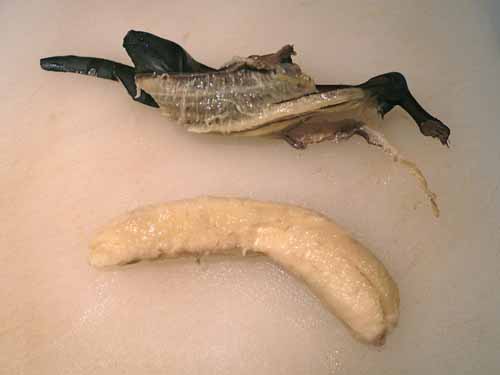 I combined the roasted banana flesh with the chips, water, sugar, salt and citric acid in a medium saucepan and brought to a boil for a bit, to dissolve the solids.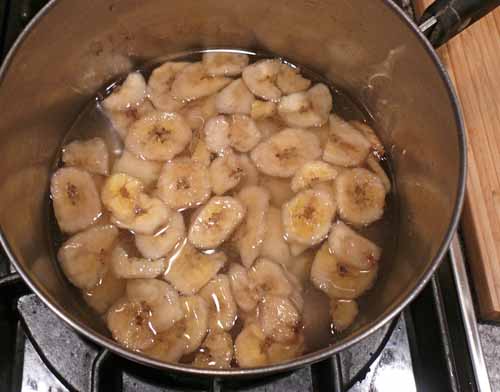 Then removed from the heat and refrigerated in a plastic container. After it had "steeped" in the fridge for a couple of days, I took it out and strained into a saucepan.
Heated to 180ºF, removed from heat, then blended in the soy lecithin powder with my Cuisinart SmartStick immersion blender (warm liquids generally aerate better than cold).
I added a bit more soy lecithin powder than asked for, as the liquid was not frothing. Once I did, all was good.
About Soy Lecithin

When storing lecithin, make sure to keep it tightly sealed up and away from humidity. It absorbs moisture like a sponge and cakes up easily.

Also powdered and granular soy lecithin are the same stuff, maybe one's a little more refined, but you can use either. I've found the granular lecithin at GNC and Whole Foods. The powdered I ordered from LeSanctuaire. Alinea gets theirs from Terra Spice.

I tried both, I suggest the powder. For me, it incorporated more easily with the liquid.

Alinea chef Dave Beran notes, "with lecithin, you do not have to heat to incorporate — sheer in. Granules and powders are the same. Typically, I use a 1% ratio and warm the base. Fat content and weight of the liquid will alter this ratio."
Ingredients:
Fresh, ripe bananas, from Whole Foods
Dried banana chips, from Whole Foods
Water
C&H cane sugar
Diamond Crystal kosher salt
Citric acid, from L'Epicerie
Soy lecithin, powder from LeSanctuaire, or granules from Whole Foods
I combined some of the roasted banana with the half-and-half, banana chips, sugar and salt in a medium saucepan and brought to a boil. Whisked in the agar agar and boiled until it was dissolved into the banana-cream mix.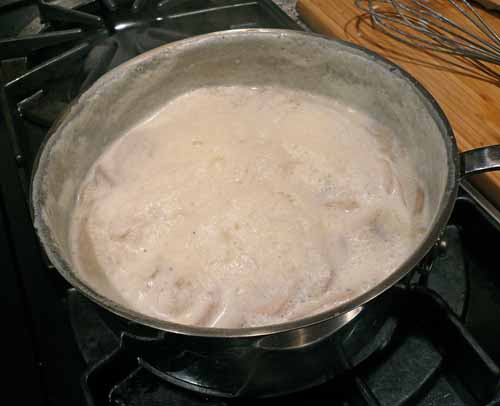 Poured into a plastic container and refrigerated. Recipe says overnight, but I waited two days so I could do the froth (two-day waiting period) and everything else together. I removed the banana-cream gel from the fridge and let it come to room temp, then chopped up in preparation for puréeing.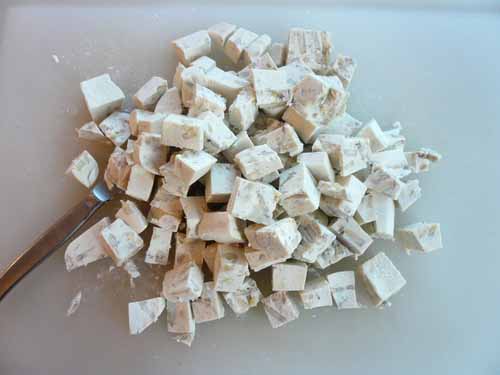 Alas, my bar blender is just not cut out for this liquid-to-solid, solid-to-liquid pudding technique. I think I may need something with a little more "uuumpf."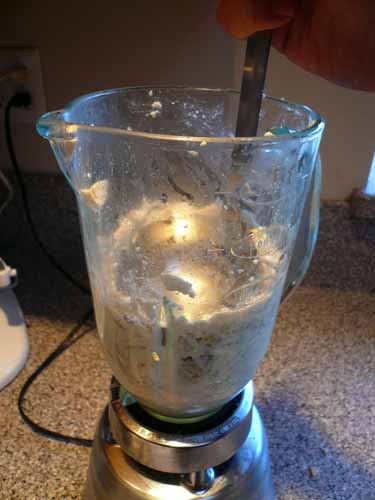 About Fluid Gel Puddings

The idea with the fluid gel puddings at Alinea is to take a liquid and gel it with agar. Then take the solidified gel and puree it into a pudding. No additional liquids allowed. Liquid such as water, added at the last minute may free up the mass in the blender short term. But in a restaurant environment, when you'll need the pudding at any time over the course of a dinner service, the added water may separate. Not good. You want all the liquids incorporated into the pudding at the start.

Executive chef Christopher Windus of Todd English's bluezoo in Orlando, Florida suggests letting the agar gel come to room temperature, chopping it up, then forcing the chunks down into the blender with a metal ladle. "This way we don't have to add as much excess liquid and the fluid gels are tight, by that I mean less chance of them sweating or leaking on the plate."

"Keep in mind you are transforming a liquid (banana cream) into a solid," adds chef Grant Achatz, "by gelling into a solid, so you can blend it into a smooth puree. That is the technique. Wrap your mind around it."
I tried the blender to no avail. It was still pretty damn solid.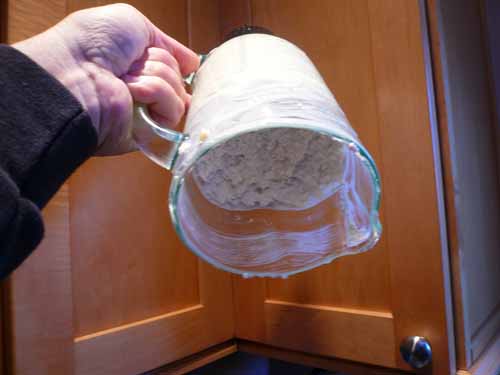 So I used my food processor, and it worked great. If you have a regular blender, like mine, I might suggest to you to try the food processor first.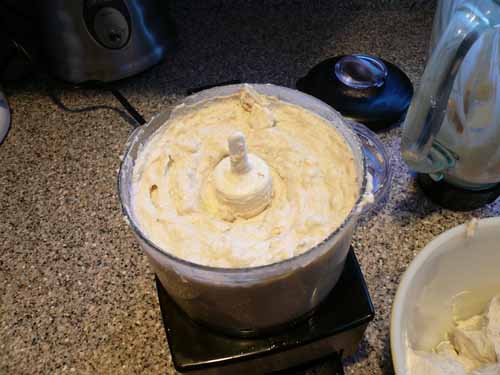 Then I strained it through a sieve. Used a small sieve and ladle, tried a wooden spoon, then switched to a larger sieve with a rubber spatula.
That combination worked much better. The larger the surface area of your sieve, the better.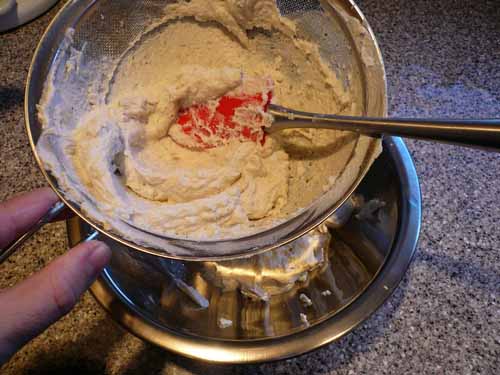 Pushing the pudding through a chinois, tamis or sieve is time consuming and at first seems like a bother. It reminded me of the first time I made Thomas Keller's recipe for foie gras. I spent three days on that damn thing. Including forcing the duck liver through a tamis. But in the end, it was well worth it.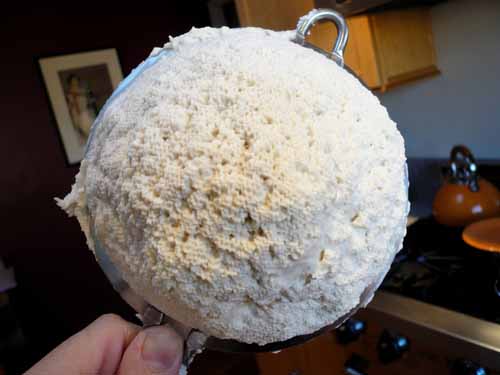 Then transfered the pudding to a squeeze bottle. I found that a pastry bag works for this.
"None of this is easy," says chef Achatz. "If it were, the cuisine at Alinea would be… easy?"
Ingredients:
Fresh, ripe bananas, from Whole Foods
Alta-Dena half-and-half
Dried banana chips, from Whole Foods
Diamond Crystal kosher salt
C&H cane sugar
Agar agar, from L'Epicerie
Squash Soup
Every October, I have a tradition of buying a few extra pumpkins for cooking, not just carving. I make an earthy, smokey pumpkin soup, and perhaps some pies. But always the soup. So I decided to use a pumpkin on hand rather than buying a butternut squash. Gonna need the pumpkin seeds anyway, so why not use the whole pumpkin, eh?
So instead of halving, cleaning, baking and hollowing out the squash, I followed my pumpkin soup routine.
I cut the pumpkin open, removed the stringy pulp, and reserved some seeds for later. Then cut it up and cut off the skins. If you do this, remember to take off some of the hard part under the skin, not just the outer skin.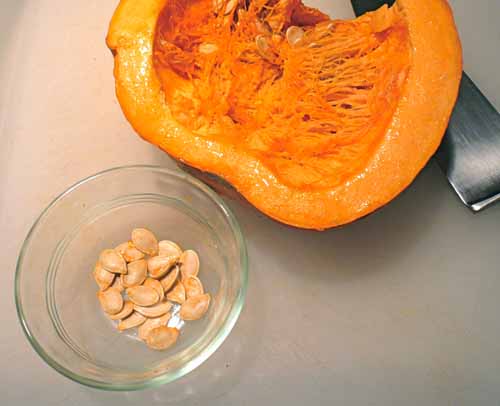 Then I roasted them in the oven on a sheet pan, being careful to NOT brown too much.
When I make my soup, I'll grill or roast them, then throw in a pot with a bunch of butter and sauté until they turn a bright, soft color. Then add chicken stock. But I digress…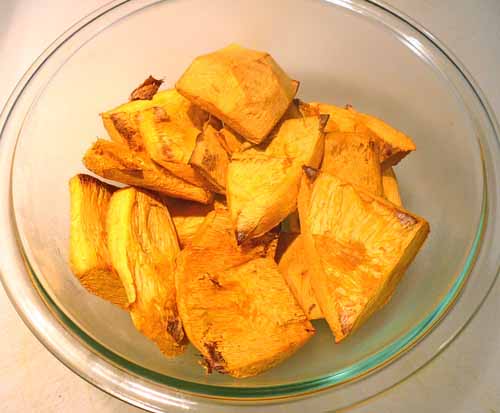 I took the roasted chunks and threw 'em in a pot with the butter and sautéed until they looked bright and soft.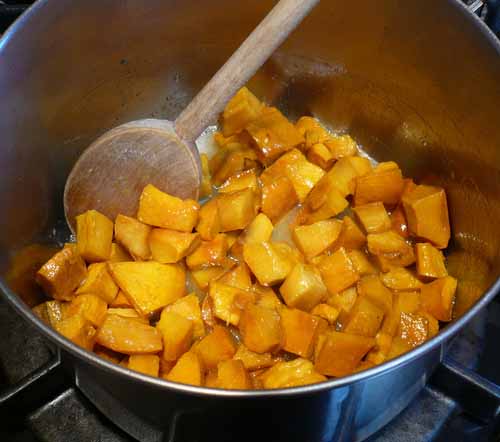 Then I added the cream, water, sugar, salt, and brought to a simmer for 10-15 minutes.
Transferred to the blender and puréed.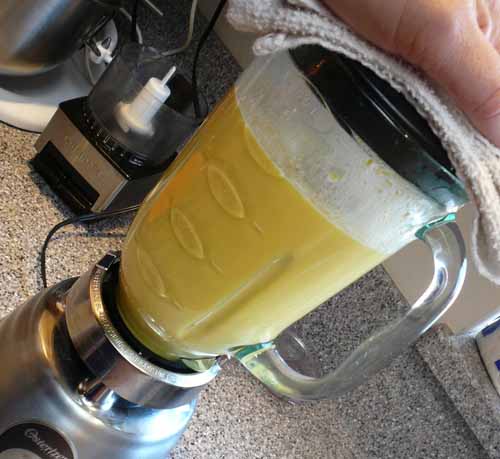 Strained and reserved for serving.
Ingredients:
Fresh pumpkin, from Whole Foods, or butternut squash
Challenge unsalted butter
Alta-Dena heavy cream
Water
C&H cane sugar
Diamond Crystal kosher salt
Pumpkin Seeds
First I rinsed off the seeds, then dried the reserved pumpkin seeds on a paper towel overnight.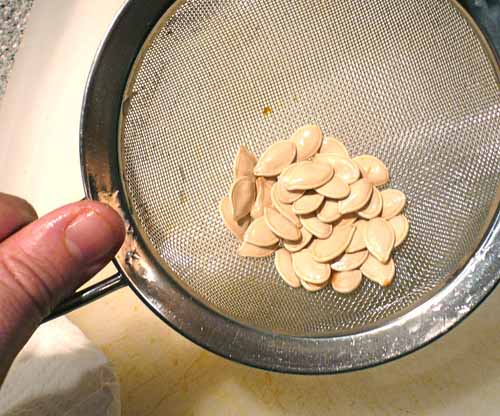 I fried them in canola oil. This is what happens when you don't monitor the temperature of your oil. Bad Martin.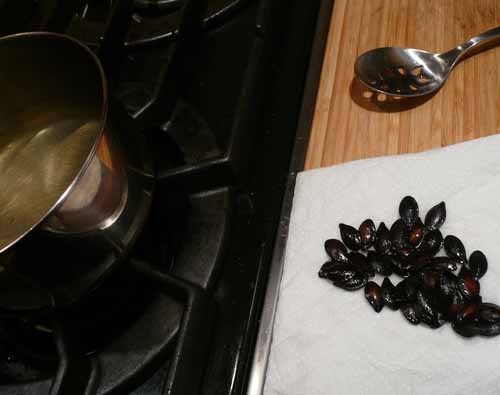 So I fried another batch in canola oil, watching the temperature, until they puffed up. Note the thermometer this time. And let drain on paper towels.
Much better.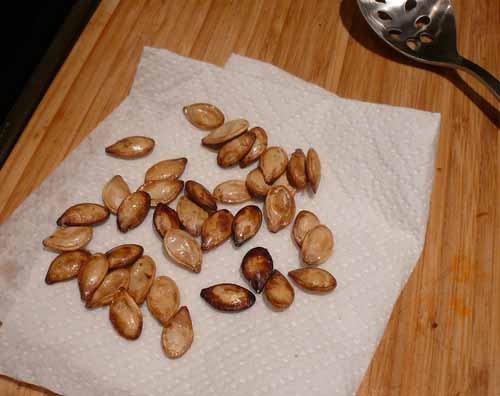 Then tossed them in a small bowl with some of the curry salt until coated. You'll have a lot of the salt left over. Save it for cooking, or popcorn!
Ingredients:
Fresh pumpkin seeds
Canola oil
Curry salt, from above
To Assemble and Serve
There's a lot of prepwork to do for this dish. Lotta mise. Mise en place:

I peeled and cut the ginger into a log shape as directed. Actually turned out to be more of a Space Food Stick shape (check out this vintage commercial). Then halved it lengthwise into two "half moon" shapes. Sliced as thin as possible. The fresh ginger root was very fibrous, so the slices ended up a bit thicker and hairier looking than I wanted. Oh well. It's what my guests are getting.
I was going to get micro lemongrass and micro cilantro from Specialty Produce too, but ran out of time. And I already had lemongrass and cilantro. Lemongrass is like leeks in a way, layered. So I peeled a tender layer from the interior of the lemongrass, laid it flat and sliced it as thinly as possible. The slices curled back up nicely.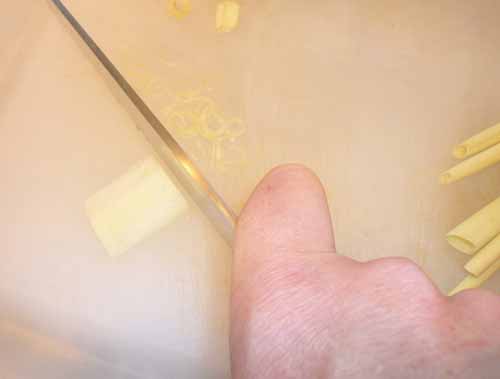 Cilantro leaves are multi-lobed, so you can dissect them into smaller, whole-looking leaves. I chose some of the smallest and reserved.
I sliced the scallion into small blades, and the chili pepper into thin slices.
Waste not, want not. With the peelings and leftover scallions, chili, lemongrass, cilantro, I made Thai coconut soup, and topped with the candied peanuts.
I removed the duck from the brine, patted dry, and cut into 4 pieces. You're supposed to let it marinate in the brine for three hours, I left mine in overnight. The meat looked a lot darker than in the Alinea cookbook. Hmmm.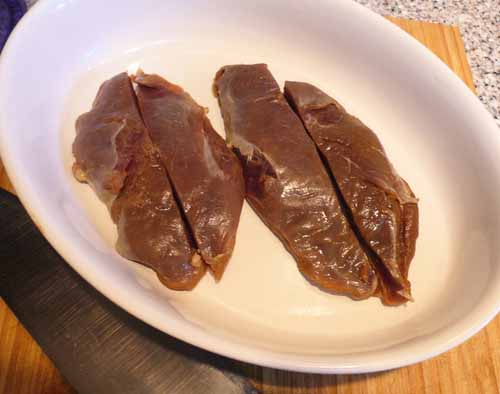 Then went outside and grilled a minute, flipped. A minute more. Flipped, automatically making that diamond pattern so engrained in my psyche.* Then again, for a total of about 2 minutes per side. Medium rare(ish).
* "Diamonds, buddy," Chef Mike yelled on the line, "I wanna see diamonds!" (I sometimes have flashbacks to my time as a line cook at several San Diego steakhouses in the 1980s. But that's another story. Or several…)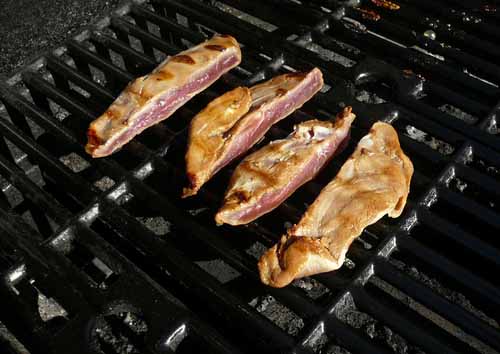 I cut up the duck into rectangles and set a piece into each spoon.
Squeezed a blob of banana pudding on top right corner. And garnished each with a one scallion slice, one chili ring, one pumpkin seed, several peanut chunks, a lime zest, one ginger slice, some lemon grass, and a couple of cilantro leaves. This detail work requires tweezers!
Warmed the soup and added some to the spoonbowls.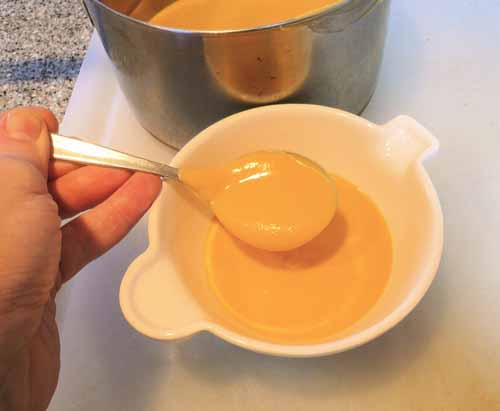 I blended up the banana froth again with the hand blender. The soy lecithin added to the froth helps retain the bubbles, but you still have to whip it up a bit just before "service."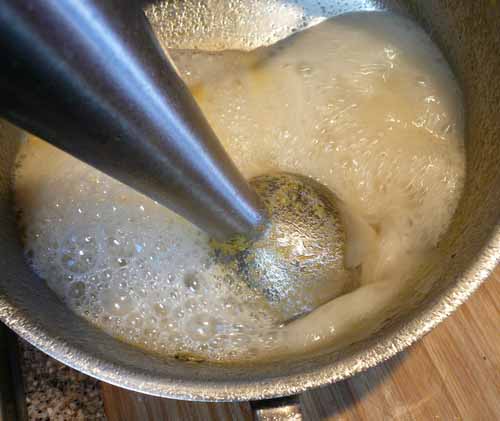 Then topped the soup with a bit of banana froth.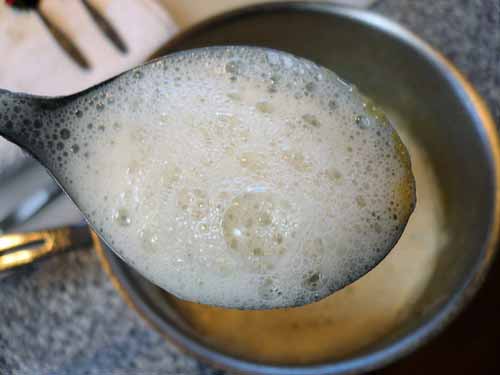 Finished off by placing a loaded spoon atop each.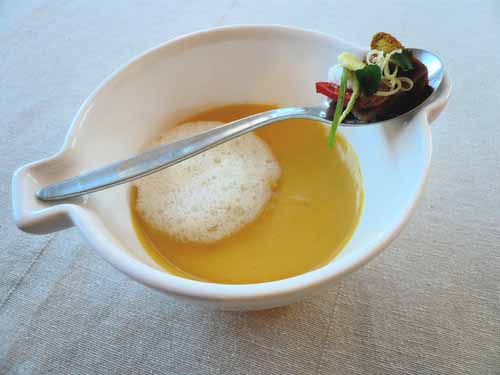 Voilà! Easy as pie.
Ingredients:
Fresh ginger, 2 inches long, from Nijiya
Fresh scallion, from Pancho Villa Market
Whole red Thai chili pepper, from Nijiya
Fresh lemongrass, from Specialty Produce
Fresh cilantro (coriander) leaves, from Specialty Produce
Serveware:
Notched bowl, by Crucial Detail
or
Spoonbowl, by Flavour Design, from ReForm School
Equipment:
Salter digital scale
Measuring bowls
Kitchen knife, pairing knife, cutting board
Stainless mixing bowls
Cuisinart SmartStick immersion blender
Cuisinart mini food processor
Osterizer blender
Deep fryer, or large pan with thermometer
Small and medium saucepans
Wire whisks
Rubber spatulas and wooden spoons
Plastic wrap
Plastic containers
Yields: 16 servings, with lots of peanuts and garnish left over