Recipe, page 250
Lusting upon the food porn on the pages describing MATSUTAKE, Pine Nut, Mastic, Rosemary I kept asking myself what are those cool, covered glass vessels? I had to know.
It wasn't too hard to find out. But finding a source proved a bit more challenging. The serveware used are egg coddlers.
But "what's an egg coddler?" you may ask.
It's simply a covered dish for eggs you put in a steamer. The heat from the surrounding bain marie "coddles" the eggs (or whatever else) you place into the vessel.
Now this is where my inner design geek comes out —
Kudos go to those at Alinea Restaurant with the discerning design eye. This glassware was originally created in the 1933 by Bauhaus designer Wilhelm Wagenfeld. These heat-tempered glass egg coddlers were in production by Jenaer Glaswerk Schott & Gen (now, Schott Jenaer Glas) up until 2005.
The vintage coddlers (recognizable by their square feet) are highly coveted by an obscure — but zealously passionate — egg coddler collector subculture.
The good news is that Hungarian glass manufacturer CsonkaGlas took over production in 2005, and is now producing them for TrendGlas Jena.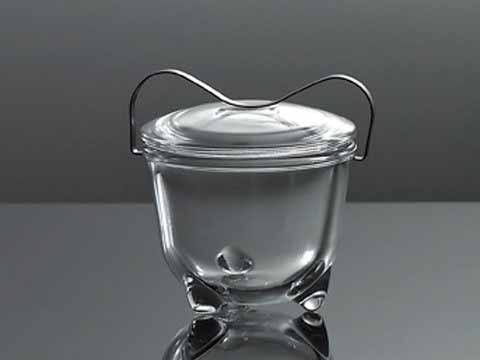 I ordered four from CityChef Kitchenware, an online cooking store based in Richmond, BC, Canada. They arrived within a week, securely packed. Although the individual boxes were cushioned with packing peanuts, one coddler was slightly chipped. The wire band had come off in transit, letting the glass pieces bang against each other.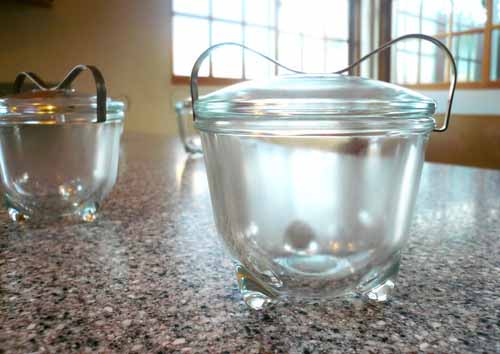 And I made the mistake of leaving the packing box out on the kitchen counter. When I returned from work, I found that packing peanuts are really, really fun for bored kittens.
Serveware:
Glass Egg Coddlers by TrendGlas, ordered from CityChef.ca
$24.00 each, plus shipping