071 | AUTUMN SALSIFY, Smoked Salmon, Dill, Caper (Part 3) Alinea Restaurant cookbook recipe, pages 264-269.
A fancy recipe for bagels and lox, Alinea style. Continued from SALSIFY, Smoked Salmon, Dill, Caper (Part 2)
Day Three
Smoked Salmon Mousse
This is a smooth mousse-y version of a bagel "schmear," usually made with a flavored cream cheese.
I blended the salmon in small pieces with a steady slow stream of olive oil then water, until it formed an emulsified liquid.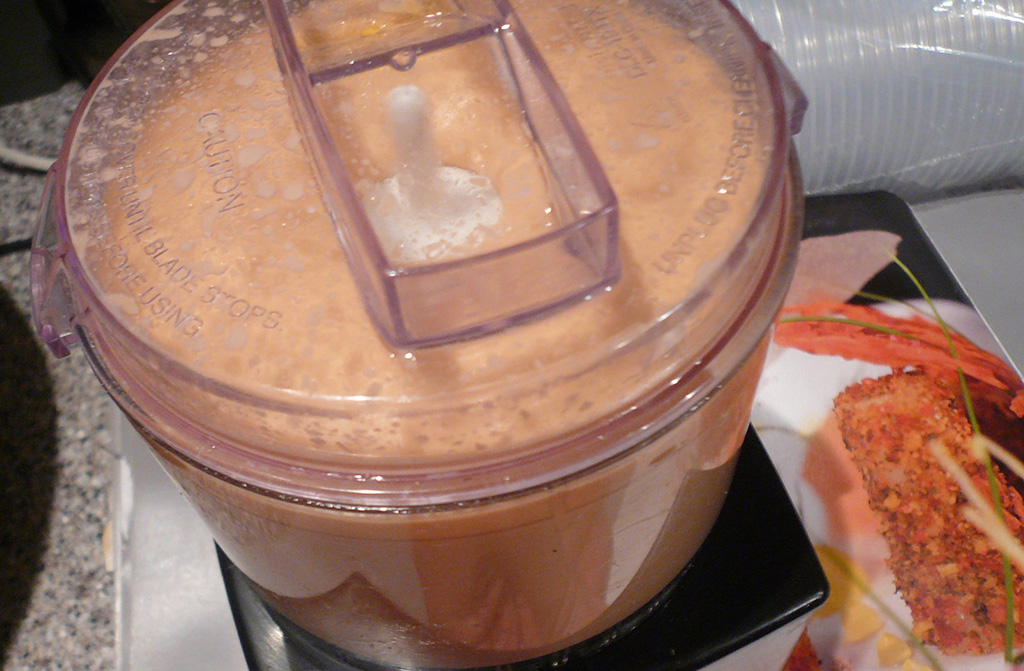 I had my capable assistant whip up the crème fraiche until it formed stiff peaks
Then salted and folded the two together…
Ingredients
Smoked salmon
Ice water
Olive oil
Crème fraiche
Diamond Crystal kosher salt
---
Dill Sauce
Mise en place for dill sauce…

In a medium saucepan I made a white roux with butter and flour.
Then whisked in some heavy cream and minced shallots, cooking for about 20 minutes on very low heat. Then strained into my Oster blender, added the dill and a bit of salt. Blended until smooth.
Ingredients
King Arthur all-purpose flour
Challenge unsalted butter
Alta-Dena heavy cream
Minced shallots
Fresh dill, stems removed
Diamond Crystal kosher salt
---
Smoked Salmon
The recipe says to vacuum seal some smoked salmon and olive oil in bags. I just used the prepackaged salmon and warmed it up en sous-vide.
Ingredients
Smoked salmon
Olive oil
---
Herb Powder
Another super-easy recipe. I dehydrated the herbs in my American Harvest dehydrator overnight.
Then ran them through the spice grinder with a little kosher salt.
The recipe says to sift through a chinois, but it's really not that necessary…
Ingredients
Fresh Parsley, dill, chervil, and chives
Diamond Crystal kosher salt
---
Red Radish Dice
I cut some red radishes into 1/16″ slices, then sliced those into thin 1/16″ strips. The cut those in 1/16″ dice. Reserved in ice water.
Ingredients
Red radishes
---
Dill Fronds
These ae just the ends of dill tops.
Ingredient
Fresh dill fronds
---
Micro Chives
Use the micro or just the smaller ends if regular chives.
Ingredient
Fresh micro chives or chive tips
---
FINAL FINAL PLATING!
Woohoo! It's about time, right? Below, mise en place for Salsify, Smoked Salmon, Dill, Caper recipe.
I removed the salsify from its sous vide bag, rolled each in olive oil mayo, then coated with the veggie coating.
I removed the smoked salmon from the sous-vide and put two flaked pieces on the corner of each plate. Then put some of the veggie-coated salsify in the center. A little toasted crumb mix next to that.
Squeezed out a little lemon pudding in dots to the side. Then some smoked salmon mousse at the front of the plate, topped with herb powder, and garnished with a garlic chip.
Then comes the random garnishment. I scattered red radish dice, red onion, dried lemon zest and red pepper strips around the plate and sticking out of the sauces. Topped with a few dill fronds and chive tips here and there. Finally added a dot of dill sauce near the center of the plate.
I followed the plating directions and mine turned out like a hot mess. Or you could do whatever…