Chocolate, Warmed to 94 Degrees – Alinea Restaurant cookbook recipe, pages 294-295.
"This is the best Alinea recipe so far!" — The first words uttered by my daughter, after she came up for air…
I'll have to agree. It's the most delicious Alinea dessert I've cooked so far. Port-braised figs in warm bergamot tea, topped with chocolate mousse crisp, warmed dark Valrhona chocolate and mint, and served with a quenelle of cassia-bud ice cream. Yuh-MEEE !
Braised Figs
I used dried figs for this, and it turned out deliciously savory and sweet. I bet you though, it would have been even better with fresh black Mission figs. I sliced each fig in half so they'd all soak up the wine faster. Mise en place: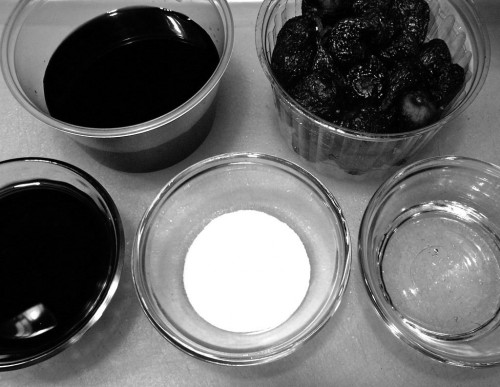 I mixed the wine, port, sugar and glucose together in a medium sauce, then brought it to a boil. I burned off the alcohol and then added the figs, lowering the heat to a simmer. Let the figs braise/port reduce for twenty minutes or so until it had thickened up. Then removed it from the heat to cool to room temp.
Ingredients
Black Mission figs
Ruby Porto wine
Dry red wine
Liquid glucose, or KARO corn syrup
C&H cane sugar
Bergamot Tea
This is simply Earl Grey tea, with some extra figgy goodness added. The traditional English flavor Earl Grey is black tea infused with oil of Bergamot. Some brands you can buy are much more potent than others, depending on how much oil they infuse into the tea leaves. I prefer Hediard from Paris, or Bigelow's, which is easy to find locally.
What is Bergamot?

It's an Italian orange (Citrus bergamia). Earl Grey tea is infused with the oil from it's rind, and was named after Charles Grey, British Prime Minister in the 1830s.
Mise en place for bergamot tea:

I combined some water, sugar, glucose and a dash of salt with the dried figs and brought them to a simmer. Removed from the heat and added the tea leaves to steep. Then strained.
Added the Utra-Tex 3 starch and sheared into the tea with an immersion blender, strained and kept warm.
The tea will be poured onto the dessert from a small pichet I bought at Crate&Barrel, which is really a creamer from their Madison line of dinnerware. Look how cute!
Ingredients
Dried figs
C&H cane sugar
Water
Liquid glucose, or KARO corn syrup
Morton's kosher salt
Bigelow's Earl Grey tea
Ultra-Tex 3, from l'Epicerie
Cassia Ice Cream
Mise en place:

I toasted the cassia buds in a hot, dry skillet, until they released their oils. A light cinnamon fragrance filled the kitchen, like I was a baking fiend. But who's kidding who? I'm a bad baker. But that's another story…
Then brought the whole milk and cassia buds to a boil, and let steep.
After they had steeped, I strained, then mixed in the sugar, powdered milk, glucose, condensed milk, brought the cinnamon-infused ice cream base to a simmer, removed from the heat and added the bloomed gelatin sheets and ice cream stabilizer. I mixed it up with an immersion blender, then strained into the chilled ice cream maker.
Let it go to thicken up, and voila! Cassia ice cream! Very yummy, subtle cinnamon taste…
Ingredients
Cassia buds
Alta-Dena whole milk
Nonfat powdered milk
C&H cane sugar
Morton's kosher salt, to taste
Rousselot "silver" gelatin sheets
Glucose powder
Rousseau STABI 3000 ice cream stabilizer, from L'Epicerie
Dehydrated Chocolate Mousse
Mise en place:
Whipped the eggs and sugar for the meringue.
I melted some Valrhona chocolate over a boiling pot of water.
Folded in the meringue.
And dehydrated until it was crispy.
Ingredients
Chocolate, 72% cacao
Egg whites
C&H cane sugar
Morton's kosher salt
Egg yolks
Warm Chocolate
I broke up the dehydrated chocolate mousse into large, irregular pieces and placed them on a sheet pan. Then broke up some dark chocolate, and placed these on the mousse pieces. Popped them in a warm oven and waited until the chocolate melted just enough to gain a sheen. Evidently, the optimal temperature to serve this chocolate dessert is at precisely 94ºF…
Ingredients
Dehydrated Chocolate Mousse, reserved from above
Valrhona dark chocolate
To Assemble and Serve
To serve, I added some braised figs to the bowls. Then quenelles of cassia ice cream. Laid the chocolate chip over all. Then to serve, I brought out the dessert dry and poured warm bergamot tea into the bowl.
Then enjoy! It's the best combination of flavors so far!
Ingredients
Bergamot flowers, or bergamot orange mint leaves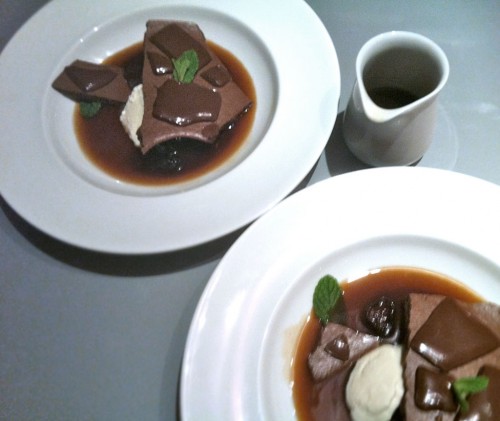 Equipment
Cutting board and kitchen knife
Salter digital scale
Strainer or sieve
Saucepans
Cast iron skillet
Kitchenaid mixer with wire whisk attachment
Oster bar blender
Spoon
Ice cream maker
Rubber spatulas
Stainless bowls
Wire whisk
Spice grinder
Measuring bowls, paper towels, tweezers
Serveware
9-Inch Cuisine Vortez bowls, from Crate&Barrel
8-Ounce Madison creamer, from Crate&Barrel
Yields: Easily enough for 8 servings, with plenty of dehydrated chocolate mousse chips left over.