Alinea Recipe, pages 194-199.
Steak and potatoes with a little A1 on the side, it's an iconic American meal.
This four-day recipe is Grant Achatz's playfully deconstructed take on steak and potatoes. And yes, it took me four days to complete, including the veal stock. Was it worth it?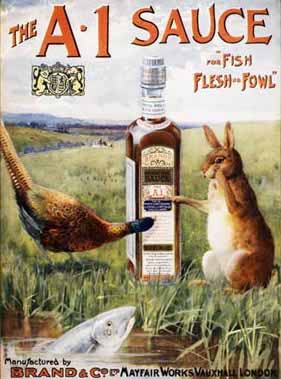 Yes!
When you have six sauces and eight garnishes to taste on the plate, exploring every bite can be different. And mixing them can bring you right to place where you smile, nodding your head and say "yeah that tastes just like A1 Sauce…"
The original steak sauce upon which A1 is based was created in 1824 by Henderson William Brand, a chef for King George IV of the United Kingdom.
Legend has it that the king declared it "A1" and the name was born.
A1 Steak Sauce went into commercial production under the Brand & Co. label in 1831. It is now owned by Kraft Foods.
Day One
Veal Stock
I made another batch of veal stock, using the same recipe as on GOOSE, Blood Orange, Sage, Roasting Goose Aromas.
This time, however, the butcher had plenty of veal bones, so I did not have to substitute with adult beef bones.
Man, it's a rich stock. This time I wanted to salt the stock just a bit, but held back. If you do add salt, the stock will be way too concentrated when it reduces down. So as Arnold the Governator says, "doan dooo eeat!" Add your salt to the final sauce this goes in…
Ingredients
Veal bones, cut into 2-inch chunks, from Iowa Meat Farms
Water
Organic Schaner Farms onions, from Little Italy Mercato Farmer's Market
Carrots, from Little Italy Mercato Farmer's Market
Whole, black Tellicherry peppercorns
Fresh Schaner Farms thyme, from Little Italy Mercato Farmer's Market
Tomato paste
Liquid Beef Fat
The recipe calls for a whole ribeye, which can get kinda pricy at US$20.99/lb.
At Alinea, they use the beef fat scraps leftover from breaking down large cuts of meat. It's a great thing to try and use all of the animal in cooking. But the home cook probably doesn't have that much beef fat laying around.
A resource is at your local butcher or grocer's butcher counter. Just ask them for their beef fat scraps, or if you wanna sound knowledgeable, ask for suet. I went to Iowa Meat Farms (6041 Mission Gorge Road, San Diego, California 92120, 619-281-5766), my fabulous local butcher shop, and got some cuts of grain-fed ribeye and a couple of pounds of suet.
The term suet is used to describe beef fat, especially that found near the animal's liver. Rendering the suet will give you tallow (and rendered pork fat is called lard). Tallow is hard like solid wax at room temp, melts easily, and will harden up again if you don't keep it on the stove. Up until the early 1990s, McDonalds cooked their French fries in a mixture of beef tallow and cottonseed oil.
Or, if you prefer, there are many vegetarian versions of both tallow and lard commercially available.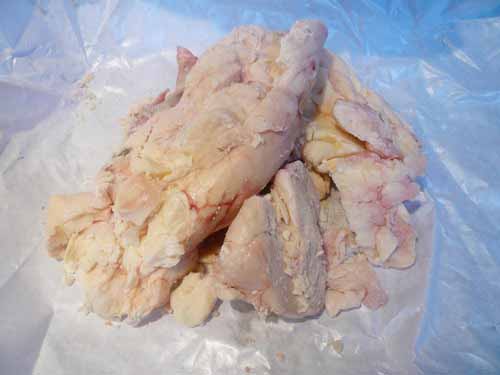 So how do you render fat?
Simple. I cut up the suet into small pieces.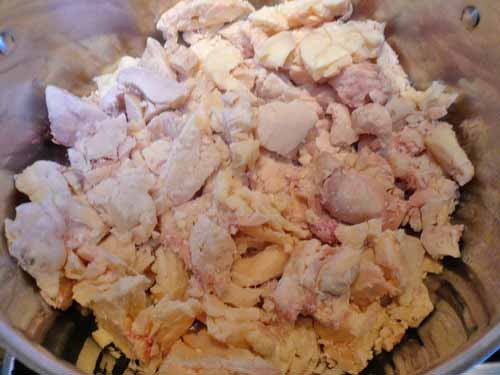 And slowly cooked in a pot over low heat. Too high and you'll burn the fat and you don't want that.
Then I strained it through paper towels over a sieve. You can also use towels or coffee filters.
Ingredient
Beef fat (suet), from Iowa Meat Farms
Day Two – The Sauces
Chive Purée
I made a half-batch for this recipe, which was more than enough, and filled up a small squeeze bottle.
I brought a large stockpot filled with water and some salt to a rolling boil for big pot blanching.
For a discussion on the merits of adding salt to your water, see Thomas Keller's extensive writings on big pot blanching in his books The French Laundry Cookbook and Under Pressure.
I blanched the chives until very tender, and transferred them to an ice water bath to shock and cool.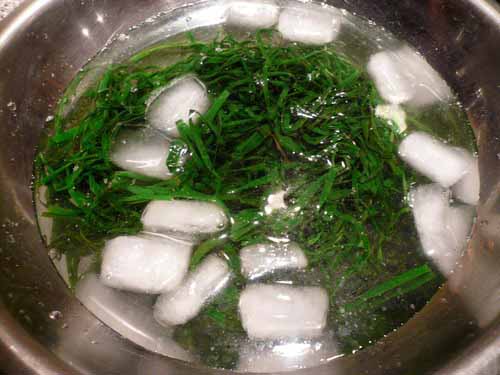 I blended until smooth with some fresh water and strained into a small plastic squeeze bottle.
Ingredients
Water
Diamond Crystal kosher salt
Fresh chives
Spiced Vinegar Sauce
Mise en place:

I toasted the whole cloves and allspice in a hot, dry skillet until they released some oils and aroma. The recipe does not call for much spices at all. By the time I weighed them out, I had four allspice berries and three cloves to work with. On hindsight, I think I would have liked a little more.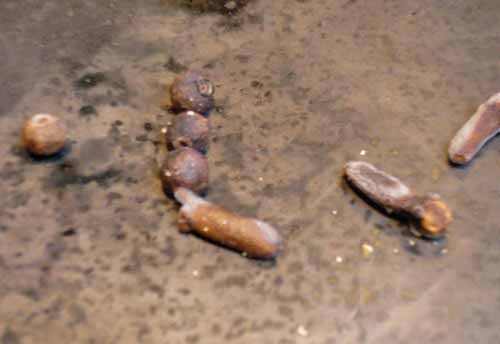 Then ground in a spice grinder.
I combined the spice powder with water, sugar and white wine vinegar in a medium saucepan and brought to a boil. Then removed to steep until it reached room temp.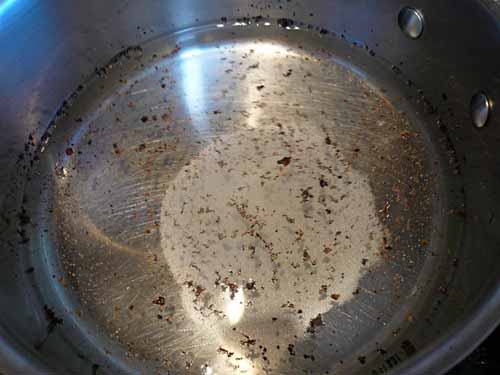 I strained with a chinois into a clean saucepan, brought to a simmer and whisked in the agar. I found that I had to strain several times to separate all the spices from the liquid.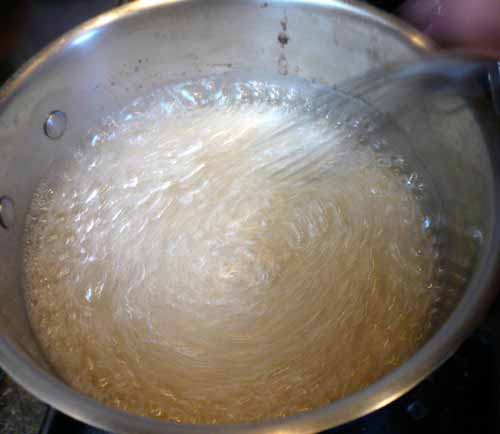 I boiled the vinegar-agar mixture until the agar dissolved, then strained again into a stainless bowl set in an ice bath to cool.
I let the mixture set up, then removed and chopped up.
I blended the gel on high, adding just a touch of water to loosen it up. I puréed until it was smooth, not bothering to strain once more. It was pretty darn smooth by this time.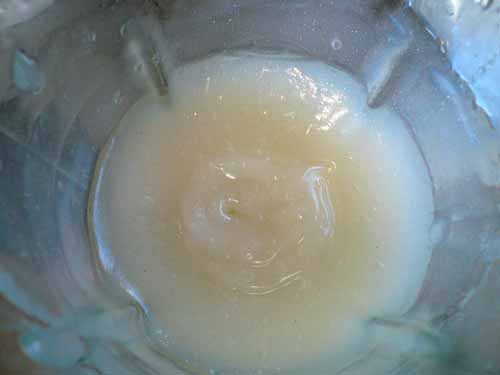 Then transferred to a small plastic squeeze bottle.
Ingredients
Whole dried cloves
Whole dried allspice berries
Water
C&H cane sugar
Heinz white wine vinegar
Agar agar, from L'Epicerie
Diamond Crystal kosher salt, to taste
Red Pepper Reduction
Another simple, simple, simple recipe. These are all easy to do. There are just SO MANY of them!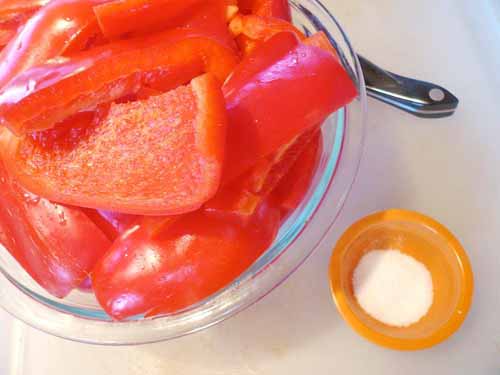 I cut up a bunch of red bell peppers into small pieces and juiced in my Breville Juicer.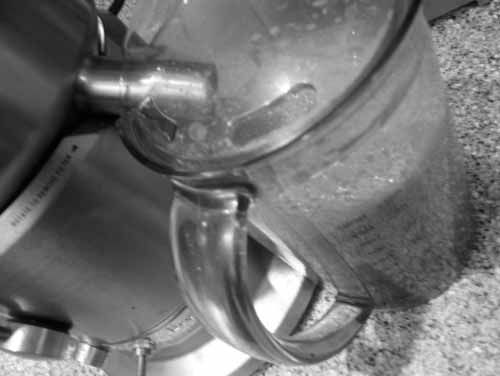 I strained the juice into a sauce pan and heated to a simmer. Look at that color!
Then reduced the liquid until it coated the back of a spoon.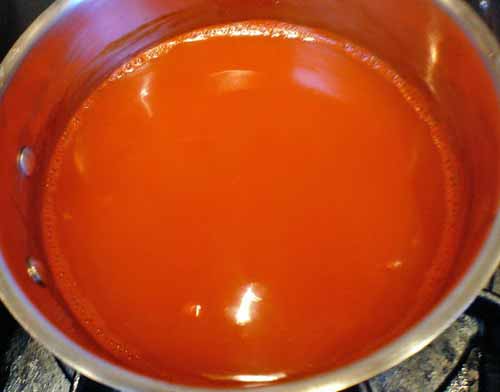 This concentrates its flavor and sugars into a thicken sauce that's naturally sweet and red-pepper-delicious!
I salted it to taste after the reduction, then reserved the sauce to a small plastic squeeze bottle.
Ingredients
Fresh red bell peppers, from North Park Produce
Diamond Crystal kosher salt, to taste
I put the raisins in a medium saucepan, adding enough water to cover by an inch, and brought to a boil.
Then removed, strained and repeated with fresh water two more times. This plumps up the raisins, "rehydrating" them so they'll purée in the blender.
If they're still firm, boil 'em some more.
I salted to taste and blended on high until the raisins were a smooth consistency. Then strained, and transferred to a small plastic —
Wait! I'm out of squeeze bottles!
Crap.
I went to Michael's (1652 Camino Del Rio North, San Diego, CA 92108, 619-294-2609) and got another 15-pack of small Wilton squeeze bottles (made for cake decorating).
That ought to tide me over for this recipe.
Then I transferred the raisin purée to a small plastic squeeze bottle.
Ingredients
Sun-Maid Raisins
Diamond Crystal kosher salt, to taste
Bitter Orange Purée
Locally, I could not find any bitter oranges (Citrus aurantium), also known as Seville or sour oranges. They're used in Indian cooking, and are also used to make Triple Sec, Grand Marnier and Curaçao.
So I decided to use some regular sweet oranges mixed with some fresh lemon.
Mise en place:

I quartered and seeded the oranges, combined them with the lemon juice, simple syrup, grape seed oil, and a pinch of salt in a vacuum bag. I sealed the bag up with my FoodSaver vacuum sealer, and cooked in a big pot of water (en sous vide) for about three hours.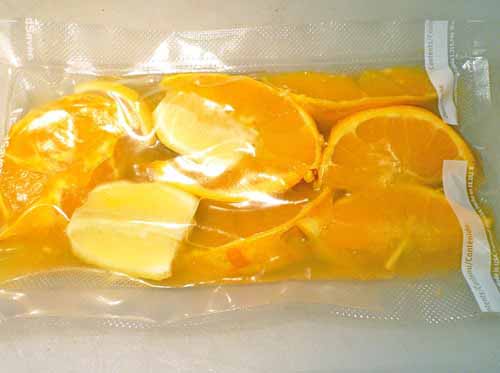 Sometimes I add a weight on top of the bag to prevent it from floating on the surface. In this case, I used a clean rock (Mother Nature, almost anywhere you look outside, a steal at US$0.00).
They were very soft to the touch (through the bag) when ready.
Removed and blended until smooth in my Oster bar blender.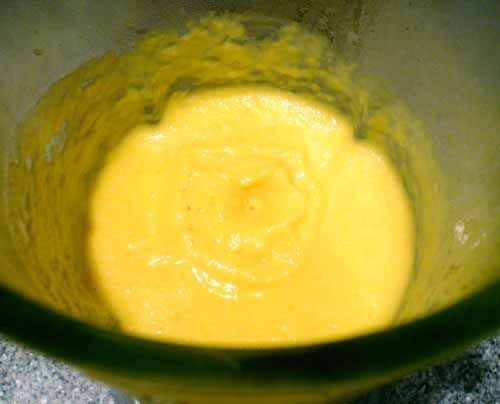 I strained and reserved in a small plastic squeeze bottle, of which by now, I had plenty.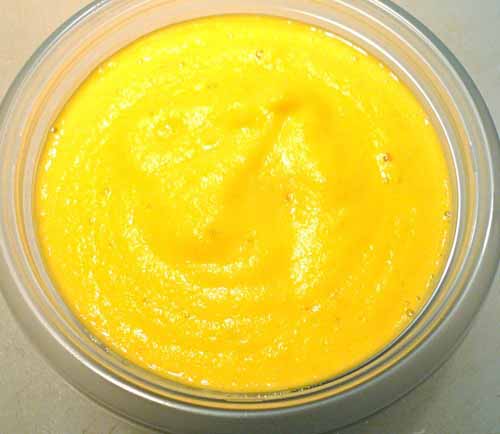 Ingredients
Bitter, Seville, or Sour oranges, or
Navel oranges and lemons
Simple syrup
Grape seed oil
Diamond Crystal kosher salt, to taste
Anchovy Butter
I bought a couple of cans of Martel anchovies packed in oil (US$1.49/ea). You need just one can for this, it's plenty. I cubed and let the butter soften to room temp.
Then blended the anchovies in my Cuisinart mini food processor until smooth, then added the butter and blended some more.
Reserved to a small covered plastic container.
My kids hated it. The cats loved it (I gave the cats the oil from the cans.)
I needed just a little for the next recipe, Anchovy Sauce. The rest I later used to make garlic bread: anchovy butter, garlic, paprika, mayo, parsley and parmesan cheese. Mmmmm. BTW, the kids liked the garlic bread.
Helpful hint to self: As Hall and Oates once said. "some things are better left unsaid."
Ingredients
Canned Martel anchovies in oil
Challenge unsalted butter
Anchovy Sauce
So the day before, I made about eight quarts of veal stock. And today this recipe will use less than a half pint, which will eventually get reduced down to a few tablespoons of sauce. If you don't feel like making your own, you could reduce some packaged beef broth, or open up one of those small tubs of demi-glace. In any event, I have a buttload of veal stock on hand for anything this recipe book throws my way!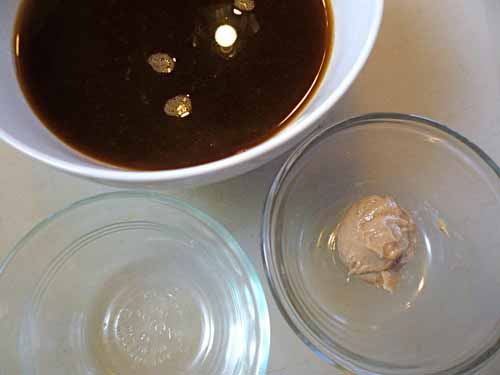 I brought the veal stock to a simmer, and let it reduce down to about half its original volume, skimming off the foam with a small sieve. Strained through a chinois and continued simmering until it thickened up enough to coat the back of a spoon. Whisked in the vinegar and anchovy butter, and transfered to a plastic squeeze bottle.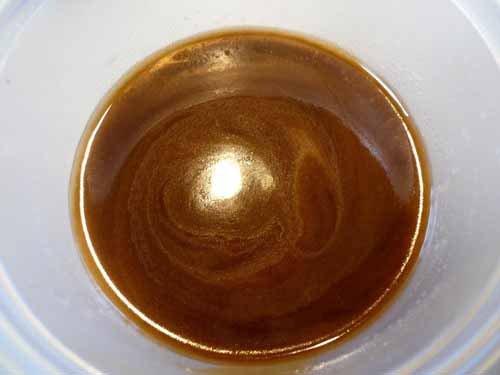 Ingredients
Anchovy butter, from above
Veal stock, from above
White wine vinegar
Now I had my sauces prepped, I was ready to garnish it up (Day 3), then eat the next evening (Day 4)!
A portent of things to come…

To Be Continued… Next, BEEF, Elements of A1 (Part 2)