Alinea Recipe, pages 360-365.
Continued from GOOSE, Blood Orange, Sage, Roasting Goose Aromas (Part 1)
Day Two

Goose Leg Confit (Continued)
After the goose legs had cured overnight in the fridge, I removed them and rinsed them off, and patted dry with paper towels. I sealed the legs in a bag a little rendered goose fat with my FoodSaver V2240 vacuum sealer, and reserved in my prep area.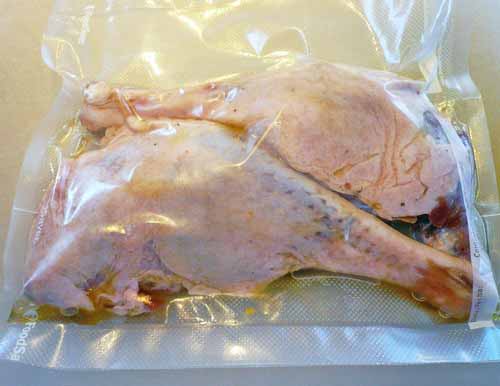 I brought a large stockpot of water to a simmmer, then cooked the legs en sous vide for about five hours at 190ºF. Then removed the vacuum bag and placed in an icebath (a large stainless bowl with cold water and a tray of ice) to stop the cooking.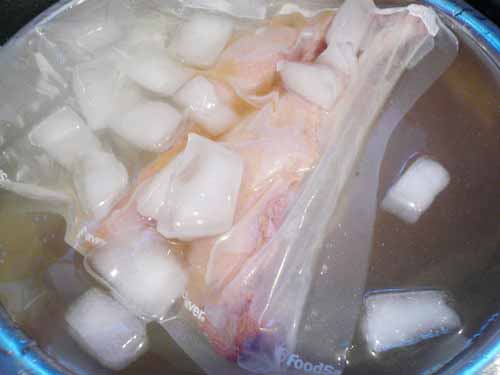 I saved the skin and roughly shredded the leg meat for the Goose Stuffing component recipe.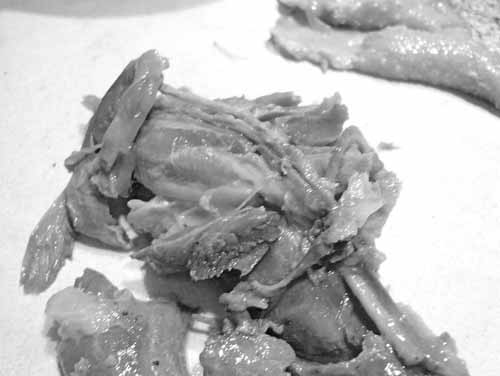 And reserved both to my prep area.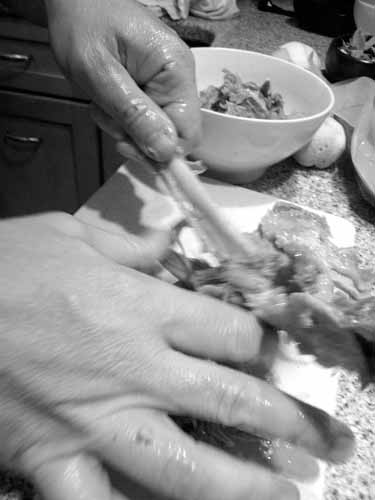 Cured Goose Breast (Continued)
After the goose breasts had cured overnight in the fridge, I removed them and rinsed them off, and patted dry with paper towels. I decided to see what the difference would be if I cooked one with the skin and one without. The result? I liked the skinless breast better. And I could have used the skin for the stuffing recipe.
At this point, I was seriously low on rendered goose fat. So I added some rendered duck fat to what remained. I had a tub of Hudson Valley duck fat on hand (which I think would be perfectly fine if everyone used instead of butter).
I sealed each breast in a bag with some of the rendered fat with my FoodSaver vacuum sealer, and reserved in my prep area.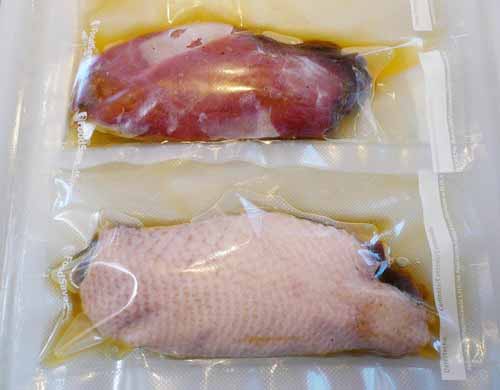 I brought a large stock pot with water to a simmer, and cooked the breasts en sous vide at 140ºF for about twenty minutes. Then removed to an icebath to stop the cooking. Then I put them in the freezer. They'll be easier to slice thin when frozen.
Later on that day, I took them out of the freezer, thawed them out a little bit, and thinly sliced (frozen) on my meat slicer.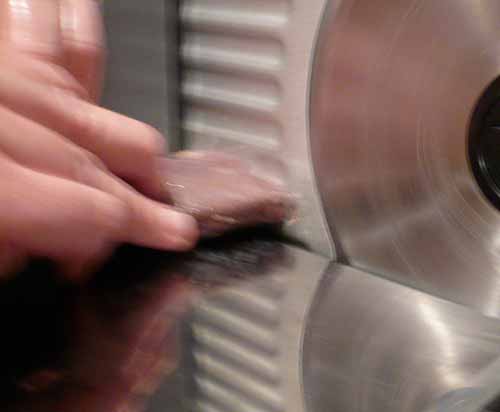 Laid the slices out on a plate to thaw. I overlapped five slices per serving, then rolled them up into "tubes". Each breast made four or five servings. Here's a picture of the various stages of the procedure.

Clockwise from left: loose slices, overlapped slices, and rolled.

Goose Stuffing
Lots of dicing in this recipe. a perfect chance to practice up on your knife skills. I got some nice fennel from Farmer's Market, choosing ones with long stalks and fronds.
I trimmed off the stalks and fronds from the bulb, reserving the latter for garnish. Halved and cored the bulbs. Then diced and reserved t to my prep area.
As for the leeks, the recipe says to use the white parts. I rinsed them off carefully, as leeks always seem to have some mud lodged in between their layers. Nothing worse that gritty leeks.
Then trimmed off the roots and green tops, halved and diced the remaining "white" parts. Then reserved to my prep area.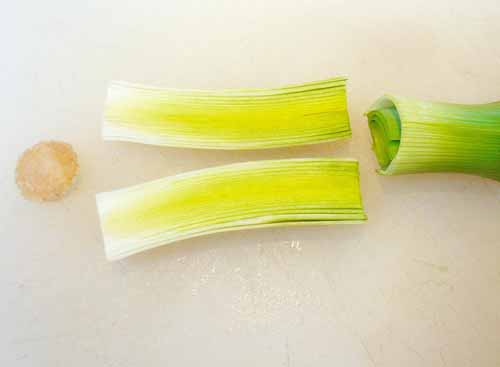 I toasted some celery seeds in a small cast iron skillet until they browned just a bit and released some oil. Then reserved to my prep area.
In a medium sauté pan, I combined the diced onion, fennel, celery, leek and garlic, and some rendered goose fat, over low heat. You don't want to brown them, just sweat them.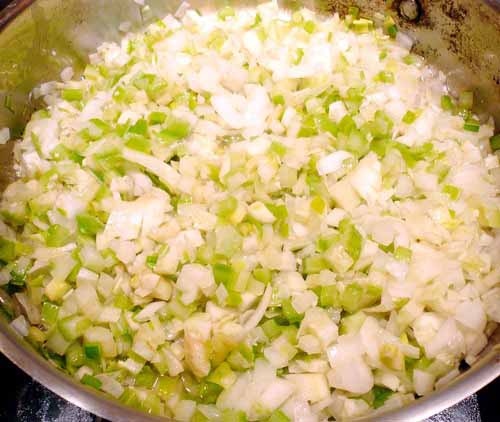 I combined the bread cubes, eggs, shredded goose meat, goose stock, toasted celery seed, orange zest, nutmeg, rendered goose fat, a touch of salt and pepper.
Then mixed by hand.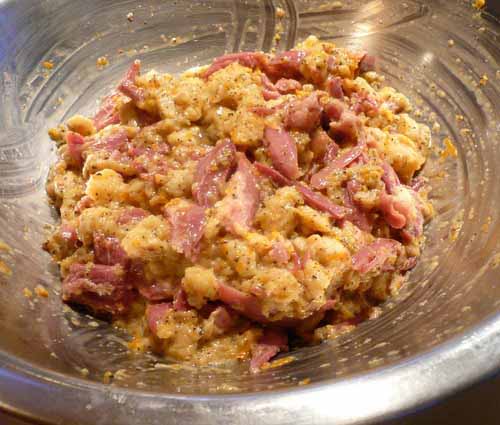 Then added the sauteed veggies. I mixed it all thoroughly and let rest for half an hour, until the bread cubes were moist.
I sprayed a 9 x 13 Pyrex baking pan with PAM, lining the bottom with a layer of the reserved goose skin. Like I said before, I wish I had saved ALL the skin for this, as what I had was not enough to line the entire pan.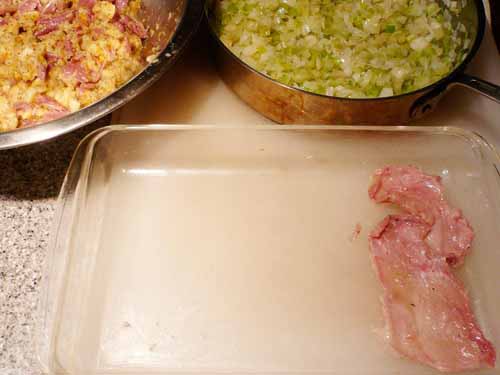 Then topped the skin with stuffing, covered with foil, and baked for 45 minutes at 375ºF.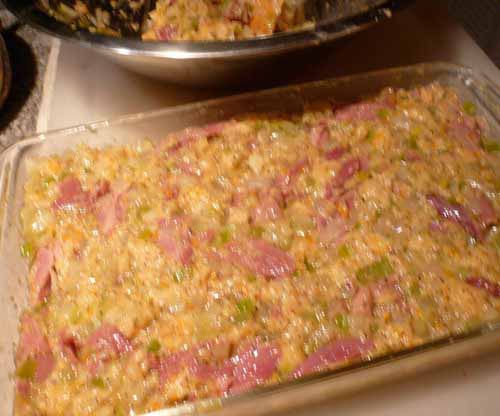 I removed from the oven and let cool. Damn, this smells good!
At this point in the recipe, it says to put a flat pan on top and weight it down, refrigerated, overnight. I understand they wanted to get a compressed block of stuffing, but I just wanted to eat it! And was trying to get the thing completed in a couple of days.
So I skipped this step! What a rebel.
Ingredients
Dried celery seed
Fresh Schaner Farms organic onions, diced, from Little Italy Mercato Farmers Market
Fresh fennel bulbs, diced
Fresh celery, diced
Fresh leeks, diced
Fresh garlic, minced
Reserved goose fat
Whole wheat bread, cubed
Eggs
Reserved goose stock
Clementine orange zest
Freshly grated nutmeg
Morton's kosher salt
Black pepper
Reserved goose leg meat
Reserved goose skin
Orange Sauce
The recipe says to cook the oranges, oil, sugar and salt en sous vide for three hours. But I wanted to eat! And my dinner guest was coming over sooner.
YIKES! Time's running out. I threw the ingredients in a pot, cooked gently (and tightly covered), until the orange quarters were very soft…
Then I blended in my Osterizer with some orange juice.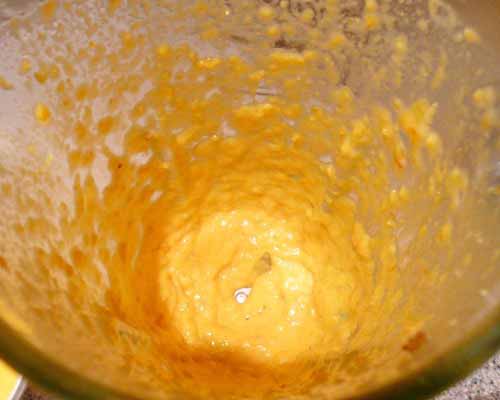 It was pretty smooth, so I didn't bother straining it through a chinois, but used a wire sieve. Then transferred to a plastic squeeze bottle and reserved to my prep area.
Whew, that saved some time. Later, I thought that I could have used my pressure cooker too.
Ingredients
Clementine oranges, quartered and seeded
Grape seed oil
C&H cane sugar
Morton's kosher salt
Freshly squeezed orange juice
Nutmeg Sauce
Interestingly enough, I spent a whole day making veal stock from scratch, another day making the goose stock from scratch — and for this dish, I'm only going to use a few spoonfuls.
Ahhh, the things I do for this project.
On the other hand, once you have all your ingredients, this sauce is a snap! "Couldn't be simpler…"
I ground up the whole nutmegs in my spice grinder (but I think I could have easily used powdered instead).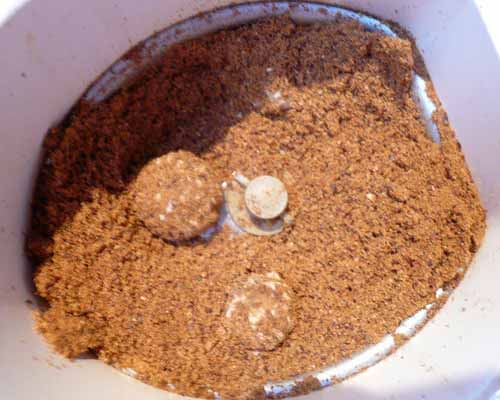 I simmered the stocks in a small pan until they had reduced by half, added the nutmeg and removed from the heat to steep for about half an hour.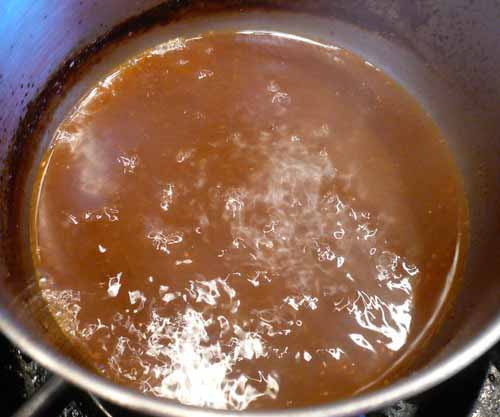 After it had cooled, I strained and reserved the nutmeg sauce to my prep area. This recipe yielded just a couple of tablespoons of sauce, but its flavor was intense and very good. It would be good on a lot of things…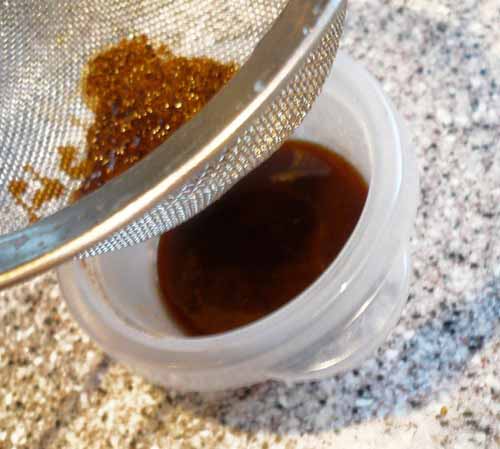 Ingredients
Reserved veal stock
Reserved goose stock
Freshly grated nutmeg
Foie Gras
The day before, I bought some frozen Hudson Valley foie gras at Iowa Meat Farms (6041 Mission Gorge Road, San Diego, CA 92120, 619-281-5766) and had thawed it in the refrigerator.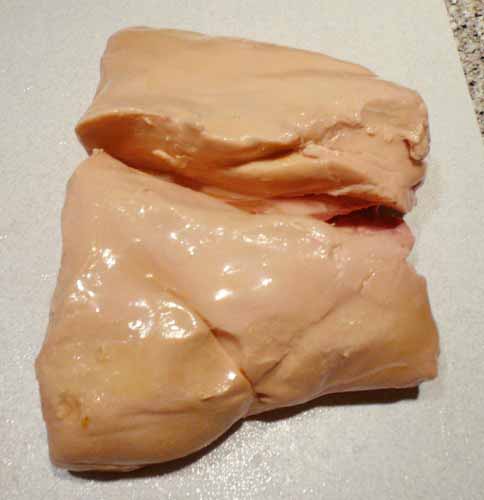 (If you object to duck liver foie gras, you could substitute chicken liver. One of my favorite recipes is Michel Richard's "faux gras" from his Happy in the Kitchen cookbook, a playful take on foie made with chicken liver instead. Just delicious…)
I cut some up in one-inch cubes, and criss-crossed the surfaces with a paring knife for a "pineapple" cut. I really think, after all was said and done, that scoring just one side (the top) would have been better, as the cubes kinda fell apart when heated up.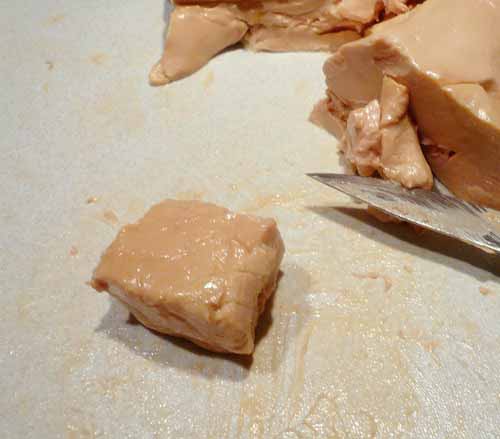 Then reserved them on a plate, covered with a wet — oh damn, I'm out of paper towels — cocktail napkin from the Red Fox Room…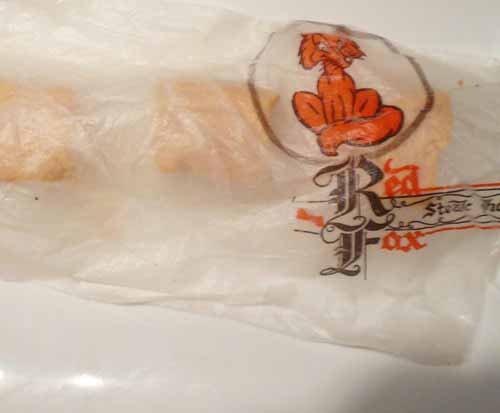 Ingredients
Hudson Valley foie gras, from Iowa Meat Farms
Blood Orange Segments
First I zested the blood oranges I had bought at Little Italy Mercato, trying to get the longest pieces I could. Then peeled them as thoroughly as I could. I reserved the zests for the aroma bowls.
Then I took a small paring knife and removed the orange segments (or suprémes) from in between their individual membranes. And reserved to my prep area.
Ingredients
Blood orange, from Little Italy Mercato Farmers Market
Sage Leaves
I tried to find the same kind of variegated sage that's pictured in the cookbook. Walter Anderson Nursery (3642 Enterprise Street, San Diego, CA 92110, 619-224-8271) didn't have exactly those anymore, so I got what they had. And picked a few of the prettier leaves off the plants, rinsed and reserved to my prep area.
Ingredients
Fresh variegated sage, from Walter Anderson Nursery
Fennel Fronds
These I had saved from the fennel bulbs, and had them on hand in my prep area already.
Ingredients
Fresh fennel or anise

Aroma
In a stainless bowl, I combined the spices, orange zests, sage and a little reserved goose fat. Then filled some small black ceramic bowls, leaving enough room so I could nest a baking-hot river rock in each.
The bowls I had bought at Marukai Marketplace (8151 Balboa Avenue, San Diego, CA 92111, 858-384-0248), a Japanese specialty store here in San Diego that sells everything, including very inexpensive serveware.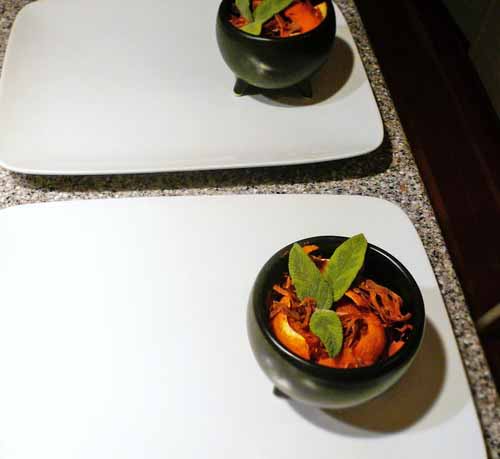 Ingredients
Whole dried nutmeg, crushed
Whole dried blade mace, from Terra Spice
Reserved blood orange zests, in long strips
Fresh variegated sage leaves
Reserved goose fat
To Assemble and Serve
I wiped some river rocks with goose fat, put them in a cast iron skillet and heated them up in a hot oven for an hour before serving. These will be dropped in the aroma bowls and cover covered with aromatics, so they act as an "incense" of sorts.
Assembling this dish for service requires two people. You have to sauté the foie, sweet potatoes and turnips at the same time as retrieving the hot rocks. So inviting guests over has to be an interactive, "working" dinner. Put 'em to work, I say!
I cut up some of the warm stuffing and placed blocks of it skin-side up on the plates. Topped with the rolled duck breast. Got the aroma bowls ready.
We sautéed the foie gras cubes (just to warm up and sear a bit) in some of the rendered goose fat, then drained on paper towels in the prep area.
We heated up the sweet potato and turnip confit segments in some rendered goose fat, then drained on paper towels in the prep area.
Once those were done, we were ready to assemble. Mise en place.

On each stuffing-block I placed one piece each of the turnip confit and the sweet potato confit to the left, then a foie gras cube topped with some Maldon sea salt, a blood orange segment, and to the right, a duck breast roll. Then garnished with small sage leaves and fennel fronds.
We pulled the rocks out of the oven…
And placed in the aroma bowls. I used a brulée torch to light em up a bit.
Added some nutmeg and orange sauces at the last minute, and we were ready to eat!
Ingredients
Reserved goose fat
River rocks
maldon sea salt
Equipment
Salter digital scale
Measuring bowls
Cutting board and kitchen knife
Paring knife
Large stock pots
Wooden spoon, rubber spatulas
Chinois, strainers and sieve
Spoon or small strainer for skimming
Small bowls
Sauté pans
Skillet
Blender
Stainless steel bowls
Spice Grinder
Paper towels and sheet trays
Plastic containers
Plastic squeeze bottle
Serveware
Square plates
Small ceramic "cauldrons," from Marukai Marketplace
Yields: way more than 8 servings. With a half baking dish of leftover Goose Stuffing, a quart of Veal Stock, and at least two quarts of Goose Stock, which you can freeze in plastic containers and use for up to several months. There was also a small squeeze bottle of orange sauce left over, which I later served with some banana bread pudding.
Next, OCTOPUS, Eggplant, Beans, Soy