Recipe for DRY SHOT, Red Pepper, Garlic, Oregano, Alinea Cook Book pages 157-158.
This is like a pizza-in-an-envelope! It's got almost all your basic pizza ingredients (minus the cheese). So I decided to 'accessorize' by adding sun-dried tomato powder and Parmesan cheese to the bread croutons. Just for good measure.
The taste? It was good, like a pizza!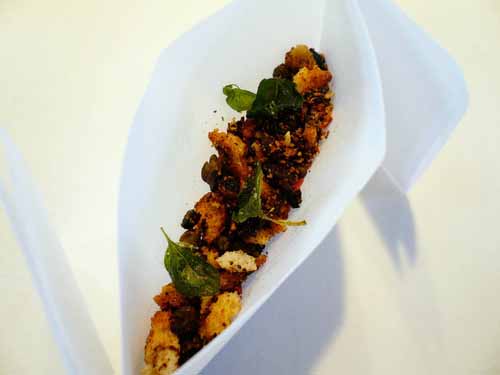 Dried Red Bell Peppers
I cut the ends off a large red bell pepper, removed the seeds, and trimmed into large pieces.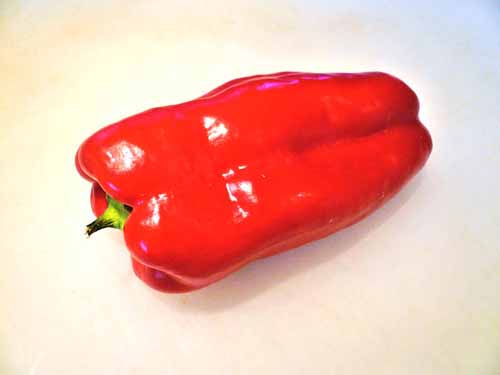 I removed the pith from the insides and the skin from the outsides.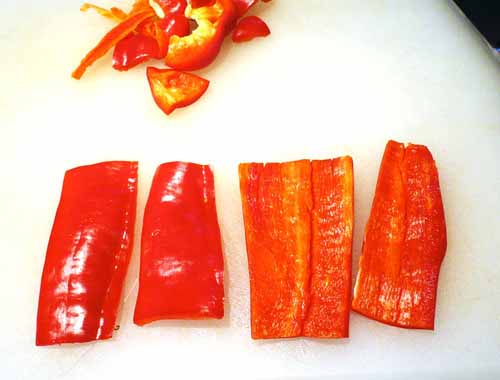 Then I trimmed into thin strips, and dehydrated at 155ºF for about 4 hours hours, until they were crispy.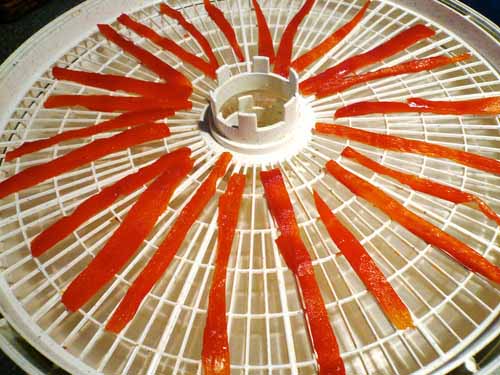 Using a mortar and pestle, I roughly crushed the pepper strips into a coarse powder.
I reserved the pepper powder to my prep area.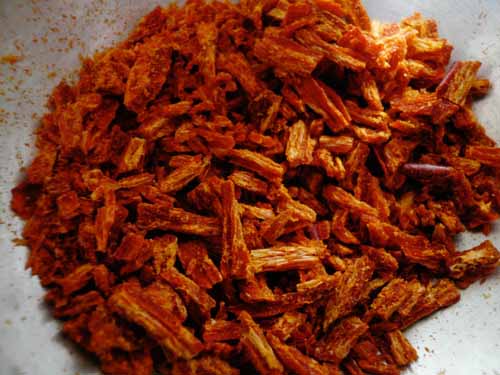 Ingredient
Fresh red bell pepper, from Henry's Farmers Market
Dried Niçiose Olive
I bought some niçoise (nee-SWAHZ) olives at my local Henry's Farmers Market. Rinsed them several times in cold water, drained and then patted them dry(ish).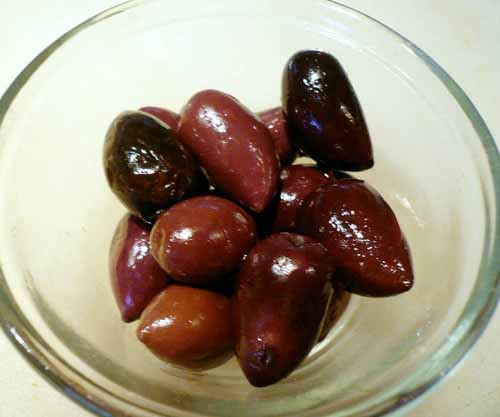 With a small knife I pitted them, cutting them in halves, and placed on a tray in my dehydrator.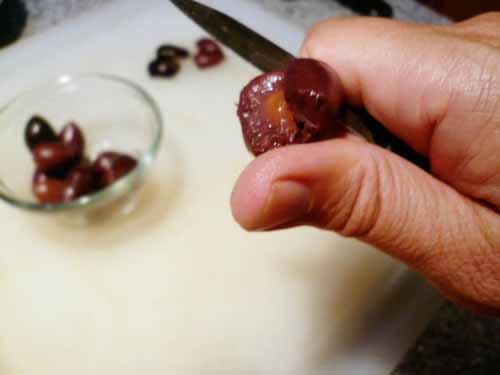 Dehydrated at 125ºF overnight, until crunchy. If you buy your olives from one of those "olive bars" in the finer grocery stores, try one before you buy. Don't assume they're great just because they're out there in the bar. Also, I think they were Kalamata, not Niçoise, olives. Niçoise are more sour, and Kalamata are saltier. When you're dehydrating them, the olives' flavor will intensify — including the salt.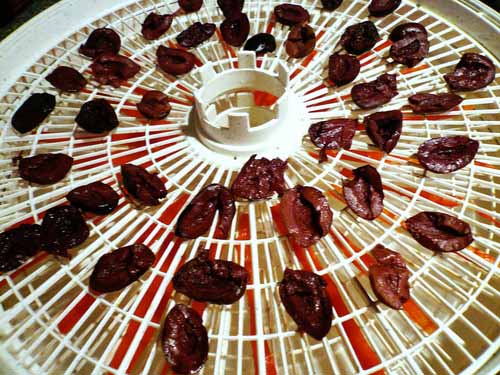 Ingredient
Niçoise olives, from Henry's Farmers Market
Dried Garlic Chips
I peeled a large head of elephant garlic (Allium ampeloprasum). It's an extremely large, milder flavored garlic, found easily in most supermarkets now. Then I measured out some skim milk.
Some terms, a garlic head (the bulb of the plant) contains cloves. The scapes (shooters or stems) of the plant can be pickled and eaten. The flowers can be eaten too.
Using a mandolin, I sliced the cloves on as thin slices as I could, then soaked in a bowl of skim milk.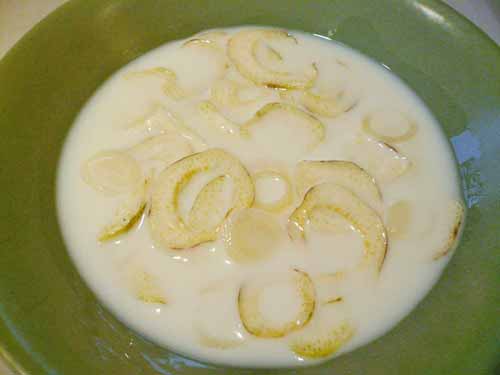 Why soak garlic in milk? It removes the strong acids thus keeping the garlic flavor, but not the heat. This being an Alinea Restaurant recipe, we're not done yet. Taking this a step further, let's extract as much of the heat out of the garlic as we can.
I added some more skim milk and the garlic slices to a small saucepan and brought to a boil, then strained.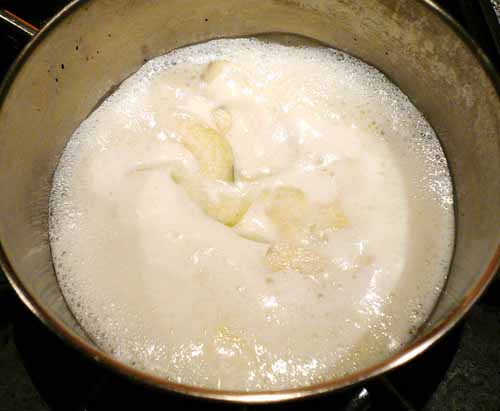 Boil. Strain. Repeat.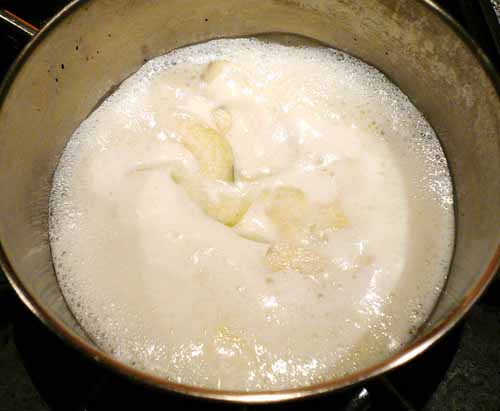 I put them on a tray in the dehydrator at 125ºF for about 3 hours, until they crisped up. Then reserved to a covered plastic container in my prep area.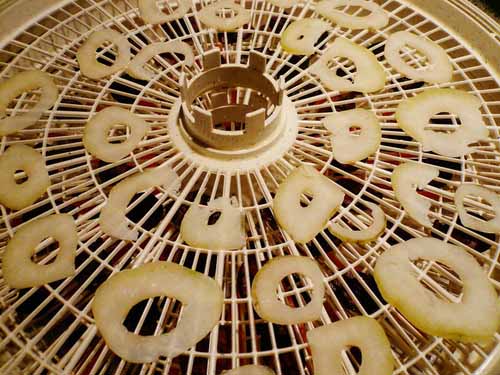 Ingredients
Head elephant garlic, from Henry's Farmers Market
Organic Valley skim milk, from Whole Foods
Diamond Crystal kosher salt
A NOTE ON DEHYDRATING:
You can dry out the bell pepper, oregano leaves, garlic chips — and optionally — the capers, in your dehydrator at the same temp for the same amount of time. The olives will take about 10-12 hours, so that kinda makes this a two-day recipe…
Toasted Bread Crumbs
In the Alinea cook book, this recipe calls this component "toasted bread crumbs." I was thinking more along the lines of a tastier crouton, so I added some Parmesan cheese and tomato.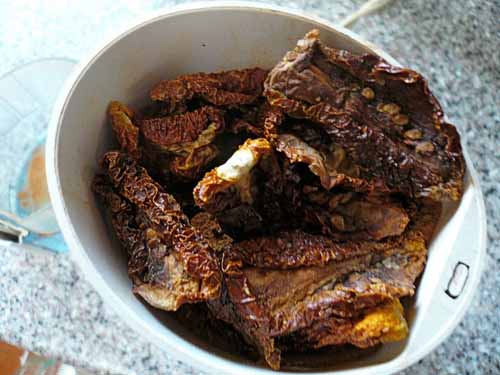 For the tomato powder, I ground up some sun-dried tomatoes in a spice grinder.
I took several pieces of white bread, trimmed off the crusts, and cut up into small squares. Then tossed in a glass bowl with the olive oil, salt, pepper, tomato powder and cheese.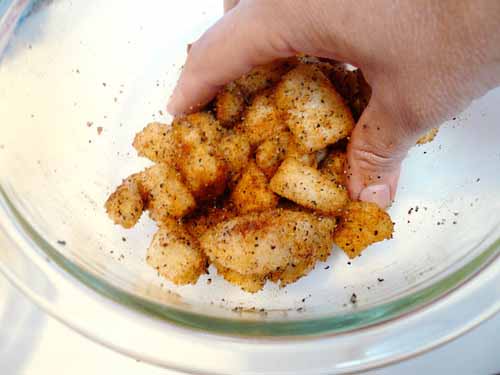 Spread out on a cookie sheet and baked for about 45 minutes in a 300ºF oven, until nice and toasty.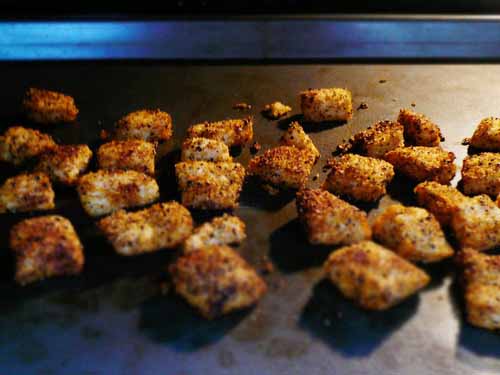 I removed them from the oven, let cool, then roughly crushed them up. Reserved to a covered plastic container in my prep area.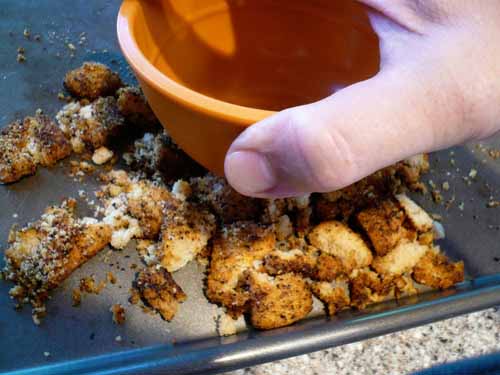 Ingredients
Wonder white bread, from Albertson's
STAR Brand virgin olive oil, from Albertson's
Diamond Crystal kosher salt
Ground black pepper
Optional
Sun-dried tomatoes, from Albertson's
Kraft Parmesan cheese, from Albertson's
I rinsed, drained and dried some bottled capers.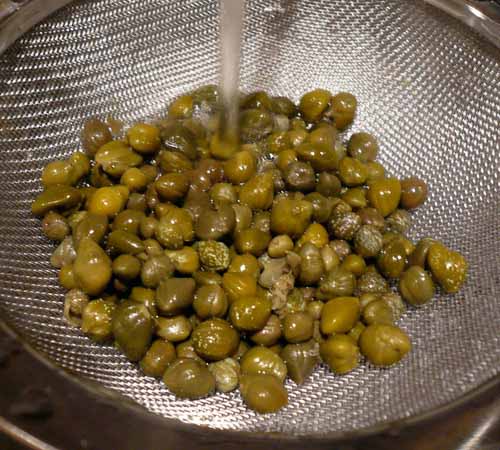 Then fried in hot (about 375-400ºF) canola oil. Beware, they'll pop if still too damp.
Fished them out with a small sieve.
I drained them on several layers of paper towels, and reserved in an airtight plastic container. NOTE: they don't keep! The remaining oil in them softens them up. They don't stay "crispy" overnight. So prepare just before service. Or throw them in an oven or dehydrator to dry out again (like the oregano leaves).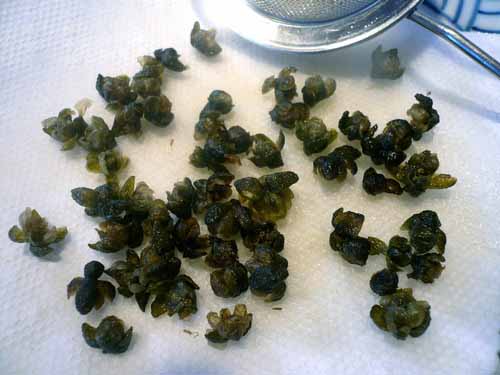 Ingredients
Pot of canola oil for frying
STAR brand capers, rinsed, drained and dried, from Albertson's
Fried Oregano Leaves
I have several types of herbs in my garden, including common oregano (Origanum vulgare). So I picked some leaves off the plant, brought them in, rinsed, and patted dry.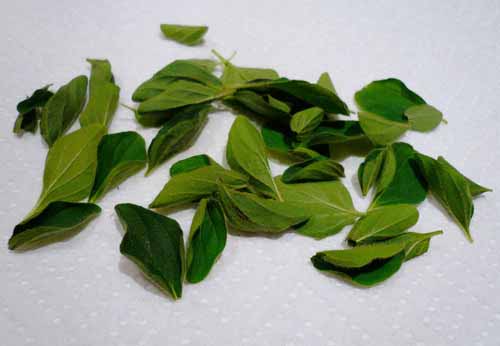 First I got a pot of canola oil (too) hot, about 400ºF and tried frying the leaves. Used the same pot of oil I'd used for the capers, and thought nothing of turning down the heat. Oops. They singed up brown and black in no time. Didn't even taste like oregano after that incineration.
Bad Marty.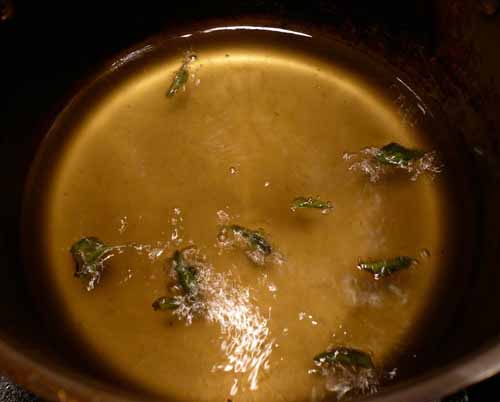 So I got out the digital thermometer and actually used it this time, lowering the heat to 300ºF as is specified in the book. And tried again. They fried up more slowly, retaining their color. I wasn't sure if they crisped up, because their color was so bright. But they did.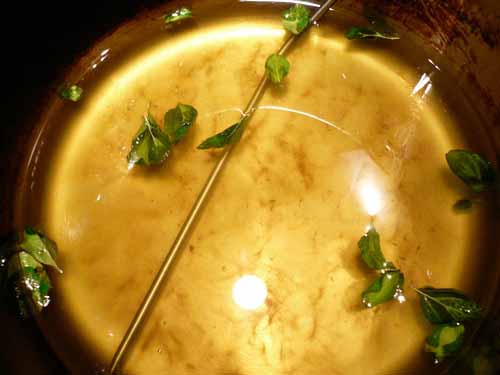 Removed to drain on several layers of paper towels, and hit 'em with a little kosher salt.
After that, I put them on a layer of paper towels in the dehydrator at 125ºF for about three hours. You do this to dry out the oil. It crisps them up quite a bit. Random fun fact: Did you know that oregano is a member of the mint family?
Ingredients
Fresh oregano leaves, from my garden
Canola oil for frying
To Assemble and Serve
Mise en place: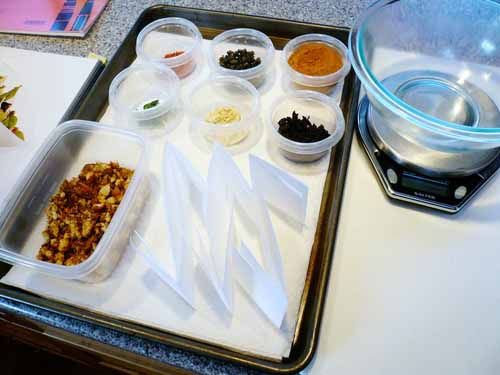 In a glass bowl, I mixed the bread crumbs, olives, fried capers, bell pepper. Since my garlic chips were crumbling, I decided to add them to the mix at this point, rather than later.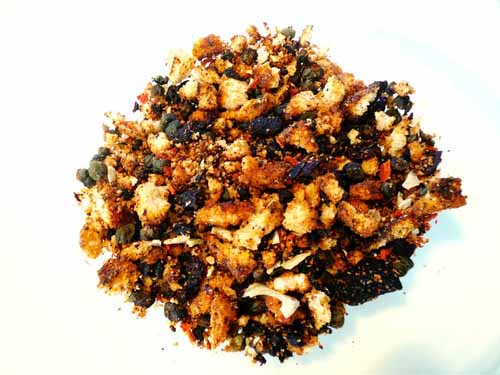 I portioned the mix out into some Custom vellum envelopes I had made to recreate those in the Alinea Cookbook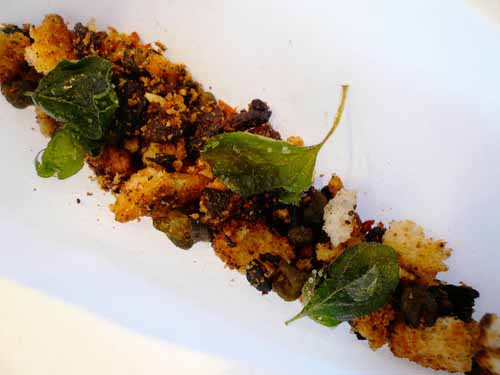 Then added a few fried oregano leaves to each. And there you have it: pizza in an envelope!
Equipment
Salter digital scale
Cutting board and kitchen knife
Measuring bowls
Glass bowl
Dehydrator
Mortar and pestle
Sheet pan
Lots of paper towels
Strainer or sieve
Digital thermometer
Plastic containers
Serveware
Custom vellum envelopes
Yields: 12 servings easy