Recipe, pages 100-101.
This dish is a deconstructed, modern take on the classic side dish, asparagus with Hollandaise sauce. It uses all the main elements: asparagus, lemon, egg yolks and butter. And the technique of spherification, making solid or semi-solid spheres from liquids.
What it does not call out is black pepper. Not a speck. None in the recipe, nor in the book's photos. I looked online and also in the Alinea Mosaic forum to no avail.
Wait. Yes there is. Look closely in the inset photo on page 100. A sprinkle of black pepper!
Let's just pretend this version is peppery and delicious too…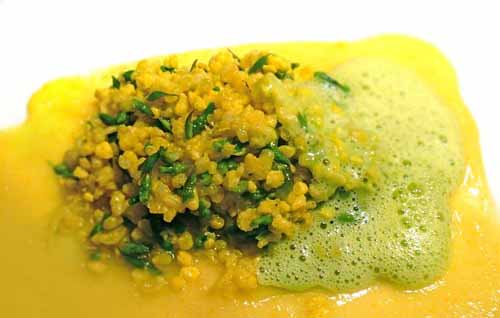 When I worked in restaurants (way back in the day — late '70s, early '80s), whipping up a two-dozen egg batch of Hollandaise sauce was one of my nightly duties. As a natural result, I came to appreciate making sauces from scratch, from pure ingredients. None of that god-awful powdered sauce mix for us. It was verbotten in the kitchen. As well as it still should be today. And always.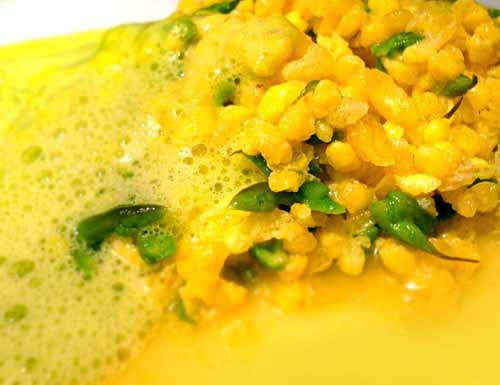 Asparagus
Muscatine, Iowa. That's where my great grandfather first settled after he "came over" from Ireland. It's also, it so happens, a great area for growing asparagus. My grandfather used to say "it was so hot there, you could see the asparagus grow." I dunno. Doesn't sound very exciting to me, I'm not a farmer.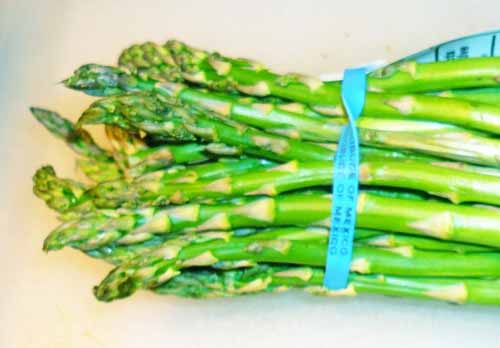 But I do like asparagus. So I took a bunch and cut off fibrous ends, then the spears, or tips, and reserved.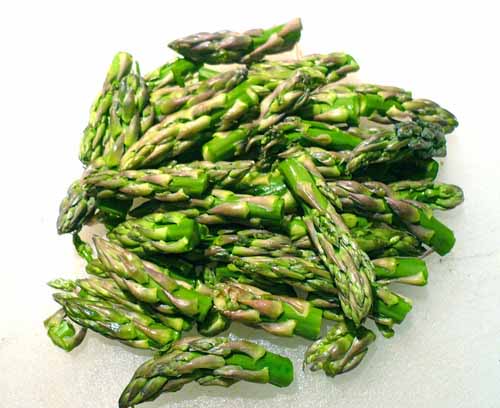 Roughly cut up the stalks and reserved them separately.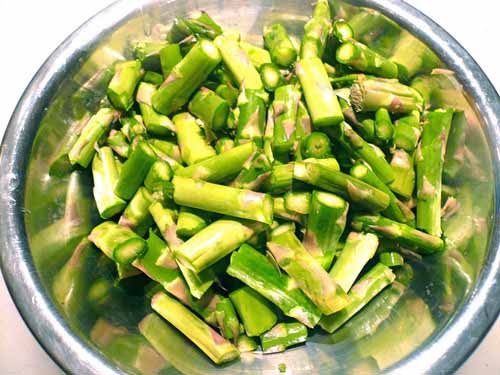 Then took a bunch of the tips and carefully removed the buds, and reserved separately.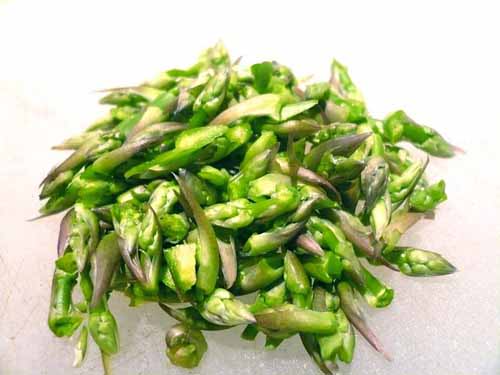 Added the salt to a large pot of water and heated it to a boil for my big pot blanching, as Chef Thomas Keller calls it. I always add salt to the water when blanching green veggies. Also got a stainless bowl of ice water ready. Plunging your blanched veggies in ice water (or, "shocking" them) of course stops the cooking process, but also brightens up their green color and ensures their crispness. To learn more, read this in-depth article on blanching.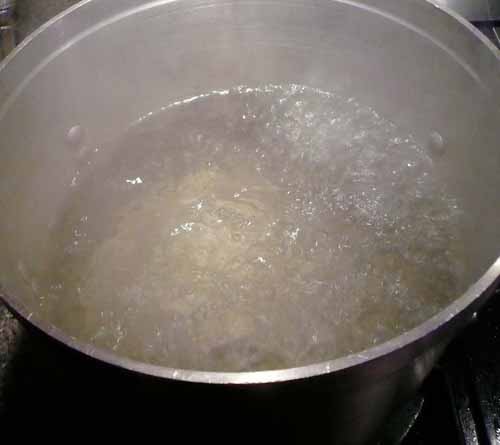 I blanched the buds until they turned bright green, then shocked then in the ice water bath, and reserved. Use a small sieve and dunk it in the boiling water.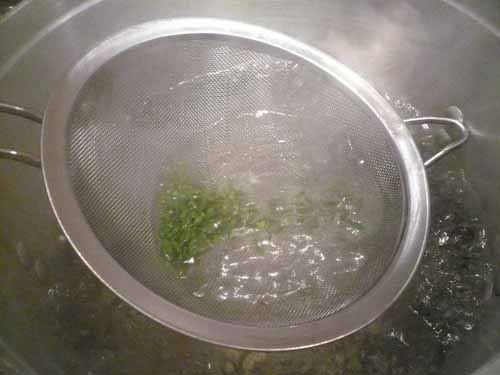 Recipe says for about ten seconds, but I let em go a little longer.
They should look like this: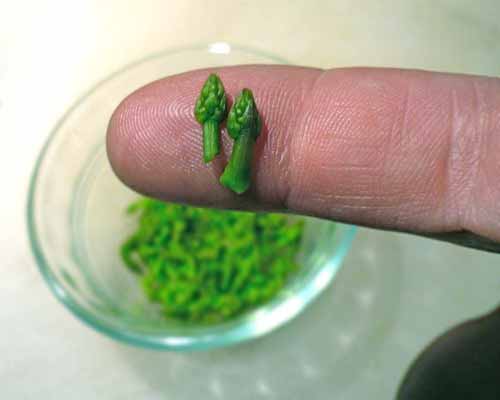 Then blanched the remaining spears and stalks for a minute or so, until they brightened up, and cooled in the ice water, just as I did with the buds. We'll use these later for the asparagus bubbles.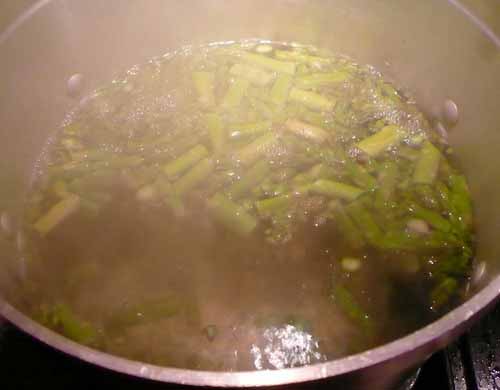 Ingredients
Fresh green asparagus spears, from Little Italy Farmer's Market
Pot of boiling water
Diamond Crystal kosher salt
Asparagus Bubbles
I juiced the reserved asparagus in my Breville juicer.
I strained the juice through a chinois, and added soy lecithin and a bit of salt.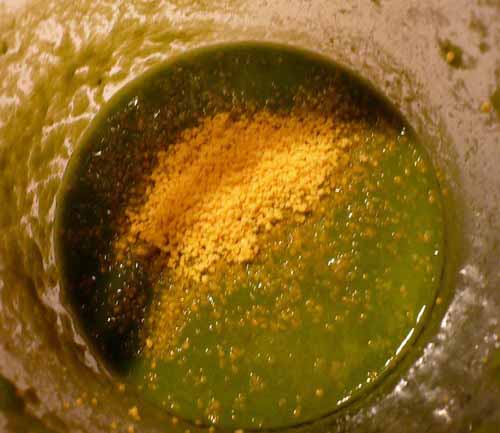 Then blended the hell out of it with a Cuisinart immersion blender. I dunno, I couldn't get this to froth up too much. I haven't had that much luck with soy lecithin. I think I must experiment more. I moped, then reserved to my prep area.
Ingredients
Reserved blanched asparagus spears and stalks
Soy lecithin
Diamond Crystal kosher salt
Meyer Lemon Purée
Meyer lemons are sweeter than many other types, so blending them skin-and-all won't make the final purée too bitter. The peel's what helps thicken it up. If you are going to use regular lemons, I'd peel some of them first, then add the peel to taste, as you are blending…
I cut up and seeded the Meyer lemons, removing a bit of the stringy segments (not much).
The I puréed them with the simple syrup and a pinch of salt in the blender. I used some simple syrup I had made myself.
I blended them until they were very smooth, then strained into a bowl.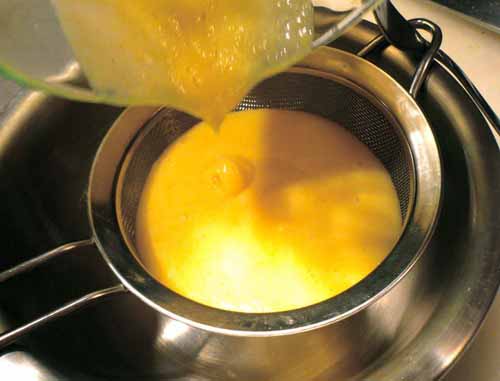 That way easy.
Ingredients
Fresh Meyer lemons, from our tree
Simple syrup
Diamond Crystal kosher salt
Egg Yolk Drops
First of all, you'll need some clarified butter. Butter and eggs. Great combo. My favorite way to cook an egg I learned from Marco Pierre White's Devil in the Kitchen.
I beat the eggs with a touch of salt in a stainless bowl, strained, and transferred to a squeeze bottle.
You could also use a large syringe, or if you're making a bunch of the stuff, you could use this fancy contraption.
I heated the butter up to 170ºC. Make sure it doesn't get too hot, otherwise it will start to brown. I squeezed the egg yolks a drop at a time into the hot clarified butter.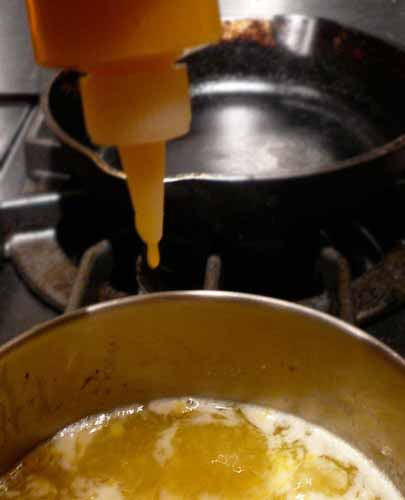 They sink, then float to the top as they cook.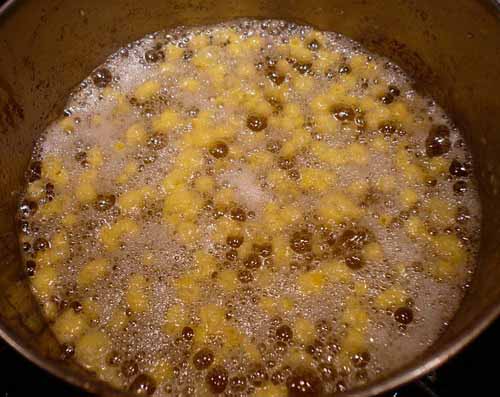 I skimmed the done ones off the top and let drain on a layer of paper towels.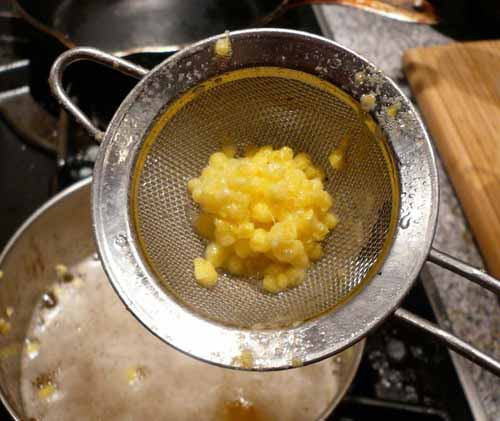 And repeated until I had enough. This is so simple, and it's fun too!
Ingredients
Cage-free chicken egg yolks
Challenge unsalted butter, clarified
Lemon Vinaigrette
Mise en place: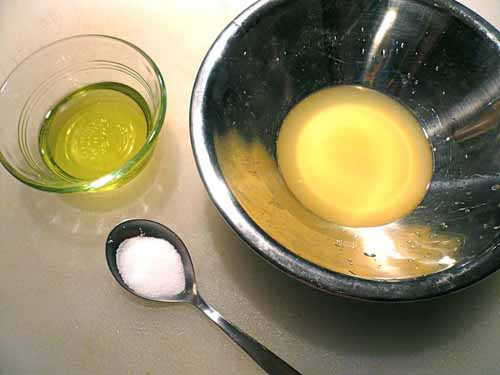 I juiced some Meyer lemons and whisked together in a stainless bowl with the sugar, salt and grape seed oil. Then reserved to my prep area.
Ingredients
Meyer lemon juice
La Tourangelle Chilean grape seed oil, from Whole Foods
Diamond Crystal kosher salt
365 Organic cane sugar, from Whole Foods
To Assemble and Serve
Mise en place: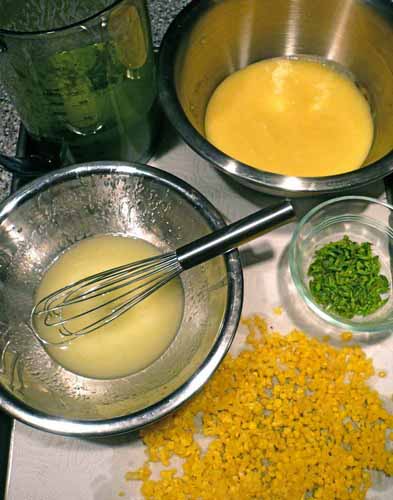 Clockwise from top left: Asparagus bubbles, lemon purée, asparagus buds, egg yolk drops, lemon vinaigrette.
To assemble, I added the yolk drops and asparagus buds to a stainless bowl with the Meyer lemon vinaigrette and combined.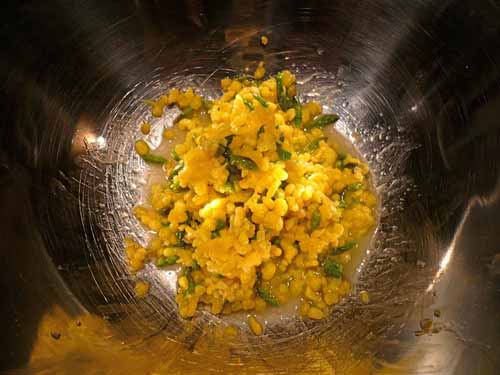 On a big square plate I spread out a swath of lemon purée. Then piled up a mound of the asparagus-yolk-drop salad on top. Frothed up the asparagus bubbles and spooned some on the side. And away we go!
The final dish I thought was pretty darn good. Not as rich and creamy as the standard Hollandaise dish, but lighter and more refreshing. It was easy to prepare, nothing went wrong, and we found that we could easily eat a lot.
Just don't forget the pepper!
Equipment
Salter digital scale
Measuring bowls
Kitchen knife and cutting board
Breville juicer
Osterizer blender
Stainless bowls
Glass bowl
Medium saucepan
Wire whisks
Plastic containers
Cuisinart immersion blender
Plastic squeeze bottles
Serveware
BIA 13″ square platter, from Great News!
Yields: 8 tiny servings, or one large family-style serving (that's what I'm talkin' bout!)