Based on the recipe from pages 90-91.
I had a bunch of stuff left over from the last recipe, RASPBERRY, Goat's Milk, Red Pepper Taffy, Pistachio, so I decided to do a dinner entrée and a salad with it, instead of more desert.
Alt Version 1
What goes well with raspberries? Pork of course.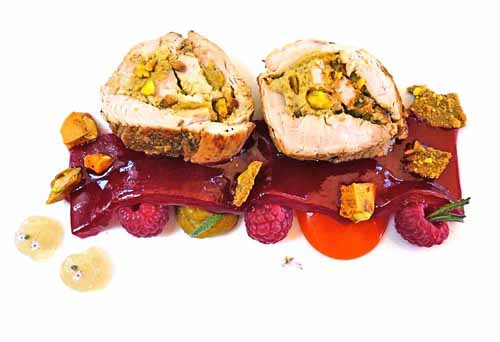 Pork tenderloin stuffed with pistachio purée, rolled, tied and encrusted with lavender salt. Accompanied with red pepper taffy, pistachio and lavender.
Pork Tenderloin
I trimmed a pork tenderloin into a sheet, so I could stuff it and roll up.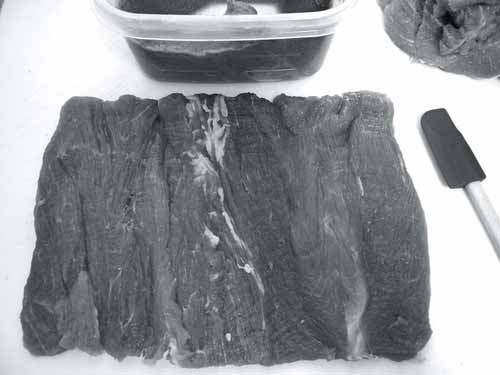 Then applied a generous layer of the remaining pistachio purée.
I rolled it up carefully, but not so tightly as to squeeze out the purée.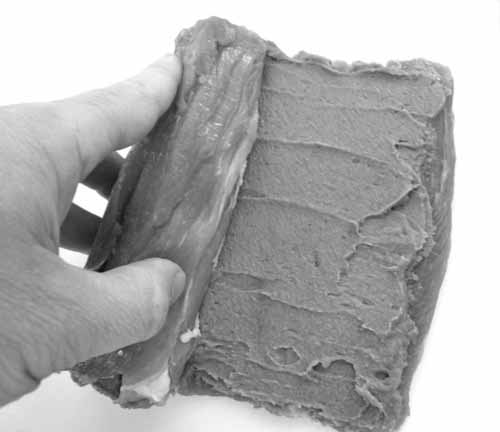 Then tied with kitchen string.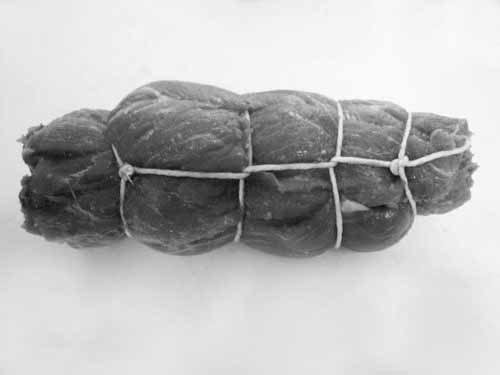 Generously encrusted the tenderloin with lavender salt and some leftover lavender flowers.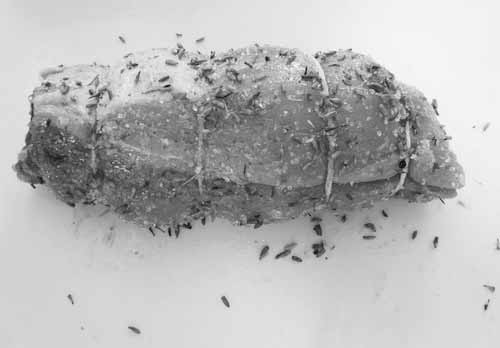 Seared in a pan, then roasted in the oven. I should have paid more attention to the ends when tying. As it cooked, I got pistachio gushers on the ends.
Ingredients
Pork tenderoin, from Iowa Meat Farms
Salt Sensations lavender sea salt, from Iowa Meat Farms
Pistachio purée
To Assemble and Serve
Sliced up and served on top of a remaining raspberry sheet.
I plated as described in RASPBERRY, Goat's Milk, Red Pepper Taffy, Pistachio.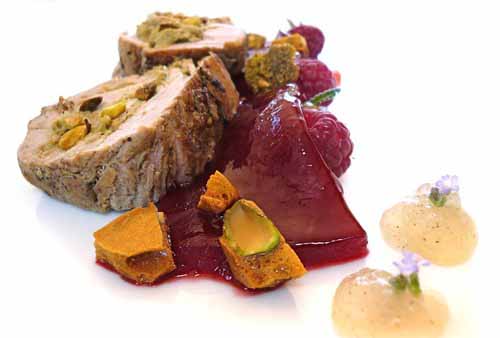 Except as a base, I used just the lavender pudding and bell pepper taffy. No goat milk pudding or tapioca.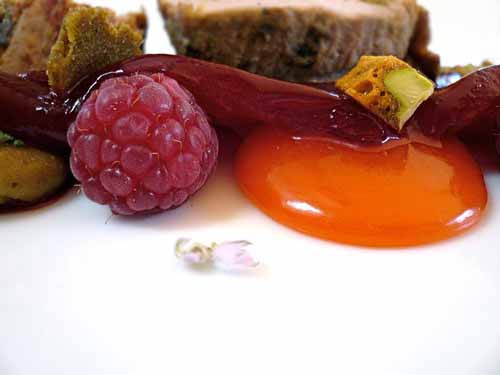 Ingredients
Pistachio purée
Bell pepper taffy
Lavender pudding
Fresh lavender flowers, from the garden
Raspberry sheets
Pistachio chips
Pistachio brittle
Alt Version 2
Watercress salad with roasted walnuts, basil oil and raspberry sheet.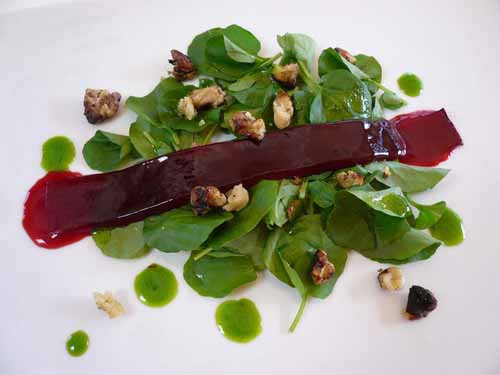 Roasted Walnuts
Based on techniques in BISON, Cranberry, Persimmon, Juniper Branch Aroma, I roasted some shelled walnut meat. Coated the walnuts with a little walnut oil and toasted until they released their aroma. Then removed, let cool and slightly crushed. Reserved for plating.
Ingredients
Shelled walnuts
Walnut oil
Basil Oil
I used Thomas Keller's herb oil technique from The French Laundry Cookbook to make this oil.
Ingredients
Fresh organic basil, from Little Italy Farmers Market
Grape seed oil
To Assemble and Serve
I arranged some fresh watercress on a plate, drizzled with the basil oil and crushed walnuts. Then topped with a remaining raspberry sheet. Pretty yummy. I used what I had on-hand, with the leftovers from the Raspberry dish. Perhaps a bit of cheese would have been nice on this too…
Ingredients
Fresh watercress, from Little Italy Farmers Market
Raspberry sheet
Roasted walnuts
Basil oil
Next, OYSTER, Ginger, Steelhead Roe, Beer