Recipe, pages 82-83.
Ahh, spring is here! And a whole 'nother chapter in da cookbook…
Is it a tostada, or queso fundido? Sorta both. Kinda great. It's got the elements of a taco, with Spanish ingredients, deconstructed. I made this with my kids the other night as specified in the Alinea Restaurant cookbook.
Then I made it a little more in the Mexican tradition, on fresh corn tortillas with a little roasted serrano chilis and cilantro.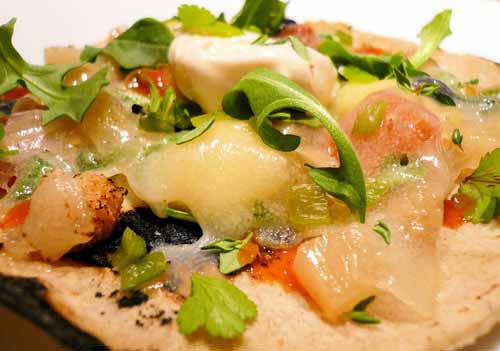 She made one with lots of the sweet olive oil pudding, which turned out to be more of a treat than a meal. But yes, yummy.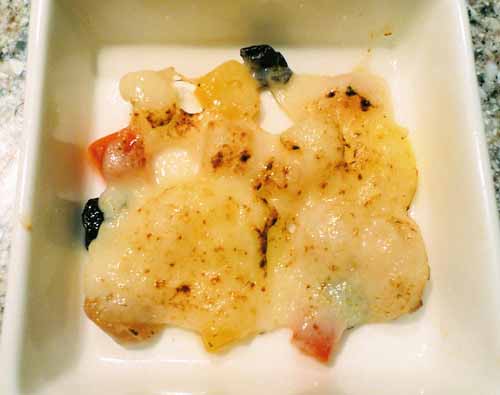 Seems as though almost any variation is good. I enthusiastically suggest that you try your own versions! And let me know what you did….
Olive Oil Pudding
Mise en place: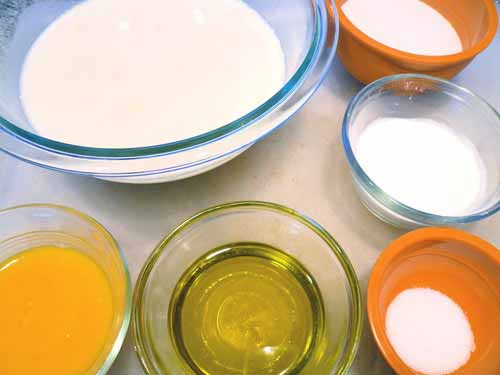 First, I brought a saucepan of the milk to a boil over medium heat, then removed to my prep area.
In a stainless bowl I whisked together the egg yolks, sugar, cornstarch, and a touch of salt.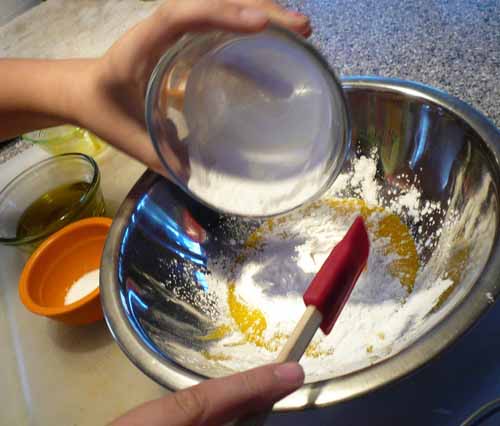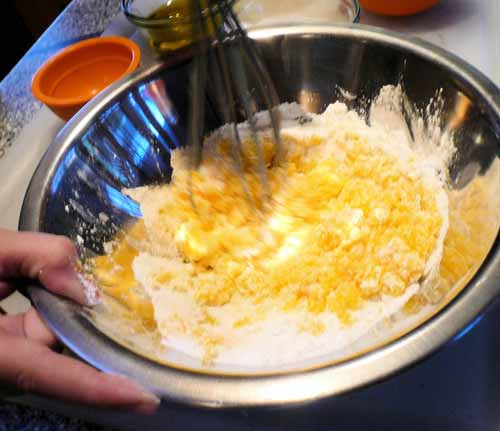 Then slowly whisked in half the milk to temper the eggs. SLOWLY. You don't want to cook them, just start thickening them. For these kinds of sauces (custards, hollandaise, bernaise), I wet a towel and put it under the stainless bowl so it stays put while whisking. Sooo much easier.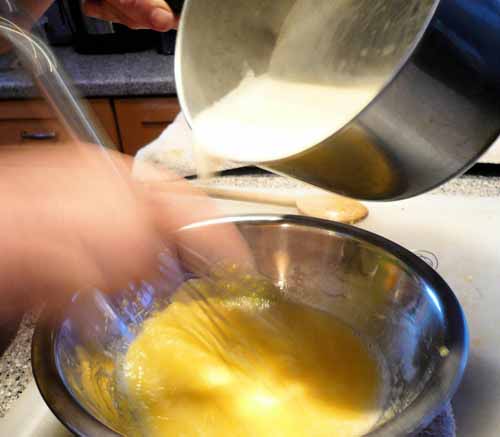 Now, I added that back into the remaining milk in the saucepan, and brought to a simmer to thicken. Remember to whisk! The trick is to not let it cook too fast, burn or stick to the pan.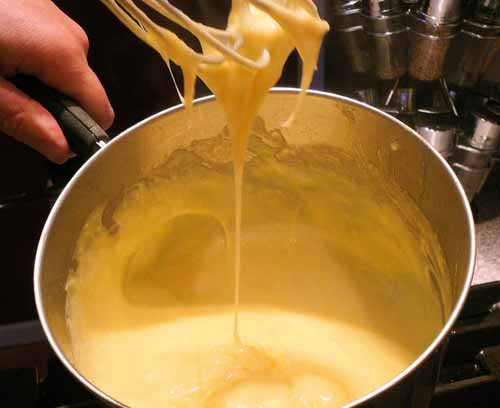 Then I whisked in the olive oil, as it drizzled in slowly.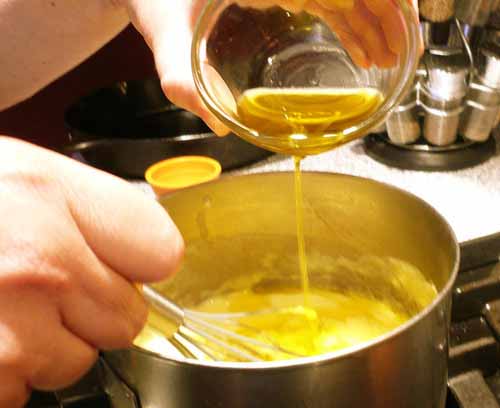 After its all incorporated, you can strain and put into an ice bath to rapidly cool. This stops the cooking of the egg and cornstarch, thus stopping the thickening process of the pudding.
I put the pudding in a plastic container (rather than a squeeze bottle) and reserved to my prep area.
This recipe makes a large batch, and I had a buttload left over. In what else can I use the olive oil pudding?
Ingredients:
Straus Family Creamery organic whole milk, from Whole Foods
Cage-free chicken egg yolks, from Whole Foods
C&H cane sugar
Cornstarch
Diamond Crystal kosher salt
STAR extra virgin olive oil
Roasted Garlic
When I roast garlic, I usually just cut the top of the head off, then drizzle with olive oil. Wrap up in aluminum foil and throw in an oven until it browns a bit. I like it carmelized.
Mise en place. (Note that Ferran Adria has now officially sold out by hawking STAR brand olive oil. Next thing you know Tony Bourdain will be judging Top Chef, or something.)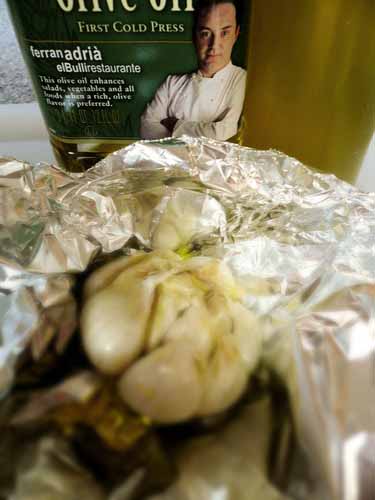 Ingredients:
Head fresh garlic, from Whole Foods
STAR extra virgin olive oil
Croutons
I cut up a piece of sourdough bread into quarter-inch dice and baked in the oven next to the garlic. Removed when golden, and reserved to my prep area.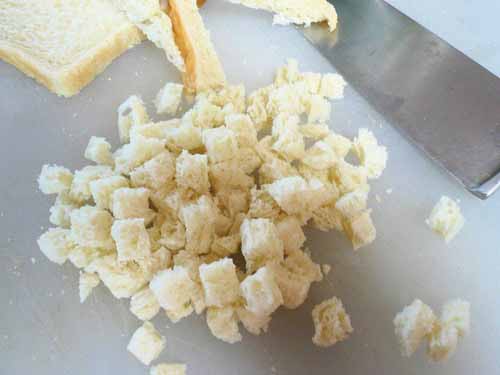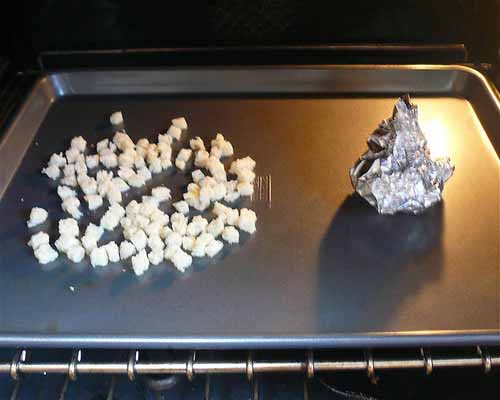 Ingredient
Sourdough bread, from Bread & Cie
Roasted Red and Yellow Bell Peppers
I rubbed the peppers with a little olive oil, then roasted then on an open flame until the skin was entirely black.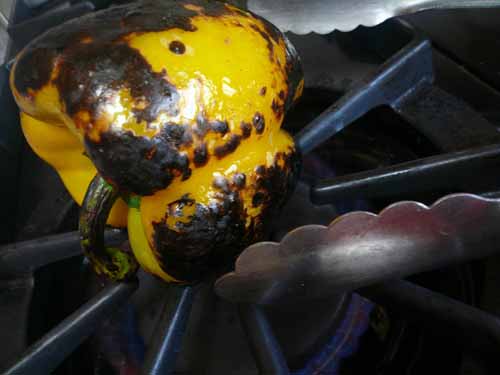 You want to get the exterior as evenly burnt as possible, so rotate with tongs.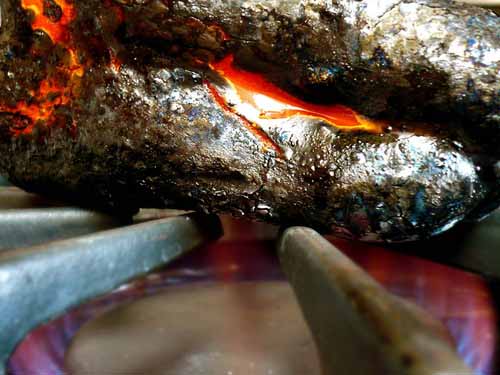 Once it's burnt, you're supposed to cover it up in something so it can sweat for a while. This makes it really easy to slide the burnt skin off. I routinely do this when making chili rellenos. Or you could just buy a jar of roasted bell peppers. I used a plastic container for one.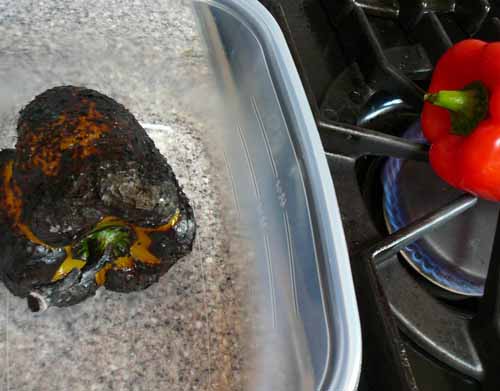 Or you can put it in a plastic bag.
I let the peppers sweat for a while, then removed to the cutting board. And wiped off the skins. Cleaned up under cold running water.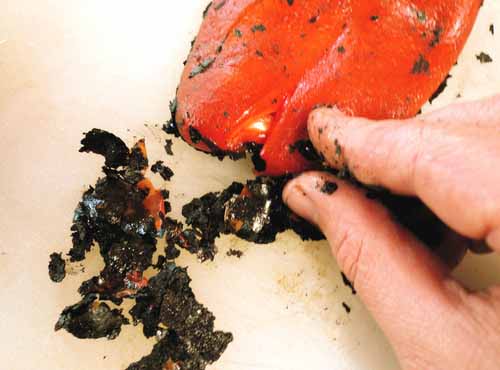 Then I cut up and removed the seeds and ribs from the interiors.
Now I had some pretty flat pieces from which to cut 0.5-inch squares. I reserved to my prep area.
I repeated for both red and yellow bell peppers. Although not called for in the recipe, I did the same with a few serrano chilis.
Ingredients:
Red and yellow bell peppers, from Whole Foods
Star extra virgin olive oil
Manchego Squares and Dice
Now, the recipe in the Alinea cookbook asks for a four-inch-square, thin slice of Manchego cheese. You'll use this to melt over the rest of the ingredients — like a slice of Jack on a burger. The pre-cut wedges I found were about half that size, so I pieced them together, (hoping later to camouflage the seams with arugula).
I cut up some of the cheese in thin slices. This is where you could ask your grocer to slice it for you very thin. Also cut up some eighth-inch dice, and reserved to my prep area.
About Manchego Cheese

Manchego (mahn-CHEH-goh) is made exclusively from the milk of Manchega Entrefino sheep grazing upon the plains of La Mancha in Spain. Made from raw milk and aged for several months, it's nutty, sweet, and tangy with a firm texture. After 12 months, it becomes tastier, saltier and excellent for grating.
Ingredient:
Manchego cheese, from Venissimo Cheese
Dried Olives
I pitted the olives, then dehydrated in my dehydrator for about four hours at 155ºF (until they were crunchy). Reserved to my prep area.
To pit, slice an olive lengthwise on one side. Taking the olive lengthwise between your thumb and forefinger, squeeze. The pit should dislodge from the flesh a bit, making it easier to remove. Remove the pit and reform the olive as best as you can. Unavoidable failures, eat!
Ingredient:
Niçoise olives, from Whole Foods
To Assemble and Serve
I assembled a few croutons, cheese chunks, bell and serrano peppers, dried olives, arugula and cilantro leaves in a square area on my plate. Then a couple of globs of olive oil pudding. Sorry, no anchovies on these. They were for the kids!
Then I added a four-inch-square layer of Manchego cheese over the top. I cobbled it together from four smaller pieces. Most of the wedges I get are a bit smaller than 4 inches. You could ask your grocer or "cheese wiz" to slice them from a large wheel if they will. At this point you can pop it in an oven, put it under a broiler or salamander, or get out your blow torch. You know what I opted for, right?
Then I topped with some fresh arugula, cilantro, and oregano leaves, a few drops of Cholula hot sauce, and served with hot tortillas and Mexican sour cream, crema Poblana.
Alternate Serving
Assemble all on top of a tortilla for a refreshing tostada. Get creative! It's all good.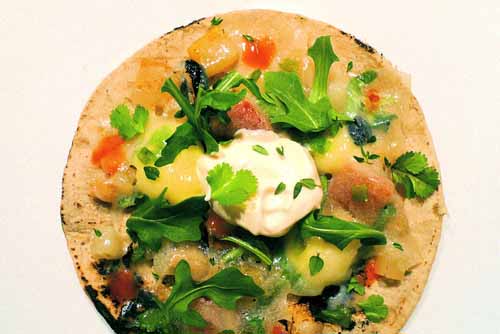 Ingredients:
White anchovies, from Whole Foods
Fresh baby arugula leaves, from Whole Foods
Fresh oregano and baby cilantro leaves, from my garden
Fresh corn tortillas, from Pancho Villa's
Cacinque crema Poblana, from Pancho Villa's
Cholula hot sauce, from Pancho Villa's
Equipment:
Salter digital scale
Measuring bowls
Stainless mixing bowl
Kitchen knife and cutting board
Microplane grater
Medium saucepans
Wire whisk, tongs, spoon
American Harvest dehydrator
Cheese or truffle slicer
Plastic containers
Sheet trays
Tweezers
Serveware:
Rectangular plates, from Target
Yields: 8 servings easily, with about a pint of olive oil pudding left over