LAMB, In Cubism – Alinea Restaurant cookbook recipe, pages 188-191. Continued from LAMB, In Cubism (Part 2)
A cubist feast of Mediterranean flavors, lamb, mint, eggplant, yogurt, lemon and exotic spices. Continued from the Alinea Restaurant recipe for LAMB, In Cubism (Part 2)
Day Three — The Bolero Climax
By the time all was said and done and the slow dance was over, the food turned out deliciously amazing. It had all the flavors of a Greek or Moroccan meal on one plate! Each way you took a bite — mixing the many flavors — was different. We ended up having enough for several meals, and our dining experience was different each time!
Assembling the Garnishes
They day before, we spent making the eight puddings to be used on the base of this dish. Today was much easier, assembling the various garnishes. There are ten or so.
Braised Mustard Seeds
Mise en place:
I combined the ingredients in a medium saucepan and brought to a boil.
I simmered for 5 minutes, but the mix went dry. I ended up adding about 50g more water than was specified in the recipe. Then removed the pan from the heat and covered, to let the seeds plump up.
Ingredients
Brown and yellow mustard seed
Water
White wine vinegar
C&H cane sugar
Morton's kosher salt, to taste

Eggplant Seeds
The day before, I had reserved some eggplant seeds in small clumps resembling caviar, so I got them out of the fridge and reserved to our prep area. We'll need just a small amount for garnish.
Ingredients
Eggplant, seeds reserved

Chili Rings
I had a few red chilis left in the freezer, and although they were a bit shrivelly, I used one anyway. One jalapeño will provide plenty of garnish for us tonight. I sliced it into thin rings and reserved to our prep area.
Ingredients
Red jalapeño chili

Preserved Meyer Lemon
The very first recipe I made for this project — way back when — was for preserved Meyer lemon. I checked in my freezer, and they were still there, and doing just fine! So I took a quarter-lemon out and cut a good-sized piece of zest. I sliced it into thin slivers, or batons, about 0.75 inches long, and reserved to our prep area.
Ingredients
Preserved Meyer lemon

Pomegranate Seeds
I opened up a pomegranate and reserved some of the seeds to our prep area.
Ingredients
Pomegranate, seeds reserved

Chive Tips
I cut off the pointy tips on some fresh chives, in 0.75-inch lengths, and reserved in cold water in our prep area.
Ingredients
Bunch fresh chives

Saffron
I reserved a bunch of saffron threads to our prep area.
Ingredients
Saffron threads

Mint Tips
I had previously reserved the small leaves from our mint the day before, so I fetched them from the fridge to our prep area.
Ingredients
Sprigs of small mint leaves

Fennel Fronds
The recipe calls for micro bronze fennel sprouts, but I could not find any, so I used fennel frond tips instead.
Ingredients
Tips of small fennel fronds


Braised mustard seeds, Dijon mustard, chili rings, preserved Meyer lemon batons, chive tips, saffron threads, fenugreek sprouts, mint leaves, eggplant caviar, fennel tips, and pomegranate seeds.
Prepping the Lamb
I took out one rillette roll from the fridge and quickly sliced it into medallions. I did not want the heat from my fingers or the room temp to melt them. One rolI will make 6-8 pieces, depending on how thick you slice it. I dredged the rillettes in flour, egg and panko, and set them near the cast-iron skillet — ready for frying.
Then I fetched the lamb loin noisette from the fridge. Here's the setup on the line:
To Assemble and Serve
We assembled all of our mise in the prep area, and at the last minute brought out the eight frozen sheets of pudding. Some hold up better over time, others melt very quickly. You'll notice that the date purée is the lumpiest on the final plating. That's because it was the quickest to thaw…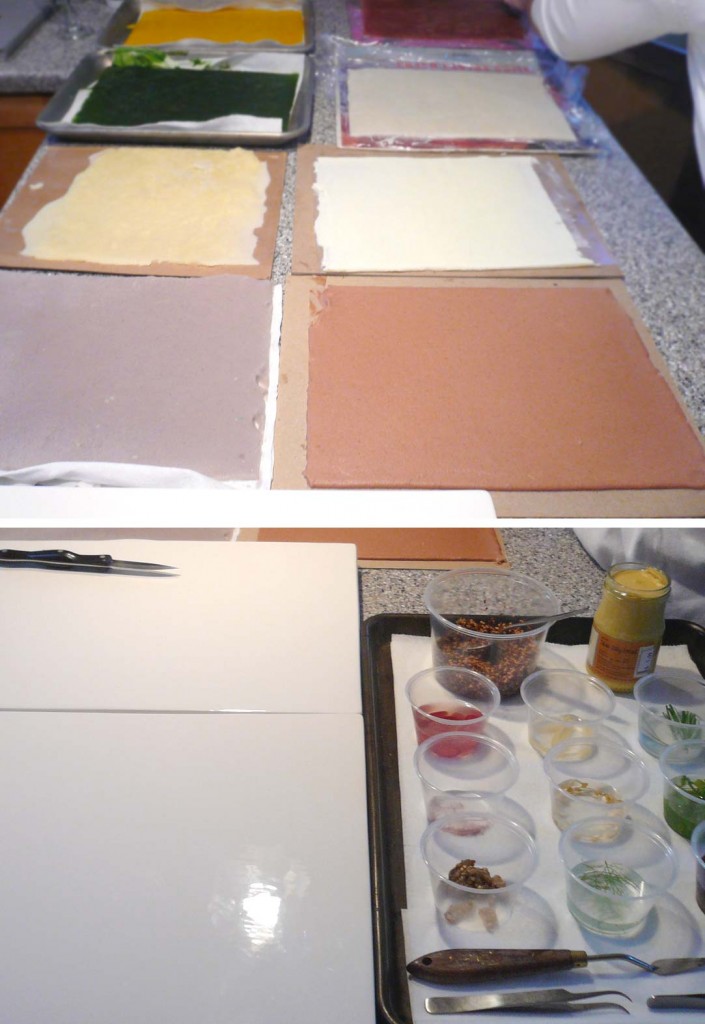 Champagne in-hand, I'm ready to do this!
I started by using a palette knife to spread out a square of Dijon mustard, then applied squares of the eight puddings randomly on our flat CB2 serving platters.
I had trouble with the date purée, as it melted the fastest! Rather than waiting for it to re-freeze, we conferred, said something along the lines of "frack it," and smoothed the son-of-a-bitch out to a reasonably square shape. Maybe I can hide it with some garnish?
Then I fired up the skillet and seared the whole rolled lamb noisette until brown, took it off the heat to rest before removing the string and slicing it up.

Added more canola oil to the skillet and fried the breaded lamb rillettes. I drained them on paper towels. Now I was ready to plate…
Now I was ready to plate the meat and add the final garnishes. I placed two medallions of lamb on top of the ugly-ass date purée. Then with a quarter-teaspoon, I added a small pile of braised mustard seed. And with tweezers some eggplant seed caviar, a chili ring with preserved Meyer lemon baton, some pomegranate seeds and a chive tip. Topped with some saffron threads, fenugreek sprouts, fennel fronds, and a mint tip on the corner of the plate. The added a lamb rillette. Voila!
The frozen puddings had started to thaw as soon as we retrieved them from the freezer. By the time plating was done, they had melted considerably, but retained their square shapes. A touch with a creme brulée torch was all that was needed to melt the last of them. Then it was time to eat!
Ingredients
Canola oil
Dijon mustard

Equipment
Pretty much everything I have in the kitchen
Serveware
Flat serving platters, from CB2
Yields: About eight servings per lamb loin, with lots of date purée and frozen puddings left over. If you do the whole saddle of lamb (with two loins and two rillette rolls) and full pudding recipes, you'll easily have enough for 16 servings.

Above, cubsim vs. abstract expressionism.
Alternate Servings
The second time I plated this, I added some roasted garlic and a spicy cucumber salad to the garnishes. I thought they would complement the other Mediterranean flavors…