Alinea Recipe, pages 234-237.
I love the title of this recipe, especially "… too many garnishes to list." It's an earthy, foresty, roots-based recipe, using tree nuts like chestnuts, nutmeg, root vegetables such as parsnips, celery root, onions, truffles and fungii.
Overall, this recipe from Alinea Restaurant is an interesting combination of tastes, but honestly not one of my favorites. There were several tastes and combinations I liked (chestnut purée/parsnip sauce), but others I did not (egg yolk/chocolate-covered sugar cube).
After we tried it, one of my dinner guests commented that it should have been called "chestnut, too many garnishes to taste." I wouldn't go that far, but if I made it again, I might omit a few…
So here we go with CHESTNUT, Bacon, Truffle, Celery, Brussel Sprouts, Parsnip, Marsala, Onion, Egg, Bay, Sugar, Chocolate, Nutmeg…
Bacon Powder
Bacon powder is easy to make, and oh so much more delicious than store-bought bacon bits.

Do it. Make some. You know you want to.
I froze a package of hardwood smoked bacon, then finely grated it with a Microplane grater.
Then dehydrated it on a layer of paper towels in my dehydrator until the bacon was dried out.
Then reserved it to my prep area in a covered plastic container.
Ingredient
Hardwood-smoked bacon
Chestnut Purée
Fresh chestnuts become available in October here in San Diego. (Note: I made this recipe in October, but have just posted. Sorry.) I wanted to make this recipe at the beginning of Autumn, but could not yet find them at my regular haunts. But yes! They had Chinese chestnuts at my local Asian market, Thuan Phat, so I bought three pounds (US$1.99/lb).
About Chestnuts
The Chestnut (genus Castanea), also called sweet chestnut, Sardis acorn, chinkapin and chinquapin, is a deciduous hardwood tree native to temperate regions of the Northern Hemisphere. The nutmeat of its fruits are edible. And that's what we're talkin' about!

There are several types of chestnuts regularly available today, the most common being blight-resistant hybrids of European and Chinese Chestnuts. Most of our indigenous American Chestnut (Castanea dentata) trees were wiped out by a severe blight in the early 1900s. An airborne fungus (Cryphonectria parasitica) on the bark of imported Asiatic chestnut trees spread rapidly and killed much of the original growth trees nationwide. Some blight-resistant chestnut trees in the Pacific Northwest have survived. It is estimated that out of roughly 4 billion original chestnuts, the number of large surviving trees over 24 inches in diameter is probably fewer than 100. (That's just CRAZY!) Read more…

The fruit is contained in a spiny cupule, also called burr, containing one or more nuts (depending to the species). The chestnut fruit has a pointed end with a small tuft at its tip, called flame in Italian. At the other end, a hilum — a pale brown attachment scar.

It has two skins: the first being a hard outer shiny brown husk called the pericarpus, or peel. The second is another thinner skin, called the pellicle or episperm. Inside is the chestnut meat.
There are many, many methods of peeling and skinning chestnuts. Some say to boil them. Some say to roast them. I discovered a fairly easy way. Cut an "X" in the pointy "flame"-end of each and parboil the suckers until their husks can be peeled off easily.
Then you can shell and trim their pellicles off with a paring knife. But it still took an hour of peeling.
Three pounds of whole chestnuts yielded a little more than two pounds of clean, peeled, skinned chestnut meat. Once I threw out the moldy ones and cut off the discolored bits. Maybe New England chestnuts are easier to work with? Tell me. Once I was finished with that whole ordeal, I found this video. Damn them! They make it look so easy…
In a medium saucepan, I brought the chestnuts, some cream, bay leaves and a dash of salt to a boil. Then simmered for about half an hour.
I removed the pan from the heat and let cool a bit, before puréeing the chestnuts and cream (until really, really smooth).
Then I strained the purée, and placed in a clean saucepan. I reheated the purée on low, and added cubes of butter, whisking until it was completely incorporated. Tasted for saltiness and it was perfect. …And really good! I like this.
I reserved the chestnut purée in a plastic container.
Ingredients
Peeled and skinned chestnuts, from Thuan Phat Supermarket
Alta-Dena heavy cream
Morton's kosher salt, to taste
Fresh bay leaves, from my garden
Challenge unsalted butter
Truffle Purée
I have a feeling I've made this before… That was a more complicated recipe for Black Truffle Purée, used in CHICKEN SKIN, Black Truffle, Thyme, Corn.
I ordered some dried black trumpets and frozen black Mexican truffles from Oregon Mushrooms, one on my favorite purveyors, and they arrived the next day in a cooler.
I re-hydrated the dried black trumpet mushrooms with water in a bowl, (saving the water for mushroom stock later).
Then I peeled and cubed the potato. For this recipe, I'm not using 100% Périgord black truffles. I'm substituting a mixture of less expensive frozen black truffles, canned Syrian desert truffles, and "boosting" the flavor with a bit more truffle oil than specified in the recipe.
I combined both kinds of truffles, mushrooms, potatoes, truffle juice and some truffle oil in a saucepan and brought to a boil. Then I simmered it for about half an hour, until the liquid had incorporated into the mushrooms. Boy, did that make the house smell nice! My neighbor even poked his head over the fence, asking "are you making another Alinea recipe?"

Note the truffle oil pooling up on the surface. Life is beautiful…
I transferred it to the blender, adding the vinegar, some truffle oil and blended. It needed more moisture to blend, so I added a touch of the mushroom stock. Then salted to taste.
I strained the purée and transferred to a squeeze bottle.
Ingredients
Fresh black Périgord truffles, or like I used, a mix of
Syrian desert truffles, from North Park Produce, and
Frozen black truffles, from Oregon Mushrooms
Dried black trumpet mushrooms, from Oregon Mushrooms
Yukon Gold potato
Sabatino Tartufi black winter truffle juice, from Specialty Produce
White truffle oil
Morton's kosher salt, to taste
Sherry vinegar
Celery Root Chips
Celery root, or celeriac (Apium graveolens rapaceum), is one of my favorite veggies. I love to use it in salads, just for a little extra crunch. Pickled and on a frisée salad, with a light vinaigrette — it's great! It's one of those things people don't recognize, or even know about, for that matter. When do you think about a celeraic's hypocotyl? And why is it we prefer to eat the stems of the celery plant and discard its flowers, seeds, and roots?
I heated up some canola oil in a pot for frying. While is was heating, I trimmed the rough and tough skin off the celery root, then sliced it up as thinly as possible on my electric food slicer.
I did not coat the slices with cornstarch as specified in the recipe, but fried them plain, until golden brown in batches at about 275ºF, and drained them on paper towels.
Tip: I found they still cooked after I removed them, so to avoid over-browning, take them out a little early. (Maybe the oil was a little hotter than 275…)
Dried 'em off, lightly salt and peppered to taste, and crushed up. Then reserved in a tightly sealed plastic container — the chips will get soggyfied if not sealed up!
Ingredients
Celery root, from North Park Produce
Canola oil
Cornstarch
Morton's kosher salt, to taste
Black pepper
Brussels Sprouts
Ya ever wonder why these little cabbages are called "Brussels" sprouts? Because Brussel sprouts (Brassica oleracea) were popularized in Belgium and the Netherlands in the 1400s. The first written mention of them by name was in 1587!
We'll use the ol' big pot blanching technique which works so well for green veggies…
I brought a pan of salted water to a boil. Got another pan ready with ice water. And trimmed off the outer layers of leaves from some Brussels sprouts. You want some nicely shaped "boats" to fill with truffle purée later, so pick the perfect shell-like outer leaves.
I blanched the leaves in salted water for about a minute until their color had intensified, then plunged them into the ice water bath to cool.
Patted them dry with paper towels and reserved to a plastic container in my prep area.
Ingredients
Fresh Brussels sprouts, from North Park Produce
Water
Morton's kosher salt, to taste
Marsala Gel
I didn't have Kelcogel JJ gellan. Since it's a mix of their other gellans, and a had them on-hand, I decided to use a half-and-half mix of their high acyl and low acyl gellans instead. That said, my gel ultimately turned out opaque, not translucent like in the Alinea cookbook.
I mixed the gellan gums into the Marsala in a medium saucepan with my immersion blender. The I brought it to a boil and reduced to a simmer until the solids had dissolved. I strained the wine into a shallow pan, refrigerated until it had set up, then cut into three-quarter inch squares.
And reserved in a plastic container to the fridge.
About gellan gums
CP Kelco makes several gellan gums for cooking. They are polysaccharides produced by fermentation of a pure culture of Sphingomonas elodea. An interestingly enough, the composition of commercial gellan gum is "identical to the naturally occurring polysaccharide formed by Sphingomonas elodea on plants of Lily pad varieties."

There's the Kelcogel LT 100 high acyl gellan (forms soft, very elastic, non-brittle gels), Kelcogel F low acyl gellan (forms hard, non-elastic, brittle gels and fluid gels), and a mix of the two: Kelcogel JJ.

And, of course, the San Diego connection: KELCO was a local company. They took over the old Mission Brewery building (which closed due to Prohibition), and ran their agar factory out of it for years and years. Some old-timers will still tell you stories about how the old agar plant smelled! The historic brick building was refurbished around 1990, and now houses the Five Points Brewery.
Ingredients
Marsala
Kelcogel JJ gellan gum, or a mix of Kelcogel LT100 and F gellans, from Le Sanctuaire
Nutmeg Mousse
I'm kinda pissed. I made this. It was easy. And it tasted good. But I forgot to plate it. That's what happens when you rush yourself. Damn. Just pretend there's some nutmeg mousse on the dish when you look at the pics.
I whisked the creme fraiche and grated nutmeg together in a stainless bowl over a bed of ice. Then whisked in a dash of salt to taste. This, I put in the fridge and promptly forgot about it. Damn.
Ingredients
Vermont Creamery creme fraiche, from Whole Foods
Morton's kosher salt, to taste
Whole, dried nutmeg
Brown Sugar-Chocolate Cubes
These are easy to make, and you'll have hot, melted chocolate left over — for FONDUE! I found the bittersweet chocolate at Great News! Discount Cookware, (1788 Garnet Avenue, in Pacific Beach, San Diego, CA 92109, 1-888-478-2433). I always try to use Scharffen Berger, as it's my favorite for cooking.
I filled a medium saucepan halfway with water and brought to a simmer. While this was heating up, I prepared a sheet tray with baking parchment. I roughly chopped up the bittersweet chocolate, placed it in a stainless bowl, and the bowl atop the heated pan of water. With this impromptu "double boiler," you can melt chocolate without fear of its burning.
I found La Perruche brand rough cut brown cane sugar cubes at my local Whole Foods Market. You may know the kind I'm talking about: irregular, funky cubes invariably found at feel-good restaurants and hipster coffee shops (if you frequent those joints, like me).
I broke some of these sugar cubes up in rough shapes, dipped them in chocolate, and placed on the prepared sheet tray to dry.
I used some tweezers for the delicate delicious dippings.
And reserved the sugar-chocolate cubes in a plastic container.
Ingredients
Scharffen Berger bittersweet chocolate, 70% cacao, from Great News
La Perruche rough-cut brown cane sugar cubes, from Whole Foods
Burnt Onion Sticks
This is the same component recipe I made in SQUAB, Watermelon, Licorice, Foie Gras (Part 2).
I cut the onion into batons.
Then brought sugar and water to a boil, added the onions and simmered for a minute or so.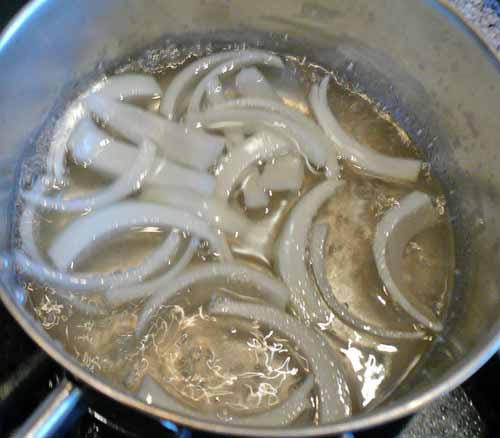 Strained and dried on paper towels.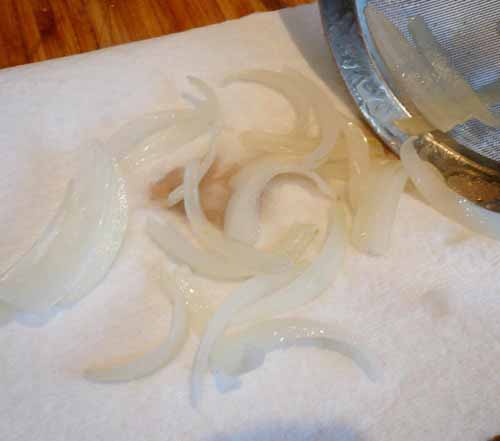 Dehydrated until crisp.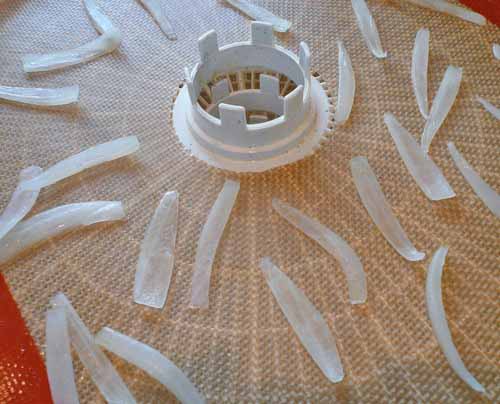 Burnt one end of each baton, holding it over a gas burner with tongs. Reserved to a covered, airtight plastic container…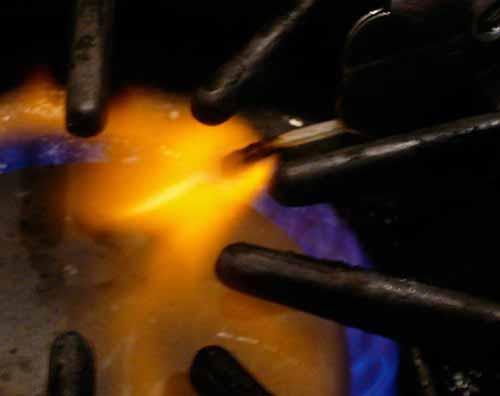 Ingredients
Large fresh onion, from North Park Produce
Water
C&H cane sugar
Diamond Crystal kosher salt, to taste
Parsnip Sauce
I juiced some parsnips and you know what? I only got a couple of tablespoons from the hugh bunch. What a rip.
But there were A LOT of pulp and solids left in the juicer…
So I put the ground up parsnip remains in a pot with some water, blended with an immersion blender, simmered for about twenty minutes, then let cool. And used this for the parsnip juice.
I strained the parsnip juice with a chinois. I cut the cold butter into small cubes. Mise en place:

I brought the juice to a simmer and reduced it by half.
Then added the cream, and whisked in the butter cubes a few at a time. It thickened up as I added the butter.
I blended it in my blender, salted to taste, strained, and reserved the parsnip sauce to a small saucepan.

Above, parsnip sauce in the base of the bowl, with chestnut purée on top.
Ingredients
Fresh parsnips
Alta-Dena heavy cream
Challenge unsalted butter
Morton's kosher salt, to taste
Egg Yolk
These end up looking like square, hard-boiled egg yolks. Kinda funny if you're a food nerd. This recipe uses Thai long pepper (Piper longum), which is more aromatic than, say, black pepper (Piper nigrum). Also, no skins to worry about. I always thought all peppercorns gre on trees, as I've grown up around our Southern California pepper trees (Schinus molle), but not so! Black pepper and long pepper grow on vines in tropical areas. Vietnam produces the majority (34% in 1998!) of the world's black pepper crop.
I processed some long peppercorns in my spice grinder until completely ground.
I combined the egg yolks, cream, pepper, and a touch of salt in a stainless bowl and whisked them together thoroughly.
I put the egg yolk mixture in a vacuum bag, pushed it into a roll shape, then sealed the bag up with my FoodSaver vacuum sealer.
I clipped the bag to a pair of long kitchen tongs suspended over a boiling pot of water. This is to keep the "egg roll" on the straight and narrow.
After it had cooked en sous vide for x minutes at xºF, I plunged the bag in a cold ice bath to suspend the egg cookery.
Cubed and reserved in a plastic container to my prep area.
Ingredients
Hilliker Farms organic egg yolks
Alta-Dena heavy cream
Morton's kosher salt, to taste
Thai long peppercorns, from LeSanctuaire
Bay Leaf Bubbles
Bay leaf bubbles. A pleasant, if unexpected, taste on the dish when you first try it. Reminded me of a local restaurant that served bay-infused still water at the tables. Wasn't ready for that.
I combined the water, sugar, salt and bay leaves in a medium saucepan and brought to a boil. Let steep for 20 minutes or so. Then strained, keeping the leaves for later use. (I freeze mine when I harvest off the tree, then I have them at the ready any time.)
Added soy lecithin, and blended thoroughly with my immersion blender.
Ingredients
Fresh bay leaves, from my garden
Water
C&H cane sugar
Morton's kosher salt, to taste
Soy lecithin powder, from L'Epicerie
To Assemble and Serve
The prep area and mise en place:

I squeezed truffle purée into some brussels sprout leaves.
I added some butter and water to a sauté pan and heated, and floated the truffle-brussels sprout cups in it to warm.
Also warmed up the bay leaf broth, frothed with an immersion blender, and reserved in a tall, narrow stainless container (A SLURPEE cup works perfectly) to the prep area.
I warmed up the parsnip sauce, and added some to the bottom of the bowl. Then added several spoonfuls of chestnut purée at the top of the plate, several spoonfuls of celery root chips and bacon powder to the right.
I added a truffle purée cup, sugar cube, marsala gel cube and egg yolk cube in the bowl. Then topped the chestnut purée with a burnt onion stick. (And I said before, forgot the nutmeg mousse… 🙁 )
And there you go! Chestnut with too many garnishes to list…
Ingredients
Water
Challenge unsalted butter
Equipment
Salter digital scale
Measuring bowls
Cutting board and kitchen knife
Paring knife
Vegetable peeler
Waring Pro food slicer
Wooden spoon, rubber spatula
Chinois or sieve
Small bowls
Medium saucepan
Sauté pan or grill
Oster blender
American Harvest dehydrator
FoodSaver vacuum sealer and bags
Large pot of water and thermometer
Stainless steel bowls
Cuisinart SmartStick immersion blender
Paper towels and sheet tray
Plastic containers
Plastic squeeze bottle
Tweezers
What to do with the leftovers?
I made chestnut mashed potatoes! I boiled, drained and whipped some potatoes. Then simply mixed in the chestnut purée, some butter and chives. Served with an Angus t-bone from our side of beef, sautéed peppers, Swiss chard, and the leftover black truffle purée. Yum!
Yields: more like 12-16 servings, with lots of leftover chestnut purée, egg yolk, and chocolate-sugar cubes.