Recipe, pages 80-81.
Aaah, the flavors of the Great Outback!
And I'm not even going to mention the Outback Steakhouse either, which has virtually nothing to do with Australia, is not owned by Australians, whose meat comes from American ranches, and whose food has been deemed the worst in America. Their blooming onion app has about 3,000 calories, and that's just a starter! Ribs, 2,500 calories. Never mind about that Zagat popularity poll.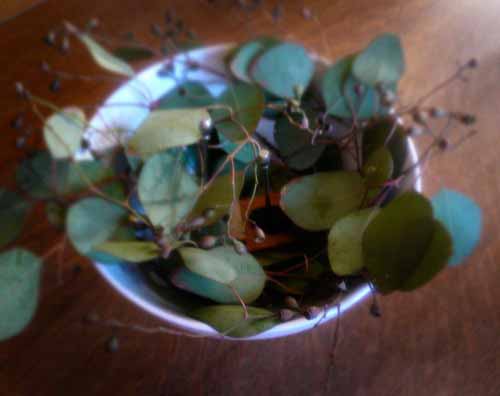 Oops. I guess I did…
What I will talk about is that this dish from the Alinea Restaurant cookbook is Australian.
Made with elements found in Australia: lamb, bush tomatoes and eucalyptus.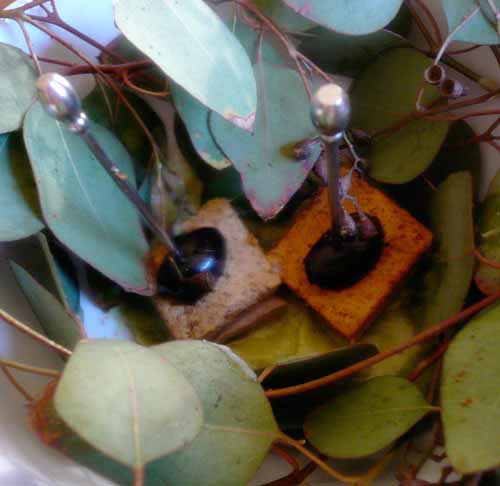 Akudjura Panade
A panade (puh-NAHD) is just a French term for a paste made with bread crumbs bound with butter, milk, stock or water. It's used as a base for things like meatballs. In Spanish it's panada (puh-NAH-duh).
For this component recipe, I decided to see what the difference was in taste between powdered sun-dried akudjura and sun-dried tomatoes.
I contacted Terra Spice for akudjura. Phillip Abbot started Terra Spice in Walkerton, Indiana years ago, and now supplies many chefs and restaurants including Alinea, with those oh-so-hard-to-find spices. I spoke with Judy Shertzer, and she set me up with what I needed: whole dried akudjura (US$85.00/lb), sarsaparilla root (US$56.52/lb), whole blade mace (US$62.00/lb) and licorice root powder (US$29.72/lb). I'll be using these others in upcoming posts. Terra Spice sells in one-pound and larger quantities, so you may have to pitch in with a friend or neighbor for some.
You can sometimes find 2-ounce tins online for $US14.95 (US$119.60/lb).
If you can't get akudjura, the next best substitute is sun-dried tomato, pretty much available anywhere. They come either packed in olive oil or dried. Buy them dried, in bulk from your local grocer. I even found some at my neighborhood Albertson's ($US4.99/lb).
About Akudjura

The Australian bush tomato (Solanum centrale) is also known as desert raisin, desert tomato, and by its native names akudjura (ah-KOOT-joo-rah), akatjera, kutjera, kampurarrpa, and kati kati. It's a small fruit which grows on low shrubs, and has been harvested by hand by Central Australian Aborginals for thousands of years.

A member of the tomato family, the bush tomato resembles what we might recognize as a "cherry" tomato. The sun-dried, ripened fruit of Solanum centrale are sold whole or powdered.

Its taste is a combination of caramel and tomato, somewhat sweet, with a slight bitter after-taste. The ground, sifted powder was a little grainy. On the other hand, when I powdered sun-dried tomatoes, they were much sweeter in flavor and not grainy at all.

Akudjura is often combined with brown sugar and used as a rub for lamb.
I ground some whole, dried akudjura in my spice grinder, actually my coffee grinder.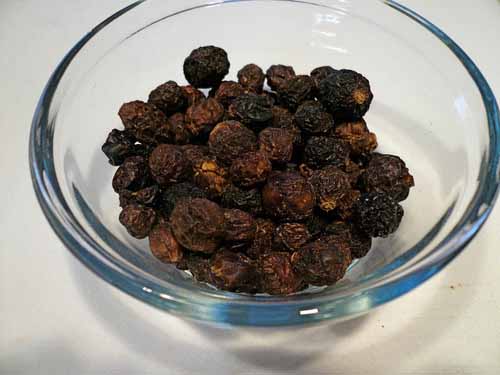 Then I sifted out most of the seeds and large chunks.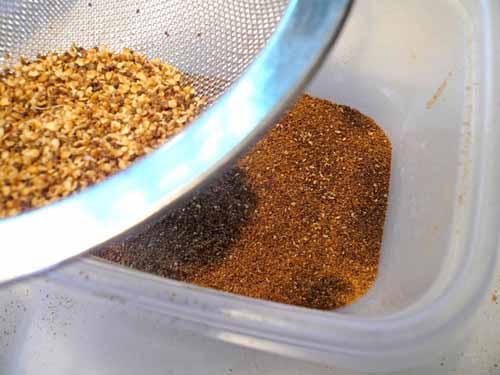 Then reserved in a small bowl.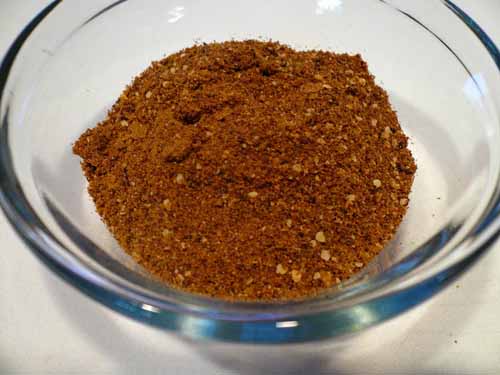 Mise en place: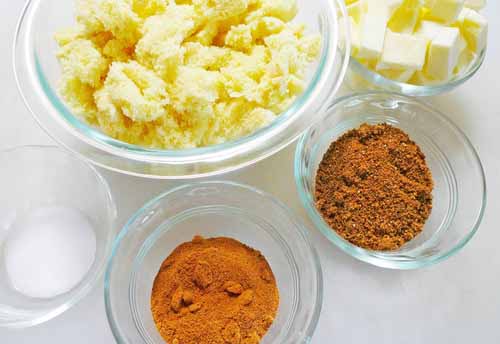 From top left: small pieces brioche with crusts removed, room temperature butter, akudjura powder, sun-dried tomato powder, salt.
In my Cuisinart mini food processor, I mixed half the brioche, half the butter, the akudjura powder, and a touch of salt. Processed until smooth.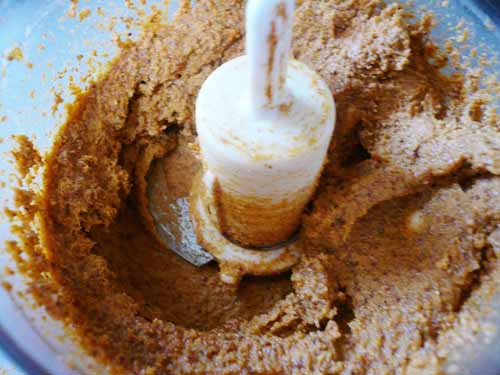 Then I repeated the process, this time with the sun-dried tomato powder. Here are the two "pastes" side-by-side…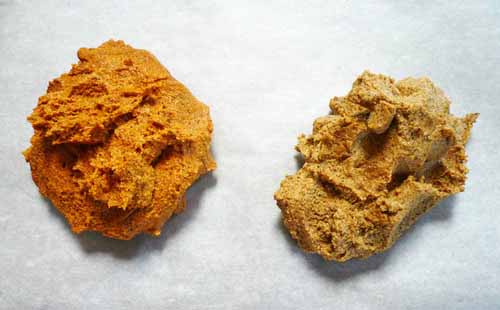 Left, sun-dried tomato paste. Right, sun-dried akudjura paste.
I put each between two sheets of baking parchment and rolled out to about 0.125 inches thick with Grandma's old rolling pin.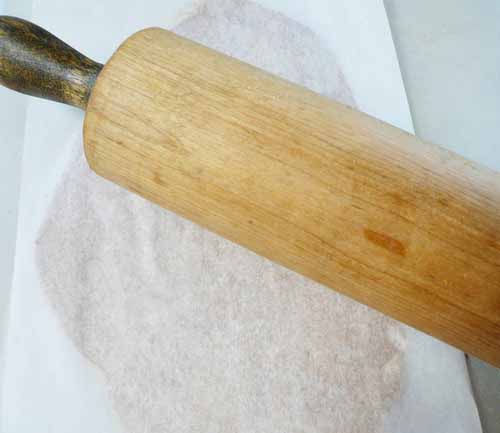 Then placed both on a tray in the freezer to harden up.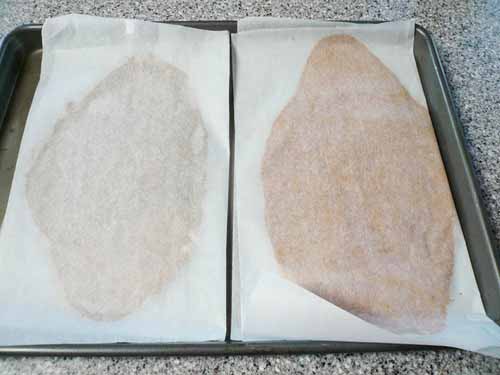 After they'd hardened up, I took them out and cut into one-inch squares. Since this dish is not part of a large tasting menu, I thought I'd increase the portions from 0.75 inch cubes. They'll be a little bigger than bite-sized portions, but…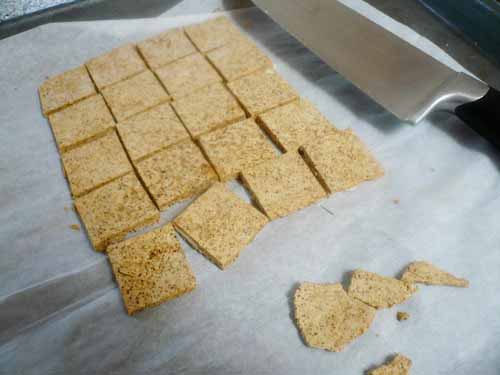 Then reserved in the freezer on a small plate.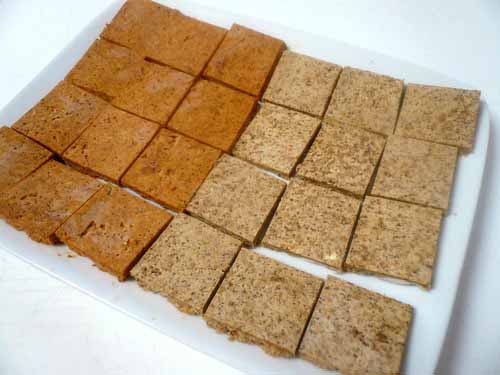 Tomato on left, akudjura on right.
Ingredients
Whole sun-dried akudjura, from Terra Spice, or
Whole, sun-dried tomatoes, fromAlbertson's
Brioche bread, from Bread & Cie
Challenge unsalted butter, from Albertson's
Diamond Crystal kosher salt
Fava Bean Purée
I found some nice fava beans (US$0.99/lb) at North Park Produce, one of my favorite places to shop here in San Diego. (Aside from being very close to where I live, it's got a huge selection of different spices and ethnic foods.)
Fava beans (Vicia faba) are also known (and sold) as broad, faba, field, bell and tic beans. They're huge green seed pods that you have to peel open to get to the beans. The pods are considered the fruit of this legume plant. Nestled inside the fuzzy interior are 3-8 beans, each attached to the pod by its own hila.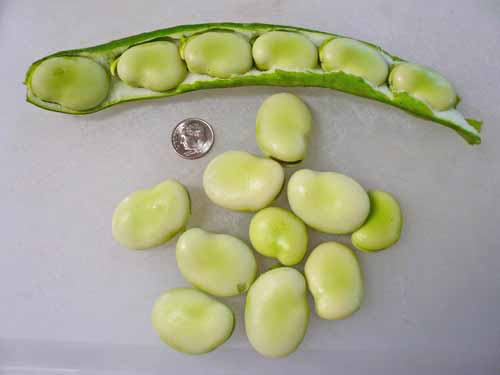 I picked out these beans. To use them you have to remove the outer skin — or testa — the seed's coating. Some people peel them at this stage. I find it much easier to peel them after blanching. The skins fall right off…
I brought a large pot of salted water to a roiling boil and blanched the beans.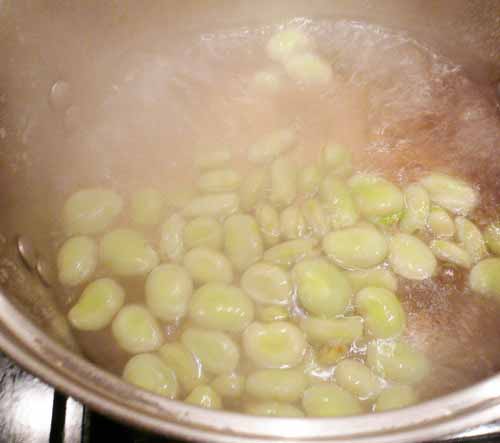 You only have to blanch them for a few minutes, and their skins loosen up. Some fall off on their own.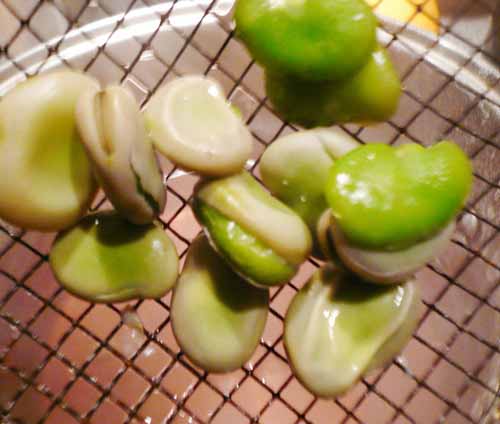 I plunged them in a stainless steel bowl of icewater to stop the cooking, then drained, and removed the skins. They slid right off…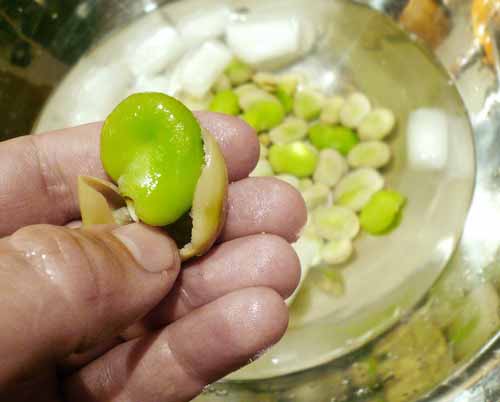 I combined the shelled fava beans, olive oil and a touch of salt in my Oster bar blender and puréed until smooth. At this point you can strain through a chinois, but I decided not to.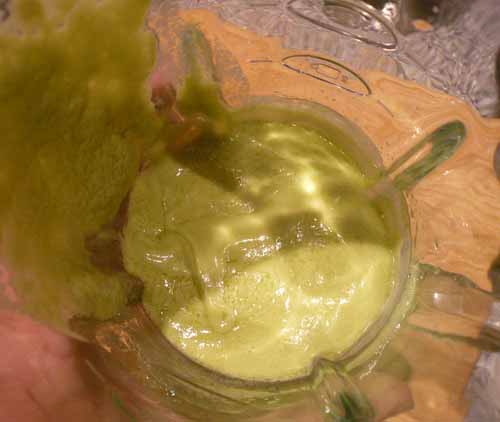 I transfered the fava bean purée to a pastry bag and reserved to the fridge. Simple, but tasty!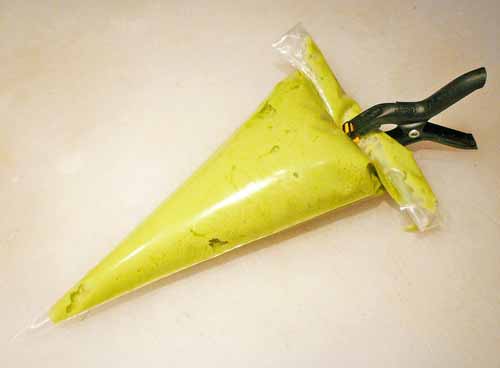 Ingredients
Fresh fava beans, from North Park Produce
Water
Diamond Crystal kosher salt
STAR Brand Olive oil, from Albertson's
Niçoise Olives
I pitted and halved the olives, then reserved to a plastic container in my prep area.
Ingredient
Niçoise olives, from Whole Foods
Lamb
And while I was there, I picked up some lamb at North Park Produce. I got a lamb shoulder instead of loin, so it had a little more fat to remove.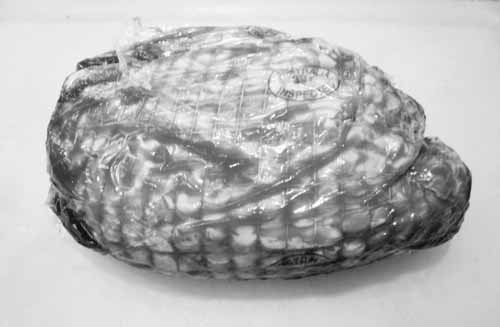 I cleaned up the meat, trimming off the fat and "silverskin." Then cut it up in several pieces. Using my FoodSaver, I vacuum sealed the lamb in a bag with some olive oil.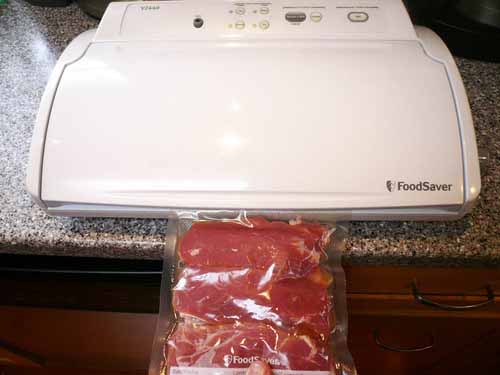 Ready to go…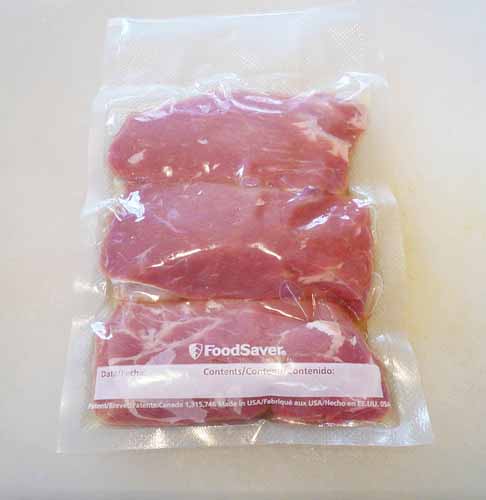 Then cooked en sous vide, for about 20 minutes at 135ºF. I still don't have an immersion circulator, so I made do with a big pot of water and a digital thermometer.
Took it out and immediately immersed the bag in a bowl of icewater to stop the cooking. Looks like it overcooked, but it'll still taste nice and lamby…
I removed the lamb and cut into one-inch (or so) cubes, then reserved in a plastic container in the fridge.
Ingredients
Lamb loin (or shoulder if you don't mind a bit of fat), from North Park Produce
STAR Brand extra virgin olive oil
To Assemble and Serve
Where to find eucalyptus for this recipe? Finally. An easy one. Just throw a stick anywhere in San Diego and you'll probably hit one.
While waiting for my daughter's ice skating session to let out the other day, I scrounged up some perfect eucalyptus branches and leaves from some trees nearby. (Notes of passersby, "What's that crazy skate dad doing?")
About Eucalyptus

San Diego has long been home to hundreds of species of Eucalyptus. There are millions of the trees here.

Although not an indigenous California species, eucalyptus were introduced from Australia in the mid-1800s, when most were planted as speculative crops for mining and shipbuilding. Leland G. Stanford even wrote about them in the Journal of San Diego History.

BTW, the first recorded reference to eucalyptus trees is from Abel Janszoon Tasman in his expedition journal entry in 1642. (The island of Tasmania is named after him.)
Now I was ready to serve the dish!
So I assembled the components, eucalyptus and serving bowls in my prep area. For serveware, I chose some plain white ceramic "365+" serving bowls from IKEA. And for the picks, I used the metal cocktail skewers I'd purchased at Crate&Barrel for HOT POTATO, Cold Potato, Black Truffle, Parmesan.
The cool serveware you see in the Alinea cook book is the 22oz "Duet" bowl from the O! Luna line of the Montgatina Collection by Steelite International. Download a catalog (1.8MB PDF). The O! Luna line was designed by Spanish elBulli chefs. You can try ordering from one of Steelite's local reps, but they pretty much sell only to the trade.
I put the eucalyptus branches in a bag with some eucalyptus oil and shook them up to coat. The kitchen smelled like VICS Vapo-rub!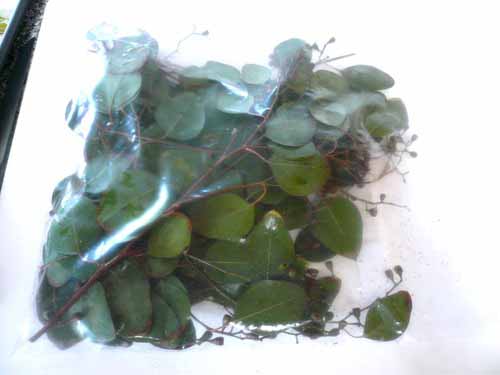 I assembled the lamb skewers. On top of each lamb cube, I placed a square of akudjura panade and an olive. Then skewered each with a metal pick. I did the same again, but with the tomato panade.
I piped an ample bed of fava bean purée into each bowl, then placed one each of the tomato- and akudjura-lamb skewers on top. Finally, I veiled the whole thing with a nest of scented eucalyptus branches. I didn't bother with heating under a broiler. I was kinda concerned that the picks would get too hot and burn my guests' fingers. On a hot summer day, the panades were beginning to melt anyway…
We scooped out the skewers, dipping them in the fava beans. Mmmm.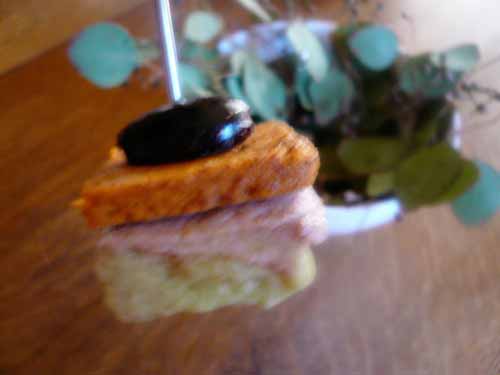 The final result was very pretty, tasted okay, and everyone agreed that they preferred the sun-dried tomato over the akudjura.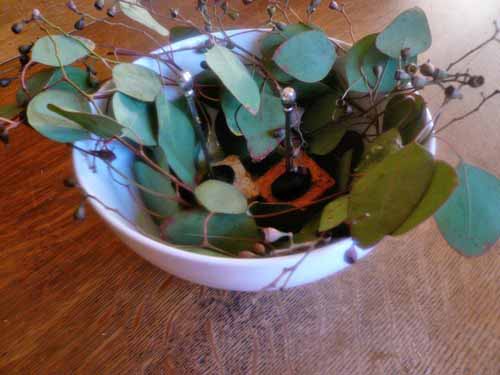 Ingredients
Fresh eucalyptus branches
NOW Personal Care eucalyptus oil, from Whole Foods
Equipment
Salter digital scale
Measuring bowls
Cutting board and kitchen knife
Glass bowls
Rubber spatula
Spice or coffee grinder
Cuisinart mini food processor
Baking parchment
Rolling pin
Sheet tray
FoodSaver vacuum sealer and bags
Stock pot and digital thermometer, or
Immersion circulator
Large saucepan or pot
Slotted spoon
Medium saucepan
Chinois, strainer or sieve
Plastic squeeze bottles or pastry bags
Plastic containers
Serveware
O! Luna "Duet" bowl, from the Montgatina Collection, from Steelite International, or
Ceramic 365+ serving bowl, from IKEA
Metal cocktail picks, from Crate&Barrel
Resources
Yields: 8 servings
Next, ICEFISH, Horseradish, Asparagus, Shellfish.