Recipe, pages 262-263.
I had another craving for sushi. So. here's an alternate serving I did for KING CRAB, Vinegar, Aromatics, Seaweed. I incorporated sushi rice and saffron threads into the base of the vinegar gel cube, so that the sushi would be one component rather than two.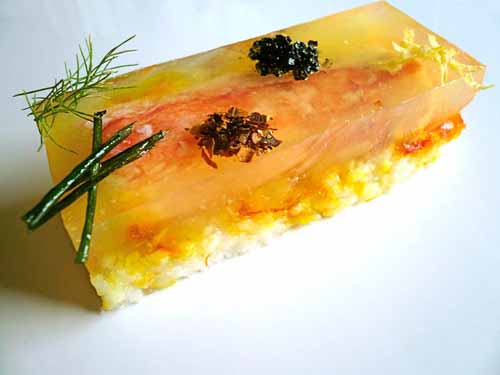 I did not have any seaweed left in the pantry, so I garnished with things on hand…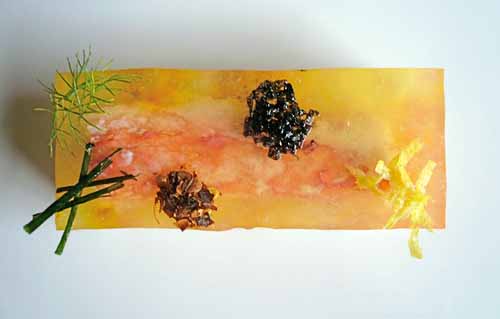 Then I topped with fresh lemon zest, Hawaiian Kai black lava sea salt, cayenne pepper flakes, fried chives and fresh fennel fronds from my garden.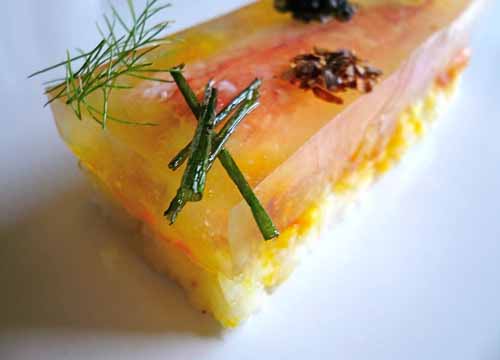 Equipment
Salter digital scale
Cutting board and kitchen knife
Measuring bowls
Stainless bowl
Medium saucepan
Wire whisk
Spoon
Plastic wrap
Pyrex 9×12 baking dish
Serveware
BIA 13″ square platter, from Great News!
Yields: 6 servings
Next, DRY SHOT, Red Pepper, Garlic Oregano